Have you ever wondered what you would look like in different historical eras? MyHeritage AI Time Machine is a cutting-edge technology that uses generative AI to create AI avatars of individuals in different historical eras.
It allows users to see themselves in various themes and time periods from around the world, providing a unique and immersive experience of history.
In this article, we will look through the features, uses, advantages, disadvantages, and other alternatives of the Ai Time Machine tool.
What is Myheritage ai time machine?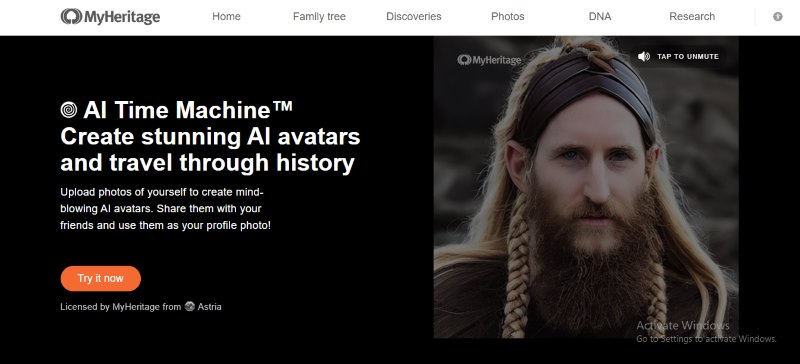 MyHeritage AI Time Machine is an exciting feature that uses artificial intelligence technology to transform your photos into imaginative AI avatars. With just a few clicks, you can see yourself as if you were in different time periods of history. 
It takes your real photos and creates stunning, realistic avatars in various themes, from ancient civilizations to futuristic space exploration. Simply upload your photos, wait for the magic to happen, and soon you'll receive your mind-blowing AI avatars. 
How to use Myheritage ai time machine? 
Using AI Time Machine is incredibly easy and fun! Here's a step-by-step guide on how to use it:
Start by visiting the MyHeritage website and navigating to the AI Time Machine page.

Click on the "Try it now" button to begin the process.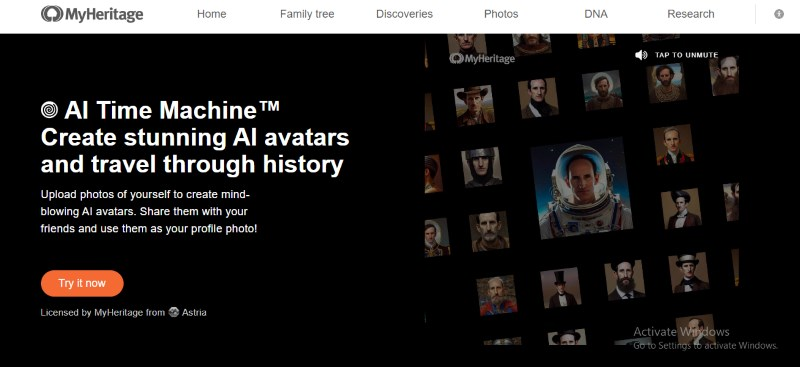 Upload 10-25 photos of yourself taken from different angles. Make sure to include selfies, upper-body shots, and full-body shots for the best results.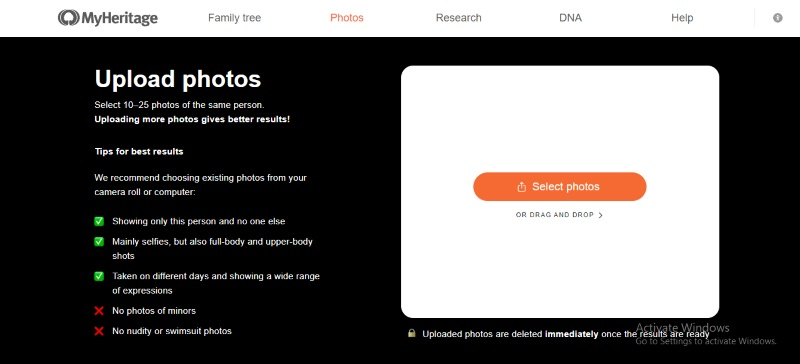 After uploading your photos, enter a title and select your gender.
Sit back and relax while the AI technology works its magic. It will analyze your photos and create a model of your face that can be transformed into various avatars.

Once your avatars are ready, you'll receive an email notification. Click on the provided link to view the results.
That's it! By following these simple steps, you can unlock the world of MyHeritage AI Time Machine.
Exploring Myheritage's Ai time machine features:
Discover the exciting features of MyHeritage AI Time Machine and let your imagination soar! With this amazing tool, you can:
Build Your Family Tree for Free: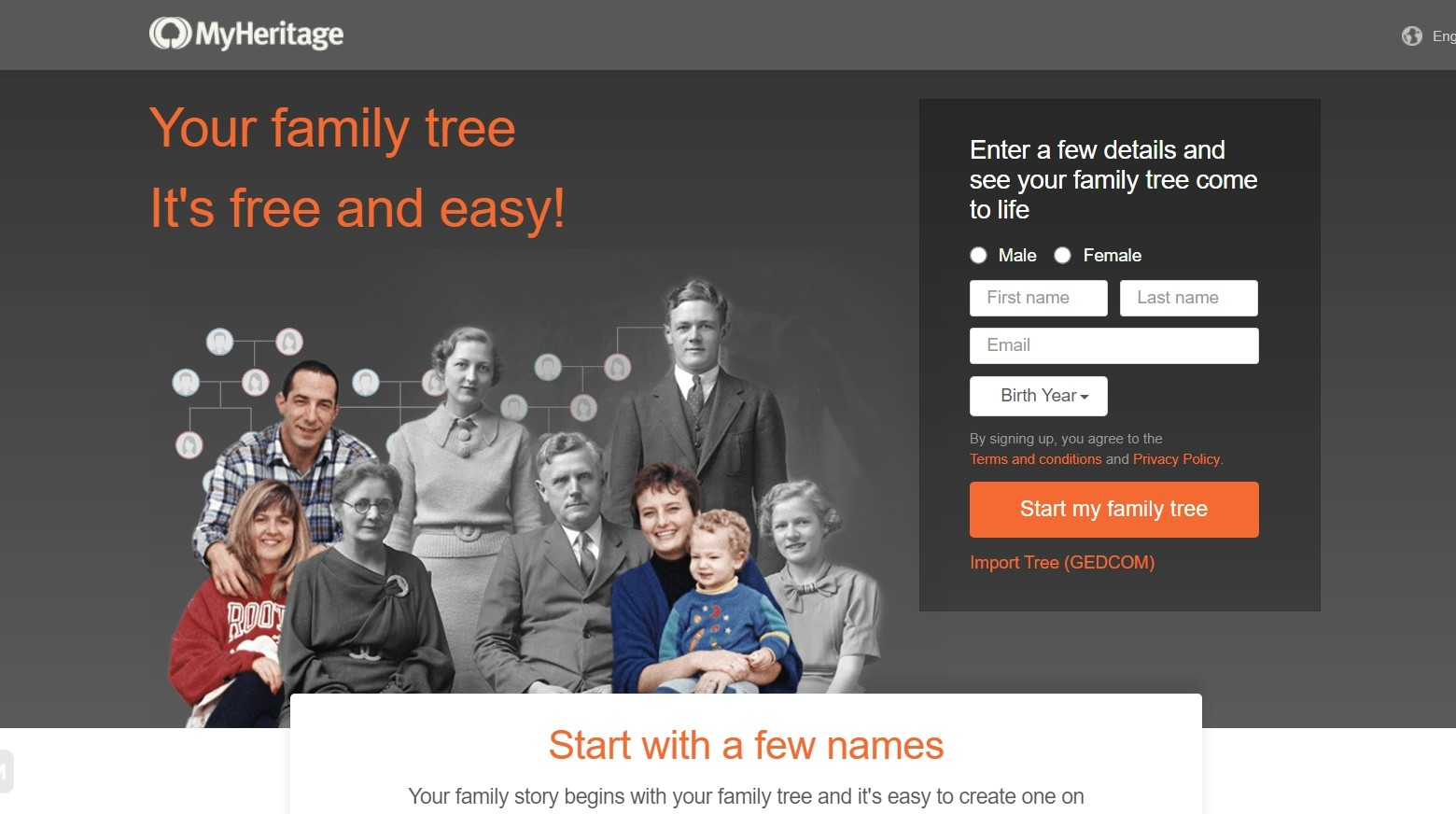 Family Tree is an amazing feature of MyHeritage that allows you to create a beautiful and detailed representation of your family's history. It's like a digital family album that lets you easily explore and connect with your relatives. Add names, dates, and photos to build a detailed representation of your ancestry. 
It's a fun feature special way to honor your family's heritage while preserving their stories for future generations. Dive into your family's past and create a meaningful connection to your ancestors.
Transport yourself through time: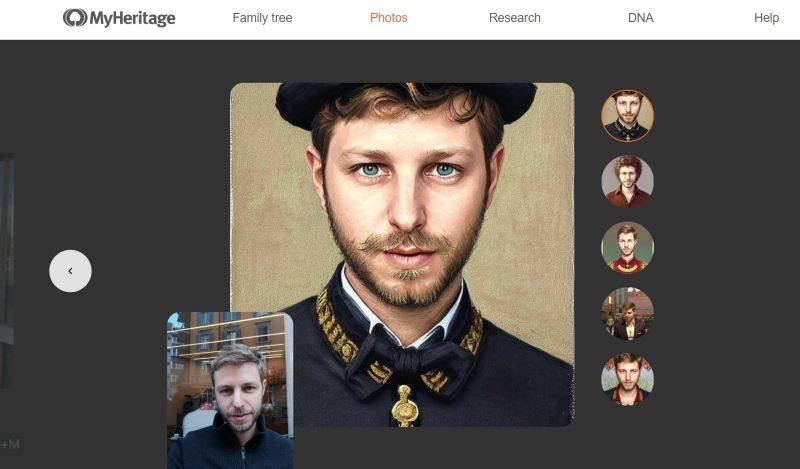 Upload your photos and witness the magic as AI Time Machine transforms them into stunning AI avatars representing different, historical figures and periods.
Dive into diverse themes: 
From ancient civilizations to modern space exploration, explore a wide range of themes that take you on a journey through time and across the globe.
Create realistic avatars:
The advanced AI technology analyzes your uploaded photos to construct a computer model of your face, resulting in realistic and visually impressive avatars.
Pricing: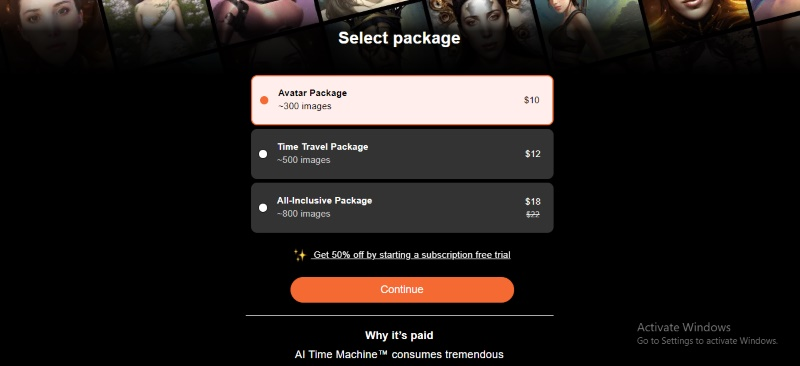 There are different package options to choose from: The Time-Travel Package, the Avatar Package, and the All-Inclusive Package.

The Avatar Package includes (300 images) in $10.

The Time-Travel Package allows you to upload photos and generate 500 images in $12.

The All-Inclusive Package combines both the Time-Travel and Avatar packages, giving you access 800 images in $18.
Pros & Cons of Myheritage's ai time machine:
Pros:
Realistic AI Avatars: The technology used generates stunning, hyper-realistic AI avatars that closely resemble the uploaded photos, providing an immersive experience.

Easy to Use: The process of using AI Time Machine is simple and user-friendly, with clear instructions for uploading photos and accessing the generated avatars.

Wide Range of Themes: With numerous themes available, from ancient civilizations to space exploration, there is a vast array of options to choose from, ensuring a diverse and exciting experience.
Cons:
Not Free Access: Myheritage ai time machine is a paid tool. It doesn't offer any free trial. So after taking their subscription, you can use it.

Time Consumption: Depending on the number of photos uploaded and the complexity of the avatars generated, the process of creating AI avatars using AI Time Machine can take some time, requiring patience from users.

Privacy Considerations: Although MyHeritage emphasizes protecting user privacy, concerns may still arise for those who are hesitant about uploading personal photos to a third-party platform.

 
Free Alternatives of MyHeritage AI Time Machine in 2023:
If you're looking for alternatives to the MyHeritage AI Time Machine, there are several great options available: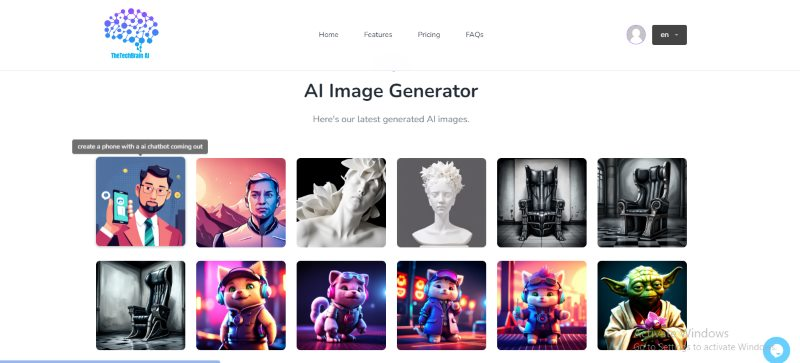 TheTechBrain AI is a platform that offers a range of Smart AI tools, including AI Art Creation, Ai Assistants, Text To Speech, and more. With AI Art Creation, you can generate unique and creative artworks using detailed descriptions or examples. It offers a free plan in which you can test all the tools easily.
However TheTechBrain does not have yet the function of avatar creation, but you can definitely create stunning images.
Read our article on How to Create Stunning Art in Seconds with TheTechBrain AI
Neural Love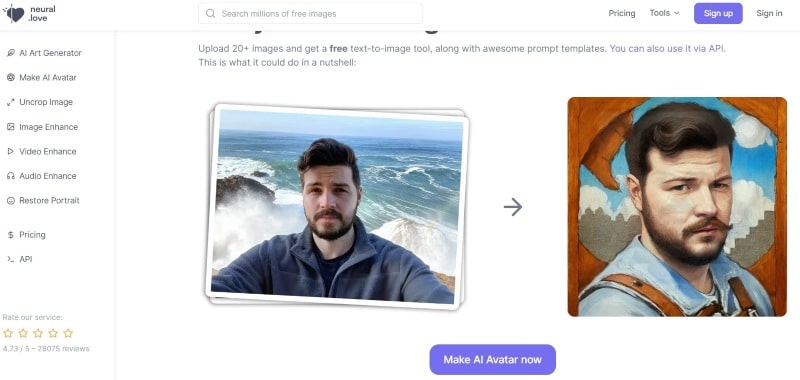 Neural Love is a game-changer for content creators. It makes creating captivating work a breeze.
The interface is user-friendly, allowing you to effortlessly generate stunning artwork, customize unique avatars, and enhance multimedia files.
With access to a vast collection of free, high-quality images, you can add a professional touch to your projects.
Neural Love has earned a reputation as the go-to tool for content creators because it sparks creativity and breathes life into ideas.
It seamlessly transforms words into mesmerizing art, elevates videos, and enhances audio quality.
Check this article on How to use Neural Love
Fotor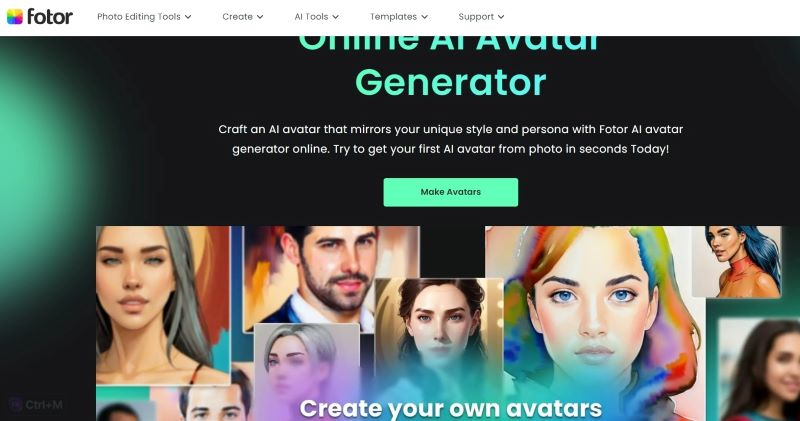 Fotor's AI Avatar Generator is an online tool that creates stylish AI avatars from personal photos.
It offers a variety of avatar styles, from realistic to cartoon-like, perfect for enhancing your persona profile on social media platforms like YouTube and Instagram.
You can also craft captivating gaming avatars for channels on Discord or Twitch. Additionally, Fotor's AI avatars can be used to represent your brand on LinkedIn or as logos for marketing materials.
The mobile app allows you to create and share avatars on the go.
Dyvo.ai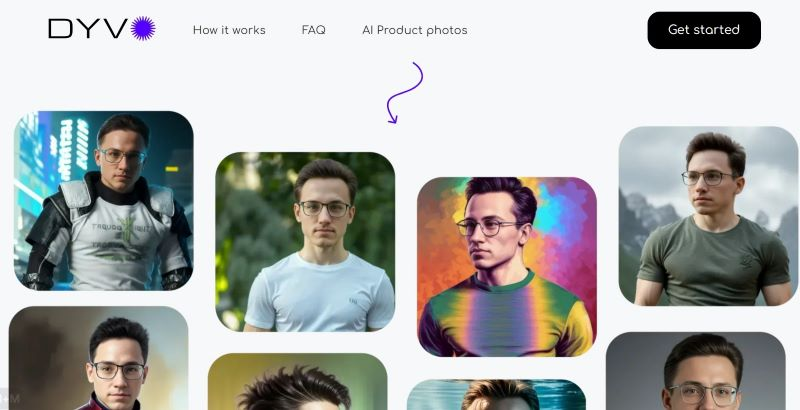 Dyvo is an AI-powered platform that lets you easily create avatars, photos, and profile pictures in various styles.
With over 100 options available, you can generate stunning images for social media and professional use. Dyvo also offers advanced features like animating avatars and creating high-quality product photos.
FAQS
Q: What is MyHeritage AI Time Machine?
A: MyHeritage AI Time Machine is a feature that uses advanced technology to transform your historical photos, into AI avatars representing different historical periods and themes.
Q: How much does it cost to use MyHeritage AI Time Machine?
A: MyHeritage AI Time Machine generally requires a paid subscription for full access to all features and themes. Their basic package starts from $10.
Q: Are there different themes to choose from?
A: Yes! MyHeritage AI Time Machine offers a wide range of themes, including ancient civilizations, medieval times, renaissance, Wild West, and even futuristic space exploration.
Q: How long does it take to generate the AI avatars?
A: The time it takes to generate AI avatars varies depending on the number of photos uploaded and the complexity of the avatars. It may take 30 to 90 minutes, so patience is required.
Conclusion:
MyHeritage AI Time Machine offers an exciting and creative way to dive into history and see yourself in different eras. With its advanced AI technology, you can transform your photos into realistic avatars representing various historical themes. 
While it generally requires a paid subscription. The user-friendly interface and wide range of themes make it enjoyable for history enthusiasts or anyone looking for a fun way to explore their past.