Say goodbye to your writing struggles and welcome Writesonic, the revolutionary AI-powered writing assistant! This game-changing tool combines the power of artificial intelligence and generative AI to make your writing process a breeze.
With its user-friendly interface and advanced algorithms, this tool offers a range of features to help you generate captivating content, refine your writing style, and overcome any blocks you may encounter.
In this article, we will discuss all about Writesonic and its free alternatives in 2023.
What is Writesonic?
Writesonic is an amazing AI writing platform that helps you create SEO-optimized content quickly and easily.
Whether you're a blogger, marketer, writer, or freelancer, Writesonic can generate SEO-optimized and engaging content in a fraction of the time for you.
With Writesonic, you can generate articles, blog posts, product descriptions, landing pages, and more in just seconds. It's like having your own personal writing assistant.
How to use Writesonic?
Sign Up: Visit the Writesonic website and sign up for a free account. It's quick and easy, and no credit card is required.
Choose your Tool: Once you're signed in, select the tool that matches your content needs. Whether it's generating articles, blog posts, landing pages, ad copy, or social media posts, Writesonic has got you covered.
Describe your Topic: Provide a brief description of your topic or input a few keywords related to your content. This helps the AI understand what you're looking for.
Generate Content: Click on the "Generate" button and let Writesonic work its magic. Within seconds, you'll have a variety of high-quality content options to choose from. Feel free to customize and modify the generated content as per your requirements.
Enhance and Edit: Use Writesonic's AI-driven editing tools to further enhance and polish your content.
Publish and Share: Once you're satisfied with your content, you can easily publish it directly to your website, blog, or social media platforms. Writesonic supports integrations with popular platforms like WordPress, making the publishing process easy.
Writesonic Support: If you need any assistance or have questions, Writesonic offers reliable customer support. You can reach out to their support team for any queries.
Pricing
Writesonic ai writer offers flexible pricing options to suit your content creation requirements. Start with the free trial and then choose the paid plans that best aligns with your needs.
Free Trial: Start with a free trial to test all features and generate up to 10,000 words.
Monthly Plans: Choose from different monthly plans based on your needs, ranging from GPT 3.5 with limited words to Unlimited and Business plans with higher word limits and additional features.
Annual Plans: Save up to 33% with discounted annual plans that offer the same features and word limits as the monthly plans for a year-long subscription.
Features of Writesonic:
Articles and Blogs
With Writesonic, you can generate a lot of article ideas to spark your creativity and find unique topics to write about.
The AI also helps you craft strong introductions and outlines for your blog posts, saving you time and effort in the writing process.
E-commerce Product Descriptions
Writesonic offers the ability to create compelling product descriptions for your ecommerce store.
From crafting engaging descriptions to optimizing Amazon product titles and features, Writesonic helps you enhance your product listings and attract more customers.
Ads and Marketing Tools
Writesonic provides a range of tools for creating high-performing ads across platforms like Facebook and Google.
You can generate catchy ad titles and descriptions that drive more clicks and conversions, boosting your marketing efforts.
Website Copy
With Writesonic, you can develop persuasive and attention-grabbing copy for your website. From landing page headlines to optimized meta titles and descriptions, Writesonic helps you effectively communicate your brand message and improve your website's visibility.
General-purpose Writing
Writesonic offers a set of tools that enhance your general-purpose writing. From paraphrasing and sentence expansion to content shortening, you can refine your writing and convey your message more effectively.
Others
Under the "Others" category, you'll find a range of additional features such as story generators, article summarizers, email subject lines, and startup ideas.
These tools provide support and inspiration across various writing needs, helping you create engaging content and boost your productivity.
Writeosonic AI Art generator:
The Writesonic AI Art Generator allows you to create stunning and unique artwork with just a few clicks. Say goodbye to searching for stock images or waiting for weeks to get custom creatives.
Whether you want to make trippy paintings, minimalist illustrations, or abstract art, the AI Art Generator can help you accomplish it in different art styles.
Plus, you can save hundreds of dollars on stock photos by creating royalty-free, AI-generated art that perfectly matches your requirements.
Pros & Cons of Writesonic
Pros:
Time-saving: Writesonic's AI-powered tools generate content quickly, saving you time and effort in writing. You can create articles, product descriptions, and ads in seconds.
Versatile Writing Tools: With over 80 powerful AI writing tools, Writesonic provides a wide range of features to enhance your writing. From AI article writing to content rephrasing and landing page generation, there are tools for various writing needs.
User-Friendly Interface: Writesonic has a user-friendly interface that makes it easy to navigate and use the platform. You don't need to be a professional writer to create high-quality content.
Cons:
AI Limitations: While Writesonic's AI is advanced, it still has limitations. Sometimes, the generated content may need additional editing and tweaking to align with specific requirements.
Learning Curve: It may take some time to fully understand and utilize all of Writesonic's features effectively. However, once you get familiar with the platform, the learning curve becomes smoother.
Dependence on AI: Using Writesonic means relying on AI for content creation. While AI is powerful, it's important to maintain a balance and ensure that your content still reflects your unique voice and creativity.
Alternatives to Writesonic:
TheTechbrain AI:
The TechBrain AI is a versatile ai platform and powerful writing tool that offers much more than just writing assistance. It provides a range of software tools such as AI Art Creation, Speech to Text, Text to Speech, and AI Code that cater to different areas of digital creation.
With TheTechBrain AI premade templates, you can create engaging blog posts, compelling social media content, persuasive ad copies, clear emails, and more.
It also helps with generating SEO meta tags correctly, translating text, and creating frequently asked questions and answers.
The best part is that many of these features are available for free. TheTechBrain AI service is also accessible through its user-friendly web app, allowing you to boost your writing and creativity on the go.
Conch AI
Conch AI is an excellent alternative to Writesonic, offering a range of features to enhance your writing. With Conch, you can improve your writing skills, generate content suggestions, and make your text more professional.
It provides in-text citations, style improvement suggestions, autocomplete sentences, and helps you find the perfect words for your writing.
With its free Chrome extension, you can easily access Conch AI wherever you write.
It's especially useful for students, enabling faster and better writing with unique, plagiarism-free content.
Check our article: How to use Conch ai?
Copy AI
Copy.ai is a remarkable AI writing tool that simplifies content creation for various purposes. Whether you require blog posts, emails, digital ads, website copy, marketing materials, or reviews or product descriptions, Copy.ai has you covered.
Simply provide a brief overview, and let Copy ai generate a range of writing options to choose from. It's free and effortless, serving as your tireless writing ally, helping you create engaging content in no time.
Check our article: How to use Copy Ai
Wordtune:
Wordune AI is an intelligent writing tool that enhances your writing by improving clarity and engagement. It goes beyond simple spell-checkers by suggesting alternative sentence rewrites, grammar corrections, and writing enhancements.
With Wordtune, you have multiple writing options at your fingertips, allowing you to find the perfect style that suits your needs. It's like having a reliable writing coach that helps you express yourself effectively in any type of writing.
For those looking to sound their best, Wordtune is an excellent alternative to Conch. Try it out and elevate your writing to new heights.
Check our article: How to use Wordtune ai?
Quillbot
QuillBot is a reliable alternative , offering a variety of essential writing tools. From paraphrasing and grammar checking to plagiarism detection and citation generation, QuillBot has it all.
It's easily accessible as a Chrome extension, allowing you to write professionally wherever you are. Enhance your writing experience with the premium version, which offers accelerated paraphrasing, more editing options, and additional writing modes.
Whether it's emails, essays, or social media posts, let QuillBot assist you effortlessly in your writing endeavors.
Check our article: How to use Quillbot?
Shortly AI
Shortly a versatile and user-friendly ai writer alternative to Wordtune. It's an AI-powered tool designed to overcome writer's block and assist in various writing projects, from novels to blog posts.
One of its standout features is the ability to rewrite, shorten, and expand sentences with just a click, streamlining your writing process and saving you time.
With Shortly by your side, you'll have a secure, reliable, and helpful writing partner to enhance your writing.
Check our article: How to use Shortly ai?
HyperWrite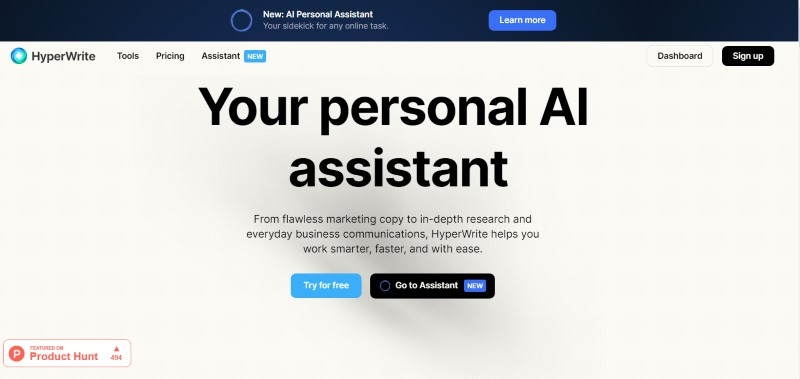 Enhance your writing with HyperWrite, an AI-powered tool designed to boost efficiency and improve the quality of your content.
Overcome writer's block and generate original ideas with personalized suggestions. Seamless integration with popular websites offers real-time assistance.
HyperWrite ensures the creation of authentic and unique content, without any concerns of plagiarism.
Explore its features like AutoWrite, Summarizer, Rewrite Content, Email Responder, Explain Like I'm 5, Magic Editor, and Generate Blog Intro to elevate your writing with confidence and originality.
Read our article on How to use HyperWrite
FAQS
Q: Can I try Writesonic for free before subscribing?
A: Yes, Writesonic offers a free trial that allows you to explore and experience the platform's features with a limited word count. This gives you the opportunity to test-drive Writesonic and see how it can benefit your content-creation process.
Q: Is the content generated by Writesonic original?
A: Yes, the content generated by Writesonic is original. However, it's important to note that while Writesonic's AI algorithms strive to provide unique and high-quality content, it's always recommended to review and occasionally edit the generated content to ensure that it aligns perfectly with your specific requirements.
Q: Can I use Writesonic even if I'm not an experienced writer?
A: Absolutely! Writesonic is designed to assist both experienced writers and those new to writing. The user-friendly interface and AI-powered tools make it easy for anyone to create high-quality content without extensive writing experience.
Q: Is Writesonic free?
A: Writesonic offers a free trial of 10000 Premium words which is sufficient to give this AI platform a try.
Q. Does Writesonic offer an API?
Yes, Writesonic has an API available for use.
Conclusion:
Writesonic is a valuable AI-powered tool for enhancing content creation. It offers a user-friendly interface and a wide range of writing tools, making it suitable for writers of all skill levels.
With features like AI article writing, content rephrasing, and landing page generation templates, Writesonic enables users to generate high-quality and original content quickly and effortlessly.
Whether you're a content marketer, blogger, entrepreneur, or student, Writesonic can be your trusted writing assistant, helping you create engaging and personalized content.
Experience the power of AI in your writing by signing up for a free trial and unlock the potential of effortless and impactful content creation with Writesonic.