Have you ever wished writing could be easier? If you're someone who writes a lot, you know it's hard to make every sentence just right. That's why we're talking about Wordtune today!
This tool helps make writing better and faster by using advanced Artificial intelligence. So, let's learn more about what makes Wordtune so helpful.
What is Wordtune? One of the most powerful AI Writing Tool
Wordtune AI is an intelligent writing tool powered by generative AI. It helps you make your writing clearer and more enjoyable. You can use it to improve schoolwork, emails, social media posts, and other writing.
It suggests different ways to rewrite sentences and alternative ways of making them sound better and more engaging as also grammar corrections.
Unlike simple spell-checkers, Wordtune helps you improve the quality of your writing. It offers different writing options, so you can choose what suits your style best.
It is like a helpful writing coach that's always there for you. It's there to help you express yourself better, no matter what you're writing.
Easy to use, Wordtune is an excellent tool for anyone who wants to sound their best in writing.
How to Use Wordtune? AI Writing Tool
Let's now explore how to get started with Wordtune after signing up for an account:
Visit the Wordtune website and click on 'Get Wordtune It's Free'.
A new page will appear where you'll be asked to sign up. You can create a new account using your Google account or your email address.
You will see two options one is " Chrome Wordtune Extension and the other " Wordtune Editor ". You can add a browser extension if not directly go to Wordtune editor.
Now just paste your text or write by yourself. You can rewrite, expand and shorten your text. Also, you can turn your text into casual or formal tones.
There you go! Now you can use Wordtune anytime when writing online. Enjoy your more refined and polished writing!
Pricing:
Free Version: As the name suggests, it costs you nothing. You get 10 rewrites, 3 AI prompts (helps to write from scratch), 3 summaries (shortens long texts) per day, and unlimited text corrections.
Plus ($9.99/month): This plan gives you more power. You get 30 rewrites, 5 AI prompts, 5 summaries daily, unlimited text corrections, and text recommendations.
Unlimited ($14.99/month): This steps up your productivity. You get unlimited rewrites, AI prompts, summaries, text corrections, text recommendations, and also premium support.
Business: This is for teams. You get all unlimited features, premium support, and premium billing.
Remember, you can save money if you choose the yearly plans for Plus and Unlimited. Each plan is designed for different uses, so you can choose what works best to save time for you!
Features of WordTune Editor
Wordtune Spices:
Wordtune's "Spices" add an extra dose of creativity to your writing. They offer options to insert examples, definitions, counterarguments, expanded details, emphasis, historical facts, and even jokes.
Simply choose what you need from the "Spices" list while writing with Wordtune to make better words and your text more engaging and informative. It's like adding the perfect seasoning to your text!
Find Synonyms:
Wordtune's synonym feature helps you find the right word for every sentence. Simply highlight a word, click the Wordtune icon, and it suggests context-based synonyms.
It makes your writing more accurate and engaging, taking the guesswork out of sentence structure and word choice.
Word Tune Plagiarism:
Wordtune helps you to clear plagiarism. If you've seen a great piece of text that inspires you, Wordtune can help you rewrite it while keeping the original meaning intact.
Simply paste any text into Wordtune, hit 'Rewrite', and it'll provide a fresh, unique version of the content. It's perfect for students and researchers because it helps you retain the original concept while ensuring your work is all your own.
Now, you can write with confidence knowing your project is plagiarism-free. It's like having a personal writing assistant!
Wordtune Summarizer
Wordtune has a great Summarize tool. You can give it a PDF, a direct link, or text. Wordtune reads it all and gives you a short summary. It is a quick way to understand long texts.
It can also rewrite the text to use different tones and keep the same meaning. It's a handy tool that makes things easier.
Wordtune AI Writing
Wordtune uses AI to supercharge your writing. You can create high-quality content by using its free version.
Whether you're an online editor looking to ensure perfect grammar, write faster, use backed-up facts, or create engaging content, Wordtune is your go-to tool.
It helps maintain your personal style while improving your text. So, Wordtune isn't just a writing tool, it's like having your personal AI-powered writing coach.
Extensions of Wordtune:
Chrome Extension: Enhances your writing directly in your Chrome browser, useful for emails, social posts, and more.
For Microsoft Word: Improves your Word documents with smarter phrasing and correct grammar.
For iOS: An app for your iPhone to aid your writing on the go.
Wordtune Read: Simplifies complex texts for easier understanding.
Read Chrome Extension: Uses Wordtune Read any text online to make it simpler and more comprehensible.
For Teams: Helps ensure consistent, effective writing across your entire team.
Pros & Cons of Wordtune
Pros:
Ease of Use: Wordtune's interface is user-friendly and easily integrates into various platforms, making quality writing accessible.
Accuracy: The AI-generated suggestions maintain the original meaning of your text while improving its quality and readability.
Cons:
Subscription Fee: While there is a free version, some of the advanced features require a paid subscription which might not fit everyone's budget.
Limited Language Support: As of now, Wordtune only supports English. This could be a limitation for users hoping to write or correct text in other languages.
Free Alternatives of Wordtune:
Here are some other writing tools that have more advanced features or you can read this article 7 Best  ai powered Wordtune Alternatives to explore in 2023
TheTechBrain AI is a powerful writing tool that's a great alternative to Wordtune and, in many ways, even better! What stands out about TheTechBrain AI is its versatility it's not just the best tool for writing.
It's filled with other tools like AI Art Creation, Speech to Text, Text to Speech, and AI Code aiding many areas of digital creation.
TheTechBrain AI also an writing tool. This includes engaging blog posts, compelling social media posts, persuasive ad copies, clear and concise emails, authentic product descriptions, and catchy song lyrics.
It also aids in creating catchy SEO meta tags, translating text, and even generating frequently asked questions and answers.
Best of all, many more features that can be used for free! You can also use TheTechBrain AI app for free. It's a user-friendly tool that effortlessly boosts your writing and creativity, and it has a web app that you can access on your phone while on the go.
Quillbot:
QuillBot works as a digital writing assistant that helps to make your content impactful. With a range of handy features like paraphrasing, summarizing, and the Co-Writer function, it can transform your content into clear, and engaging text.
One of the biggest strengths of QuillBot is its versatility. Whether you're working on emails, essays, or social media posts, QuillBot has got your back.
Moreover, it offers advanced tools to assist writers like a plagiarism checker, translator, and citation generator, which are great for academic writing.
Click on this article on How to use Quillbot AI.
WriteSonic
Writesonic is a smart alternative to Wordtune. It's an AI tool that helps create various content types quickly, like blog posts, emails, and ads.
Its main strengths include advanced tools like the AI Writer and editing features, making it handy for any writer.
With its ability to generate SEO-friendly content and catchy product descriptions, it's a great asset for marketers and entrepreneurs. It's a versatile tool that makes writing simple and efficient.
Click on this article on How to use Writesonic
Shortly AI
Shortly is a flexible alternative to Wordtune. It's an AI-powered tool that helps overcome writer's block. With a click, it can continue writing in your voice, helping to create everything from novels to blog posts.
Its key feature includes powerful commands to rewrite, shorten, and expand sentences, making your writing process smoother and quicker. So, if you need a helpful writing partner, Shortly is an excellent choice.
Click on this article on How to use Shortly Ai
HyperWrite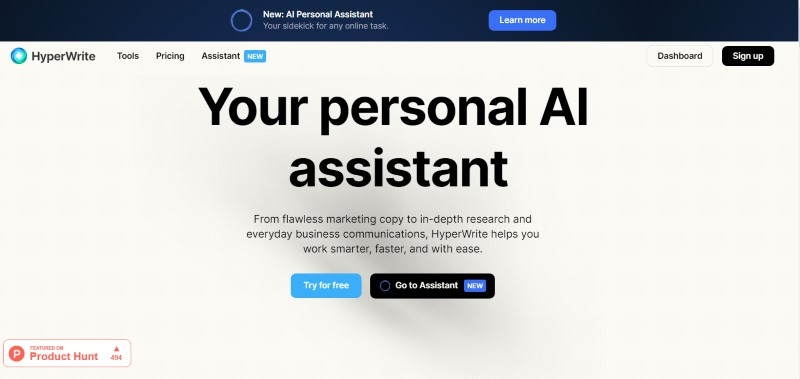 Elevate your writing with HyperWrite, an AI-powered tool that improves efficiency and ensures plagiarism-free content.
Overcome writer's block and generate original ideas with personalized suggestions. Seamlessly integrated with popular websites, it offers real-time assistance.
Explore features like AutoWrite, Summarizer, Rewrite Content, Email Responder, Explain Like I'm 5, Magic Editor, and Generate Blog Intro to enhance your writing with authenticity and confidence.
With HyperWrite, you can create unique and original content without the worry of plagiarism.
FAQS
Q: How do I install Wordtune?
A: You can add Wordtune as a browser extension for Chrome or install it as an add-in for Microsoft Word. There's also a desktop app and an iOS app available.
Q: Is there a free version of Wordtune?
A: Yes, Wordtune offers a free version, however, access to premium features requires a monthly subscription fee.
Q: Does Wordtune support languages other than English?
A: Currently, Wordtune only supports non native English speakers.
Q: Can I use Wordtune on multiple devices?
A: Yes, you can use your Wordtune account on multiple devices, but not simultaneously.
Conclusion:
Wordtune is your go-to tool for improving and simplifying your writing. With handy extensions for Chrome, Microsoft Word, and iOS devices, it covers all your writing needs.
Despite needing an active internet connection and only supporting English for now, it's a great assistant for enhancing your communication.
Whether you're working alone or with a team, Wordtune makes writing more efficient, effective, and enjoyable. It's like having a personalized writing coach on demand.