Are you tired of spending hours removing backgrounds from your videos? Look no further; Unscreen is here to revolutionize your video editing experience.
In this article, we will provide a comprehensive guide on how to use it and also discuss its free alternatives.
What is Unscreen exactly?
Unscreen is an automatic background removal ai tool that you can use for free. It's easy to use just upload your video or paste the URL, and Unscreen's AI will do the rest.
Producing background-free video used to require fiddly techniques like chroma-keying and greenscreens.
No need for green screens or complicated techniques. It's perfect for content creators and anyone who wants their videos to look professional.
How to use Unscreen?
Sign up: Start by visiting Unscreen's website and sign up for an account. This step is necessary to access all the features and functionalities of Unscreen.
Upload or paste the video URL: Once you're signed in, upload your video file by clicking on the designated upload button. Alternatively, you can paste the URL of the video if it's already hosted online.
Let Unscreen do its magic: After uploading the video or pasting the URL, Unscreen's AI will automatically analyze and remove the video background. The process may take a few moments, depending on the length and complexity of the video.
Preview and adjust if needed: Once the background has been removed, you will see a preview of your video without the background. If you need to make any adjustments, such as refining the foreground or fine-tuning the results, Unscreen provides simple editing tools to help you achieve the desired outcome.
Download the result: When you're satisfied click the download button to save the producing background-free video to your computer. You will get a full HD resolution of the video.
Features of Unscreen:
Background Removal:
Unscreen's main feature is its ability to automatically remove the background from videos. It analyzes the video and generates a high-quality result without the need for manual selection or complicated techniques.
Easy Upload:
Users can easily upload their videos to Unscreen's website. Simply click on the upload button and select the video file from your computer. You can also paste the URL of a video that is already hosted online.
Quick Processing:
Unscreen's AI works efficiently to process the video and remove the background. The processing time depends on the length and complexity of the video, but it generally completes the task within a few moments.
Pro Plugin for Adobe Premiere Pro & After Effects:
Unscreen offers a Pro Plugin for Adobe Premiere Pro and After Effects users. This plugin allows for seamless integration with this popular video editing software, making it even easier to incorporate the background removal feature into your editing workflow.
Pros & Cons of Unscreen:
Pros:
Simple and convenient: Unscreen AI offers an easy-to-use interface, making it simple for users to remove video backgrounds without complex techniques or equipment.
Time-saving: Unscreen AI processes videos quickly, automatically removing the background, saving users time and effort.
Cons:
Subscription-based pricing: Unscreen AI operates on a subscription model, which may not be ideal for users who prefer one-time purchases.
Limited video time: The pricing plans have limits on the amount of video time available, which may not be sufficient for users with extensive video editing needs.
Pricing
Unscreen offers different pricing plans:
Hobby ($9/month): 3 minutes of video at $3.00 per minute.
Artist ($39/month): 15 minutes of video at $2.60 per minute.
Creator ($89/month): 45 minutes of video at $1.98 per minute.
Maker ($189/month): 2 hours of video at $1.57 per minute.
Studio ($389/month): 5.5 hours of video at $1.18 per minute.
They also offer custom plans and a Pay-as-you-go option starting at $4.99 per minute.
Alternatives to Unscreen:
Lumen5
Lumen5 is a user-friendly AI-powered video and content creator that makes video production easy for everyone.
It's ideal for marketers, publishers, and brands, offering a range of templates to choose from or the option to start from scratch.
Simply upload your own text, images, and video clips, customize your video with a few clicks, and create professional-looking videos without the need for technical expertise.
If you want to know more read our article on How to use Lumen5
Synthesia
Synthesia AI is a cutting-edge video creation platform that effortlessly turns your written text into engaging videos.
With customizable avatars and voiceovers available in multiple languages, you can create high-quality videos in a snap.
Synthesia simplifies the process by providing everything you need to create professional videos in one convenient platform.
If you want to know more read our article on How to use Synthesia Ai
Steve AI
Steve is a user-friendly platform that makes video creation effortless. Simply add your script, and Steve's AI technology will automatically select the most suitable visuals, videos, and sounds for a polished and professional-looking video.
If you're a beginner or an expert, Steve provides a hassle-free experience. Customize your videos with various styles and characters to add a unique and personalized touch.
With Steve, anyone can create captivating videos without any technical expertise.
If you want to know more read our article on How to use Steve Ai
Synthesys
Synthesys is an advanced platform that simplifies the process of adding voiceovers and videos with realistic human-like sounds to your content.
With its user-friendly interface, you can transform your website videos and tutorials into captivating experiences.
The authentic voices provided by Synthesys build trust and emotional connections with your viewers. What makes
Synthesys unique is in its customization options, allowing you to easily adjust and edit voiceovers and videos to match your style and preferences.
If you want to know more read our article on How to use Synthesys
Pictory AI
Pictory AI simplifies the process of transforming text into engaging videos. It extracts key points, pairs them with images and videos, and allows for customizable audio.
The result is professional and captivating videos suitable for various purposes. Pictory AI offers different pricing plans to accommodate different needs and is user-friendly for creators of all levels.
Check Our Article: How to use Pictory AI?
Fliki Ai
Fliki is a user-friendly text-to-video tool that uses AI to create stunning videos in just 2 minutes. It simplifies the process of transforming text into visually appealing videos with a human-like voiceover.
Fliki offers a wide selection of text-to-speech voices and supports multiple languages. With its stock media library, you can easily enhance your videos with images, video clips, and background music.
If you want to know more read our article on How to use Fliki Ai
InVideo
InVideo is an easy-to-use online video editing platform suitable for beginners. It offers a wide array of templates, with over 5,000 options to choose from These templates are customizable to meet your specific needs.
With InVideo, you can effortlessly add and edit text, leverage AI technology to generate scripts, convert text to speech, and collaborate with team members.
The free plan provides access to more than 3 million standard media assets and allows for exporting videos up to 15 minutes long.
If you want to know more read our article on How to use InVideo
Munch
Munch is an AI-powered platform designed to help users extract captivating and impactful moments from lengthy videos.
Its automatic editing features and AI capabilities are invaluable for professionals and creatives seeking to enhance their content strategies.
By leveraging Munch, users can effortlessly upload videos and rely on its advanced AI algorithm to analyze and select the most compelling segments. This streamlined process enables them to create customized social media posts tailored for platforms like TikTok, Instagram, Twitter, LinkedIn, and YouTube Shorts, saving time and effort.
It also offers video editing tools that utilize marketing insights and trends to optimize content for maximum impact. It is not a free tool to try, but is worth mentioning because is such a great platform.
If you want to know more read our article on How to use Munch
Nova AI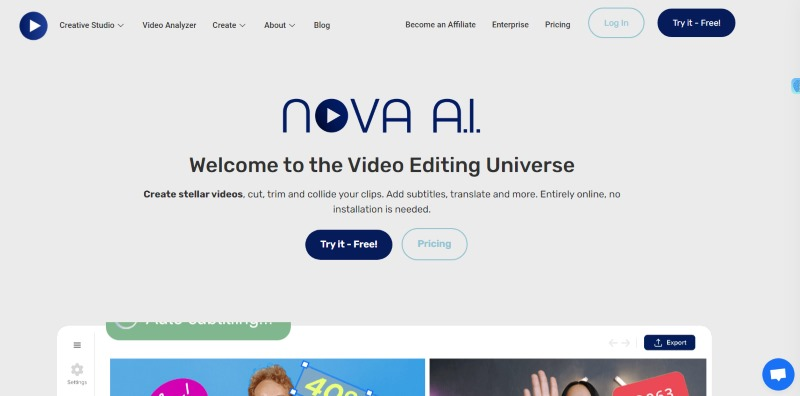 Nova AI is an online video editing tool that simplifies the creation and editing of videos without requiring software installation.
This user-friendly platform offers a variety of features like clip cutting, trimming, subtitle addition, and video translation suitable for both beginners and professionals.
Whether it's promotional content, educational videos, social media material, or creative projects, Nova AI's versatility empowers you to craft exceptional videos with ease.
Read our article on How to use Nova Ai
FAQS
Q: Can Unscreen handle different types of videos?
Yes, Unscreen AI is designed to work with various types of videos, including those with complex backgrounds, different lighting conditions, and diverse subjects.
Q: Is there a limit on the video length that Unscreen can process?
Unscreen AI can handle full-length video clips, providing flexibility for different video durations. There is typically no specific limit on video length.
Q: What file formats does Unscreen AI support for uploading videos?
Unscreen AI supports popular video file formats, including MP4, MOV, AVI, and more. However, it is always recommended to check the supported formats on the Unscreen website for specific details.
Conclusion:
Unscreen AI offers a user-friendly and efficient solution for removing video backgrounds. With its advanced artificial intelligence technology, Unscreen AI automates the process, allowing users to easily create videos with clean foregrounds.
If you're a casual user or a professional content creator, Unscreen AI's flexible pricing plans and options cater to a wide range of needs.
Plus, with features like previewing, downloading watermark-free videos, and full-length clip support, Unscreen AI provides a seamless experience. The only downfall is that does not provide a free plan or a free trial.