Are you ready to unlock the power of AI-driven speech synthesis? With its groundbreaking technology, Uberduck AI harnesses the power of Artificial Intelligence to effortlessly generate authentic and lifelike voices.
Seamlessly integrate Uberduck AI into your projects to create captivating content and enhance user experiences.
That's why in this comprehensive guide, we will explore not only all the features and capabilities of Uberduck but also its free alternatives.
What is Uberduck ai?
Uberduck is an innovative platform that is transforming the way we create and experience music. Uberduck.ai empowers users to generate vocals and create voiceovers with a library of over 5,000 expressive AI voices.
The technology behind Generative AI algorithms analyzes and learns from a vast amount of musical data, enabling it to generate original compositions with speed.
From transforming written words into lifelike voices to offering innovative options for celebrity voices like the Grimes AI Voice, AI-Generated Raps, and Custom Voice Clones.
Uberduck AI opens up a world of creative possibilities.
How to use Uberduck ai?
With its user-friendly, it provides APIs that enable developers to build audio applications in minutes. But the excitement doesn't end there – Uberduck allows you to create your own custom voice clone.
Usingduck AI is straightforward. Here's a simple guide to get you started:
Sign up: Visit the Uberduck website and sign up for an account. This will grant you access to their platform and services.
Sign up: Visit the Uberduck website and sign up for an account. This will grant you access to their platform and services.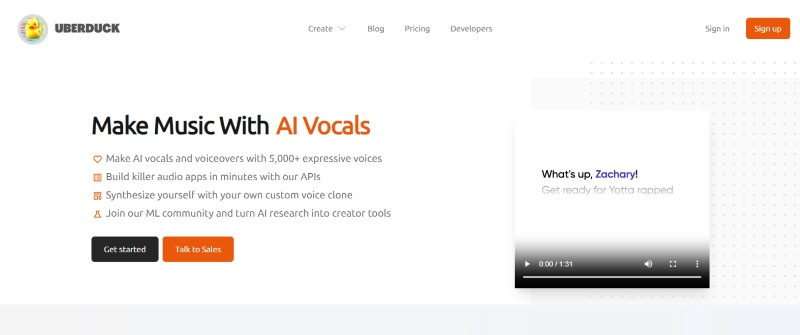 Fill in the required information, such as your name, email, and password.

You will get a confirmation link in your email. Click the link and confirm your email address.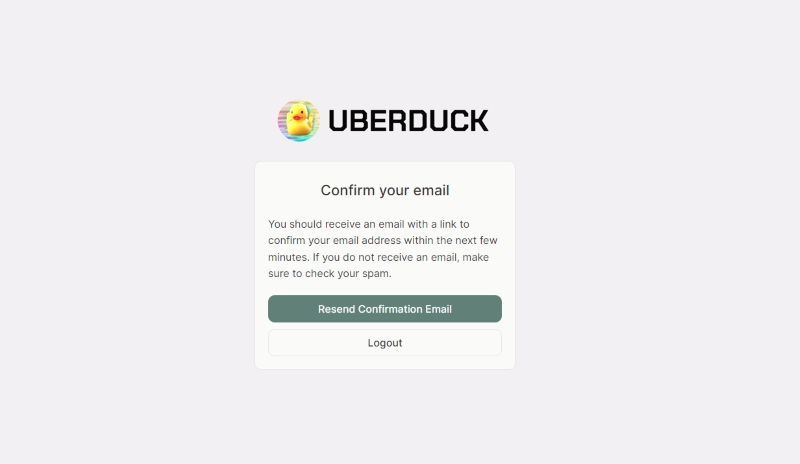 Now you can start using Uberduck.
Unique Features of Uberduck Ai
Here are some incredible features of this platform: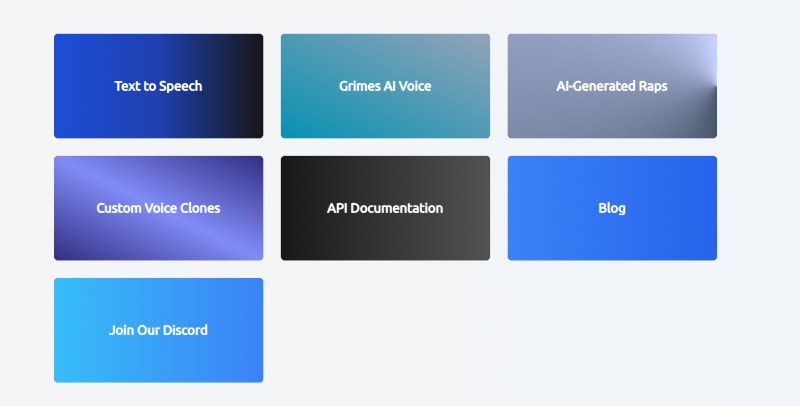 Text to Speech Tool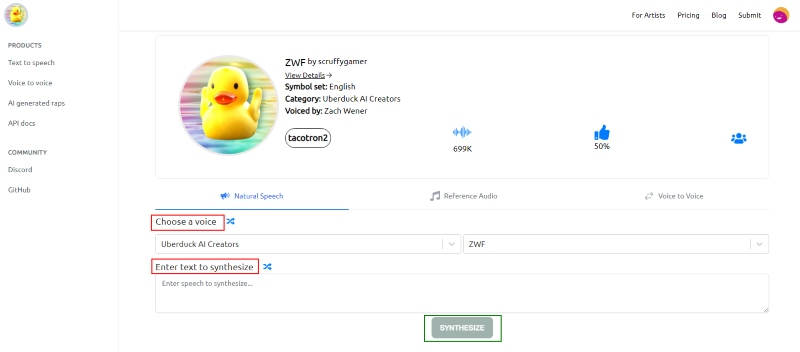 With Uberduck AI's Text to Speech, you have the power to convert your already written text content into lifelike and engaging audio.
Gone are the days of static text – now you can create unique voiceovers, podcasts, videos, and more with just a few clicks.
Using the Uberduck AI interface, simply input your text, choose from a variety of expressive voice styles, and witness your words transform into spoken art.
With Uberduck users can actually use the API to train on samples of their own natural voice too.
Voice to Voice – Interactive Voice Bots: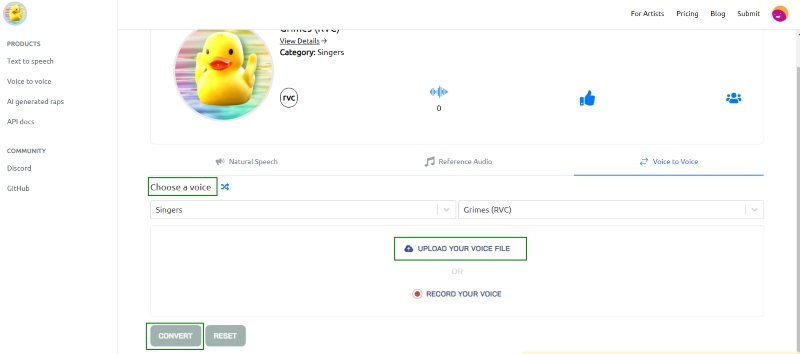 Using Uberduck AI's intuitive interface, simply record your own voice and choose from an exciting array of voices available.
Whether you want to sound like a celebrity, or a historical figure, or experiment with various accents, the power is in your hands.
If you're a content creator, a podcaster, or someone who wants to add a bit of fun to your daily interactions, Uberduck AI's Voice-to-Voice feature amplifies your conversations with an unparalleled level of creativity.
AI-Generated Raps: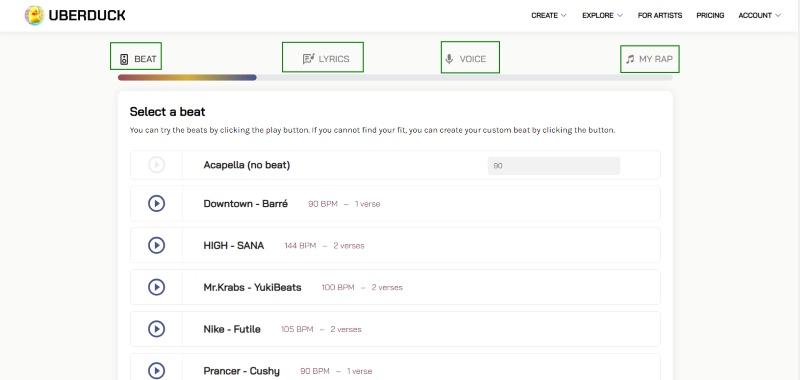 AI-generated raps allow users to have different voices to create personalized music.
Custom AI voices, styles, and themes can be incorporated, enabling the creation of unique songs that align with specific branding or individual preferences.
This feature provides a constant source of new ideas and inspiration for musicians and artists.
The technology can generate unique rhymes, wordplay, and flows that may not have been thought of before, pushing the boundaries of creativity.
Here are the few steps you need to follow if you are looking to generate a rap in uberduck ai.
Just type a phrase and the rest ai will write 4 lines for you.
After 4 lines you must upgrade.

Choose the rapper voice.
this is a piece of music I generated and I can say is just so great and sounds real.
Brands can create personalized rap jingles or campaigns, driving user engagement and promoting their products or services in a creative and memorable way.
Artists can experiment with new sounds, collaborate with AI on songwriting, and combine their creative vision with the possibilities offered by AI technology.
Your Development with the Uberduck API
With the Uberduck API, the possibilities are endless, offering developers the keys to unlock a world of innovative music and speech synthesis.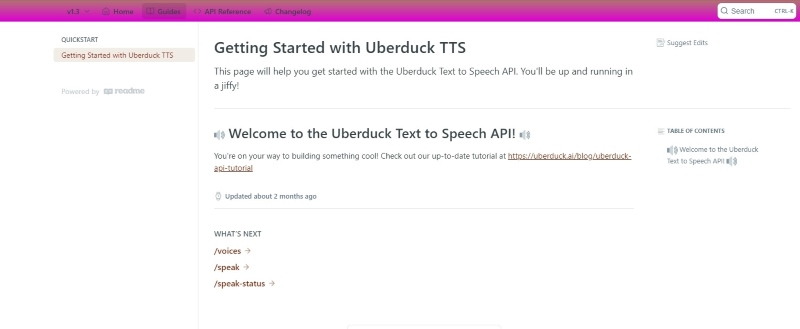 Developers can utilize the Uberduck API for a variety of other purposes. Here are a few examples:
Voice-overs for Media: Developers can leverage the Uberduck API to create professional-quality voice-overs for videos, advertisements, podcasts, and other media projects.

Virtual Assistants and Chatbots: With the Uberduck API, developers can enhance the conversational capabilities of virtual assistants and chatbots by integrating natural-sounding speech possibilities.

Accessibility Features: The Uberduck API can be utilized to develop accessibility features for individuals with visual impairments or reading difficulties.

Language Learning Tools: Developers can create language learning applications and tools using the Uberduck API.

Podcasting and Audiobook Production: The Uberduck API can streamline the process of creating audio content for podcasts and audiobooks.

Voice Experiences: Take user interactions to the next level by incorporating voice experiences in games, virtual reality applications, and even storytelling.
Uberduck Pricing Plans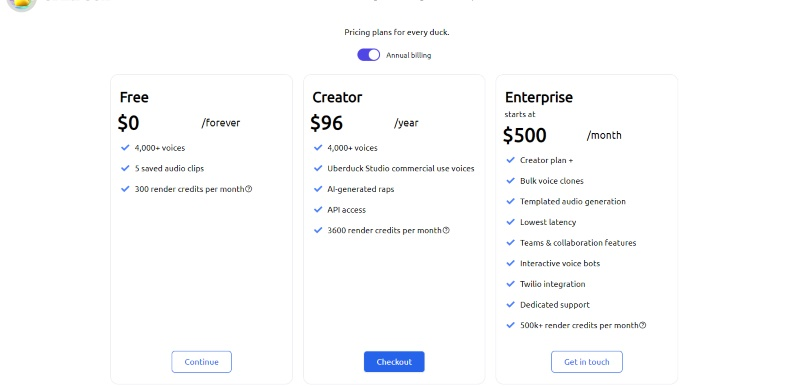 Free Plan:
This plan is available at no cost and provides access to over 4,000 voices. Users can save up to 5 audio clips and receive 300 render credits per month.
Creator Plan:
The Creator plan costs $10/month and includes unlimited text-to-image renders, unlimited saved audio clips, and commercial use of Uberduck Studio voices.
Enterprise Plan:
The Enterprise Plan is designed for larger-scale needs and starts at $500 per month. In addition to the features included in the Creator Plan, it offers bulk voice clones and templated audio file generation.
The Pros and Cons of Uberduck AI
Pros:
High-Quality Voices: it provides a wide selection of high-quality voices, offering diverse accents, languages, and personalities, allowing you to find the perfect fit for your project.

Advanced Technology: Uberduck AI enables realistic and natural-sounding speech outputs, enhancing the overall user experience
Cons:
Pricing: While Uberduck AI offers a free plan with limited features, the more advanced Creator and Enterprise plans come at a cost. This pricing structure may be a limitation for developers or organizations working with constrained budgets.

Limitations in Free Plan: The free plan provides access to a limited number of voices and imposes restrictions on the number of saved audio clips and monthly render credit

Learning Curve: Utilizing the Uberduck API may require developers to invest time in understanding the documentation and familiarizing themselves with the platform.
Alternatives of Uberduck Ai in 2023:
Although Uberduck is an excellent Ai tool If you're looking for alternatives, there are several other platforms and tools that offer multiple and a lot of features.
1. The TechBrain AI
Unlike Uberduck, which offers only a text-to-speech feature, The TechBrain AI goes a step further by providing both text-to-speech and speech-to-text capabilities.
However, TheTechBrain does not do music from text or speech.
Text to Speech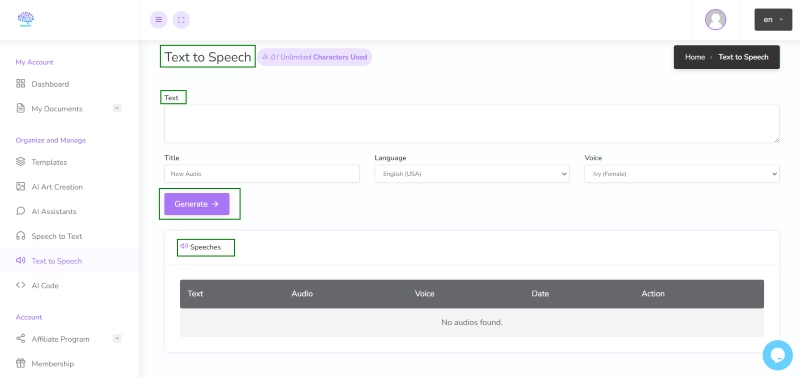 Speech to Text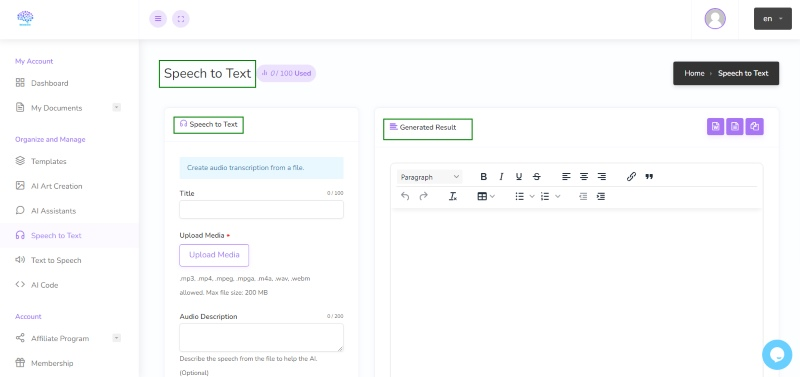 Creating engaging content is simplified with The TechBrain AI.
The text-to-speech enables bloggers and writers to convert their written articles or blog posts into audio format, making it easier for audiences to consume content.
The speech-to-text feature assists in the transcription of podcasts or recorded interviews in multiple languages, facilitating the efficient creation of written content.
2. Boomy: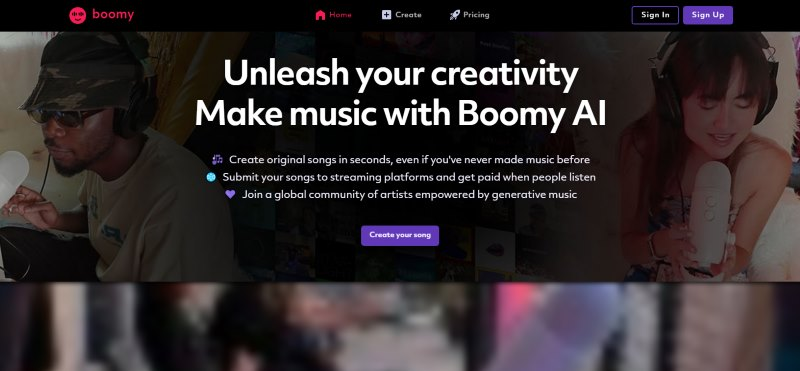 Boomy is an AI-powered music creation tool that simplifies the process of composing and producing music.
It offers a wide range of AI-generated sounds, loops, and instrumentals, making it easy for users to create professional-quality tracks, even with limited musical experience.
Boomy offers a wide range of music styles to choose from, enabling users to explore various genres like electronic dance, rap beats, and relaxing meditation. 
Read our article on How to use Boomy
3. LANDR
 LANDR is an all-in-one platform for musicians that offers AI-powered mastering, distribution, and music creation tools.
Their music creation feature allows users to explore AI-generated samples and loops, helping artists to quickly generate ideas and kickstart their creative process.
Read our article on How to use Landr
4. Loudly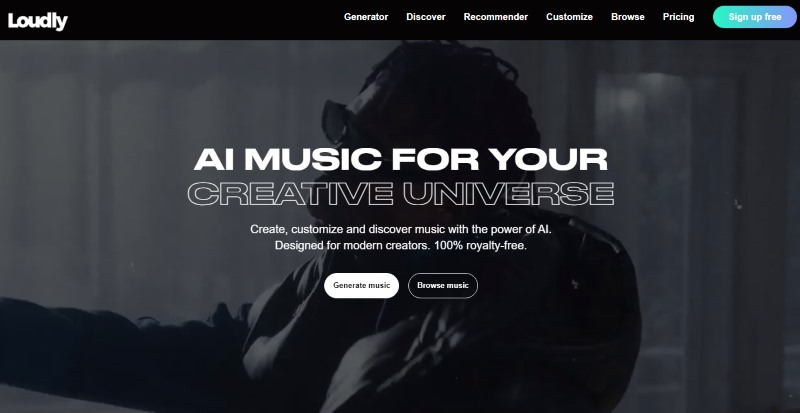 Loudly is a comprehensive platform designed to revolutionize your music experience.
With Loudly, you have access to an extensive collection of AI-powered, royalty-free music that enables you to find the ideal soundtrack for your creative projects.
Loudly offers a wide-ranging catalog of thousands of songs, stems, and sounds that are readily available for you to browse and filter.
If you're a content creator, filmmaker, startup, or multimedia artist, Loudly caters to your unique needs.
Read our article on How to use Loudly
5. Fake You Text To Speech
What is Fake You?  is an incredible tool that brings famous voices right to your fingertips.
With this feature, you can transform the text into stunning voiceovers that sound remarkably just like Morgan Freeman and Barack Obama.
Read our article on How to use FakeYou Text To Speech
FAQS
Q: What is Uberduck AI?

Uberduck AI is an advanced AI-powered platform that specializes in speech synthesis and voice generation. It utilizes cutting-edge technology to create natural-sounding voices and enable various applications like text-to-speech, voice transformation, rap generation, and more.
Q: How does Uberduck AI work?

Uberduck AI leverages deep learning algorithms and neural networks to analyze vast amounts of data and generate high-quality voice outputs. The algorithms learn from patterns in human speech and replicate them to create AI-generated voices with remarkable accuracy and realism.
Q: What can I do with Uberduck AI?

Uberduck AI offers a wide range of functionalities for developers and content creators. You can generate realistic speech for videos, podcasts, virtual assistants, and chatbots.
Q: How diverse are the voices available on Uberduck AI?

Uberduck AI offers an extensive library of more than 4,000 voices to choose from with various accents, genders, and even well-known personalities.
Q: Is commercial usage permitted with Uberduck AI?

Yes, Uberduck AI provides commercial use voices and offers plans such as the Creator and Enterprise great for users with commercial needs.
Q: Can I integrate Uberduck AI with my existing applications?

Absolutely! Uberduck AI provides an API that allows seamless integration with your applications, websites, or services.
Conclusions:
In summary, Uberduck AI is a powerful tool that empowers developers and content creators to unlock endless possibilities in AI-driven speech synthesis.
With its advanced technology, diverse voice options, Uberduck AI allows you to create natural-sounding voices and generate AI-powered raps.