Tome AI is a great platform that uses the power of Generative AI to easily create impressive presentations.
This comprehensive guide answers all your burning questions about Tome AI. What exactly is it? How does it work?
In this article, we will explore the pros and cons of Tome AI, including its pricing details, and also discuss free alternatives to Tome AI in 2023.
What is Tome AI?
Tome is revolutionizing storytelling by being the world's first generative storytelling format to fully leverage the capabilities and power of artificial intelligence. It uses the OpenAI ChatGPT-4 model and DALLE-2 to create and share immersive narratives, enabling anyone to tell a compelling story.
How to use Tome AI?
Using Tome is easy and straightforward. Here's a step-by-step guide: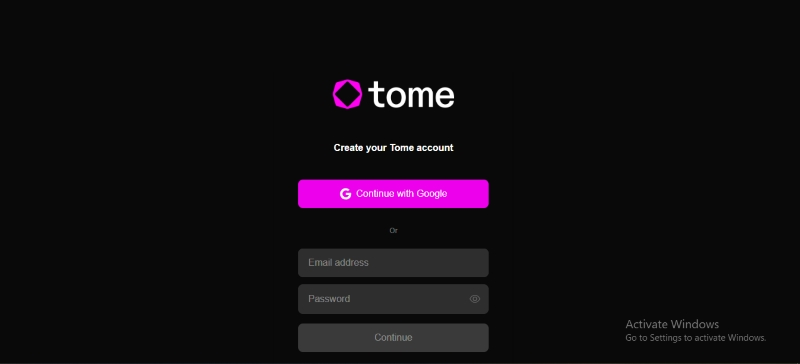 Choose a template: Browse through the available templates and select one that suits your storytelling needs and they serve as a foundation for your presentation.

you can Customize your story: Add your content, such as text, images, videos, and audio, to each slide. Use the easy-to-navigate editing tools to adjust size, position, and formatting.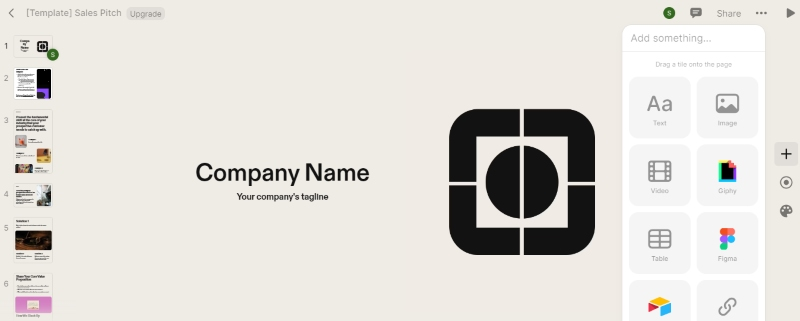 Share and collaborate: Once you're satisfied with your presentation you can invite collaborators to work on it together.
Features of AI StoryTelling Partner Tome AI:
Tome AI offers powerful features, including an interactive canvas and AI storytelling partner that look great on any device.
The platform has responsive layouts that adjust to any screen size and provides a full-screen experience to offer an immersive presentation mode.
Let's explore some of its key features:
Generative Storytelling Format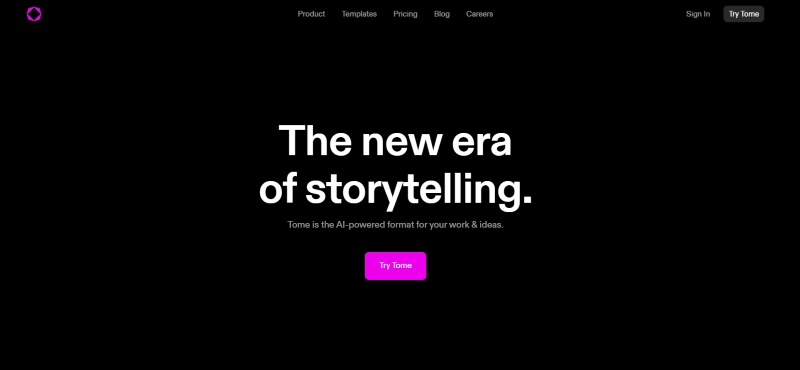 Tome is a game-changer when it comes to storytelling. It combines the power of AI with your input and storytelling format to truly create captivating narratives that will leave your audience amazed.
The platform's unique blend of automation and human creativity enables users to truly harness the power of creating more impactful stories.
Generate narratives with one click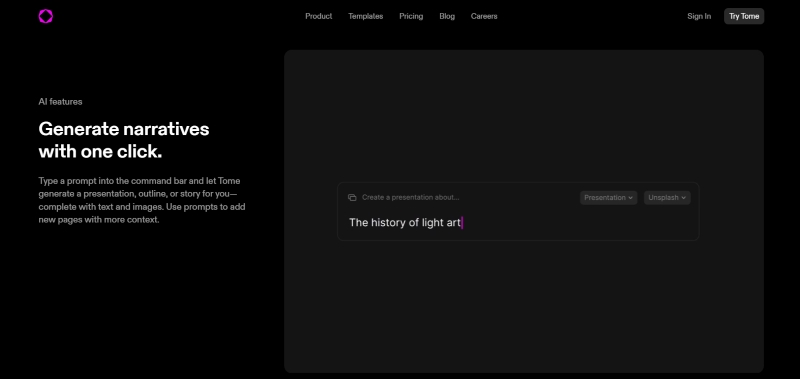 With Tome AI, you can simply type a prompt into the command bar, and it will generate a complete presentation, outline, or story for you.
It includes text and images, and you can use prompts to add more context to new pages.
A magical creation experience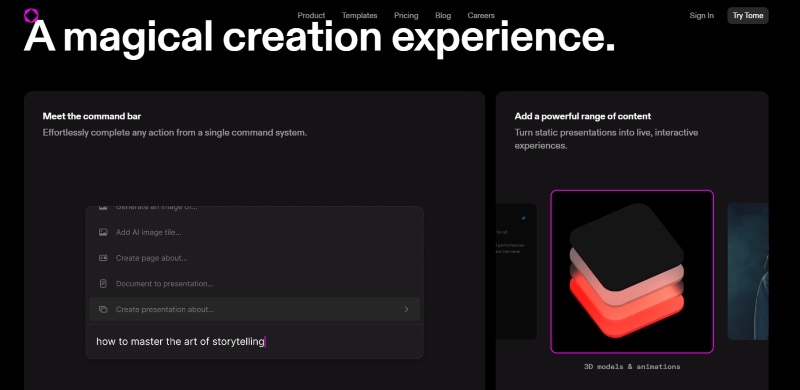 Tome offers a streamlined creation process through its command system. You can easily perform various actions using a single command, making it quick and easy to create your presentations.
Transform your presentations into interactive experiences by including 3D models, animations, and audiovisual overlays.
These elements help provide critical context and make your presentations more attractive.
Integrations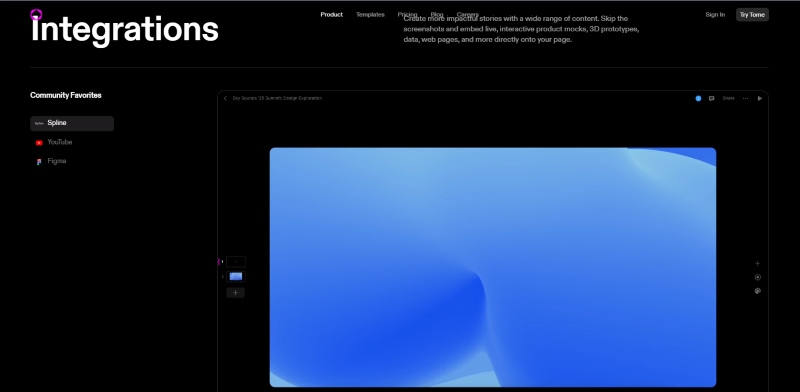 Tome AI seamlessly integrates with various platforms, allowing you to include content from sources like Figma, Spline, Twitter, YouTube, Framer, and Miro.
This enables you to incorporate live product mocks, 3D prototypes embed live,, data, web pages, and more into your presentations.
Improvements and Updates in Tome Ai:
Outline editor, page count, Unsplash search, and more:
This update brings several new features to Tome. Users now have an outline editor that allows them to preview and refine their narrative before it's generated.
They can adjust page titles, add, re-order, or remove pages, and change the topic of specific pages to customize the content generated by Tome's AI.
The update also allows users to choose the number of pages Tome generates, with an increased limit of up to 25 pages. Additionally, the integration of Unsplash search provides access to millions of high-resolution images directly within Tome.
Advanced AI image settings: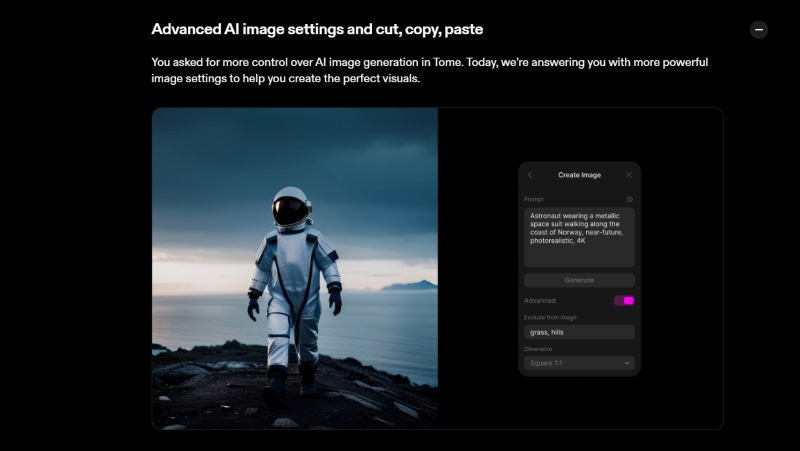 The platform gives you more control over image settings when it comes to ai art creation. You can add more context to prompts, see different image styles, adjust advanced settings, and exclude specific content.
The update also introduces the much-requested cut, copy, and paste functionality, allowing users to easily duplicate and move tiles within their tomes.
Text colors, plus more image tile updates: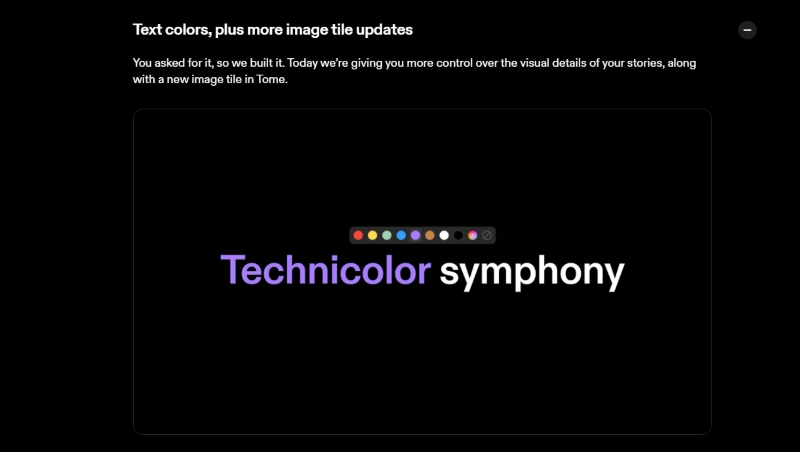 This update grants users increased control over the visual details of their stories. They can now customize text colors in their tones by highlighting specific words, letters, or strings and selecting color options.
Additionally, Tome introduces an improved image tile, making it easier to edit image output and add the perfect images to the story.
Users can drag the image tile onto their page, generate AI-powered images, crop them, and change the background color directly from the image tile.
Tome Pro: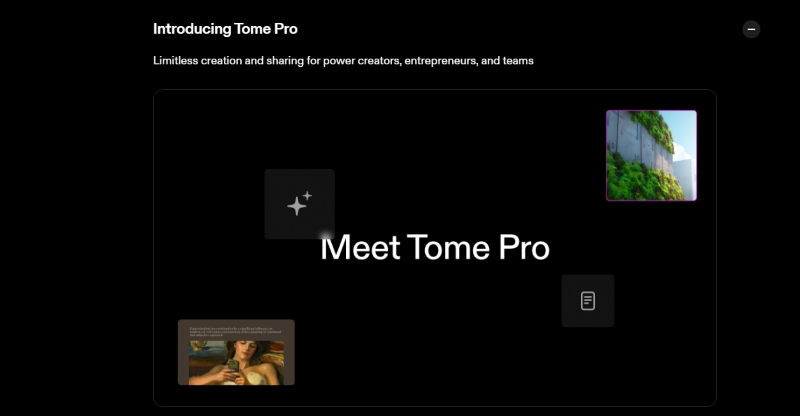 This plan offers limitless creation and sharing capabilities within Tome.
Subscribers get unlimited access to AI capabilities, unlimited tome creation, options for custom branding, export to PDF, and priority in-app support.
Turn documents into presentations: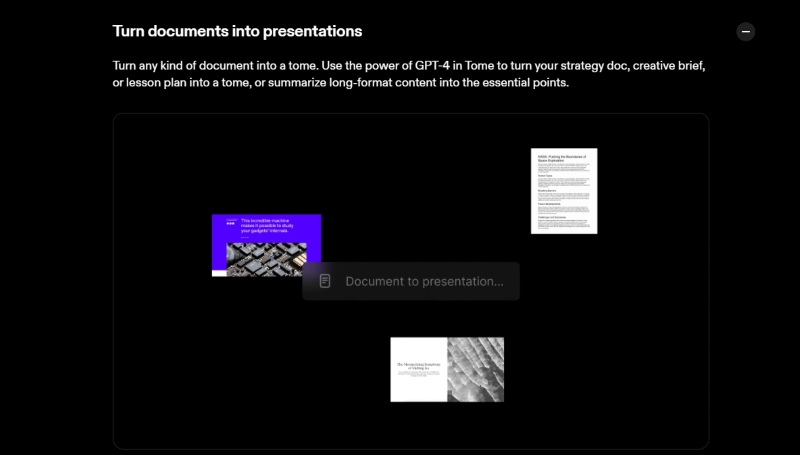 This update enables users to create any type of document, such as strategy docs, creative briefs, or lesson plans, into a presentation format.
Users can copy and paste text from documents, websites, or articles, and watch as it is easily transformed into a presentation format. This feature also allows users to summarize complex documents into key points.
Pros & Cons of Tome AI:
Pros:
Easy and efficient: It simplifies presentation creation, making it user-friendly and time-saving.

Interactive elements: The platform offers attractive features like quizzes and polls to enhance audience participation.
Cons:
Limited customization: Customization options may be restricted compared to more advanced design tools.

Learning curve: It may take some time for users unfamiliar with technology or presentation tools to become fully comfortable and skilled with Tome AI.
Pricing: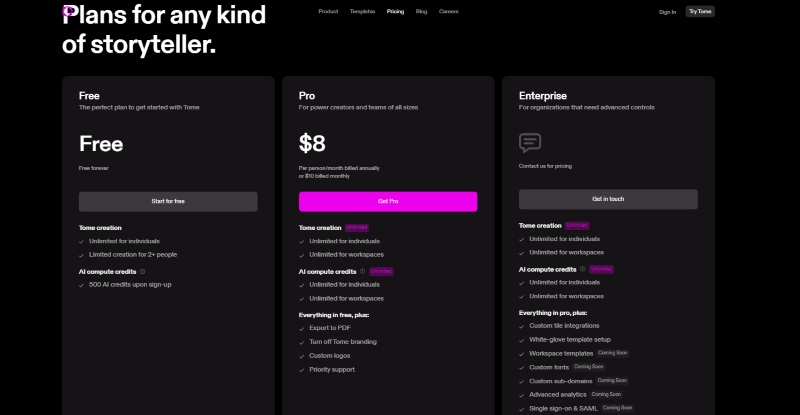 Free Plan: It's a perfect plan to start with. It's completely free and gives you limited creations for individuals.

Pro Plan: For power creators and teams, it costs $8 per person per month (billed annually) or $10 per month (billed monthly). You get unlimited tome creation for both individuals and workspaces.

Enterprise Plan: This plan is for organizations with specific needs. Pricing can be obtained by contacting Tome AI directly.
Alternatives of Tome Ai
Here are some alternatives for Tome AI.
Jitter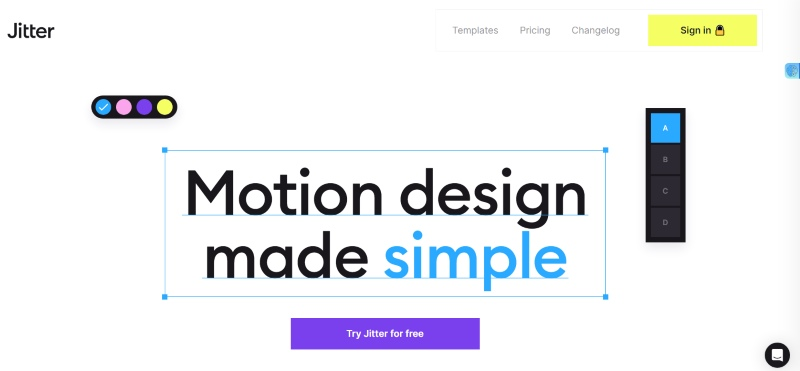 Jitter is an incredible tool that empowers you to create mesmerizing animations and designs.
With Jitter, you can add movement, special effects, and bring your ideas to life in a visually stunning way.
The user-friendly interface makes it accessible to everyone, whether you're an experienced designer or just starting out.
You can choose from a wide range of pre-designed animations or customize your own to create something truly unique.
Whether you're a designer, content creator, or simply have a passion for visual storytelling, Jitter is the perfect tool to unleash your creativity and make your designs stand out.
Canva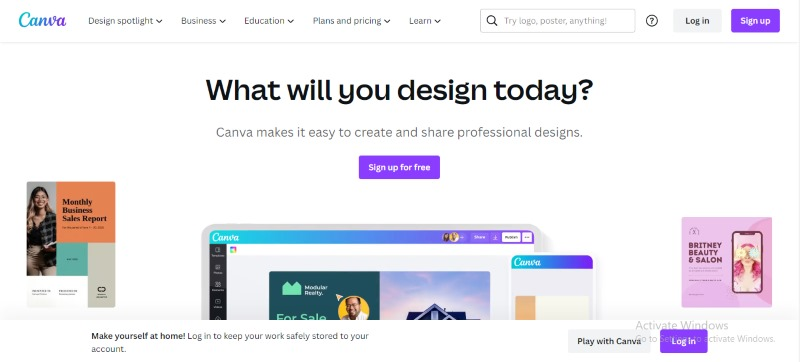 I use Canva myself and is an incredibly popular design tool that empowers users to create captivating presentations, stunning social media graphics, and so much more.
What exactly sets Canva apart is its integration of cutting-edge artificial intelligence tools. With features like the Magic Eraser AI art creation, Canva takes your designs to the next level.
If you're looking to create eye-catching videos, engaging presentations, or beautiful designs, Canva has it all.
PowerPoint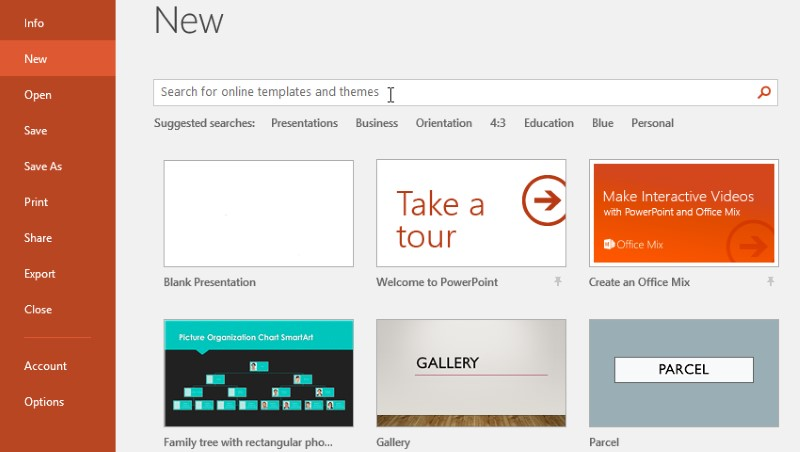 PowerPoint is a well-known presentation software by Microsoft. It provides users with a familiar and feature-rich platform to both create and share immersive slideshows and presentations.
You can create interactive product mocks, 3D prototypes, data, web pages, and more directly onto your page.
With various templates, animation effects, and slide transitions, PowerPoint is widely used for its comprehensive presentation capabilities.
Prezi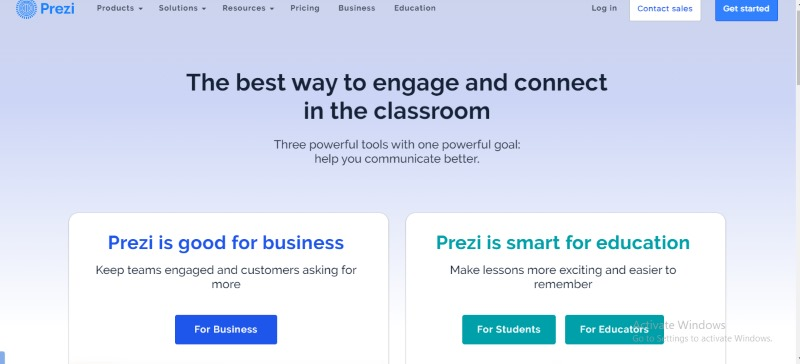 Prezi is a fantastic presentation software that brings your presentations to life.
It offers a visually captivating experience with its immersive presentation mode and special zooming and panning effects.
With Prezi, you can create presentations that are non-linear, meaning they flow in a more interactive and engaging way.
FAQS
Q: What is Tome AI?
Tome is an artificial intelligence-powered storytelling tool that enables anyone to create and share immersive narratives quickly and easily.
Q: Can I use Tome AI for team collaboration?
A: Yes, you can collaborate on tomes with multiple team members by choosing the Pro or Enterprise plan.
Q: Can I export my tomes to PDF format?
A: Yes, exporting your tomes to PDF is a feature available in the Pro Plan only.
Conclusion:
 I truly believe that Tome is a valuable tool designed to empower individuals in telling their most captivating stories. It doesn't matter if you're at the helm of a large company, kickstarting a solo business venture, or simply creating content for your personal brand – Tome is here to support you.
From unlimited tome creation in the Pro plan, Tome provides flexibility and versatility.
With its intuitive interface and helpful support, Tome is an excellent tool for anyone looking to communicate their ideas effectively.