Have you ever wondered how you can bring your written words to life? Synthesys can do just that and even more by leveraging the power of artificial intelligence and generative ai.
In this article, we will explore the wonders of synthesis and its incredible ability to create not only captivating audio but also stunning videos and lifelike avatars. Get ready to discover the world of synthesis and its amazing alternatives that you can use for free.
What is Synthesys exactly?
Synthesys is an advanced technology that converts written text into natural-sounding speech or dynamic videos.
It uses powerful algorithms to create voiceovers and videos that sound and look just like a real human speaking or acting. With Synthesys, you can easily enhance your website explainer videos, product tutorials, and more in just a few clicks.
The AI voice generator uses clear and natural voices to bring trust and authority to your digital message, creating a relatable and emotional connection with your audience.
It's a simple and effective way to transform plain text into engaging and professional digital content.
How to use Synthesys ai studio?
Sign up for an account on the Synthesys website ( It's a paid tool so you need to take a subscription then you can create an account.
Choose the AI Voiceover or AI Video Generator service.
Enter your written script into the platform.
Select the voice or avatar that best suits your content.
Customize and edit your voiceover or video if desired.
Preview the final result to ensure it meets your expectations.
Download your completed voiceover or video and use it for your desired purpose.
Features of Synthesys ai studio
AI Audio
AI Audio is a feature of that uses advanced artificial intelligence technology to convert text into realistic audio messages.
With AI Audio, you can create voice-overs for various purposes, such as radio commercials, tutorials, podcasts, and more.
It offers a wide range of male and female AI voices, different accents, tones, languages, and reading speeds to suit your needs.
It is easy to use, and you can customize the voice to represent your brand. With just a few simple steps, you can create professional audio content without any technical knowledge.
AI Video Generator – Easily Create Videos
AI Video is a feature of Synthesys that allows you to transform your text into realistic virtual videos. You can create video presentations without the need for cameras, third-party software, or pre-recorded voiceovers.
It provides you with all the tools you need to turn your text into engaging videos, right at your fingertips. You can choose from a variety of AI actors and voices, customize the tone and style, add your script, select backgrounds, and create branded videos with your logo and call to action.
The process is simple, and you can render your video in minutes.
AI Image
AI Image is a feature that allows you to create unique variations of any image you find online. With its AI Image, you can instantly transform objects and visualize up to 50 images per month for free.
Simply add the Synthesys X Chrome Extension to your browser, and you'll be able to generate multiple variations of images with just a few clicks.
The AI algorithm analyzes the images to provide better results. There is also a premium version available at $12 per month or $99 per year, offering additional features like high-definition support, face restoration, and the ability to generate up to 500 images per month.
AI Avatars
AI Avatars is a feature of Synthesys that allows you to create virtual characters to represent your brand or convey messages in videos. With AI Avatars, you choose from a variety of characters with different looks and personalities.
Each avatar has its own unique traits, suitable for various purposes. For example, you can select a youthful and radiant avatar for vlogs and social media or a professional avatar for healthcare-related content.
The avatars have been designed to cater to different industries and topics, such as business, fashion, sports, education, and more.
By selecting the right avatar, you can effectively engage your audience and convey your message in a personalized and appealing manner.
Pros & Cons of Synthesys
Pros:
Easy to use: Synthesys AI is user-friendly, making it simple for anyone to create audio, video, and images with just a few clicks.
Realistic results: Synthesys generates high-quality content that sounds natural and looks realistic, enhancing the overall user experience.
Cons:
Limitations of AI: While the platform is impressive, it may not capture every nuance and emotion of human speech or visuals, which can be a drawback in some situations that require genuine human interaction.
Cost: Synthesys AI comes with a price tag that may not be affordable for everyone, so the subscription fees should be considered before deciding to use the service.
Pricing of Synthesys:
Audio Synthesys:
For $27 per month (or $324 billed yearly, with a 20% discount), you'll have unlimited access to voice-over downloads. Choose from 38 authentic human voices and a total of 374 voices in 140 languages for creating top-notch audio content.
With its web-based platform, customers can conveniently use the service from anywhere. Plus, there's a 7-day money-back guarantee to ensure your satisfaction.
Human Studio Synthesys:
By paying $36 per month (or $432 billed yearly with a 20% discount), you gain unlimited video creation capabilities.
The service offers access to 73 Humatars (virtual spokespersons with extra outfits) alongside 374 voices in 140 languages.
Additionally, you can upload your own vocal recordings and enjoy full video customization options. Just like the other plans, it is fully web-based and comes with a 7-day money-back guarantee.
Audio and Human Studio Synthesys:
For $52 per month (or $624 billed yearly, with a 20% discount), you'll get unlimited video and voice-over creation through the comprehensive package.
This includes access to Audio Synthesys and Human Studio Synthesys services, with all their features. The platform is fully web-based and comes with a 7-day money-back guarantee. For larger companies and agencies, custom Enterprise Plans are available upon contacting the Synthesys team.
Alternatives of Synthesys
Thetechbrain AI:
TheTechBrain AI is an easy-to-use AI tool that offers Text to Speech functionality. With this tool, you can effortlessly transform written text into natural-sounding spoken words.
There are various language options and voices available, such as Amy (Female) in English (UK), ensuring high-quality audio output.
TheTechBrain AI conveniently integrates with word processing programs, allowing you to convert your text into human-like speech.
The best part? It's completely free to use and even has a mobile app for added convenience. Try it out and enjoy the seamless experience of converting text to speech with TheTechBrain AI.
Lumen5
Lumen5 is an innovative and easy-to-use online video and content creator that is powered by artificial intelligence. It empowers anyone, regardless of expertise, to effortlessly produce professional videos.
Designed specifically for marketers, publishers, and brands, Lumen5 simplifies the video creation process, eliminating the need for technical know-how.
You have the option to choose from a wide selection of pre-designed templates or start from scratch and create your own unique video layout.
Simply upload your text, images, and video clips to add content to your video and with just a few clicks, you can customize your video by adjusting fonts, colors, and transitions to make it truly yours.
If you want to know more read our article on How to use Lumen5
Synthesia
Synthesia AI is an innovative video creation platform that allows you to transform your written text into captivating videos effortlessly.
You can create high-quality videos with customizable avatars and voiceovers in over 120 languages and customize your video by choosing from a range of AI avatars or even create your own for a unique touch.
Synthesia eliminates the need for cameras, microphones, or actors, making it a simple and efficient solution to create professional-quality videos.
If you want to know more read our article on How to use Synthesia Ai
InVideo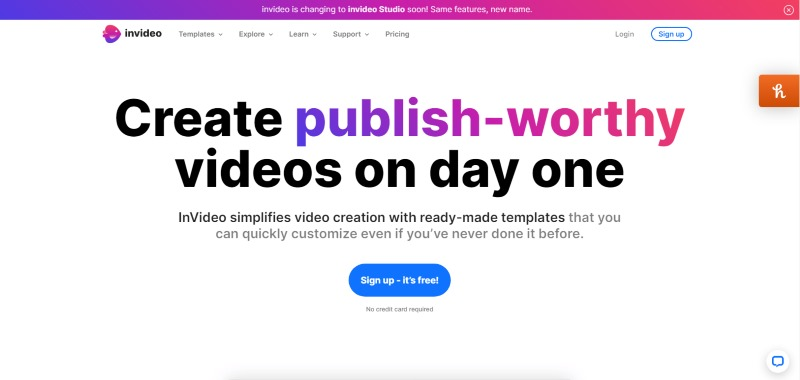 InVideo offers a diverse range of pre-designed video templates, allowing users to generate visually stunning videos without the need to start from scratch.
Their platform offers a wide range of advanced editing features and tools for creating professional-grade videos effortlessly.
With an online editor and various specialized tools like intro and outro makers, slideshow makers, and more, InVideo helps users achieve impressive video results without complexity.
This tool can be used for various purposes, whether it's for personal, professional, marketing, or social media projects. It simplifies the process of creating videos, making it easy and straightforward.
If you want to know more read our article on How to use InVideo
Steve AI?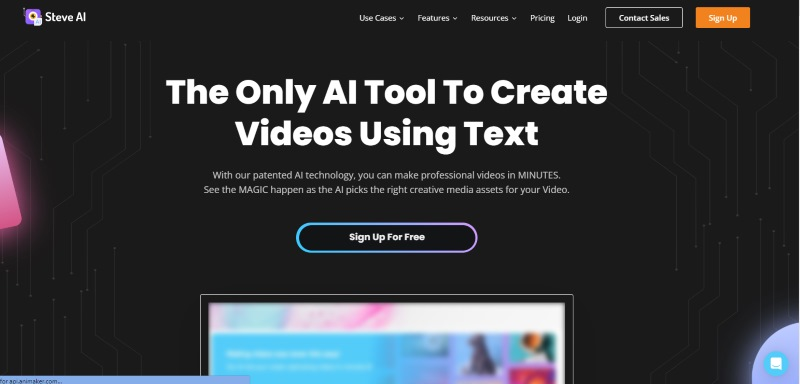 Steve is an innovative platform that allows you to effortlessly create captivating videos by simply adding a script.
It provides a hassle-free video creation experience for both beginners and experts.
By typing in your text, the AI takes care of selecting the best visuals, videos, and sounds to make your video look professional and polished.
You also have the flexibility to customize your videos with different styles and characters, making them unique and personalized.
If you want to know more read our article on How to use Steve Ai
Pictory AI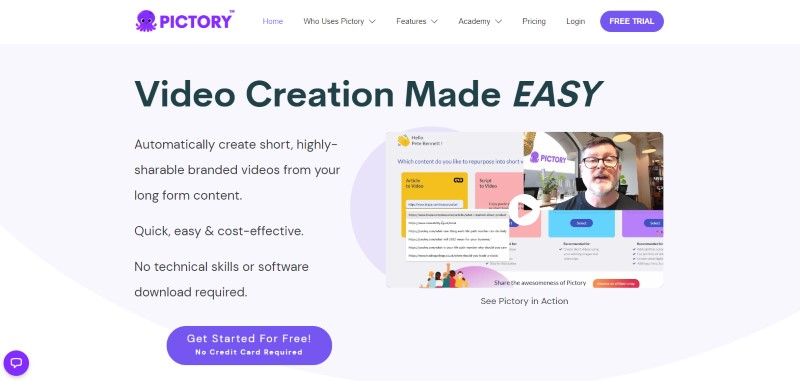 Pictory AI is an impressive video creation tool that simplifies the process of transforming text-based content into engaging videos.
It effortlessly extracts key points from your source material, pairs them with relevant images and video clips, and allows for the addition of audio through text-to-speech technology or custom voiceovers.
With Pictory AI, you have the freedom to customize your video according to your preferences, including adjusting images, script, and other elements. The end result is a professional and captivating video that can be used for various purposes.
Pictory AI offers different pricing plans to accommodate different needs and budgets. If you're a YouTube creator, marketer, social media manager, agency, blogger, or course creator.
Its features enable users to create high-quality videos with ease, without the need for complex technical knowledge or tedious steps.
If you want to know more read our article on How to use Pictory Ai
Fliki Ai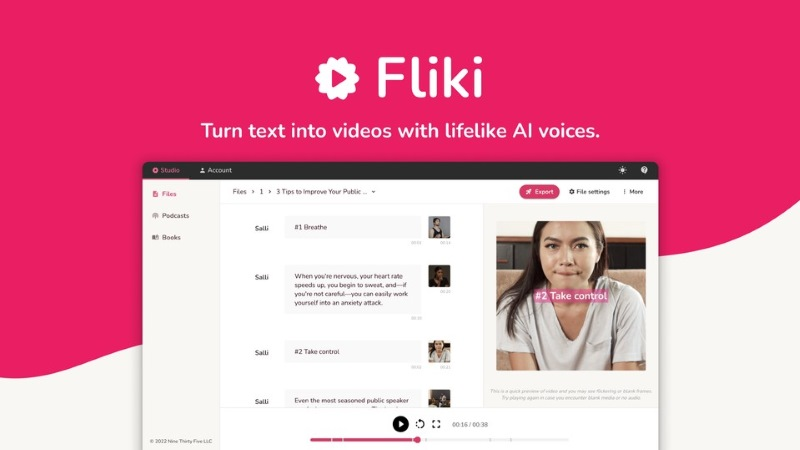 Fliki is a user-friendly text-to-video tool that utilizes AI to help you create stunning videos in just 2 minutes.
It simplifies the process of transforming blog articles or text-based content into visually appealing videos by combining the text, visuals, and a human-like voiceover.
Fliki offers a wide range of text-to-speech voices in over 1,000 options and supports 75 different languages. With its extensive stock media library, you can easily find images, video clips, and background music to enhance your videos.
Fliki has gained the trust of over 1 million content creators and has received positive reviews for its efficiency and user satisfaction.
If you want to know more read our article on How to use Fliki Ai
Munch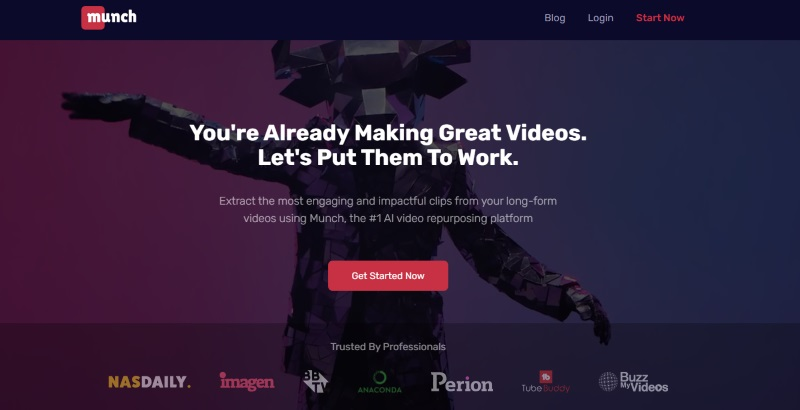 Munch is an AI-powered platform that assists users in capturing engaging and impactful moments from lengthy videos, it is not a free tool but is worth mentioning.
With its AI-driven capabilities and automatic editing features, Munch improves content strategies to enhance engagement for various professionals and creatives.
By uploading videos to the platform, Munch's AI algorithm analyzes and extracts the most compelling moments.
Users can then generate platform-specific social media posts for TikTok, Instagram, Twitter, LinkedIn, and YouTube Shorts, saving time and effort.
If you want to know more read our article on How to use Munch
Unscreen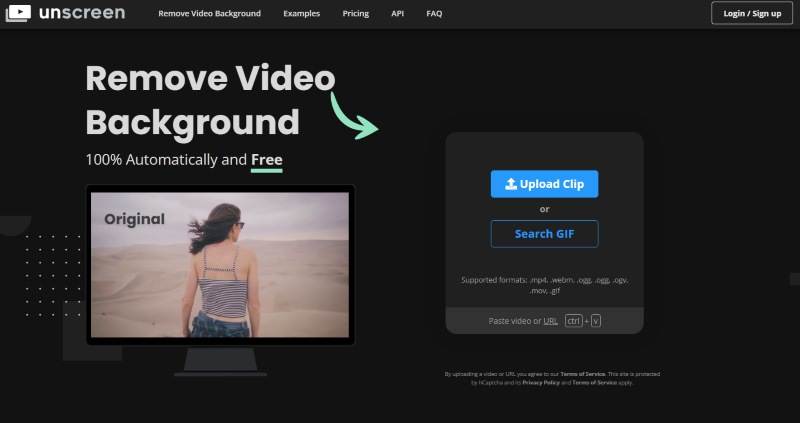 Unscreen is an AI-powered tool that allows users to effortlessly remove backgrounds from videos.
Using advanced AI technology, Unscreen automatically analyzes and eliminates the background without the need for manual selection or complex techniques like chroma-keying.
Whether users upload a video file or provide a URL, Unscreen's AI takes care of the entire process.
Although Unscreen is not available for free, its popularity among content creators and those seeking a professional touch for their videos makes it worth mentioning.
Although is not available as free software to try, it is worth mentioning in the article due to its uniqueness and innovative features
If you want to know more read our article on How to use Unscreen
Nova AI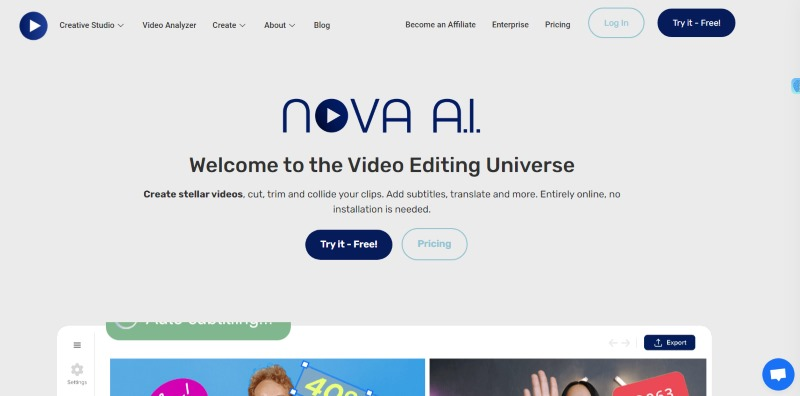 Read our article on How to use Nova Ai
FAQS
Does Synthesys work on both Mac and PC?
Yes, Synthesys is compatible with both Mac and PC operating systems. You can use it on your preferred device.
What languages are supported by Synthesys?
Synthesys supports a wide range of languages. Currently, it offers text-to-speech capabilities in over 145 languages with 254 different voices to choose from.
Can I use Synthesys for commercial purposes?
Yes, you can use Synthesys for commercial purposes. It offers a wide range of applications, including branding videos, explainer videos, training videos, education videos, and more.
Can I customize the voices and avatars in Synthesys?
Yes, you have the ability to choose from a library of different voices, accents, and avatars. This allows you to tailor the generated content to suit your specific needs and brand identity.
Conclusion
Synthesys is a powerful and user-friendly platform that enables anyone to create high-quality audio, video, and images with ease.
With its intuitive interface and extensive range of features, even beginners can produce professional-looking content in minutes.
If you need to transform the text into realistic virtual videos, generate unique images, or create engaging avatars, Synthesis has got you covered. Its realistic results and customizable options make it a versatile tool for various industries and purposes.