Imagine that you can turn your texts into captivating videos in less than a minute. Now, with Synthesia AI, you can make it a reality.
This innovative platform utilizes generative AI and advanced artificial intelligence to quickly transform your text into engaging videos.
In this article, we will provide a comprehensive guide to Synthesia AI and also explore some alternative options that are available for free.
What is Synthesia AI? A Video Creation Platform
Synthesia AI is an easy-to-use video creation platform that allows you to make professional videos without any cameras, actors, or fancy equipment.
With just your written text, Synthesia uses artificial intelligence to transform it into high-quality videos with customizable avatars and voiceovers in over 120 languages.
It's trusted by over 50,000 leading companies and is ideal for team creating training videos at scale. Say goodbye to boring text-based content and PowerPoint presentations. Synthesia helps you engage your audience with dynamic videos that deliver your message effectively.
How to use Synthesia to create ai videos?
Creating AI videos with Synthesia is very easy. Here's a step-by-step guide on how to use Synthesia in simple and easy words:
Sign up: Visit the Synthesia Ai website and create an account.
Generate your script: Start by writing your script or text content. Think about what message you want to convey in your video.
Customize your video: Once you have your script, it's time to personalize your video. Choose from a range of AI avatars to represent your narrator or presenter. You can even create your own AI avatar for a unique touch.
Collaborate: If you're working with a team, you can collaborate within the platform. Share your video with team members, receive feedback, and make any necessary edits.
Share, download, or embed: Once you're satisfied with your video, it's time to share it with your audience. You can easily share the video via a link, download it to your computer, or embed it on your website or other platforms.
With Synthesia, you can create professional-quality videos without the need for cameras, microphones, or actors. It's a simple and efficient way to bring your text-based content to life and engage your viewers effectively.
Pricing of Synthesia AI:
Personal Plan: Pay $22.50 per month (billed annually) and get 1 seat, 10 video credits/month, 10 scenes per video, access to 90+ AI avatars, 120+ languages and voices, and other features.
Enterprise Plan: Pricing varies based on the number of seats needed. This plan includes unlimited video credits, up to 50 scenes per video, 140+ AI avatars, 120+ languages, voices, and more.
Features of Synthesia AI
Synthesia AI offers a range of features that make video creation simple and efficient. Here's a step-by-step explanation of these features in simple and easy words:
AI Avatars & Videos:
With Synthesia, you have access to a range of powerful features. Choose from over 150 diverse AI avatars to represent your narrator or presenter in the video.
Create videos in over 120 languages, accents, and voice tones to reach a global audience. Simply type in your script and let Synthesia generate professional voiceovers in minutes using text-to-speech technology.
For a unique touch, customize your videos with custom AI avatars that serve as your digital twin. Enhance your AI avatars with micro gestures like head nods or raised eyebrows, making your videos more engaging.
With voice cloning, personalize your videos by pairing your voice with your custom AI avatar. Synthesia provides all these features to empower you in creating impactful and personalized videos.
AI Video Templates
Synthesia provides you with a library of pre-designed templates that you can choose from. These templates are like outlines or blueprints for your videos.
They have different styles, layouts, and graphics to fit various purposes, such as explainer videos, presentations, or advertisements.
Media & Integrations:
Synthesia offers a user-friendly video creation experience. Key features include the AI Script Assistant for effortless script generation, the Screen Recorder for easy screen video capture, and the Media Library with millions of royalty-free images, videos, icons, and shapes.
Access a diverse range of soundtracks in the Music Library or upload your own. Customize videos by uploading fonts, adding auto-generated closed captions, and importing PowerPoint presentations.
Collaborate efficiently with the Commenting feature, preview video elements, and choose from professionally designed templates.
Easily upload your media elements and animate them with markers. Synthesia provides all the tools you need to create engaging videos effortlessly.
Sharing & Exports:
Synthesia offers additional features to enhance your video-sharing experience. Embed your videos seamlessly and keep them up to date with new versions.
Download your videos in Full HD, 1920 x 1080 MP4 format. Customize your Synthesia share page with your logo to maintain brand consistency.
Add a call-to-action (CTA) button on your share page to engage your audience further. With these features, Synthesia empowers you to easily share and distribute your videos effectively.
Security
Synthesia puts a strong focus on security and compliance. Their systems and processes are audited and certified to meet SOC 2 and GDPR standards.
You can access their security portal for more details. With SAML/SSO integration, logging in becomes fast and secure for everyone in your company.
They prioritize content moderation to ensure the ethical use of AI in videos created with Synthesia. Rest assured, our commitment to security, compliance, and content moderation guides everything we do.
Pros & Cons of Synthesia AI:
Pros:
Time and cost-saving: Synthesia AI helps you create videos faster and at a lower cost compared to traditional methods.
Easy to use: Synthesia AI is designed to be user-friendly, allowing anyone to create professional videos without complex technical skills.
Cons:
Limited customization: While Synthesia AI offers customization options, there may be some restrictions in advanced customization.
AI limitations: Occasionally, the AI-generated output may not meet expectations and may require additional editing.
Alternatives of Synthesia AI:
Fliki AI:
Fliki is an AI-powered text-to-video tool that lets you create impressive videos in just 2 minutes. By converting your blog articles or any text-based content into videos, Fliki makes it easy to engage your audience visually.
With over 1,000 lifelike text-to-speech voices available in 75 different languages, you can create voiceovers that sound natural.
Fliki also offers a vast stock media library, featuring millions of images, video clips, and background music to enhance your videos.
Trusted by over 1 million content creators from various companies, Fliki has garnered positive reviews and boasts an average satisfaction rating of 4.8/5.
Check Our Article: How to use Fliki AI?
Pictory AI:
Pictory AI is an AI-driven software that streamlines video creation and editing. It simplifies the process by automatically transforming lengthy content into concise branded videos, saving time and resources.
With the free plan, users can create up to three video projects, each lasting up to 10 minutes. Pictory AI offers a range of useful features, such as converting scripts into videos, transforming blog articles into engaging visual content, and providing automatic captions.
As an alternative to Fliki AI, Pictory AI presents an easy-to-use and intuitive solution for content creators seeking efficient video editing and content generation.
Check Our Article: How to use Pictory AI?
InVideo
InVideo is an online video editing platform designed to make video creation a breeze, even for beginners. It offers a wide selection of ready-made templates, with over 5,000 options to choose from.
These templates can be easily customized to suit your needs. With InVideo, you can effortlessly add and edit text in your videos, generate scripts using AI technology, convert text to speech, and collaborate with team members.
The free plan provides access to more than 3 million standard media assets and allows you to export videos up to 15 minutes long. InVideo is a user-friendly alternative to Fliki AI, offering all the necessary tools for creating impressive videos easily.
If you want to know more read our article on How to use InVideo
Lumen5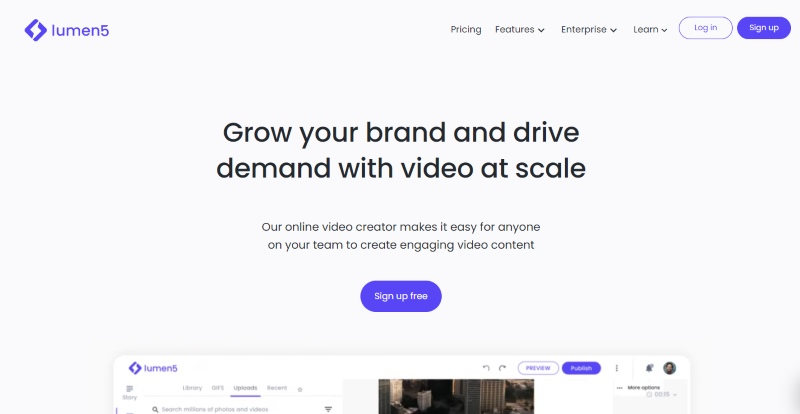 When it comes to creating amazing videos without any technical know-how, Lumen5 is the go-to platform.
What makes Lumen5 so user-friendly is its simple interface and drag-and-drop functionality. It's like building a slideshow, making it super easy to navigate and create professional-looking video content in just a matter of minutes.
If you're a marketer, publisher, or brand, Lumen5 is the perfect video creation software for you. It takes away the complexity and lets you focus on what matters – creating captivating videos that captivate your viewers.
If you want to know more read our article on How to use Lumen5
Steve AI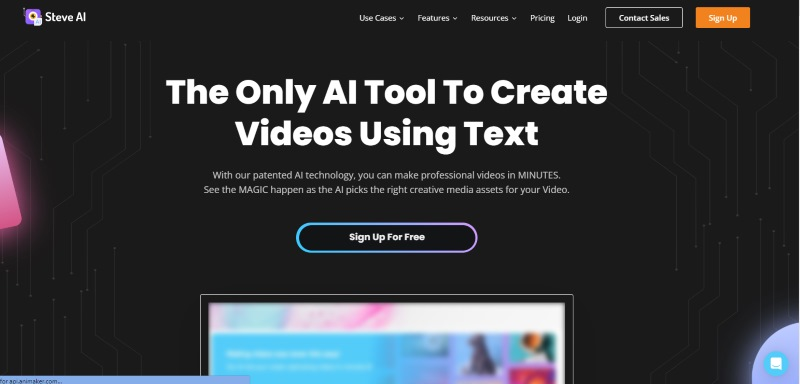 If you want to know more read our article on How to use Steve Ai
Synthesys

Synthesys is an advanced platform that makes it simple to add voiceovers and videos that sound like real humans to your content.
With Synthesys, you can transform your website explainer videos, product tutorials, and other digital content into captivating experiences, using an easy-to-use interface.
The authentic voices provided by Synthesys build trust with your readers and create an emotional connection.
What sets Synthesys apart is its customization options. You can easily adjust and edit your voiceovers or videos to match your unique style and needs.
In a world where authenticity and engagement matter, Synthesys empowers you to create exceptional content that truly resonates with your audience.
If you want to know more read our article on How to use Synthesys
Munch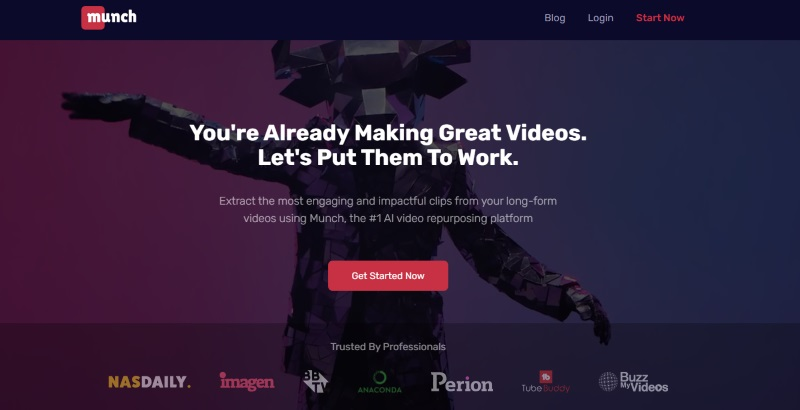 Munch is a platform that utilizes AI technology to help users extract captivating and impactful moments from long videos.
Its automatic editing features and AI-driven capabilities enhance content strategies, benefiting professionals and creatives.
By uploading videos, Munch's AI algorithm performs comprehensive analysis to identify the most compelling segments.
Users can then generate customized social media posts for platforms like TikTok, Instagram, Twitter, LinkedIn, and YouTube Shorts, saving time and effort.
Munch also offers video editing tools, leverages marketing insights and trends for content optimization, and maximizes the value of existing content. In summary, Munch is a reliable solution that optimizes video repurposing, ultimately enhancing audience engagement.
If you want to know more read our article on How to use Munch
Unscreen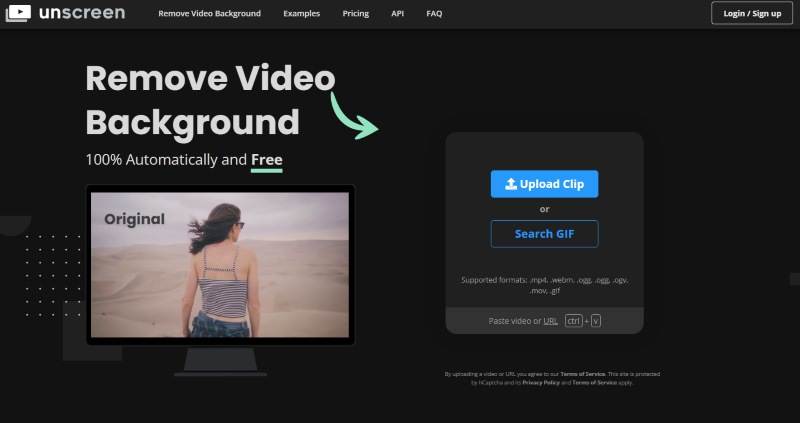 Unscreen is an AI-powered tool that effortlessly removes backgrounds from videos.
By leveraging advanced AI technology, it automatically analyzes and eliminates backgrounds without the need for complicated techniques like chroma-keying or manual selection.
Users can easily upload video files or provide a URL, allowing Unscreen's AI to handle the entire process seamlessly.
While Unscreen is a paid tool, its popularity among content creators and individuals seeking professional-looking videos is a testament to its effectiveness.
Unscreen's dedicated Pro Plugin offers enhanced functionality and compatibility for users of Adobe Premiere Pro and After Effects. It allows for seamless integration with this video editing software, making it even easier to incorporate background removal into your editing workflow.
If you want to know more read our article on How to use Unscreen
Nova AI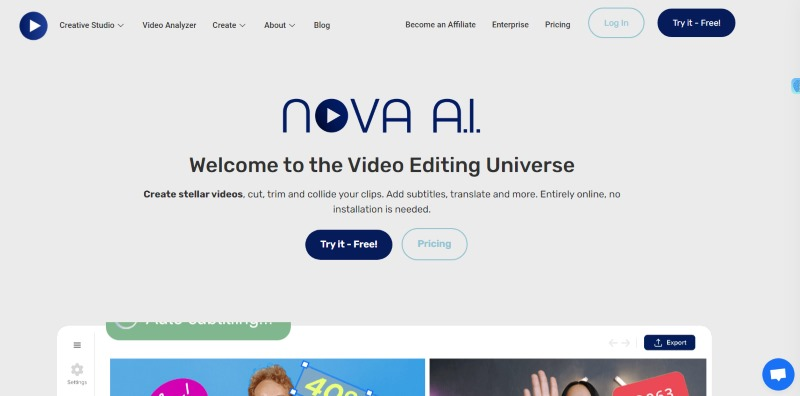 Introducing Nova AI, an innovative and user-friendly online video editing tool that has revolutionized the way videos are created and edited. Forget the hassle of software installation – Nova AI offers a seamless video editing experience directly in your browser.
With a wealth of features accessible at your fingertips, such as clip cutting, trimming, subtitle addition, and video translation, Nova AI enables users of all levels to effortlessly perfect their videos with just a few clicks.
If you're crafting promotional content, educational videos, or captivating social media posts, Nova AI's adaptability caters to a wide range of creative projects.
Embrace the simplicity, originality, and authenticity of Nova AI as your go-to tool for producing exceptional videos, all while ensuring a plagiarism-free outcome.
Read our article on How to use Nova Ai
FAQS
Q: What happens if I exceed my monthly limit on the Personal plan on Synthesia?
A: If you go over the monthly limit on the Personal plan, you may need to upgrade to a higher plan or purchase additional video credits to continue creating videos.
Q: Can I see customer reviews of Synthesia?
A: Yes, you can find reviews from satisfied customers who have used Synthesia on platforms like G2. They share their positive experiences with the software.
Q: Is Synthesia a one-time payment?
A: No, Synthesia operates on a subscription-based payment model. You pay a monthly or annual fee, depending on the plan you choose.
Q: How much does a custom avatar cost?
A: The pricing for custom avatars may vary, and it's best to contact the Synthesia team directly to discuss your specific needs and get accurate pricing information.
Conclusion:
Synthesia AI is a user-friendly platform for video content that saves time and money. It allows anyone, from individuals to companies, to make high-quality videos without advanced technical skills.
With ready-to-use templates and customizable features, Synthesia AI enables quick and affordable video production.
While customization options may have some limits and occasional manual editing may be needed, Synthesia AI simplifies the process of scaling video production.
Whether for marketing, training, or communication purposes, Synthesia AI offers a simple and accessible way to bring ideas to life through video.