Ready to explore AI-powered art generation? Look no further than Starry Ai, the user-friendly platform that taps into the power of Artificial intelligence.
In this article, we'll delve into Starry AI and explore some of its free alternatives that you can try in 2023.
Thanks to the advancements in Generative AI technology, we now have an array of tools and platforms that empower us to explore new realms of creativity and innovation, from video to text and, of course, ai art.
What is Starry AI Art Generator
Starryai is a user-friendly free AI art generator and AI image generator that turns your words into beautiful art. It's simple to use and available for free on iOS and Android.
Just enter a text prompt, and AI will create stunning compositions for you. If you're a beginner or an experienced artist, starry ai makes art creation accessible to everyone.
How to use Starry AI to create art?
Here is a step-by-step guide that how you can use a free ai image generator.
Signup: Visit the starry website and Sign up to create art.
Enter a text prompt: On the main screen, you'll see a text box. Simply type in a description or any words that inspire you for your artwork. For example, you can write "a colorful sunset" or "a serene beach."
Generate your art: After entering your text prompt, tap the "Generate" button. The AI will work its magic and transform your words into a unique piece of artwork.
Customize if desired: If you want to customize your artwork further, you can explore different styles, aspect ratios, or initial images provided by the app.
Save, share, or use your art: Once you're satisfied with the generated artwork, you have the option to save it to your device, share it on social media, or use it for any creative projects you have in mind.
Features of Starry AI
Create NFT Art
NFT Art is a special feature of starry ai that lets you make NFT (Non-Fungible Token) artwork easily. With starry ai, you can generate one-of-a-kind art pieces in seconds.
Just type in a text prompt, and our AI will turn your words into stunning artwork. It's a simple and intuitive process that anyone can use.
You have the ability to customize your creations by choosing different models, styles, aspect ratios, and even initial images.
The best part is, you'll have complete ownership of your NFT creations. That means you can use them to create art and print them out.
Create Your Avatar with Starry AI
Create Avatar with starry ai is a fantastic feature that allows you to generate personalized AI-generated avatars in just three easy steps.
First, upload 10-20 of your own photos taken in different environments and lighting. Next, our AI will train on these photos to create a unique avatar for you.
Finally, you'll receive over 100 personalized avatars to choose from. It's a simple and fun way to establish your online personality.
Use these generated images as profile pictures on social media, websites, and business cards, or even create your own sticker merchandise.
Starry ai is a great tool available for free on iOS and Android.
Stable Diffusion Free AI Image Generator
Stable Diffusion AI Image Generator is an impressive feature of starry ai that allows you to create stunning AI art and images for your creative projects.
With this generator, you can produce incredible artwork in just minutes, absolutely free. You have the freedom to generate up to 25 images daily without any watermarks.
The generator is highly customizable, offering intuitive features to bring your vision to life. It gives you full ownership of your creations, allowing you to use them for your next project.
With prompt recipes, the option to evolve your creations, and an upscaling feature, the possibilities are endless.
Pros & Cons of Starry AI:
Pros :
Easy to use: Starry has a user-friendly interface that makes it simple for anyone, regardless of technical expertise, to create AI-generated art and images.
Customizability: The app offers a wide range of styles, models, and options to customize your creations, allowing you to tailor the artwork to your preferences and project needs.
Free and accessible: starry ai is available for free on both iOS and Android, making it accessible to a wide range of users. You can generate up to 25 images per day without watermarks, giving you plenty of opportunities to explore and create.
Cons:
Limited free features: While Starry offers a free experience, certain advanced features may require a subscription or additional payment.
Dependence on AI: While AI technology has improved significantly, there may still be instances where the output may not meet user expectations.
Alternatives of Starry AI:
TheTechbrain AI:
TheTechBrain AI is an easy-to-use and mobile-friendly platform that offers a range of AI-powered tools including AI Art Creation.
With this ai art generator, creating stunning AI-generated artwork is a breeze. Simply provide a detailed description or try out example prompts to generate unique and captivating art pieces.
The platform also provides advanced settings for customization and control over the output. In addition to AI Art Creation, TheTechBrain AI offers other smart tools such as AI Assistants, Speech to Text, and Text to Speech.
The convenience of accessing these tools through their user-friendly mobile app makes it even more accessible.
Plus, with their free plan, you can use this free ai image generator and test other tools as well.
Read our article on How to Create Stunning Art in Seconds with TheTechBrain AI
Hoptpot AI
Hotpot ai is an AI-powered creative assistant that brings your graphic design, pictures, and writing to the next level. With its AI tools, like the AI Art Generator, Ai image generator Hotpot ai ignites your creativity and simplifies repetitive tasks.
From creating professional headshots and removing backgrounds to enhancing photos and customizing artwork, Hotpot ai has all your graphic needs covered. It even offers AI writing tools, such as ChatGPT, to help overcome writer's block.
With Hotpot ai, you can effortlessly design device mockups, craft engaging social media posts, generate marketing images, and create eye-catching app icons.
If you want to know more read our article: How to use Hotpot AI?
Craiyon AI
Craiyon AI, formerly known as Dall E mini, is a powerful platform powered by artificial intelligence that enables users to create unique and captivating art.
Using advanced generative AI technology, Craiyon AI functions as an AI image generator and AI art generator. All you need to do is describe the image you have in mind, and the AI will bring it to life with astonishing visuals.
This user-friendly tool is perfect for individuals who want to generate artistic images without any drawing skills.
With this ai art generator, you can not only draw images but also customize the style, whether you prefer a painting, a drawing, a photograph, or even something more abstract.
If you want to know more read our article: How to use Craiyon AI?
MyHeritage Ai Time Machine
MyHeritage AI Time Machine uses artificial intelligence to transform your photos into AI avatars from different historical eras.
It allows you to see yourself as if you were living in various time periods, providing a fun and immersive experience of history.
Simply upload your photo, select a theme or time period, and wait for the AI to generate a realistic avatar of you in that specific era.
Whether you want to see yourself as an ancient Egyptian or a Victorian-era aristocrat, this feature offers a unique way to connect with the past.
If you want to know more read our article: How to use MyHeritage Ai Time Machine?
Neural Love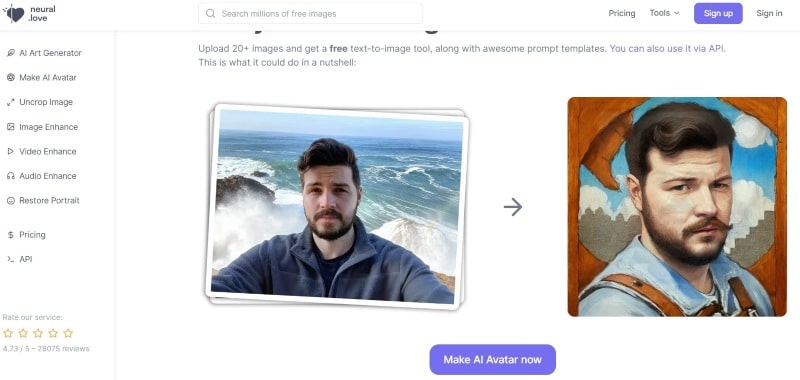 Neural Love is an innovative online platform that empowers users to create exceptional content effortlessly.
Whether you require stunning artwork, personalized avatars, or multimedia file enhancements, Neural Love offers a comprehensive solution. With access to a vast collection of free images and the ability to generate avatars with a few simple steps, the platform ensures ease of use.
With its favorable user reviews, Neural Love stands out as a reliable choice for all your content creation requirements.
If you want to know more read our article on How to use Neural Love
FAQS
Q: How do I get started with Starry Ai?
To begin using starry ai, simply download the app from the App Store or Google Play, and you'll be ready to create amazing AI-generated art. It's as easy as that!
Q: Can I use Starry Ai for free?
Yes! starry ai provides a free version of image, that allows you to generate up to 25 images daily without watermarks. So, you can make ai images unleash your creativity with free images without any cost.
Can I use Starry Ai artwork for commercial purposes?
Some images generated by starry ai may contain copyrighted elements, such as famous landmarks or trademarked logos. It's important to ensure that you have the necessary permissions to use these elements in a commercial context.
Conclusion:
If you seek to express your imagination, captivate audiences, or explore the exciting realm of NFTs, Starry AI is the go-to tool that unleashes your artistic potential and enables you to share your unique creations with the world.
If you're an artist, designer, or simply looking to explore your artistic side, Starry ai offers a range of styles and models to suit your preferences.
Plus, with its free version and options for commercial use, you have the freedom to generate and share your artwork without limitations.
And the best about it is that you can download the ai art Generator app for both Google and Apple to create ai art on the go.