In today's fast-paced world, writing quality content can feel tough. That's why Artificial Intelligence tools like ShortlyAI come to the rescue. It's more than just a tool; it's like an ai writing partner, ready to help anytime.
Let's explore how ShortlyAI turns the writing game around. We will also look through its free alternatives.
What is Shortly AI?
Leveraging the most recent ChatGPT-4 model from OpenAI, ShortlyAI acts as your writing companion. It uses generative AI to transform your initial input into rich and compelling content, seamlessly merging your unique ideas with intelligent AI technology.
It's an artificial intelligence technology designed to act as a writing partner, aiding users in creating well-structured and high-quality writing. You can use ShortlyAI for a range of purposes, from drafting a novel to creating engaging blog posts for your website.
It is an innovative AI software tool that simplifies the writing process, speeding it up and making it more enjoyable and less stressful. Whether you're a seasoned or budding writer, it's an excellent tool for you.
How to use Shortly AI?
Sign-Up: Visit ShortlyAI website and sign up with your email.
Choose your writing: It will ask you that you want to write a blog post or a story. Choose whatever you want to write.
Add Details: Enter the title and brief of what you want to write.
Start Writing: Type your thoughts directly onto the document.
Use AI: If you want shortly help, click "Write for Me" and let the AI assist.
Edit With Commands: Refine your text using AI commands like "/rewrite", "/shorten" or "/expand".
Finish Up: When done, export your document to Word or PDF.
Pricing:
Annual Plan: If you choose the Annual Plan, you'll be billed once a year. This plan costs $65 a month, but since you pay annually, you get two months free. This is like a discount for committing to a full year.
Monthly Plan: If you prefer to pay month by month, then the Monthly Plan is right for you. This one costs $79 per month, and you're billed each month.
For both plans, you have some great benefits:
Powerful Commands: These handy tools help you write faster by aiding with tasks like rewriting or expanding sentences.
Improve Your Writing: The AI assists you in making your writing better and helps bust writer's block.
Continuous Updates: The AI constantly improves over time, becoming a more efficient writing partner as you go.
Features of AI Writing Partner – Shortly AI:
Busting Writer's Block:
Can't find the words? Simply give Shortly AI a topic and let it write for you. It's like having a co-writer who is always ready to jump in when you're stuck.
Speeding Up Writing:
With Shortly AI assistance, you can write faster. It helps to expand, rewrite, or shorten your text quickly, turning hours of work into minutes.
Improving Writing Quality:
The AI helps you to construct properly formatted language and make your text more engaging for readers.
Writing Unlimited Content:
There are no limits on how much you can write with Shortly AI. Whether you're in the mood to write one blog post or an entire book, ShortlyAI is ready to assist your writing project.
Powerful Commands:
One of ShortlyAI's standout features is its powerful commands. These commands help guide the AI as it writes, giving you more control over the output.
You can start a new section, ask the tool to write a conclusion or an opener, or make it write in a specific tone, all using a simple command. You can even instruct it to describe a concept or rewrite a sentence.
What you can write with Shortly AI?
Blog Post
You can write full-length blog articles and posts with Shortly AI, including creating different sections, and headings, and formatting them.
Books and Bestselling Novels
Want to write a book but feeling overwhelmed? Shortly can help you to save time, break down the process and write efficiently, chapter by chapter. You can easily write a book, story, and novel.
Social Media Posts
Looking for catchy captions and engaging content for social media? ShortlyAI can do that.
Website Content
You can craft compelling content for landing pages on your website, like 'About Us', 'Services', 'FAQs' sections, and more.
Pros & Cons of Shortly AI
Pros:
Busts Writer's Block: If your ideas are stuck, ShortlyAI can step in and move things along.
Saves Time: It provides quick writing and rewriting, great for tight deadlines.
No Writing Limits: Whether you are writing a small piece or a whole book, there's no limit.
Cons:
Incomplete Understanding: Sometimes, ShortlyAI may not grasp complex topics as a human would.
Less Personal Touch: The content produced can sometimes lack a personal or unique style.
Dependence on Guidelines: Your initial prompts and instructions need to be clear and precise, or the output might not match what you wanted.
Shortly AI Alternatives
TheTechBrain AI is a cutting-edge AI tool your solution for all writing things. It offers so many writing tools much more than ShortlyAI.
You can not only write blog posts, social media content, or emails – just as with ShortlyAI. But also go beyond to create product descriptions, catchy, ad copy, engaging stories, and also ai writing assistants.
The TechBrain AI goes the extra mile by helping with SEO meta tags, translations, testimonial generation, and so much more.
TheTechBrain AI lets you test it out for free. Whether you're a blogger, marketer, or business owner, it's an all-in-one tool that's easy to use, creates great content, and caters to a wealth of writing needs.
In simpler terms, TheTechBrain AI is more than just a writing tool; it's your comprehensive AI writing buddy.
And the best part? They also have a convenient app that allows you to generate quality content anywhere, anytime.
2. QuillBot AI
What QuillBot is? Is an AI tool that makes writing easier, and it's a brilliant alternative to ShortlyAI. Besides creating new content, it can fix grammar, polish style, and add a creative touch to your writing.
It's like having different writing modes all in one place and even helps you choose the best words with its built-in thesaurus.
Better yet, it integrates directly with writing platforms like Chrome and MS Word, and you don't have to pay to try it out. In a nutshell, QuillBot is a trusty writing assistant that covers all your writing needs.
Click on this article on How to use Quillbot Ai
3. Copy AI
Copy ai is an AI writing tool that simplifies creating content. It's not just for blog posts or emails, but for all kinds of content creation like social media posts, digital ads, website copy, marketing materials, and even product descriptions.
With Copy ai, you input brief details about your brand or product, and the tool generates several writing options for you. Afterward, all you do is choose, tweak, and publish.
Trying Copy ai is free and effortless, making it an excellent ally for anyone in need of a quick, creative writing boost. It's like having a tireless, ever-ready writer that helps you craft engaging content faster.
Read our article on how to use Copy ai
4. HyperWrite?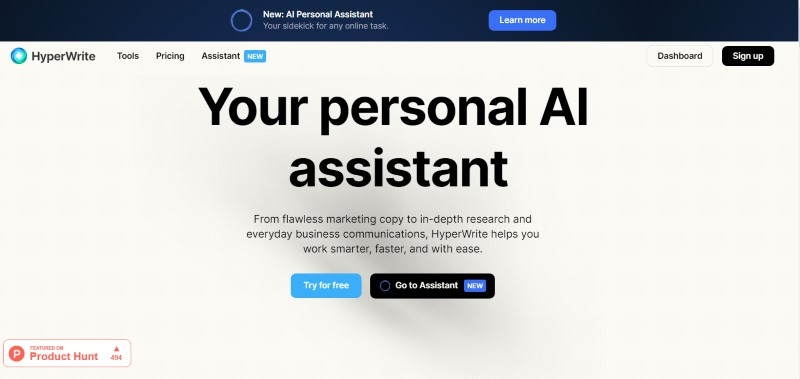 Create high-quality and plagiarism-free content with HyperWrite, an AI-powered writing tool designed to enhance efficiency.
Overcome writer's block and generate original ideas using personalized suggestions. Seamlessly integrated with popular websites, HyperWrite provides real-time assistance.
Explore features like AutoWrite, Summarizer, Rewrite Content, Email Responder, Explain Like I'm 5, Magic Editor, and Generate Blog Intro to elevate your writing with authenticity and confidence.
With HyperWrite, you can confidently produce unique and original content, completely free of plagiarism.
FAQS
Q: Who can use Shortly AI?
A: It is an AI-powered tool that's particularly helpful for writers, content creators, and anyone needing to produce high-quality content quickly and efficiently.
Q: How does the Shortly AI create content?
A: Shortly AI understands the context you provide and generates related content, maintaining flow in your texts.
Q: How good is ShortlyAI at understanding complex topics?
A: While the Shortly AI is capable of generating text on a broad range of topics, it may sometimes struggle with highly complex or niche topics. However, it's improving continuously.
Conclusion:
ShortlyAI stands as a groundbreaking tool in the panorama of AI writing companions.
It's not just about generating content; it's about generating well-written paragraphs that can deliver engaging narratives for your next best-selling novel.
Novice or pro, writers of all levels can leverage his tool, turning their ideas into captivating stories. With ShortlyAI, you're not just writing, you're crafting the next literary sensation.
It reshapes the writing process, overcoming challenges and reinventing productivity. In the realm of AI writing tools, ShortlyAI emerges as a wise choice for anyone serious about their writing journey.