Say goodbye to your writing struggles and welcome Rytr, the writing assistant! This amazing tool combines artificial intelligence and generative AI to make your writing process effortless.
With a user-friendly interface and advanced algorithms, Rytr AI offers numerous features to help you create engaging content.
In this article, I will provide you with a comprehensive guide on Rytr AI and will also look through its free alternatives.
What is Rytr AI?
Whether you need to write blog posts, emails, social media ads, or any long-form content or other type of content, Rytr has you covered.
It's trusted by millions of copywriters and marketers globally and has received rave reviews for its ease of use and exceptional results. Experience the power of Rytr AI and discover a faster, more efficient way to write compelling content.
How to use Rytr AI? Create High-Quality Content in Just a few seconds
Sign up: Visit the Rytr website and sign up for an account. It's a quick and easy process that requires basic information.
Choose a use case: Select the type of content you want to create, such as a blog, email, social media ad, or any other specific purpose.
Provide context: Enter some information about your topic, brand, or any specific details you want the content to include. This helps Rytr understand your requirements.
Let Rytr work its magic: Click the generate button and let Rytr AI do its thing. It will quickly generate high-quality content based on your input.
Review and refine: Take a moment to read through the generated content. Make any necessary edits or adjustments to ensure it aligns with your desired tone or style.
Finalize and use: Once you're satisfied with the content, you can use it for your intended writing project. Copy and paste it into your document, email, or social media platform.
Pricing of AI Writing Assistant Rytr:
Choose the plan that meets your needs and budget to unlock the benefits of Rytr's powerful writing platform.
Free Plan: Generate 10k characters per month for free, access 40+ use cases, write in 30+ languages, choose from 20+ tones, use a plagiarism checker, and create up to 5 images with AI.
Saver Plan: Upgrade to pay $9/month or $90/year (2 months free) for 100k characters/month, 20 AI-generated images/month, custom use-case creation, and access to the premium community.
Unlimited Plan: Pay $29/month or $290/year (2 months free) for unlimited character generation, premium community access, a dedicated account manager, and priority email/chat support.
Rytr AI Writing Tools:
Rytr provides a lot of ai writing tools. We have listed a few important ai writing tools for you. You can use them and generate creative content.
Blog Post Writing:
Use Rytr AI to generate entire blog posts, long-form articles, essays, article topics, and content structures. Write the engaging introduction and section paragraphs for your entire blog post easily by using a writer's rytr.
Brand Name:
Allow the AI to come up with creative, quirky, and catchy names for your brand or business.
Business Idea Pitch:
Create clear and engaging startup pitches for your business ideas using Rytr AI.
Call To Action:
Let the Rytr AI generate creative and high-converting calls to action (CTAs) for your ads, posts, landing pages, and more.
Copywriting Framework:
Create engaging and creative copies based on the Problem, Agitate, Solve (PAS) copywriting framework using Rytr AI.
Cover Letter:
Write catchy and convincing cover letters for job applications effortlessly with the help of Rytr AI.
Email:
Generate catchy emails for marketing, sales, and engagement purposes in seconds with the Rytr ai writer.
Facebook, Twitter, and LinkedIn Ads:
Write original and creative advertisement copies for social media channels like Facebook, Twitter, and LinkedIn.
Google Search Ads:
Create original and creative advertisement copies for responsive Google ads using Rytr AI.
Interview Questions:
Prepare thoughtful and interesting interview questions for job interviews, podcasts, or shows with the assistance of Rytr AI.
Job Description:
Generate engaging job descriptions for any position to attract the best candidates.
Keywords Generator:
Come up with related keywords, keyphrases, and questions using the AI writing assistant.
Magic Command:
Simply pass your request as a command and let the AI do the work for you magically. Get emails, ads, posts, blogs, and more written in no time!
Product Description:
Create compelling product descriptions to enhance customer engagement and conversions for your e-commerce store or website.
Question & Answer:
Generate questions and answers for platforms like Quora or your company's knowledge base using Rytr's AI Q&A generator.
Song Lyrics:
Use Rytr's AI-powered song generator to write creative and original lyrics.
Video Descriptions:
Rytr offers a powerful feature that helps you enhance your YouTube video channel. With the help of AI copywriting, you can generate a catchy description for your channel, attracting more subscribers.
And yes, Rytr's AI can create engaging video descriptions that hook your audience into existing content and keep them coming back for more.
Pros & Cons of Rytr
Pros:
Efficiency: Rytr AI streamlines the writing process by generating content suggestions quickly, saving time and effort.
Versatility: Rytr AI can assist in creating various types of written content, offering flexibility for different writing needs.
Cons:
Lack of Originality: Due to its AI-generated nature, Rytr AI may not provide completely unique or creative content, potentially compromising originality.
Limited Contextual Understanding: Rytr AI might struggle to understand complex contexts or nuanced requirements, leading to less accurate or relevant suggestions.
Alternatives of Rytr:
Here are few ai copywriting tools that you can use as alternatives of rytr ai.
TheTechBrain AI
TheTechBrain AI is an excellent alternative to Rytr AI, offering a versatile platform and powerful content-writing and tool. With features like blog post generation, social media content creation, and innovative ideas, it helps you effortlessly craft engaging content.
Also, TheTechBrain AI provides AI Art Creation, Speech to Text, Text to Speech, and AI Code, catering to various creative needs.
It generates SEO meta tags, offers text translations, and creates helpful FAQs. Best of all, many of these features are free to use, and you can access TheTechBrain AI conveniently via its user-friendly web app, boosting your writing and creativity anytime, anywhere.
QuillBot
QuillBot is an AI writing tool that offers essential features to help writers. It has tools like paraphrasing, grammar checking, plagiarism detection, and citation generation.
You can easily access QuillBot using its Chrome extension, allowing you to write professionally from anywhere. If you upgrade to the premium version, you'll get accelerated paraphrasing, more editing options, and additional writing modes to enhance your writing experience.
If you're writing emails, essays, or social media posts, let QuillBot effortlessly assist you in improving your writing skills.
Check our article: How to use Quillbot?
Conch AI
Conch AI is an excellent Ai writing tool, offering a wide range of features to enhance your writing. Its AI tool helps improve your writing skills, suggests content ideas, and makes your text sound more professional.
With features like in-text citations, style improvement suggestions, and autocomplete sentences, Conch AI assists you in finding the perfect words for your writing.
You can conveniently access Conch AI through its free Chrome extension, allowing you to use it wherever you write.
It is also be beneficial for students as it helps them write faster and better with unique and plagiarism-free content.
Check our article: How to use Conch ai?
Wordune
Wordune is an intelligent ai writing tool that elevates your writing by improving clarity and engagement. It goes beyond regular spell-checkers by suggesting alternative sentence rewrites, correcting grammar, and enhancing your writing style.
With Wordune, you have multiple writing options to choose from, allowing you to find the perfect style that suits your needs.
If you want to take your writing to the next level and sound your best, Wordune is an excellent alternative to Conch.
Check our article: How to use Wordtune ai?
Shortly AI
Shortly AI is a versatile and user-friendly AI writer that is a great alternative to Copy AI. It is designed to assist writers in overcoming creative challenges and excelling in various writing projects, including novels and blog posts.
It has the ability to quickly rewrite, shorten, or expand sentences with just one click and it will make your writing process more efficient and time-saving.
You should use Shortly as your reliable and supportive writing partner, you can feel confident in creating high-quality content.
Check our article: How to use Shortly ai?
WriteSonic
Writesonic is an amazing AI writing platform that simplifies the process of creating SEO-optimized content. It is ideal for bloggers, marketers, writers, and freelancers, as it generates high-quality and engaging content quickly and easily.
Within seconds, you can create articles, blog posts, product descriptions, landing pages, and more. With Writesonic, it's like having your own personal writing assistant, helping you save time and achieve remarkable results in your content creation efforts.
Check our article: How to use Writesnoic?
Copy AI:
Copy ai software is designed to make your job easier by generating high-quality content in just seconds. If you're a blogger, social media manager, or email marketer, Copy Ai can save you time and effort.
It offers a wide range of ai writing tools and templates to help you create an engaging blog post. Simply provide some details, choose from the options generated by the AI, make any necessary edits, and you're ready to go.
Check our article: How to use Copy AI?
HyperWrite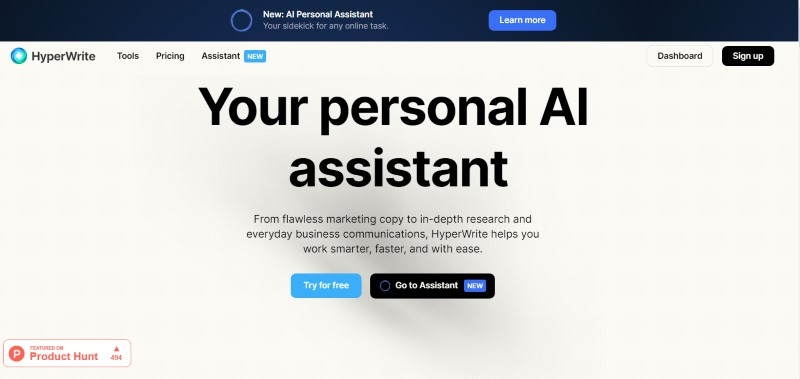 HyperWrite is an innovative AI-powered writing tool that helps boost efficiency and improve the quality of your writing.
It offers personalized suggestions to overcome writer's block and generate creative ideas while ensuring original and unique content.
With seamless integration with popular websites, HyperWrite provides real-time assistance.
Developed by OthersideAI, HyperWrite is designed to help you create plagiarism-free content effortlessly.
With HyperWrite you can explore features like AutoWrite, Summarizer, Rewrite Content, Email Responder, Explain Like I'm 5, Magic Editor, and Generate Blog Intro to enhance your writing and make it truly your own.
FAQS:
Q: What types of content can Rytr AI assist with?
A: Rytr AI can assist with various types of written content, including blog posts, social media captions, emails, product descriptions, and more.
Q: Can Rytr AI help with content in different languages?
A: Yes, Rytr AI supports multiple languages and can assist with content creation in various languages apart from English.
Q: Is the content generated by Rytr AI plagiarism-free?
Rytr will generate original content suggestions based on the given input, and it's always recommended to review and modify the output to ensure uniqueness.
Q: Is Rytr AI suitable for all writing needs?
Yes, Rytr AI is a helpful tool for generating content ideas and suggestions, and it may not be suitable for complex or highly specialized writing tasks that require deep domain-specific knowledge or expertise.
Conclusion:
Rytr AI is a helpful tool for writers seeking efficient content generation assistance. With its versatile AI-powered capabilities, it offers a convenient solution across various content types.
While it requires attention to originality and has limitations in complex context understanding, Rytr will save you time and provides creative suggestions for writing needs.
If crafting blog posts, social media captions, or professional emails, Rytr AI enhances productivity and creativity for writers.