Content creation and writing have changed significantly with the emergence of artificial intelligence. OpenAI's latest model, ChatGPT-4, has sparked a strong demand for AI tools in this field.
In this article, we will explore Quillbot AI and how to use it effectively and discuss alternatives for AI detection-free writing.
What is the Quillbot AI Paraphraser?
Quillbot Paraphraser is an AI-powered writing assistant that helps users improve their writing by providing alternative suggestions and paraphrasing sentences.
If you are struggling with grammatical errors or plagiarism issues in your content, Quillbot AI Detection can help.
It utilizes advanced algorithms to understand the context of existing text and offers unique writing suggestions, making it a valuable tool for content creators, students, and professionals.
How do I use Quillbot AI Paraphraser?
Accessing Quillbot
To access Quillbot AI, you need to follow a simple sign-up process. Here are the steps:
Click on the "Sign Up" button. You will find the sign-up button on the Top Left of the screen.
Fill in the required information, such as your name, email, and password.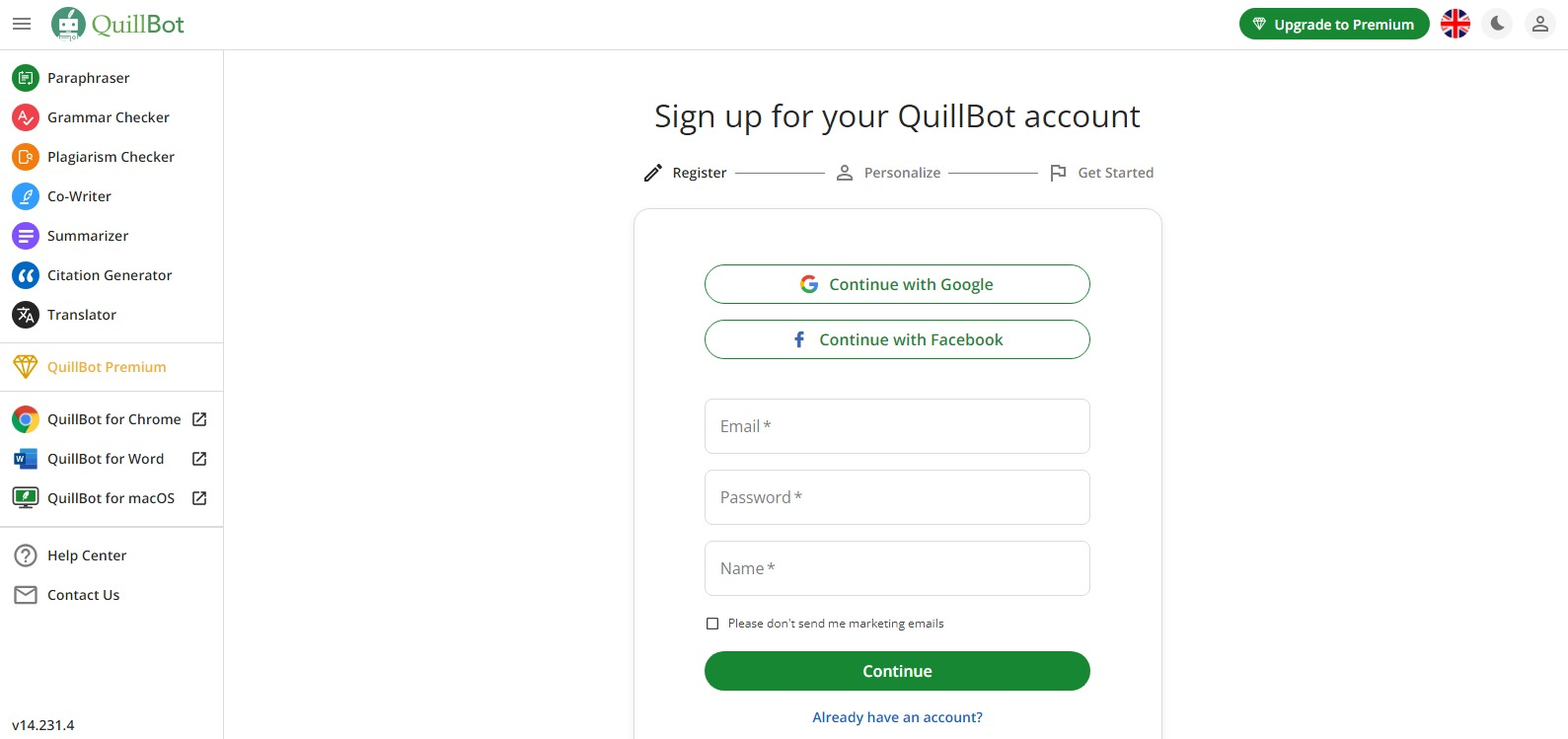 Complete the sign-up process by verifying your email address.

Once you've created an account, you can log in and start using Quillbot AI.
Exploring Quillbot's Features
Quillbot offers a range of features that can enhance your own writing workflow. Let's explore some of them:
Quillbot's Paraphrasing tool
The paraphrasing tool is the core feature of Quillbot AI. It helps you rephrase sentences and paragraphs while retaining their original meaning. Input the text you want to paraphrase, and Quillbot's paraphraser AI will provide alternative phrasing suggestions.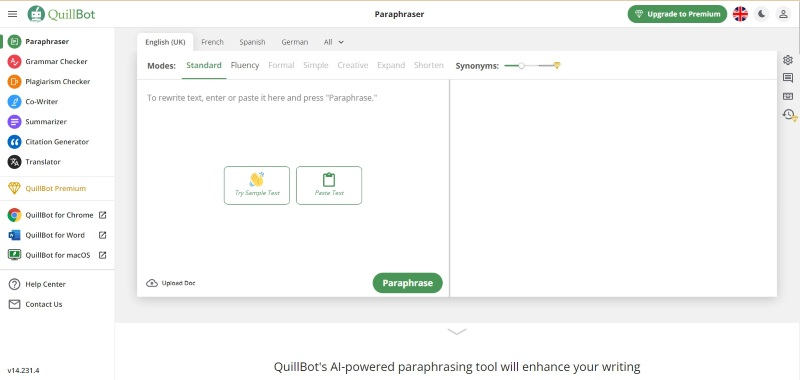 Grammatical Error Checker
Quillbot AI also functions as a grammatical error checker. It highlights grammar errors and spelling mistakes, and offers suggestions for correction, ensuring the final polish of your writing is error-free and professional.
You can paste your text into QuillBot's grammar checker and click on the "Detect Errors" button.
As a result, it can detect and correct errors in your written work. It also provides clear explanations for detected errors, enabling you to learn from your mistakes and improve your writing skills.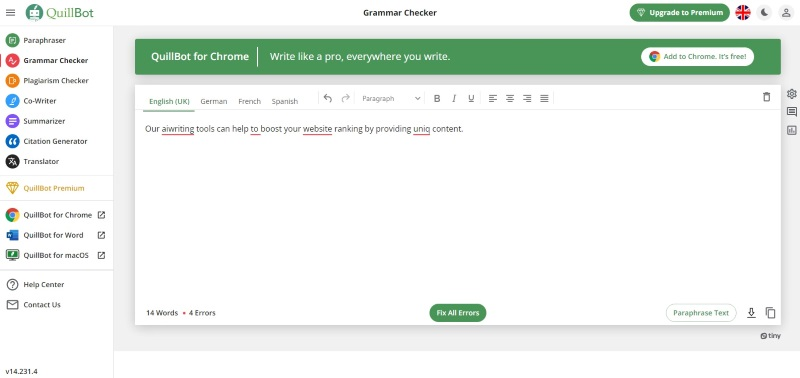 Co-Writer Feature
The co-writer feature of Quillbot AI allows you to collaborate with the AI in real-time. It suggests ideas, helps with sentence structure, and provides writing suggestions as you compose your content.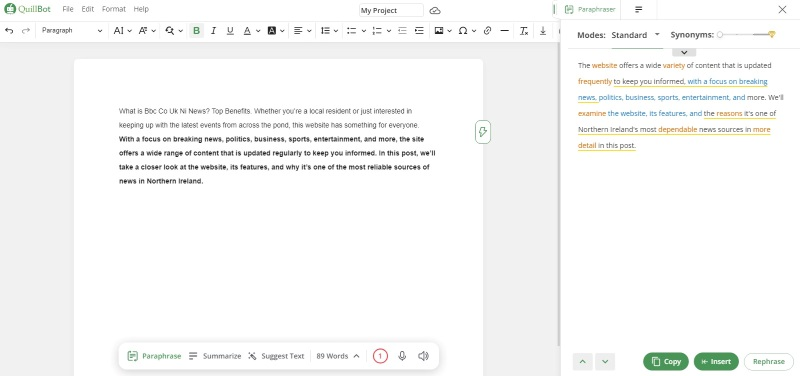 Summarizer Tool
The summarizer tool is a time-saving feature that generates concise summaries of lengthy texts. It helps you extract key points from articles, academic or research papers or documents, making research and analysis more efficient.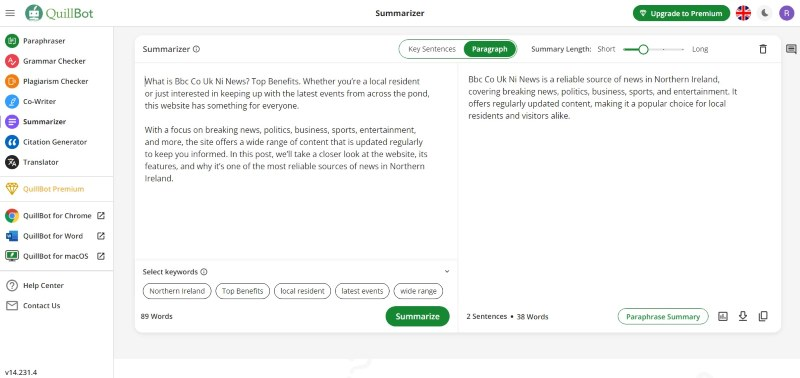 Citation Generator
Quillbot AI includes a citation generator that helps you create highly accurate full citations in various formats, such as APA, MLA, and Chicago. It takes the hassle out of referencing sources and ensures your work meets academic standards.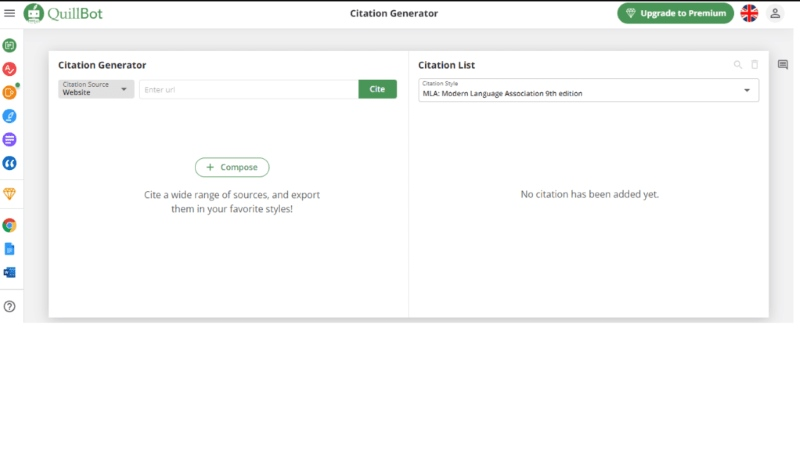 Translator Feature
Quillbot's translator feature enables you to translate text from one language to another. It supports multiple languages and can be a helpful tool for multilingual writers or when working with foreign texts.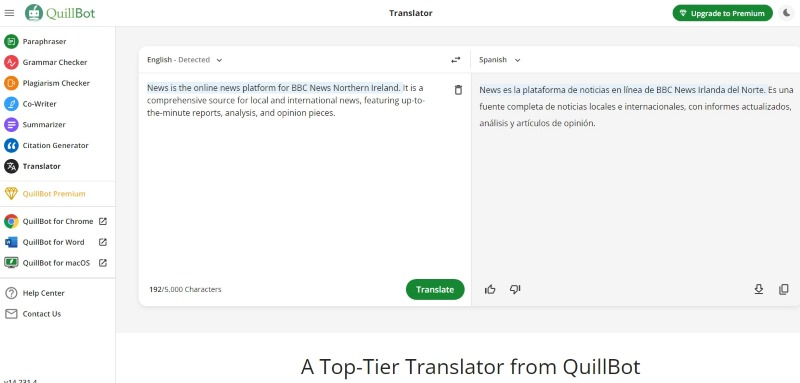 Exploring Advanced Options for Quillbot AI
Quillbot AI offers advanced options to cater to specific needs. A few of them are as follows:
Quillbot AI Chrome Extension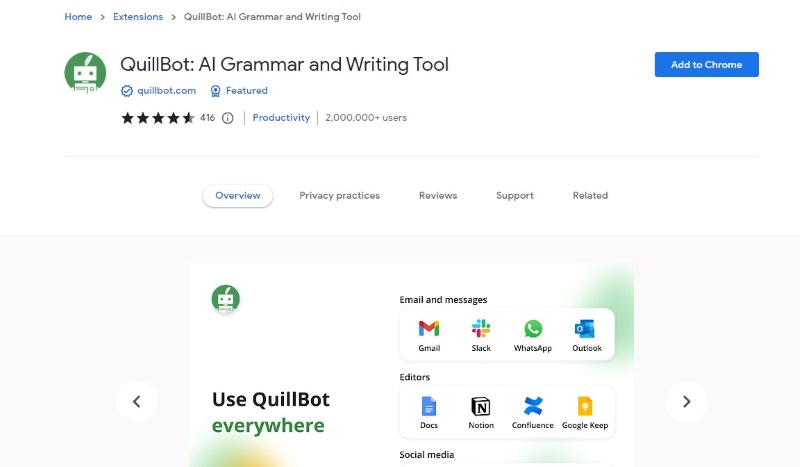 With the Quillbot AI for Chrome browser extension, you can access Quillbot directly from your browser. It integrates seamlessly, allowing you to enhance your writing on various online platforms and applications. This chrome extension will work with a variety of other tools and platforms.
Quillbot AI Extension for Microsoft Word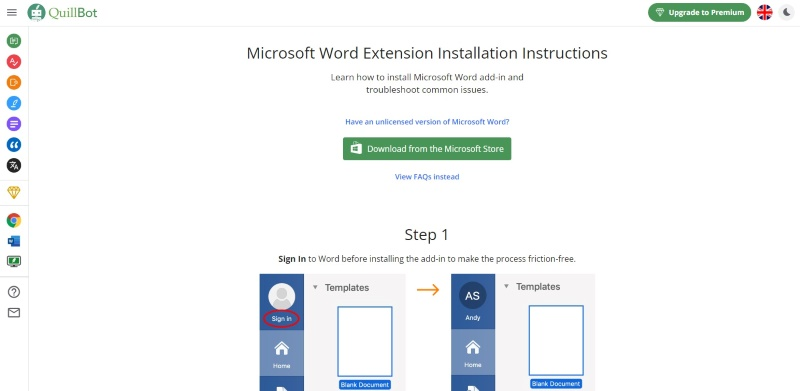 Quillbot AI for Word is an add-in that brings the power of your favorite word processor. It provides instant suggestions and paraphrasing within the Word environment, making the writing process more efficient.
Quillbot AI for macOS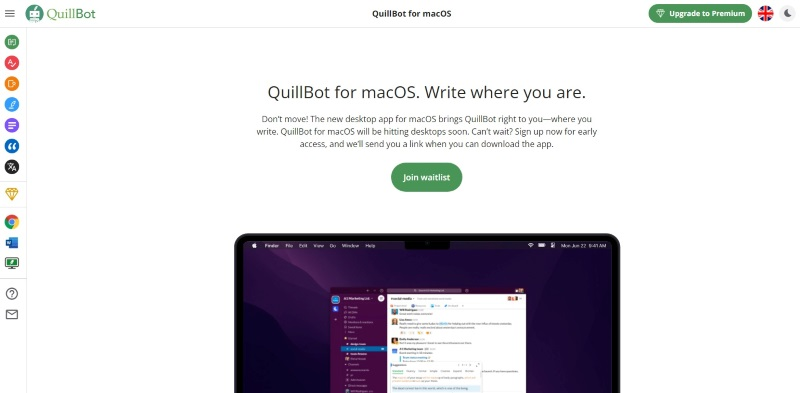 Quillbot also offers a dedicated version for macOS users. It is optimized for the macOS ecosystem, providing a smooth and seamless writing experience even for Mac users who rely on the Quillbot editor for their writing needs.
Pricing
Quillbot offers both a free version and paid subscription plans. The free plan includes basic features, while the paid plans unlock additional functionalities and advanced options. The pricing details can be found on the Quillbot AI premium website.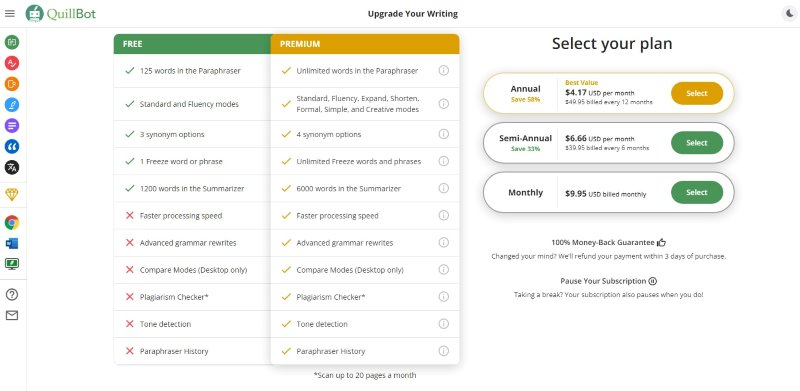 Quillbot AI Free Writing Alternatives to Try in 2023
In 2023, you have several options that harness the power of generative AI to enhance your writing skills. Tools like TheTechBrain AI, Paraphraser.io, SpinnerChief, Paraphrasing Tool, and more are popular alternatives that utilize generative AI algorithms.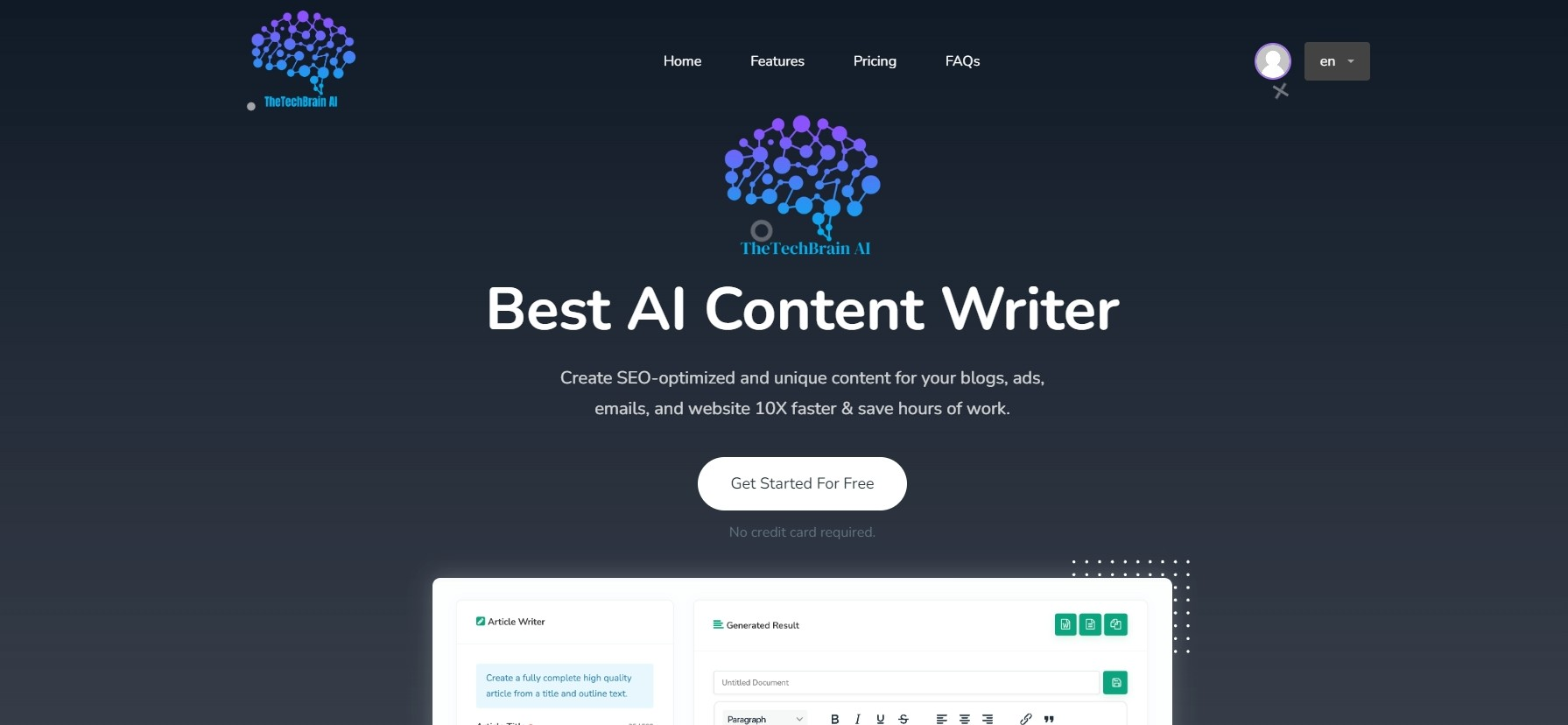 TheTech Brain AI is a cutting-edge writing tool that offers a seamless alternative to Quillbot AI detection. TheTechBrain is an AI website that offers a variety of AI tools designed to help businesses, freelancers, and content writers achieve greater efficiency and productivity.
The greatest feature of The Tech Brain AI is its free plan, allowing users to test the tools before subscribing. It offers AI content writing and pre-made templates for easier and faster results.
The Tech Brain AI stands out from other alternatives due to its user-friendly interface and intuitive features.
2. Paraphraser.io: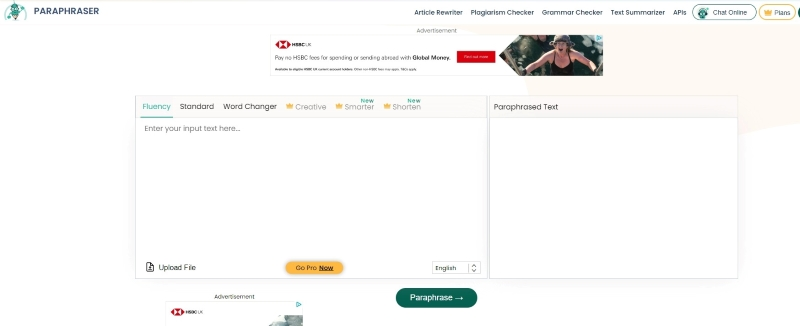 Paraphraser.io is an exceptional online tool that transforms your text into unique and engaging original content anywhere. Its user-friendly interface allows you to paraphrase your sentences and paragraphs effortlessly to avoid plagiarism issues. Input your text, and Paraphraser.io will generate alternative versions, ensuring your writing remains fresh and original.
3. Spinner Chief: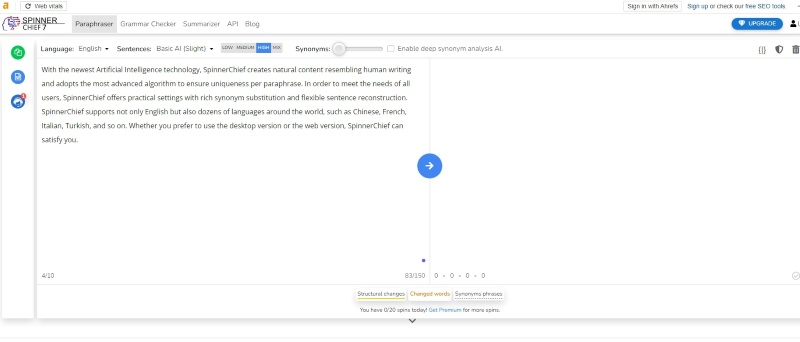 Spinner Chief is a widely acclaimed tool known for its ability to spin content effectively. Utilizing advanced algorithms, you can create high-quality content that can generate multiple variations of your text while maintaining its coherence, and with various spinning modes and customizable rewriting options, Spinner Chief empowers you to produce content that is not only unique but also tailored to your specific requirements.
FAQ's
Are there alternatives to Quillbot's AI detection for writing? 
Some alternatives to using Quillbot's tools for AI detection for writing include TheTechBrain AI, Paraphraser.io, Spinner Chief, Paraphrasing Tool and Wordtune.
Are these alternatives free? 
Some alternatives offer free plans with basic features, while others have paid subscriptions that unlock additional functionalities. The pricing details can be found on their respective websites.
How do these alternatives help with writing? 
These alternatives provide options for paraphrasing, content spinning, grammar checking, and other writing-related features. They assist writers in generating unique and engaging content, improving writing efficiency, and potential errors, and maintaining the text's originality writing quality.
Can I Use Quillbot AI Detection On Any Content?
Yes, You can use Quillbot AI Detection with various types of content, such as articles, blog posts, academic papers, and more.
Can QuillBot AI be integrated with other platforms?
Yes, Quilbot integrates directly with popular platforms like Microsoft Word, Chrome, and MacOS. This means that you can use QuillBot's services directly within platforms like Google Docs or other preferred writing environments.
Can Quilbot AI detect grammatical errors?
Yes Quillbot will correct grammatical errors, spelling, and punctuation
Conclusion
In conclusion, Quillbot AI Detection is an essential tool for writers and content creators looking to improve the quality of their work and save time. With its advanced artificial intelligence and user-friendly interface, this tool makes detecting and correcting your content's errors easy.