Looking to effortlessly enhance your social media presence? Then you need to check out a generative ai model, Predis!
In today's article, we'll dive into the features and benefits of this powerful social media tool. We will also provide a comprehensive guide to the free and best alternatives that you can use.
What is Predis ai?
Predis is an Artificial Intelligence game changer social media tool that helps entrepreneurs, marketers, and content creators enhance their social media presence.
It provides solutions like content recommendations, content analysis, and hashtag recommendations.
With Predis, you can generate and share videos, carousels, and single-image posts in your brand language. It also offers free AI tools like a hashtag generator, color palette generator, and more. Predis is trusted by over 300,000 users in 80+ countries.
How to use Predis?
Sign up: Go to Predis and create an account. It's quick, easy, and no credit card is needed for the initial sign-up.
Choose your Template: Select the template that suits your needs.
Input your script: Enter your text or script for your video or add. Then click on generate.
Review and edit: Take a moment to check the AI-generated content. If you want to make changes to the text or include images, Predis provides an easy editing interface to make those adjustments.
Publish and analyze: Once you're happy with the content, publish it directly from Predis to your preferred social media platform.
Predis integrates smoothly with tools like Canva and Hootsuite for effortless publishing. After publishing, track the performance and analyze the results to improve your social media strategy.
Features of Predis:
AI Meme Generator:
Predis leverages AI technology to generate creative content that matches your brand's style and language. If it's videos, memes, or social media posts, Predis can help you create high-quality c content.
Content Ideas Generator:
If you ever struggle with content ideas, Predis can generate endless ideas for you. Simply input a few details, and Predis will provide you with engaging social media post ideas. Create a content calendar within minutes and level up your social media game.
AI video generation:
Creating trending videos becomes effortless with Predis. With just a few clicks, you can generate high-quality videos and captivate your audience. Predis offers hundreds and thousands of templates for Instagram Reels, TikToks, and more.
AI Chat Assistant:
Predis helps you optimize your hashtags strategy for maximum visibility and engagement. Predis also suggests hashtags for your target audience to help improve the post's reach.
You can chat with Predis's built-in AI chat assistant to generate post ideas and outlines for your content calendar. Use the AI-generated replies as input to create posts with a click.
Generate the perfect captions for your posts:
Establish your brand identity with Predis. It allows you to generate posts that speak your brand language using your brand's color palette. You can000 give a professional touch to your social media channels and create posts that resonate with your audience.
Multi-platform content:
With Predis, you can generate videos, carousels, and posts for multiple social media platforms like Facebook, Instagram, TikTok, and more.
It's a one-stop solution to add variety to your social media strategy, whether you want to create text, image, or video-based content.
AI scheduling:
Predis offers comprehensive social media management features, including AI-powered scheduling. Create and schedule posts based on powerful insights generated by AI. Manage your social media copies, calendars, and campaigns all in one tool.
Competitor analysis:
Gain insights into your competitors' data with Predis. Understand their behavior and strategies that lead to conversions.
Predis provides AI-powered results that go deep into your competitor's data to deliver effective strategies for your own social media success.
Bring your own designs:
Predis allows you to import your own designs from other platforms or tools. Simply upload your favorite designs, and Predis will use them to create personalized posts in your brand language.
You can even upload a PDF, and Predis will convert it into a template for AI-generated posts.
Pros and cons of Predis:
Pros:
Quick and creative content generation: Predis uses the AI for content creation process of social media in your brand language, helping you save time and effort.
Comprehensive social media management: Predis offers a range of features, from scheduling and competitor analysis to relevant hashtags suggestions, providing an all-in-one solution for your social media needs.
Cons:
Limited customization options: While Predis generates engaging content based on your inputs, it may have limitations in terms of customization, which may not suit highly specific branding requirements.
Potential for over-reliance on AI: Depending too heavily on AI-generated content may result in an of human creativity and personal touch, potentially leading to less authentic and relatable content for your audience.
Alternatives of Predis AI:
Ad creative ai
AdCreative AI is an AI-powered platform that quickly generates ad and social media post creatives. It uses smart algorithms to create ads that drive conversions and save you time.
If you're a startup, e-commerce store, or marketing agency, AdCreative AI helps you create effective ad campaigns for platforms like Facebook, Instagram, LinkedIn, and more.
Read our article on how to use Ad Creative
Tagembed
Tagembed is a powerful tool that lets you display social media posts on your website. It boosts engagement and widens your reach by showcasing customer testimonials, social media stories, and visual galleries. The best part? You don't need coding skills and it works seamlessly with any website.
Trusted by over 300,000 users in 80+ countries, Tagembed is an easy-to-use solution that effortlessly enhances your online presence.
Read our article on how to use Tagembed
Beacons AI
Beacons AI is the go-to platform for creators to build and expand their businesses. With Beacons, creators can easily create a personalized bio link, set up an online store, secure brand partnerships, and effectively manage their audience.
Using, Beacons offers data-driven insights and recommendations, empowering creators to make smart decisions and boost their performance.
If you want to know more read our article on how to use beacons ai?
Ocoya ai
Ocoya AI is a user-friendly tool that simplifies social media content creation and management. With powerful AI capabilities and features inspired by Canva and Hootsuite, Ocoya AI makes it effortless to generate marketing text in 26+ languages.
It offers templates, automation, and seamless scheduling and posting on popular platforms like Facebook, Instagram, Twitter, LinkedIn, TikTok, and Pinterest. Real-time analytics allow you to effectively measure the performance of your content.
If you want to know more read our article on how to use Ocoya ai?
Designs ai
Designs ai is an easy-to-use creative platform powered by artificial intelligence (A.I.) and machine learning. With Designs ai, you can create beautiful designs, videos, banners, and more in just minutes.
It saves you time, reduces costs, and simplifies your creative process.
If you need a logo, video editing, or marketing materials, Designs ai has all the tools you need, even if you have no design experience. It's a user-friendly solution that brings your creative content ideas to life quickly and easily.
If you want to know more read our article on how to use Designs ai?
Canva
Canva is a user-friendly and AI-powered platform that helps you create professional designs seamlessly. With its wide range of templates, images, and tools, Canva is suitable for all your design needs.
Collaborate with others, access premium content, and efficiently manage your company's brand assets. Trusted by hundreds of companies, Canva offers features like real-time collaboration and social media scheduling.
Looka AI
Looka AI is your go-to tool for creating a standout brand effortlessly. Design eye-catching logos, and create branded marketing materials, social media templates, and business cards with ease.
You don't need design skills Looka AI helps you launch a professional brand that connects with your audience.
Read our article on how to use Looka
Uizard
Uizard is a game-changing AI-powered tool that makes creating impressive designs a breeze. Whether you're a design pro or a beginner, Uizard helps you turn text prompts, sketches, or screenshots into stunning UI designs effortlessly.
With its intuitive interface, Uizard simplifies the design process, enabling you to generate mockups, collaborate in real-time, and create clickable prototypes.
Read our article on how to use Uizard
Tome AI
Tome is a powerful platform that helps you express your ideas visually and effectively. With AI technology, Tome generates outlines and options for presentations, mood boards, or one-pagers based on your prompts. Its dynamic layouts, interactive features, and immersive views allow you to captivate your audience on any device.
If you want to know more about Tome ai read our article on how to use Tome ai?
Jitter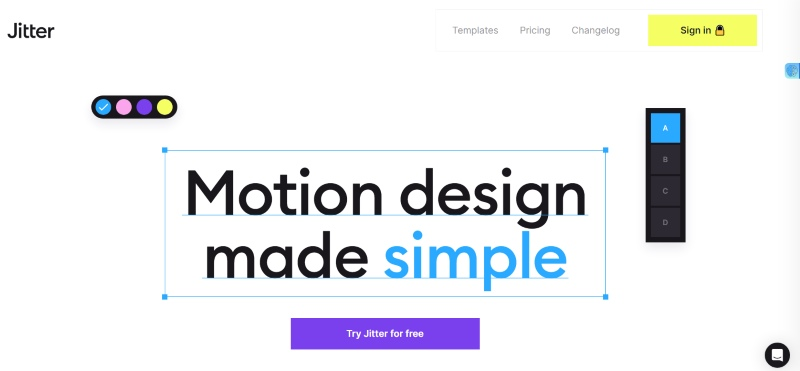 With Jitter, you can bring your ideas to life by adding movement and special effects to your pictures and videos.
It offers a user-friendly interface that makes it effortless to use, allowing you to choose from pre-designed animations or customize them to match your personal style.
Jitter seamlessly integrates with popular design software like Figma, ensuring a smooth workflow and making animation creation a breeze.
Once you're satisfied with your creation, you can easily share your animations on social media, apps, or websites with just a few clicks.
Whether you're a designer, content creator, or simply enjoy creating visually stunning work, Jitter is the tool that will take your projects to the next level.
FAQS
Q: Can I try Predis for free?
A: Yes, Predis offers a free trial where you can access certain features and experience the platform without any cost.
Q: Does Predis support multiple social media platforms?
A: Yes, Predis supports various social media platforms including Facebook, Instagram, TikTok, and more.
Q: Can I schedule and publish my posts directly from Predis?
A: Absolutely! Predis offers scheduling and publishing features that allow you to manage your social media calendars and campaigns all in one place.
Q: Is Predis suitable for content creators?
A: Yes, Predis is a valuable tool for content creators, providing AI-generated suggestions, creative tools, and analysis features to enhance their content and engagement on social media.
Q: Can I bring my own designs into Predis?
A: Yes, you can import your own designs from other platforms or tools into Predis, making it easier to create personalized posts in your brand language.
Conclusion:
Predis is a fantastic social media tool that simplifies and boosts your online presence. With its AI-powered content creation, scheduling, and competitor analysis.
Predis gives entrepreneurs, marketers, and content creators a complete solution to grow their brands and analyze industry trends.
This enables proactive engagement with the target audience and helps businesses identify new opportunities for growth.
Though it has some limitations in customization and relying too much on AI-generated ideas, Predis is user-friendly, saves time, and elevates your social media game.