Pictory AI is a tool that converts text-based content, like blogs, into videos using advanced Artificial Intelligence technology.
This process gets supercharged when it is blended with Generative AI, which creates unique content from existing data.
Ultimately, this combination allows you to repurpose your blog posts into engaging video content quickly and effectively, giving your content a new and modern look.
Let's dive into the article and see what Pictory exactly is.
What is Pictory AI?
Firstly, Pictory AI uses artificial intelligence algorithms to analyze the inputted text. It understands the context, the tone, and the major points of your source material, whether it's an article, youtube video or a lengthy blog post.
Secondly, it automatically extracts the key points for inclusion in the video, ensuring the most important information stands out. But it doesn't stop there — it then closely matches these points with related images and video clips from a vast media library.
Thirdly, it adds audio to your video, either via text-to-speech technology or allowing you to add your own voiceover.
Finally, you have the option to customize the video to your preference, adjusting images, script, and other aspects before producing the final video.
How to Use Pictory AI?
This tool can help you to create videos for different purposes and save time. How you can do that? Here is a step-by-step guide:
Sign Up: First, visit the Pictory.ai website and sign up for a free trial.
Choose a Template: Once you're logged in, select a template. There are plenty of options, pick one that suits your needs best.
Upload Content: Now, you can upload your long video, script, or blog post.
Pick Highlights: Let the AI select highlights or choose them yourself.
Add Captions: Pictory will automatically add captions. You can edit them if needed.
Edit & Customize: Add your brand logo, colors, and any other custom features you would like in your video.
Preview & Download: Preview your video and if you're happy with it, hit "Download".
Note: In the free version, there will be a watermark on your video. If you want your video without a watermark then you need to upgrade their plan.
Pricing:
Pictory ai offers different prices. You can choose any package according to your budget. If you want to test the tool then you can use their free trial.
Free Trial: Try it out with 3 projects.
Standard Plan ($19/month): Make 30 videos a month, and transcribe up to 10 hours.
Premium Plan ($39/month): Make 60 videos a month, and transcribe up to 20 hours. Plus, added benefits like auto voice synching and video highlights.
Teams ($99/month): Three users can make 90 videos a month. Perfect for group collaboration.
For any plan you choose, don't worry! If you change your mind within 14 days, they'll give you a full refund.
Who Can Benefit From Pictory AI?
YouTube Creators: you can easily turn scripts into engaging youtube videos that resonate with your audience and boost your channel's popularity.
Marketers: Marketers use Pictory ai to transform their product or service details into dynamic marketing videos that can grab consumers' attention and drive conversions.
Social Media Managers: you can create a variety of shareable video snippets from longer content, ensuring they always have something interesting to post.
Agencies: great for agencies it enables them to edit and enhance videos using text, easily repurpose content, and create video highlights for various campaigns.
Bloggers: by turning your blog posts into engaging videos, they can cater to different audience preferences and boost their visibility.
Course Creators and Coaches: you can create informative and engaging videos for online courses or coaching sessions.
Features of Pictory AI
Pictory ai offers great tools to create stunning videos for you. Below we have listed its features:
Script to Video Creation:
Pictoryai uses AI technology to turn your scripts into professional-looking videos. Whether it's for YouTube, marketing, or educational content creation, the video creation process is fast and straightforward.
Blog to Video Creation:
Ever think about turning your blog content into dynamic YouTube videos?
This feature transforms your written blogs into captivating videos, allowing you to reach a wider audience and diversify your content format.
Edit Video Using Text:
With this feature, you can edit your webinar recordings, podcasts, and Zoom recordings using text.
It lets you edit through video transcripts in text format, saving considerable time and effort on video projects.
Create Engaging Videos Highlights:
Pictory ai's AI creates short clips and highlights from your long videos, perfect for trailers video marketing or sharing on social media.
Auto Caption Videos:
It automatically adds captions to your videos, making them more accessible and easily understood.
Auto Summarize Long Videos:
Ever wished there was an easy way to condense a long form content or lengthy video into a shorter, more digestible version? It can summarize your longer videos into shorter ones, allowing users to grasp the key points quickly.
Pros & Cons of Pictory AI
Pros:
Easy to Use: With its user-friendly interface, anyone can create videos on Pictory without much effort.
Time Saver: Its automation capability significantly speeds up your video creation process.
Quality Output: Despite its simplicity, Pictory Ai doesn't compromise video quality.
Cons:
AI Voice Limitation: The AI voiceover, although handy, can't fully match the expressiveness of a human voice.
Subscription Cost: While Pictory ai offers free usage, you might need a premium subscription for advanced features which could be expensive for some users.
Limited Customization: Although Pictory ai provides several customization options, they may not be sufficient for users seeking very specific or unique styles.
Free Alternatives of Pictory AI in 2023
Here are some alternatives to consider.
Synthesys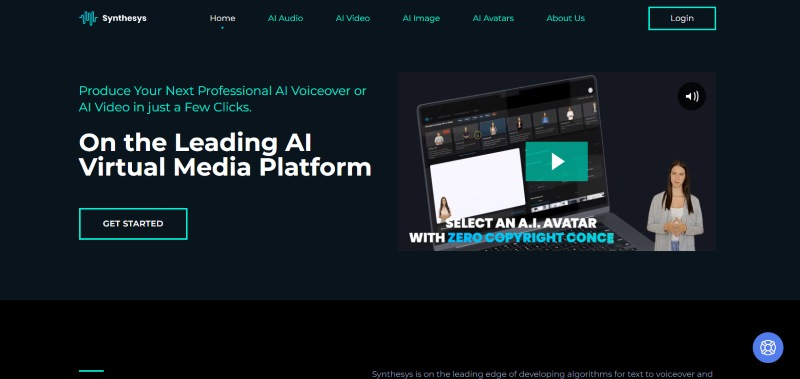 Synthesys is an innovative platform that revolutionizes the way we create voiceovers and videos. With its advanced technology, you can easily generate human-like voices that add a touch of realism to your content.
What makes Synthesys stand out is its user-friendly interface and its ability to provide crystal-clear and authentic voices.
If you're creating promotional videos or narrations for your blog posts, Synthesys allows you to build trust and establish a genuine connection with your audience.
Customization is key with Synthesys. You can effortlessly modify and adjust the voiceovers to suit your unique style and requirements.
It empowers you to create professional and engaging audio content without the need for extensive technical knowledge.
If you want to know more read our article on How to use Synthesys
Synthesia AI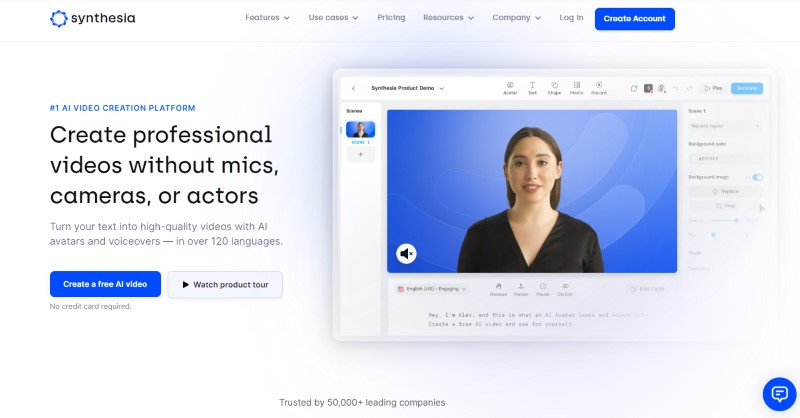 Synthesia is an impressive platform that allows anyone to create customized voiceovers and videos that sound remarkably human. With its easy-to-use features, you can effortlessly create your content and bring it to life.
Whether you're creating website explainer videos or product tutorials, Synthesia offers authentic voices that establish trust and build an emotional connection with your audience.
What sets Synthesia apart is its user-friendly interface, making it simple to customize and edit your voiceovers and videos according to your preferences. You have full control over the final outcome.
Don't worry if you lack technical expertise – Synthesia makes the process smooth and accessible for users of all levels. It's all about creating captivating and professional content that resonates with your viewers.
If you want to know more read our article on How to use Synthesia Ai
Lumen5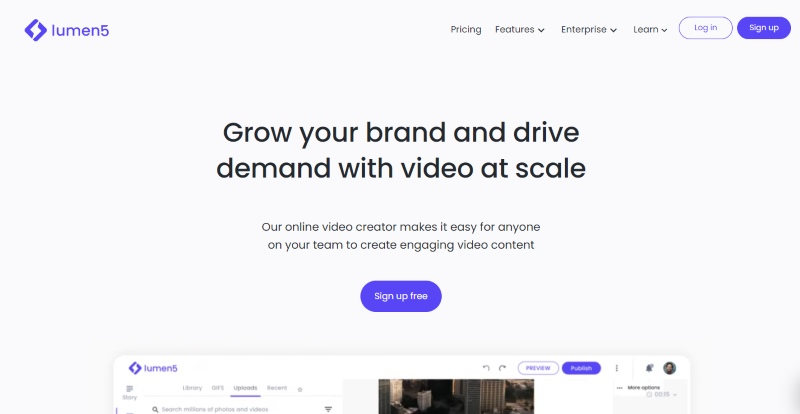 Lumen5 it's a really cool online platform tool that uses AI technology to make video creation super easy and fun.
What makes Lumen5 so great is its simple interface and easy drag-and-drop feature. It's like putting together a slideshow, so you can create professional videos in just a few minutes, even if you're a beginner.
If you're a marketer, writer, or brand, Lumen5 is the ideal video creation software for you. It takes away all the complicated stuff and lets you focus on making videos that grab your viewers' attention.
If you want to know more read our article on How to use Lumen5
InVideo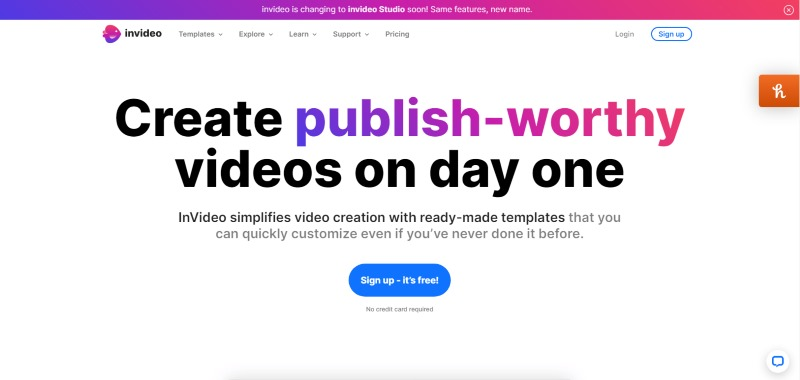 If you're searching for a hassle-free video editing platform that allows you to create stunning videos with ready-made templates, then InVideo is the perfect choice for you.
Powered by artificial intelligence (AI), it offers various features like automatic transcription and smart video editing suggestions, making video editing easier than ever before.
With InVideo, you can access a wide range of pre-designed video templates that help you achieve professional-looking results without starting from scratch.
If you want to convert your articles or blogs into engaging videos or create videos from basic text prompts, InVideo has got you covered.
you can customize your video by adding your own images and logos, and easily edit and animate them to create a personalized touch.
InVideo is the ideal tool for streamlining your video production workflow and achieving impressive results, even if you have no prior experience or technical know-how.
If you want to know more read our article on How to use InVideo
Fliki AI
Fliki is an AI-powered tool that turns your text into awesome videos.
It takes your blog articles, pairs them up with cool visuals, and adds a pretty human-sounding voiceover to create videos.
Fliki AI has 1,000+ voice options in 75 languages, making your videos sound incredibly lifelike. Plus, you'll have access to millions of photos, video clips, and background music pieces from Fliki's well-stocked media library.
You can try Fliki for free, allowing you to make up to 5 minutes of video and audio content each month.
If you want to know more read our article on How to use Fliki Ai
Steve AI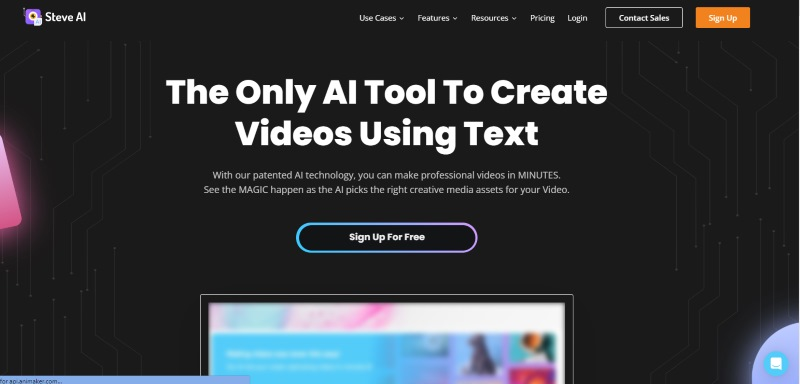 Steve AI is an innovative platform that revolutionizes video creation by effortlessly transforming text into captivating videos.
This cutting-edge tool utilizes advanced AI to automatically select the best visuals, videos, and sounds that align with your script, resulting in professional and polished videos.
What sets Steve AI apart is its user-friendly interface and customization options. Users can easily customize their videos by selecting from a variety of styles and characters, making each video unique and personalized.
If you want to know more read our article on How to use Steve Ai
Promo
You can create all sorts of videos with Promo, uses loads of media from iStock and Getty Images, and pick from ready-made templates.
Promo even offers pre-made templates for various events and industries to save you time.
This incredible tool offers you a free trial to test its features. If you need a Pictory ai alternative, Promo is a great choice. It's simple and packed with features to get your videos done in no time.
Munch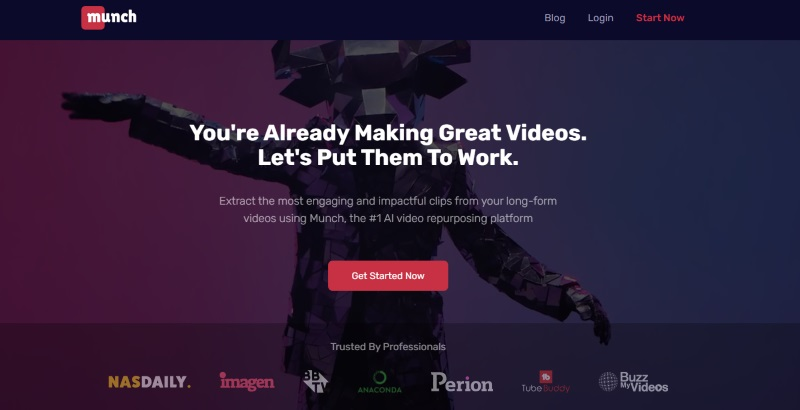 Munch is an AI-powered platform that assists users in extracting captivating and impactful moments from lengthy videos.
Its automatic editing features and AI-driven capabilities are valuable for content strategies, benefiting professionals and creatives.
Through video uploads, Munch's AI algorithm thoroughly analyzes and selects the most compelling segments. This allows users to easily generate customized social media posts for various platforms like TikTok, Instagram, Twitter, LinkedIn, and YouTube Shorts, saving both time and effort.
Munch also provides video editing tools, leveraging marketing insights and trends to optimize content for maximum impact.
Moreover, it helps users maximize the value of their existing content. In summary, Munch is a trustworthy solution that optimizes video repurposing to enhance audience engagement.
Unscreen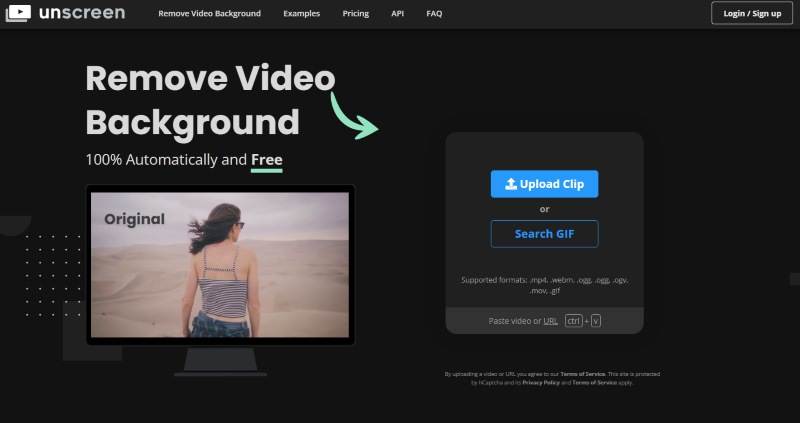 Unscreen uses advanced artificial intelligence technology to analyze and eliminate the background from a video, without the need for manual selection or complex techniques like green screens or chroma-keying.
Users can upload their video files or provide a URL, and Unscreen's AI takes care of the rest, efficiently removing the background.
Unscreen is known for its user-friendly interface and time-saving capabilities, making it a popular choice among content creators and anyone looking to give their videos a professional look.
In addition to the online tool, Unscreen also offers a Pro Plugin for Adobe Premiere Pro and After Effects, providing seamless integration for users of this video editing software.
Unscreen simplifies the process of background removal in videos, making it accessible and convenient for users of all levels of expertise.
Read our article on How to use Unscreen
Nova AI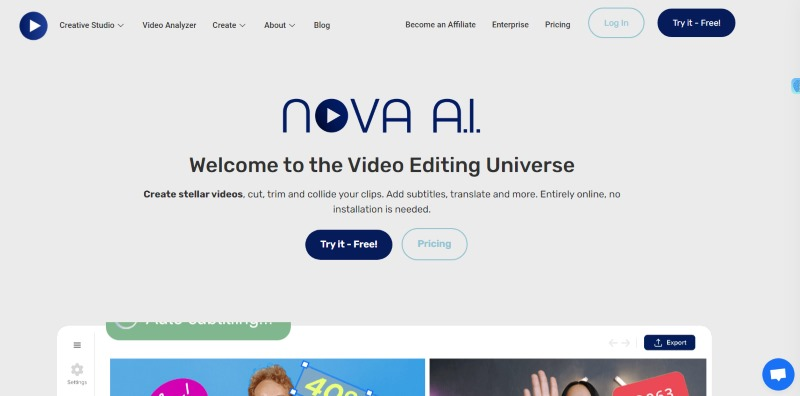 Read our article on How to use Nova Ai
FAQS (Frequently Asked Questions)
Q: Does Pictory do voice-overs?
Yes, it does! But remember, while the AI voice-over is quite good, it may not replicate human expressiveness completely.
Q: Do I need editing skills to use Pictory Ai?
Nope, you don't! Pictory ai is designed to be user-friendly, making video creation effortless.
Q: Can I customize my videos in Pictory Ai?
Sure, you can! However, the customization options might be a bit limited compared to traditional editing tools.
Conclusion:
Pictory is a handy, user-friendly tool that speeds up your video creation process and delivers high-quality results. It is a useful tool for YouTubers, marketers, social media managers, agencies and bloggers, etc.
Although it has a few limitations like needing the internet to work and having limited customization options, it offers a helpful AI voice feature and time-saving automation.
So, if you need a quick and easy solution for short video creation, Pictory Ai is definitely worth a shot! Because as per my guess video editing features of Pictory can help to save a lot of time.
But if you don't want to use it you can go for its alternatives.