Are you ready to discover the power of Natural Reader? This great tool combines artificial intelligence and generative AI to transform written text into natural-sounding speech. With their platform, you can effortlessly bring your words to life.
This article will provide a comprehensive guide to the Natural Readers platform. We will also discuss its free alternative in 2023.
What is Natural Reader Platform?
Natural Reader is a text-to-speech software that can convert written text into spoken audio files. It is designed for personal, commercial, and educational use.
With NaturalReader, you can listen to your documents, ebooks, and school materials anytime, anywhere. It is compatible with multiple platforms, including mobile devices and web browsers.
You can also use NaturalReader to convert text into mp3 files or listen directly from webpages using the Chrome Extension.
For commercial use, NaturalReader offers an AI Voice Generator program that allows you to create and download audio for use in YouTube videos, eLearning platforms, and other public or redistribution purposes.
How to use Natural Readers to create natural sounding voices?
Sign up and create an account on NaturalReader's website.
Upload your text or document by clicking "Upload" or dragging and dropping the file. NaturalReader supports various file formats, including text files, PDFs, and images.
Choose the file you want to convert into spoken audio, and it will be processed by the software.
Choose your preferred language, voice, and reading speed.
Click "Play" to listen to your text.
Control the audio with pause, rewind, and fast-forward options.
Save the audio as an mp3 file if needed.
Features of Natural Reader software
Text to Speech – Convert text into audio files
AI Text to Speech is a feature of NaturalReader that allows you to convert written text into spoken audio. It uses advanced artificial intelligence technology to create natural-sounding voices that bring your text to life.
With AI Text to Speech, you can listen to your documents, ebooks cloud documents, and school materials anytime, anywhere. It supports various formats, including PDF files, and offers a wide range of premium voices and languages to choose from.
The AI Smart Filter helps to skip unnecessary elements like headers, footers, figures, charts, and tables, making your reading experience smoother.
Additionally, you can use the OCR Camera Scan feature to instantly listen to text from a book or printed material just by taking a picture.
AI Voice Generator
AI Voice Generator is a feature of NaturalReader that allows you to effortlessly create voice-overs in minutes. It utilizes advanced technology to generate high-quality, natural-sounding voices for various purposes, such as YouTube videos, eLearning platforms, commercials, audiobooks, podcasts, and more.
With AI Voice Generator, you can easily convert your text into audio and download it for public use or redistribution.
The synthesized AI voices available in the market today ensure a professional result. #
And alos the Studio Editor enables you to add emotions and effects to make your voiceover more engaging and captivating.
WebReader
WebReader is a feature software that adds a text-to-speech widget to every page on your website. It's easy to set up without coding knowledge.
The widget is optimized for mobile device and customizable to match your website's design. It meets accessibility standards, skips menu text, and highlights words being read aloud.
WebReader supports various websites and platforms, offering natural-sounding AI voices in multiple languages. It enhances user engagement and accessibility.
NaturalReader EDU
Natural EDU is designed for schools and universities. It offers accessibility for students with learning disabilities and difficulties through AI-powered technology.
It works on various platforms and includes features like dyslexia-friendly fonts and OCR.
OCR works with your scanner, computer, or camera to convert printed characters into digital text, which allows you to listen to it on your computer or edit it in a word-processing program.
Teachers can manage classes and share documents. It improves comprehension and supports all students. Trusted by many institutions, it aims to enhance accessibility and academic success.
Google Chrome Extension
The Natural Reader Chrome extension converts text to audio. It's easy to use and compatible with webpages, eBooks, and more.
You can customize the voice and speed settings to your liking. The extension skips unnecessary text and offers user-friendly features.
You can continue listening on the go and even download wav audio files as MP3 for offline listening. It helps save time and enhances the reading experience.
Natural Reader App:
NaturalReader ios app is a powerful tool that uses AI text-to-speech technology. It allows you to listen to books, documents, apps, and web pages instead of reading them.
With an average 4.5-star rating, it is trusted by 1,000,000 monthly users. The app helps you finish readings faster and is designed to be user-friendly.
It provides a convenient and efficient way to consume written content on mobile devices by converting it into natural-sounding audio.
It's suitable for all ages and is a great option for those looking for an easier, more engaging reading experience.
Pros and Cons of Natural Reader:
Pros:
NaturalReader provides accessibility and support for students with learning difficulties through its AI-powered text-to-speech technology.
It offers a customizable and user-friendly experience, with features like dyslexia-friendly fonts and OCR, enhancing productivity and comprehension.
Cons:
There may be limitations in voice options and pronunciations, which can affect the overall audio quality.
The free version of NaturalReader has some limitations in functionality and may require a paid subscription for full access to all features.
Alternatives of Natural Reader:
TheTechBrain AI:
TheTechBrain AI is a smart and user-friendly AI tool that provides a range of features, including Text to Speech. With this tool, you can easily convert written text into natural-sounding spoken words.
It offers a variety of language options and voices like Amy (Female) in English (UK) to generate high-quality audio. You can convert your text into human voice with the word processing program of TheTechBrain.
What's even better is that TheTechBrain AI is completely free to use and also has a mobile app for added convenience. Give it a try and enjoy the seamless functionality of converting text to speech with TheTechBrain AI.
Synthesys
Synthesys is a powerful AI tool that serves as an alternative to Natural Reader. It offers text-to-speech and text-to-video capabilities for voiceover and video production.
Transforming text into natural voiceovers and creating videos with lip-synching avatars is made easy with Synthesys.
The platform is user-friendly, customizable, and supports multiple languages. It works on both Mac and PC, making it accessible to a global audience.
If you want to know more read our article on How to use Synthesys
FakeYou
FakeYou Text-to-Speech AI is an advanced solution that uses artificial intelligence to create realistic voiceovers.
With a wide selection of voices in multiple languages, including both male and female options, you can easily find the perfect human voiceover for your project. Simply upload your text, choose a voice, and export the audio file in various formats.
With over 3132 celebrity voices and lifelike options, FakeYou helps you create an authentic and captivating audio experience for commercials, podcasts, and audiobooks.
Enjoy the extensive voice library and effectively communicate your message with FakeYou.
If you want to know more read our article on How to use FakeYou Text To Speech
Play HT
PlayHT simplifies the process of transforming text into captivating voice experiences. With AI-powered text-to-speech, voice cloning, and voice generation APIs, it caters to a variety of speech-generation needs.
PlayHT boasts an extensive library of over 800 natural-sounding voices in 142 languages and accents, providing abundant options for audio projects.
Even if you need video voiceovers, e-learning, podcasts, gaming, translation, or voice accessibility, PlayHT offers reliable and high-quality speech synthesis capabilities to meet your requirements.
If you want to know more read our article on How to use play HT
Resemble AI
Resemble AI allows you to effortlessly create realistic and human-like voiceovers. Beyond basic text-to-speech functionality, Resemble AI offers real-time voice cloning and language localization options.
It also includes features specifically designed to prevent the misuse of generated human voices through deepfake audio.
Their platform offers flexible APIs and developers can easily integrate Resemble AI into their applications.
If you want to know more read our article on How to use Resemble AI
Murf AI
Murf AI is an incredible tool that transforms written text into lifelike speech. It's like having a personal voiceover artist at your disposal, creating professional voiceovers for videos and presentations.
With Murf AI, no special skills or equipment are needed. Simply type your text, select a voice, and within minutes, you'll have a natural and impressive voiceover.
The advanced AI algorithms and deep learning behind Murf AI ensure that the voices sound realistic and avoid any robotic or monotonous tones. It's a simple and convenient way to make your content truly amazing.
If you want to know more read our article on How to use Murf AI
Eleven Labs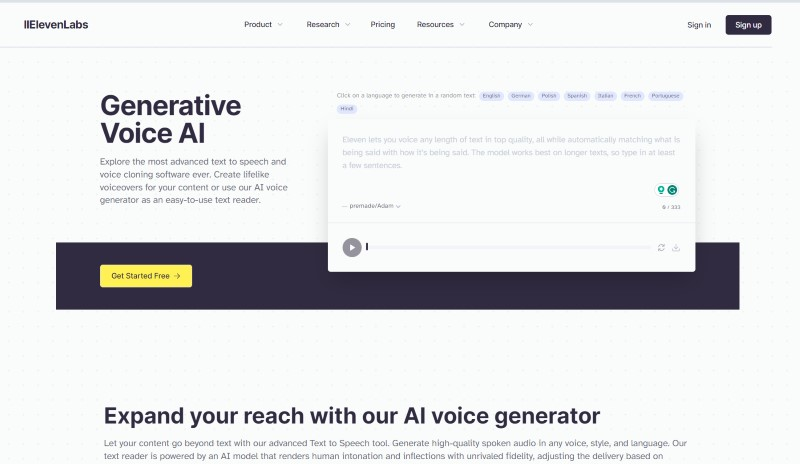 With its advanced capabilities, Eleven Labs enables the generation of high-quality spoken audio with human-like intonation, adding a new dimension to your content.
Whether you're creating videos, stories, games, audiobooks, chatbots, or professional audio, Eleven Labs has got you covered.
It surpasses typical voice generators by not only converting text into speech but also understanding the emotions behind the words, resulting in authentic and emotionally expressive voices.
With Eleven Labs, you can effortlessly create lifelike voices for any type of content, captivating your audience like never before.
If you want to know more read our article on How to use Eleven Labs
FAQS
Q: Can I customize the voice in Natural Reader?
A: Yes, Natural Reader offers a wide range of voices in different languages. You can choose your preferred voice and adjust the speed to suit your preferences.
Q: Is Natural Reader accessible on different devices?
A: Yes, NaturalReader is compatible with various platforms, including computers, laptops, tablets, and mobile devices.
Q: Can Natural Reader read scanned documents with text?
A: Yes, NaturalReader supports OCR (Optical Character Recognition), which allows it to read scanned documents and extract the text for audio playback.
Q: Can I use Natural Reader for educational purposes?
Absolutely! Natural Reader EDU offers group and site licenses specifically designed for educational institutions. It provides accessibility and support for students with learning difficulties.
Q: How long has NaturalReader been in operation?
A: NaturalReader has over 20 years of experience in providing text-to-speech technology and has been trusted by millions of users worldwide.
Conclusion:
NaturalReader is an invaluable tool that utilizes AI-powered text-to-speech technology to make reading more accessible, engaging, and efficient.
With customizable natural voices used, adjustable speed, and features like OCR and smart filters, it offers a user-friendly experience across different devices.
Whether for educational purposes or personal use, NaturalReader reinforces understanding, aids individuals with learning difficulties, and saves time.
With its long-standing reputation, NaturalReader continues to empower millions of users worldwide, making written content more accessible and enjoyable for everyone.