Are you looking to enhance your voice recordings? Look no further! Murf AI leverages advanced Artificial Intelligence algorithms and allows you to transform your recordings into professional-quality voiceovers.
Experience the power of generative AI to bring your written text to life with natural-sounding speech using Murf A.
In this article, we will discuss how you can turn your text into human speech using Murf AI and we will also discuss its free alternatives.
What is Murf AI exactly
Murf AI is an amazing ai voice generator tool that can turn written text into realistic, human-like speech. It's like having your own personal voiceover artist that can create professional-sounding voiceovers for videos, presentations, and more.
With Murf AI, you don't need any special skills or equipment. Just type in your text, choose a voice, and you'll have a natural-sounding speech and voiceover in minutes. It's a simple and convenient way to make your content sound amazing.
Leveraging advanced AI algorithms and deep learning, Murf's AI voices sound super realistic and don't sound robotic and monotonous.
How to use Murf AI?
Visit site: Visit the Murf website.
Open the Studio: Once you're signed in, click on "Open Studio" to access the AI voice generator.
Enter Your Text: In the Studio, you'll see a text box. Simply type or paste your text into the box.
Choose a Voice: Murf offers over 120 AI voices in multiple languages. Select the voice that best suits your project.
Customize Your Voice: Use the various features available to customize your voiceover. Adjust the pitch, punctuation, and emphasis of the voice to match your desired tone.
Add Media (Optional): If you want to enhance your voiceover, you can add videos, music, or images to synchronize with the recorded voiceovers.
Preview and Edit: Before finalizing your voiceover, you can preview the generated voiceover and make any necessary edits. You can edit the text, adjust the voice settings, or modify the media elements.
Download or Share: Once you're satisfied with the voiceover, you can download it as an audio file or share it directly from the Studio to your desired platform. You can use these voiceovers for youtube videos.
Features of Murf Ai
Voice Cloning
It allows you to generate AI voice clones that sound more human and express emotions like anger, happiness, and sadness.
With this feature, you can enhance the user experience by creating engaging content for advertisements, IVR systems, games, and animation.
The voice clones can be customized to match your desired tone, speed, and pitch, resulting in professional and lifelike narrations.
You can easily edit your scripts without re-recording, and dedicated customer support also is available throughout the process.
MURF AI prioritizes security and ensures the confidentiality of your data. Overall, this feature lets you create captivating voiceovers with ease and flexibility.
Text to Speech
MF AI offers a feature called "Text to Speech voice with realistic voices." With this feature, you can use advanced AI voices to create professional voiceovers for your videos and presentations in 20 languages.
These voices sound natural and human-like, eliminating the robotic tone often associated with text-to-speech technology.
You can customize the pitch, emphasis, speed, and pronunciation of the voiceovers to match your content requirements.
By using MURF AI's text-to-speech capability, you can save time and money by avoiding the need to hire voice artists or invest in costly voice recording and equipment.
It's a simple and efficient way to generate high-quality voiceovers that enhance your content and engage your audience.
Voice over Video
With MURF AI's feature, "Make your Voice over Video engaging," you can effortlessly create enticing voiceovers for your videos.
Whether you're starting with a video file or an image, MURF offers a wide range of realistic voices in 20+ languages and accents.
You can customize the pitch, pause, speed, pronunciation, and emphasis to have full control over your voiceover.
MURF's simple and intuitive platform allows you to match the timing of your voiceover with your video, ensuring a seamless and engaging viewing experience.
With MURF, you can create great voiceovers, elevate your videos from amateur to professional with ease and create captivating content that resonates with your audience.
Voice Over Google Slides
Murf offers a simple and easy way to add voice-overs to your Google Slides presentations. With this feature, you can create engaging and dynamic presentations by recording and editing your voice narration directly within Google Slides.
Choose from a variety of lifelike AI voices to find the perfect tone for your presentation. Murf also automatically syncs your narration with your slides, ensuring a professional presentation.
Best of all, this feature is included in all Murf subscriptions at no additional cost. Enhance your Google Slides presentations with Murf AI and captivate your audience effortlessly.
Voice Changer:
Murf AI's voice changer feature allows you to transform your home-recorded voice into a professional AI voice.
Simply upload your voice recording, edit out any unwanted parts, and choose from a variety of AI voices to generate a new voiceover.
With Murf's intuitive interface, you can easily sync the voiceover with videos or images, adjust timing, and add custom effects.
Pros and cons:
Pros:
Convenient and user-friendly interface for creating realistic-sounding voiceovers in Google Slides.
Wide range of custom voices to choose from, allowing for customization and tailoring to your presentation.
The automated time syncing feature ensures that slides and narration align seamlessly.
Collaboration with team members on presentations, making it easy to work together.
HD-quality downloads are available for polished and professional presentations.
Cons:
Limited editing options for voice customization within Google Slides.
Access to additional features and customization options requires a subscription.
Cannot upload your own voice recordings for use in Google Slides.
Adding background music to the presentation is not supported.
Making direct edits to the Murf project may affect the voice-over recordings in Google Slides.
Pricing:
Free Plan:
Get started with a free version for limited features.
Basic Plan:
For $19/month or $228/year, access essential features and basic voices.
Pro Plan:
Upgrade to unlimited downloads and all voices for $26/month or $312/year.
Alternatives of Murf AI:
Thetechbrain AI:
TheTechBrain AI is another smart AI tool that offers a range of features, including Text to Speech, as an alternative to Murf AI.
It provides a user-friendly interface and allows you to convert written text into spoken words. With a variety of language options and voices available, such as Amy (Female) in English (UK), you can generate high-quality audio for your needs.
TheTechBrain AI is not only free to use but also offers a mobile app for added convenience. Give TheTechBrain AI a try and experience its seamless text-to-speech functionality.
FakeYou
FakeYou Text-to-Speech AI is the ultimate solution that utilizes advanced artificial intelligence technology to transform the written text into incredibly realistic-sounding voiceovers.
It offers a wide selection of voices, ranging from female to male, and is available in multiple languages. You can upload your text, choose a voice, and easily export the audio file in various formats like WAV, MP3, and OGG.
With over 3132 celebrity voices and lifelike options in multiple languages, FakeYou allows you to find the perfect voice for your project, whether it's a commercial, podcast, or audiobook.
You can create an authentic and captivating audio experience that effectively communicates your message with the extensive voice library available in FakeYou.
If you want to know more read our article on How to use FakeYou Text To Speech
Synthesys
Synthesys serves as an alternative to Murf AI, offering powerful AI tools for voiceover and video production.
With their text-to-speech (TTS) technology, you can easily transform text into natural and authoritative voiceovers.
And the platform also provides text-to-video (TTV) capabilities, allowing you to create videos with lip-synching virtual avatars for impactful messaging.
Synthesys is user-friendly and offers customization options, making it accessible even for non-technical users. Supported on both Mac and PC, it provides a wide selection of languages to cater to global audiences.
If you want to know more read our article on How to use Synthesys
Natural Reader
NaturalReader is an AI text-to-speech solution. It converts text into natural-sounding voiceovers for personal, commercial, and educational use. You can use it on your computer, phone, or online. It's great for listening to documents and creating MP3 files.
NaturalReader also offers an AI voice generator for commercial purposes and emotive voice styles. It is speech software that's easy to use and trusted by millions of users and educational institutions. Try NaturalReader as an alternative to Murf AI for clear and natural text-to-speech conversion.
If you want to know more read our article on How to use Natural Reader
Resemble AI
Resemble AI is a powerful alternative to Murf AI, offering a range of tools for voice generation and manipulation. With Resemble AI, you can create realistic human-like voiceovers quickly and easily.
It goes beyond simple text-to-speech by providing options like real-time voice cloning and language localization.
Additionally, Resemble AI offers features specifically designed to combat deepfake audio, safeguarding against fraudulent use of generated voices. With flexible APIs, developers can integrate Resemble AI seamlessly into their applications.
If you want to know more read our article on How to use Resemble AI
Play HT
With PlayHT, you can effortlessly convert written text into engaging voice experiences, supporting multiple languages and various use cases.
The platform offers AI text-to-speech, voice cloning, and voice generation APIs, catering to different speech generation needs.
PlayHT's extensive library of AI voices covers over 800 natural-sounding voices in 142 languages and accents, providing a broad range of options for audio projects.
If you need voiceovers for videos, audio publishing, conversational AI, e-learning, podcasts, gaming, IVR systems, translation, or voice accessibility, PlayHT offers reliable and high-quality speech synthesis capabilities.
If you want to know more read our article on How to use play HT
Lovo ai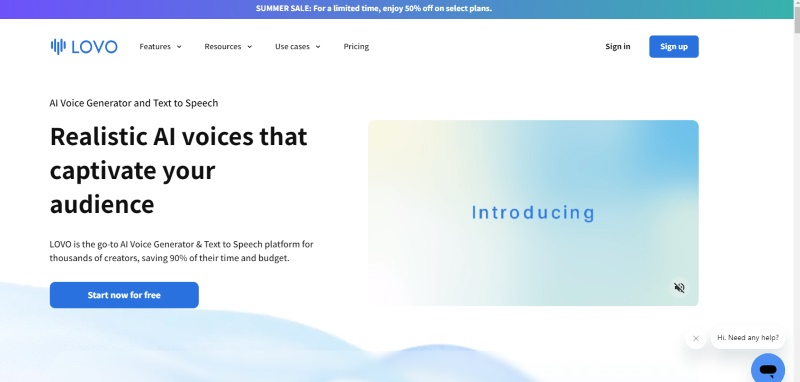 LOVO AI is an advanced platform that utilizes cutting-edge AI technology to effortlessly generate realistic and high-quality voiceovers.
With its extensive library of voices, languages, and accents, it offers versatility and is designed to be user-friendly for both experienced and inexperienced users.
LOVO AI aims to make voiceover creation and audio production accessible to all.
If you want to know more read our article on How to use Lovo Ai
Eleven Labs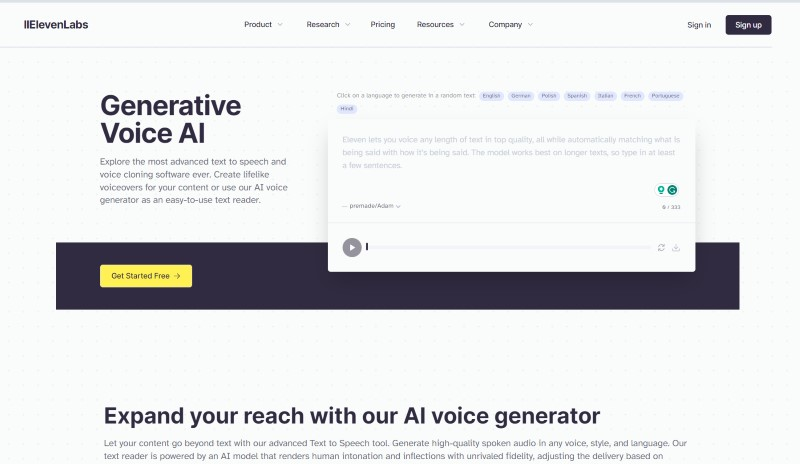 Eleven Labs is an innovative platform that utilizes AI technology to convert written text into captivating and realistic voices. surpasses traditional voice generators by understanding emotions and delivering-like intonation.
With voice cloning and access to an AI voice library, Eleven Labs offers the necessary tools to create lifelike voices for different types of content.
Their AI Speech Classifier further guarantees transparency and authenticity. The platform encourages users to contribute to the AI voice library by sharing their own voices, creating a diverse and ever-growing collection.
If you want to know more read our article on How to use Eleven Labs
FAQS
Q: How can I download created video with Murf AI?
After creating your voiceover presentation in Murf Studio, you can choose the dimensions and quality of your file before downloading it to your device.
Q: Can I collaborate with my team on voiceover presentations using Murf AI?
Yes, you can collaborate with your team on Google Slides as well as in Murf Studio. Pro and Enterprise users can access projects in the studio, make edits, and download them directly.
Q: Is it possible to upload my own voice recordings in Murf AI?
Currently, Murf AI doesn't support uploading your own voice recordings. However, you can choose from a wide variety of AI voices available within the platform.
Q: How can I add pauses in the voiceover using Murf AI?
Murf AI provides options to add pauses and modify the narration speed. These features allow you to customize the timing and pace of your voiceover for an optimal presentation experience.
Q: Are there any additional costs involved when using the Murf Google Slides Add-on?
No, the Murf Google Slides Add-on is free for all Murf subscribers. It seamlessly integrates with your workflow and allows you to easily transition from Google Slides to Murf Studio without any additional charges.
Conclusion:
Murf AI offers a convenient and user-friendly solution for adding voiceovers to Google Slides presentations. With its range of AI voices and automated time syncing feature, creating impactful and professional presentations becomes effortless.
While there are some limitations, such as the inability to upload personal voice recordings, Murf AI integrates Google Slides and Murf Studio.
Overall, Murf AI empowers users to enhance their presentations, captivate their audience, and leave a lasting impression.