Welcome to the world of Lumen5: an innovative platform that unleashes your creativity and empowers you to create stunning videos effortlessly.
Thanks to advancements in generative AI, video editing has become much easier with features like automatic transcription and smart video editing suggestions.
In this article, we will explore how Lumen5 can help you create engaging videos and also discuss some free alternatives you can consider.
What is Lumen5?
Lumen5 is an easy-to-use online video and content creator powered by artificial intelligence, allowing anyone to effortlessly produce videos without the need for expertise.
With its user-friendly interface and drag-and-drop functionality, you can create professional video content in minutes, just like building a slideshow.
Lumen5 is a video creation software that helps marketers, publishers, and brands create video content in a breeze, without any technical expertise.
How to use Lumen5? Video Creation platform
Sign up: Create an account on Lumen5's website.
Choose a template or start from scratch: Pick a-designed template or create your own video layout.
Add content: Upload your text, images, and video clips.
Customize: Make it yours by adjusting fonts, colors, and transitions.
Preview and refine: Watch your video and make the necessary changes.
Download or publish: Once you're satisfied, download the video. You can easily share videos with other friends.
Features of Lumen5: Create your own videos
Transform blog posts to videos in minutes
With Lumen5, you can easily transform your blog posts into engaging videos in just minutes. Using advanced AI and machine learning, Lumen5 automatically fetches the content from your blog post or allows you to input your text.
The AI then generates a video by matching scenes with relevant stock footage and determining the timing of each scene based on reading speed.
You can also customize the video with creative tools, such as changing colors, adding watermarks, and adjusting aspect ratios.
It's a simple, user-friendly way to repurpose your written content into visually appealing videos.
Unlock the power of voice in your videos
Unlock the power of voice in your videos with Lumen5. Easily create engaging talking head videos using the built-in features of the platform.
Enhance your content with visual overlays like lower thirds, callouts, and cutaways. Auto-generate captions for your video clips and customize them with your fonts and colors.
Editing is a breeze with the transcript-based approach, allowing you to match visuals seamlessly to the audio. It's a user-friendly tool that saves you time and effort.
Pricing
Basic Plan ($19/month billed yearly): Simple videos without Lumen5 branding, access to icons, and a library of stock images and videos.
Starter Plan ($59/month billed yearly): For individual content creators with 1080p video resolution, a larger stock media library, and the ability to choose fonts and customize colors.
Professional Plan ($149/month billed yearly): Ideal for professional video storytellers with advanced features like custom watermarks, uploading your fonts, and multiple saved templates.
Alternatives to Lumen5:
InVideo
InVideo is a cutting-edge technology that makes video creation simple and easy. Using the power of artificial intelligence, InVideo AI generates video scripts based on simple text prompts.
It offers a wide range of ready-made video templates that make it effortless to create stunning videos without starting from scratch.
With InVideo, you can convert your articles or blogs into captivating videos within minutes.
Check Our Article: How to use Invideo AI?
Steve AI
Steve AI is an amazing tool that makes video creation quick and effortless. Just enter your text, and let the AI take care of the rest by choosing the best images, videos, and sounds for your video.
Regardless of your experience level, Steve AI is perfect for creating stunning videos. You can even personalize your videos with different styles and characters to make them truly unique.
Check Our Article: How to use Steve AI?
Pictory AI:
Pictory AI is an excellent option for video creation and editing, offering user-friendly AI-powered software. It simplifies the process by automatically transforming long content into concise branded videos.
With Pictory AI's free plan, you can create up to three video projects, each lasting up to 10 minutes.
This innovative tool provides various features like converting scripts into videos, transforming blog articles into engaging visual content, and generating captions automatically.
Check Our Article: How to use Pictory AI?
Synthesia AI
Synthesia AI is an amazingly simple video creation platform that lets effortlessly create professional videos.
Say goodbye to cameras, actors, and complex equipment – with just written text, Synthesia uses AI to generate top-notch videos.
You can personalize avatars and voiceovers in over 120 languages, which is why more than 50,000 top companies trust Synthesia for creating large-scale training videos.
It's user-friendly and perfect for anyone looking to create high-quality videos without any hassle.
Check Our Article: How to use Synthesia AI?
Fliki AI:
Fliki is a great alternative to Lumen5 and video maker, offering a powerful AI tool that lets you create impressive videos in just 2 minutes.
It takes your text-based content, like blog articles, and transforms them into visually captivating videos that grab your audience's attention.
You can even make videos for platforms like YouTube with Fliki. It has a library of over 1,000 lifelike text-to-speech voices available in 75 languages, ensuring natural-sounding voiceovers.
Additionally, Fliki provides a vast stock media library with millions of images, video clips, and background music, giving you plenty of resources to make your videos stand out.
Check Our Article: How to use Fliki AI?
Synthesys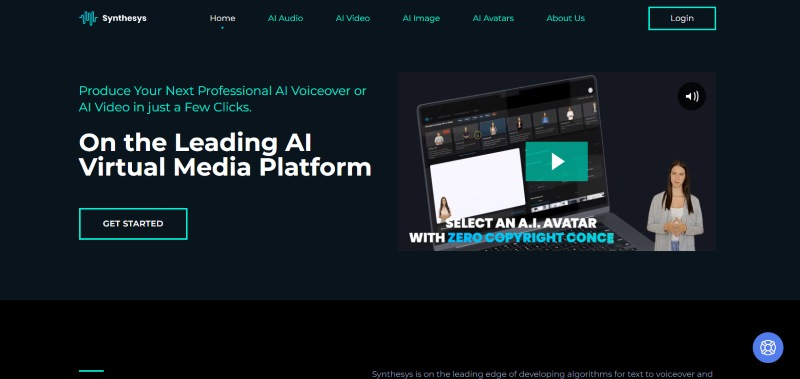 Synthesys creates voiceovers and videos that sound and appear like real humans speaking or acting.
This cutting-edge platform allows you to enhance your website explainer videos, product tutorials, and other content with ease.
By providing clear and authentic voices, Synthesys establishes trust and authority, fostering a relatable and emotional connection with your audience.
With its user-friendly interface, you can customize and edit your voiceovers or videos, ensuring the final result aligns with your expectations.
Synthesys is a powerful tool that enables you to create engaging and professional digital content effortlessly, bringing your message to life in an impactful way.
If you want to know more read our article on How to use Synthesys
Munch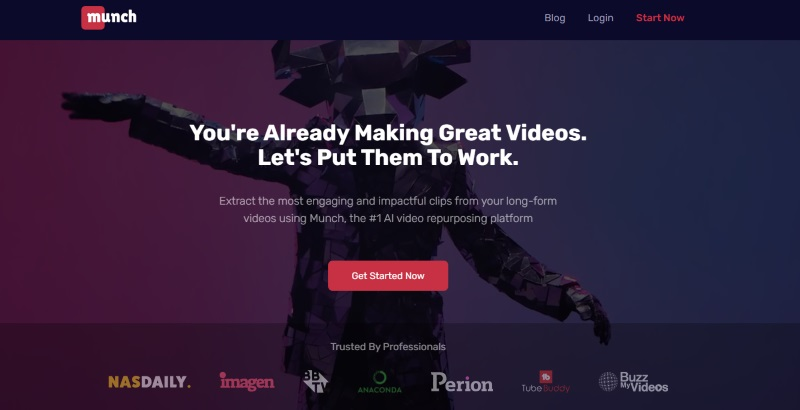 Munch is an AI-powered video repurposing platform that helps users extract engaging and impactful moments from long-form videos.
With automatic editing, AI-driven capabilities, and the ability to ride social media trends, Munch enhances content strategies and boosts engagement for brands, social media managers, agencies, marketers, and creators.
The platform allows for generating social media posts tailored to specific platforms like TikTok, Instagram, Twitter, LinkedIn, and YouTube Shorts. Munch also offers features like video editing and content optimization based on marketing data and trends.
If you want to know more read our article on How to use Munch
Unscreen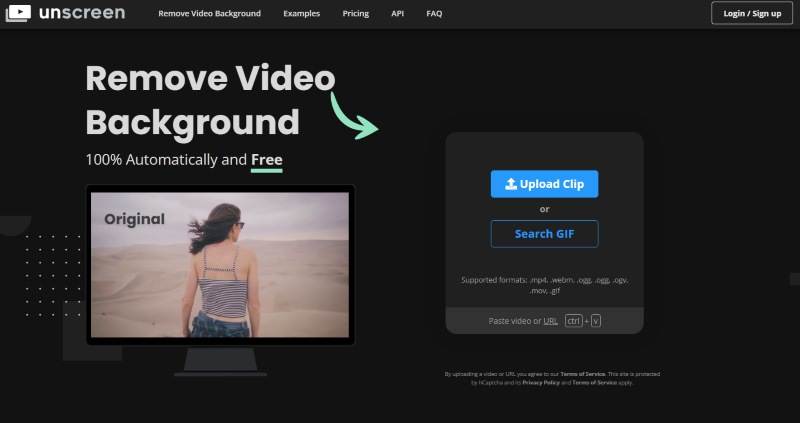 Unscreen is an AI-powered tool that effortlessly removes backgrounds from videos.
Using advanced AI technology, Unscreen automatically analyzes and eliminates the background without the need for manual selection or complicated techniques like chroma-keying.
Users have the option to upload video files or provide a URL, and Unscreen's AI handles the entire process seamlessly.
While Unscreen is not offered for free, its popularity among content creators and individuals aiming for professional-looking videos is notable.
Additionally, Unscreen provides a Pro Plugin exclusively designed for Adobe Premiere Pro and After Effects users, ensuring easy integration with this widely-used video editing software.
The only downfall it is not free software to try but is worth mentioning in the article because is one of a kind software.
If you want to know more read our article on How to use Unscreen
Nova AI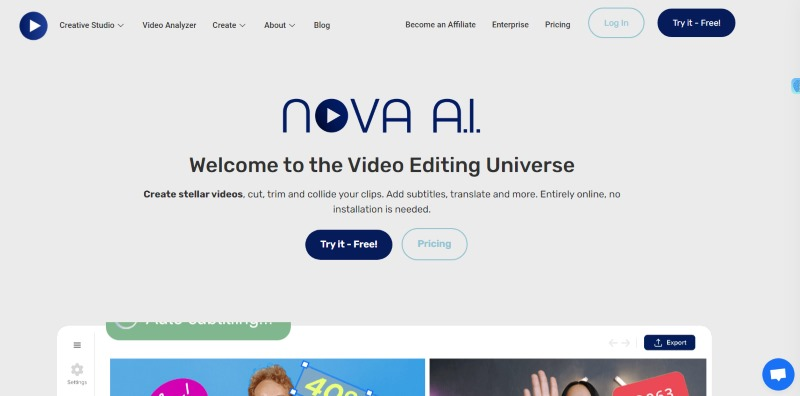 Nova AI is an advanced and user-friendly online video editing tool that simplifies the process of creating and editing videos without the need for software installation.
This platform offers a wide range of features, including clip cutting, trimming, subtitle addition, and video translation, providing users with the ability to perfect every aspect of their videos.
Signing up for a free account allows you to easily upload your videos and make necessary edits before exporting the final product.
Nova AI is suitable for both beginners and professionals, catering to various types of video content, such as promotional materials, educational videos, and social media posts.
Read our article on How to use Nova Ai
FAQS
Q: Can I customize my videos in Lumen5?
Yes, Lumen5 offers a range of creative tools to customize your videos. You can switch up colors, add watermarks, and even reformat the videos into different aspect ratios.
Q: Can I use my media in Lumen5?
Yes, Lumen5 allows you to upload your photos, videos, and audio tracks to personalize your videos.
Q: How long does it take to create a video with Lumen5?
With Lumen5's automated video-making processes, you can create videos in just minutes. Simply input your content, make any desired customizations, and generate your video with a click.
Conclusion:
Lumen5 is an amazing tool for creating amazing videos easily and is user-friendly, so anyone can use it without technical knowledge.
The quick and easy process saves time and effort. With its extensive library of visuals and customization options, Lumen5 allows you to create professional videos that captivate your audience.
If you're a blogger, marketer, or brand, Lumen5 is a game-changer for enhancing your content and reaching a wider audience. Start using Lumen5 today and unlock the power of engaging video content.