How to use Lovo AI and Free Alternatives in 2023
Looking to transform your written content into compelling audio? Look no further than LOVO AI, the leading text-to-speech (TTS) generator.
Powered by advanced artificial intelligence, LOVO AI is the ultimate tool for converting text into captivating audio
In this article, we'll delve into the world of LOVO AI, exploring its features and benefits, and uncovering how it can revolutionize your content creation process. I will also highlight its free alternatives.
What is Lovo ai? AI Voice Generator
LOVO AI is an advanced platform that offers an innovative AI voice generator and text-to-speech tool. It allows users to create realistic and high-quality voiceovers effortlessly, saving time and money.
With an extensive library of voices, languages, and accents, LOVO AI provides versatility and flexibility for businesses, content creators, and educators.
Its user-friendly interface and powerful features make it accessible to individuals with no prior experience in audio production.
How to use Lovo ai?
Visit the LOVO AI website and click on "Sign Up" or "Create Account" to enjoy its features for free.
Explore the available AI voices and choose the one that best suits your needs.
Enter or copy-paste the text you want to convert into a voiceover into the provided text box.
You can customize the voiceover settings, such as adjusting emotions or speech speed, to match your desired style.
Click on the "Generate" button to initiate the voice generation process.
Once the voiceover is generated, you can preview and download it.
Features of Lovo AI:
Text to Speech
The greatest feature of LOVO AI is its Premium Text to Speech, which offers powerful AI Voice Generators.
With a wide selection of professional voices tailored to your content and the ability to use various emotions in voiceovers, LOVO AI ensures high-quality results.
And also the Producer Mode provides complete control over phonemes, prosody, and high-quality audio output, allowing for a polished and personalized voiceover experience.
Voice cloning
Voice cloning is a powerful feature of LOVO AI that allows you to create high-quality custom voice content by replicating your own voice.
With AI algorithms, voice cloning accurately captures the unique vocal characteristics and synthetic voices of an individual, providing realistic and personalized voices for various applications such as advertisements, education, explainer videos, podcasts, and more.
It's a convenient and efficient way to enhance your content and make it stand out. With LOVO AI's voice cloning you can get a lot of ai generated voices.
Online Video Editor
LOVO AI offers an Online Video Editor, which allows you to create professional videos. With powerful tools and time-synced AI voiceovers, you can bring your videos to life.
Plus, during our Summer Sale, you can enjoy a 50% discount on select plans. Don't miss out on this limited-time offer.
AI Voices ( 150+ AI generated voices )
AI Voice is a key feature of LOVO AI that allows users to generate realistic voice skins using artificial intelligence technology.
With over 150 AI voices available in multiple languages and emotions, users can create professional-grade audio content for various purposes.
The AI voice generator tool makes it easy to input text and quickly generate natural-sounding voiceovers. Users can also customize their voiceovers by adjusting emphasis, pitch, and adding pauses.
LOVO AI's AI Voices feature offers a convenient and efficient way to create engaging and impactful audio content.
AI Art Generator
Add a touch of creativity to your content with LOVO AI's AI Art Generator. You can transform the text into stunning illustrations and images within seconds.
Simply input a few words, and watch as Genny brings your creative visions to life. Whether you're creating explainer videos, marketing materials, or games, Genny's AI-generated images are perfect for all types of content.
Choose from a variety of styles and download up to three variations of your image, all copyright-free.
AI Writer
Elevate your video scriptwriting with Genny Write, the AI Writer feature from LOVO AI.
Genny Write utilizes ChatGPT to provide you with a helpful writing assistant that has learned from countless online documents.
With user-friendly templates and the ability to choose different writing tones, Genny Write makes scriptwriting easy and efficient.
Pros & Cons of Lovo AI:
Pros:
High-Quality Voices: LOVO AI delivers natural and professional voice generation, ensuring a premium audio experience.
Time and Cost Savings: To create voiceovers and scripts with LOVO AI saves time and reduces production costs compared to traditional methods.
Cons:
Learning Curve: Users may initially face a learning curve when getting familiar with LOVO AI's features, but its capabilities can be fully mastered with practice.
Limited Customization: While LOVO AI provides various AI voices and customization options, there may be limitations in specific voice styles or highly unique voice requirements.
Pricing
Free Plan: Start with a fully-featured trial, including a 14-day free trial of the Pro plan, with limited voice generation, voice cloning, storage, and API support.
Basic Plan: Upgrade to the Basic Plan at $19/month for essential content creation, offering more voice generation hours, hyper-realistic Pro voices, AI voices in multiple languages, and additional storage.
Pro Plan: The most popular option, priced at $24/month (50% off), provides premium performance with unlimited voice generation, voice cloning, global voices, priority support, and more storage.
Alternatives of Lovo AI:
TheTechBrain AI
TheTechBrain AI, is a smart alternative to Lovo AI. With a range of powerful tools, you can enhance your AI experience easily.
It has a user-friendly dashboard where you can access everything you need. From converting speech to text, creating AI-generated art, to simplifying your coding process, our tools make your life easier. Plus, you can try them all for free.
The platform also provides valuable templates for writing and marketing, like captivating blog introductions and attention-grabbing ad copies. They also have an Android app. Try TheTechBrain AI today and revolutionize your AI journey.
Natural Reader
NaturalReader is a friendly text-to-speech alternative to Lovo AI. With NaturalReader, you can enjoy captivating audio experiences with ease.
It works seamlessly on various platforms, allowing you to access your audio content effortlessly. Convert text into mp3 files in a matter of minutes or simply listen directly from webpages using the convenient Chrome Extension. NaturalReader is here to make your audio journey enjoyable and convenient.
If you want to know more read our article on How to use Natural readers?
Play HT
PlayHT is an amazing alternative to Lovo AI. With PlayHT, you can effortlessly create lifelike voices using AI technology.
Just input your text in the online studio, and watch it instantly transform into natural speech. Choose from a variety of AI voices to add authenticity to your projects.
If it's videos, podcasts, or interactive voice systems. Enhance your content with realistic voices, all in a simple and convenient way.
If you want to know more read our blog on How to use Play HT
FakeYou
FakeYou is an advanced AI alternative to Lovo AI. With FakeYou, you can easily create voiceovers that sound like real people.
Choose from a wide selection of voices in different languages and genders. Simply enter your text, select a voice, and export the edited audio in various formats.
If it's commercials, podcasts, or audiobooks, FakeYou offers over 3132 celebrity voices and realistic options to bring your content to life.
If you want to know more read our blog on How to use FakeYou Text To Speech
Synthesys
Synthesys is a user-friendly AI platform for creating high-quality audio, video, and images an alternative to Lovo ai. With customizable options and realistic results, it's perfect for virtual videos, unique images, and captivating avatars.
If you want to know more read our article on How to use Synthesys AI?
Resemble AI
Resemble is an AI tool that brings realistic, human-like voices to life. With Resemble AI, effortlessly create voiceovers for videos and games, adding emotions for that extra impact.
Communicate in multiple languages and access specialized tools for computer experts and developers. Experience the power of Resemble AI and take your voiceover game to the next level.
If you want to know more read our article on How to use Resemble AI?
Murf AI:
Murf AI is an online AI tool that turns written text into spoken words seamlessly. Experience high-quality results with a variety of voices that sound similar to your own.
If you need random text or prefer to choose from natural-sounding voices, Murf AI makes text-to-speech conversion effortless. With support for 20 different languages, you have a wide range of options at your fingertips.
If you want to know more read our article on How to use Murf AI
Eleven Labs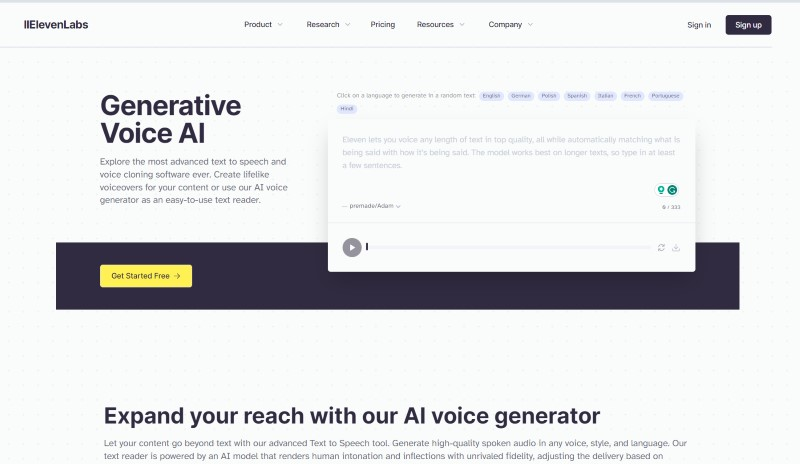 Eleven Labs is an advanced platform that uses AI technology to transform the written text into natural and compelling voices.
It goes beyond typical voice generators by understanding emotions and delivering authentic human intonation.
With voice cloning and access to an AI voice library, Eleven Labs offers a range of tools to create lifelike voices for various types of content.
Their AI Speech Classifier also helps ensure transparency and authenticity.
If you want to know more read our article on How to use Eleven Labs
FAQS
Q: Can I try LOVO AI for free?
Yes, LOVO AI offers a free plan that allows you to fully experience the product before committing. No credit card is required.
Q : Can I use LOVO AI for YouTube videos?
Absolutely! LOVO AI can be used to create voiceovers for YouTube videos, helping you enhance the quality and engagement of your content.
Q: How many languages does LOVO AI support?
LOVO AI supports global voices in over 100 languages, empowering users to create content that resonates with diverse audiences.
Q: How is LOVO AI different from other text-to-speech (TTS) services?
LOVO AI stands out by offering high-quality, natural-sounding voices and a wide range of customization options, ensuring your content stands out from the rest.
Conclusion
LOVO AI has emerged as a game-changer in the realm of AI voice generation and text-to-speech services.
With Voice Lab, Lovo Studio, and Lovo API, the platform offers a comprehensive suite of products that cater to diverse user needs.
With its natural-sounding voices, customizable options, and time-saving capabilities, LOVO AI empowers content creators to elevate their projects without breaking the bank.
If you're a professional or a beginner, LOVO AI provides a seamless experience that enhances productivity and boosts engagement.