Have you ever wished you could share multiple links in your Instagram bio, but felt limited by the platform's restrictions? Look no further than Lnk Bio the go-to platform.
In today's article, we will dive into one of the coolest tools for bloggers and influencers: Lnk Bio.
With its user-friendly interface and a range of features, Lnk Bio offers an elegant solution to optimize Instagram's link in bio.
What is Lnk bio?
Lnk Bio is a helpful tool that lets you share multiple links in one place on your social media bio.
If you're using Instagram, TikTok, or YouTube, Lnk Bio allows you to create a personalized URL that makes it easy for your followers to access all your important links.
It's user-friendly and offers various plans to suit your needs.
How to use Lnk bio?
Sign up for Lnk Bio by creating an account.
Log in using your Instagram account.
Add the links you want to share with your followers.
Once you've added your links, copy your unique URL.
Go to your Instagram profile and click on "Edit your Instagram profile."
Paste your Lnk Bio URL in the designated website section.
Save the changes to your Instagram profile.
Features of lnk bio:
Personal URL:
You can create your own special link that you can put in your Instagram bio. It's like having your own mini website.
Unlimited links:
You can add as many links as you want and change them whenever you need to. So you can share your blog posts, social media profiles, and more all in one place.
Elegant and perfect:
Lnk Bio has a super cool design that will impress your followers when they click on your link. It's visually appealing and looks great.
Safe: Lnk Bio keeps your account secure.
You don't have to worry about giving away your Instagram password, which is a relief.
Social first:
You can connect all your social media profiles, like Instagram, TikTok, and YouTube, in one spot. It helps you engage with your followers across different platforms easily.
Web-based:
Lnk Bio is a website that works on any device, like your computer or phone. You don't need to download anything. Just open it in your browser and get started.
Pricing:
Free plan: It's completely free and gives you a custom username, unlimited links, music and video embedding, map addition, and integration with Zapier and WordPress.
Monthly plan: For $0.99 per month, you get everything from the free plan plus features like scheduling links, creating link groups, password protection, statistics, and syncing with Instagram and TikTok.
Mini – One-Time plan: Pay $9.99 once and enjoy the same features as the monthly plan, but without a recurring subscription.
Unique – One-Time plan: Pay $24.99 once and unlock more features like a newsletter, contact form, shop integration, logo removal, customization options, and an Instagram post scheduler.
Pros & Cons of Lnk Bio:
Pros:
Easy link management: Lnk Bio allows you to add and change multiple links easily, so you can keep your followers updated without constantly changing your bio link.
Professional appearance: With Lnk Bio, you can create a visually appealing and stylish display of your important links, giving your profile a more polished and organized look.
Cons:
Limited customization options: Lnk Bio's customization options are somewhat limited, so you may not have complete control over the exact look and feel of your link page.
Dependency on external service: Since Lnk Bio is a separate service, you'll need to rely on it to maintain your link page. If the service encounters any issues or goes offline, your links may become inaccessible temporarily.
Alternatives of Lnk Bio:
TheTechbrain Bio Link:
TheTechBrain is a fantastic tool that lets you create a special page for all your important links. It's even better than Lnk Bio because it offers more features and options.
You can make your links shorter, create QR codes, share card links, and find new opportunities for growth. They also have a free plan and access to Ai to help you create an amazing profile or just to assist you in different tasks.
It's a simple and effective way to manage and promote your content.
Linktree
Linktree is a useful tool for content creators to share all their online content in one place. Instead of updating multiple bio links on different platforms, you can create a single link in your bio.
This takes your audience to a customized page where they can find all your content. It's an easy way to showcase everything you do and make it accessible to your audience.
Read our article on How to use Linktree
Tap Link:
Taplink is an amazing tool to create a website for your Instagram profile. It's perfect for creators, influencers, and businesses who want to share more and boost their success on Instagram.
With Taplink, you can quickly create a beautiful page without any design or programming skills.
It's easy to use, helps attract followers, and provides convenient ways for people to connect with you and make purchases.
Read our article on How to use Taplink
Koji
Koji is a cool tool to help you sell things on social media. Whether you have digital downloads or special content, Koji makes it easy to create your own online store.
Use it on platforms like Instagram, TikTok, and YouTube to reach your audience and start earning money. With Koji, there are no hidden fees or complicated subscriptions.
They only take a small percentage of your sales, so you get to keep most of the money. It's a simple and fun way to turn your ideas into cash by selling on social media.
Read our article on How to use Koji
Link Pop:
Linkpop is an awesome tool to make money from your social media bio. It's a free and customizable link-in bio tool powered by Shopify.
With Linkpop, you can transform your followers into customers by creating a social storefront in your bio. Add products, links, customize your page to match your brand, and analyze sales with free analytics.
It's a fantastic way to monetize your social media presence and start earning some serious cash.
Read our article on How you see Linkpop
Beacons AI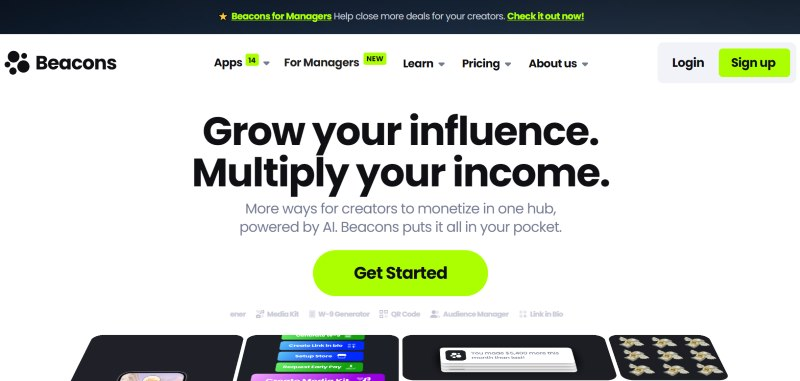 Beacons AI is an advanced digital assistant that leverages Artificial Intelligence to streamline and optimize social media activities for content creators, including influencers, YouTubers, bloggers, and marketers.
Its primary function is to simplify the management of multiple social media accounts by creating a unified platform where all platforms can be accessed through a single link.
Moreover, Beacons AI offers a range of powerful features, such as audience analytics, monetization opportunities, and customizable options, ensuring a tailored experience for each user.
Read our article on How to use Beacons ai
Stan Store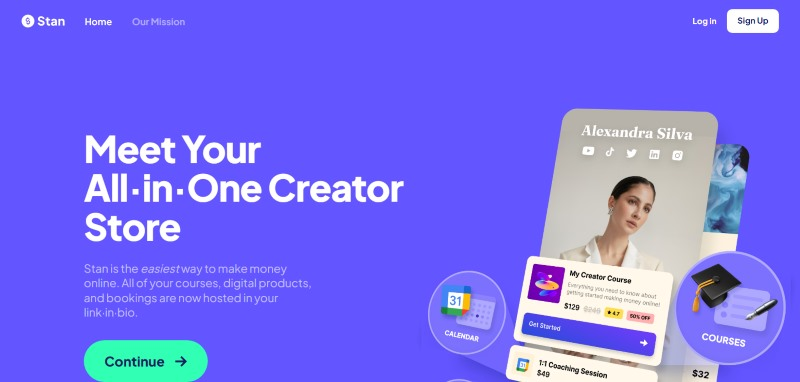 Stan Store is a comprehensive platform that provides creators, such as bloggers and content creators, with an all-in-one solution to monetize their online presence.
It allows users to host courses, digital products, and bookings in a single place, streamlining their business operations.
With features like personalized store customization, seamless integrations with popular platforms, a simple one-tap checkout process, and robust analytics to track performance, Stan Store simplifies the process of selling products and services online.
Read our article on How to use Stan Store
Later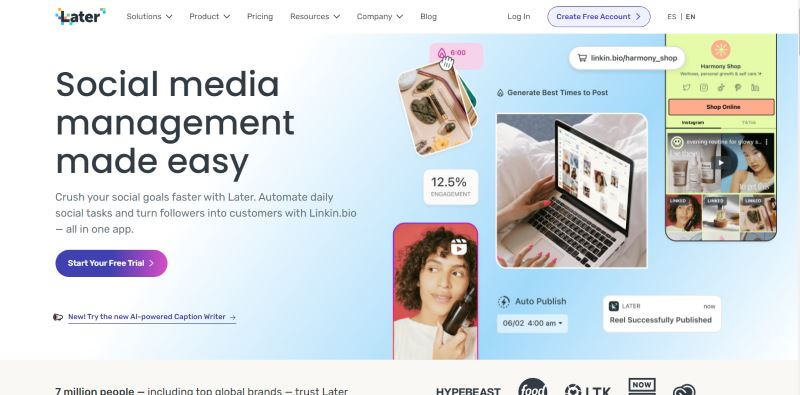 FAQS
Q: Is it easy to use Lnk Bio?
Absolutely! Lnk Bio is designed to be user-friendly, so you can set it up and start sharing your links without any technical hassle.
Q: Can I customize my Lnk Bio link page?
While there are some customization options available, the level of customization is somewhat limited. You can make it look good, but there are some limitations.
Q: Can I use Lnk Bio on different devices?
Absolutely! Lnk Bio is a web-based tool, so you can use it on any device with a browser, like your computer, phone, or tablet.
Q: Is Lnk Bio free or are there pricing plans?
Lnk Bio offers different pricing plans, including a free option. You can choose the plan that best suits your needs and budget as a blogger.
Conclusion:
Lnk Bio is a great tool for bloggers like us. It allows us to share multiple links in our bio, making it easy for our followers to find our blog, social media profiles, and other important content.
With its user-friendly interface and secure integration with Instagram, the platform helps us create a professional appearance and manage our links effortlessly.
While customization options may be somewhat limited, Lnk Bio offers a convenient solution for organizing and sharing our online presence.