Have you ever wondered how you can boost your online presence and drive more traffic? Look no further than LinkPop, a link in the bio that makes you money.
In today's article, we are going to dive into the world of Linkpop, an incredible tool that can make a significant difference in your content creation journey.
What is Linkpop?
Linkpop is a fantastic tool that helps you create a special link for your social media bio. With Linkpop, you can gather all your important links in one place, like your YouTube channel, Instagram, or online store.
It's super easy to set up, and the best part is, it's completely free. You can even personalize your link in bio page to match your unique style. It's a game-changer for bloggers and influencers.
How to use Linkpop?
Visit linkpop com and sign up for free.
Create your profile by adding a profile picture, bio, etc.
Customize your Linkpop page by adding your social media links, website, and more.
Use the design options to make your Linkpop page look awesome and match your style.
Copy your finished URL and paste it into your social media bio.
Start sharing and promoting your Linkpop page to your followers.
Features of Linkpop:
Create Shoppable links from link in bio:
With Linkpop, you can add products from your Shopify store to your Linkpop page. This turns your social media bio into a storefront where your followers can easily make purchases with Shopify's one-click checkout.
Customize your free page in minutes:
You can create your own unique page. You can customize it by choosing fonts, colors, and images that reflect your brand's style and image.
Get more views and analyze sales:
Highlight your top products, videos, or podcasts on your Linkpop page and see what your followers are clicking on or buying with Linkpop's free analytics. It helps you understand which content resonates with your audience and track your sales performance.
More ways to monetize with Linkpop:
Linkpop offers additional opportunities to generate revenue. You can design and sell custom merchandise, such as hats or bags, without worrying about inventory storage as print-on-demand services handle production and shipping.
You can also dropship products by using Shopify's dropshipping apps, which allow you to find products from suppliers that fulfill orders for you.
Additionally, you can make affiliate money by discovering brands through Shopify Collabs. Share your favorite picks on Linkpop and earn a commission when your followers make purchases.
Join a community of creators making money on social:
Linkpop connects you with a community of creators who are using the platform to grow their audience and make money. You can learn from their experiences and connect with like-minded individuals.
Pros & Cons of Linkpop:
Pros:
Easy Selling: Linkpop allows you to sell products directly from your social media bio, making it convenient for your followers to make purchases.
Customization Options: With Linkpop, you can personalize your page with fonts, colors, and images that match your brand's style, helping you create a cohesive online presence.
Cons:
Requires Shopify: Linkpop is powered by Shopify, so you need to have a Shopify store or subscription to access all the features.
Monetization Costs: While Linkpop is free to sign up, some monetization features like merch or dropshipping may involve additional expenses.
Alternatives of Linkpop:
TheTechBrain Bio Link:
TheTechBrain is a bio tool that lets you create a special page to gather all your important links. It's a brilliant alternative to linkpop because it offers more cool features to help you manage and promote your content.
With TheTechBrain, you can make your links shorter, create QR codes, share card links, and discover new ways to grow.
They even have a free plan and it's a simple and fantastic way to organize and showcase all your content.
Lnk bio:
Lnk Bio is a super handy bio tool that lets you gather all your important links in one spot in your media bio. It's perfect for platforms like Instagram, TikTok, and YouTube.
With Lnk Bio, you get your very own special URL that makes it super easy for your followers to find all your links. It's really easy to use, and they offer different plans to choose from depending on what you need.
Read our article on How to use Lnk Bio
Linktree
Linktree is an amazing bio tool that helps creators share all their online content in one convenient place. Instead of having multiple links in your bio on different platforms, you can simply have one link.
When people click on it, they are taken to a special page designed just for you. This page neatly organizes all your awesome content, making it easy for your followers to find everything you do.
It's a simple and useful way to showcase your work and make it effortless for people to see. That's why more than 35 million creators and businesses absolutely love using Linktree.
Read our article on How to use Linktree
Taplink
Taplink is an incredibly useful tool that lets you create a mobile-friendly website in just a few simple steps. It's perfect for various people, like bloggers, coaches, and those aspiring to gain fame on Instagram.
With Taplink, sharing important links in your Instagram bio becomes a breeze. It's especially beneficial for businesses and brands as they can sell products directly on Instagram using Taplink. It's super user-friendly and easy to use.
Read our article on How to use Taplink
Koji:
Koji is a tool that helps you easily sell things on social media, whether it's downloads or special content. It works perfectly on popular platforms like Instagram, TikTok, and YouTube, so you can connect with your audience and start making money.
The great part about Koji is that there are no hidden fees or complicated subscriptions to worry about. They simply take a small percentage of your sales, allowing you to keep most of the money for yourself.
It's a straightforward and enjoyable way to transform your ideas into cash by selling on social media.
Read our article on How to use Koji
Later
Later is a handy tool for managing all your social media platforms in one place. It simplifies tasks like scheduling and publishing posts, helping you turn your followers into customers with a custom link in your bio.
Later also enables you to analyze your social performance and create better content more efficiently. It's perfect for social media managers, agencies, freelancers, and small business owners who want to save time and achieve their social goals. Plus, you can give it a try with a free trial to see how it works for you.
Read our article on How to use Later
Beacons AI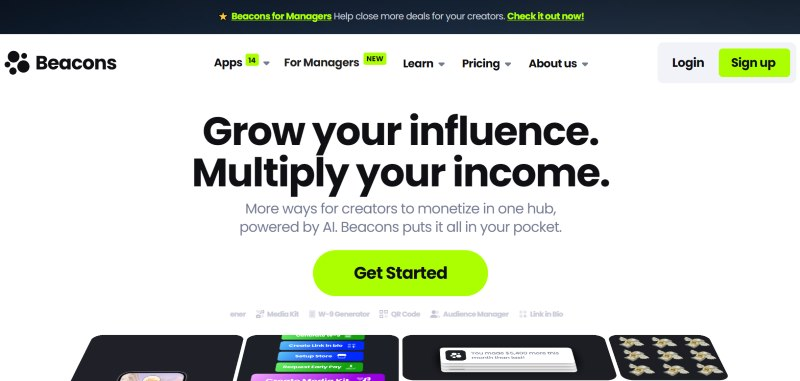 Beacons AI is a cutting-edge digital assistant that employs state-of-the-art AI technology to simplify and optimize social media tasks for content creators, including influencers, YouTubers, bloggers, and marketers.
Its primary objective is to streamline the management of multiple social media accounts by offering a unified platform where all platforms can be accessed through a single link.
Moreover, Beacons AI provides a diverse range of features, including audience analytics, monetization prospects, and customizable options to ensure a tailored and unique user experience.
To accommodate different requirements and financial constraints, flexible pricing plans are also available.
It is important to note that Beacons AI is not a social media platform in itself but is rather an all-inclusive tool that enhances social media presence and facilitates efficient content management for creators.
Read our article on How to use Beacons ai
Stan Store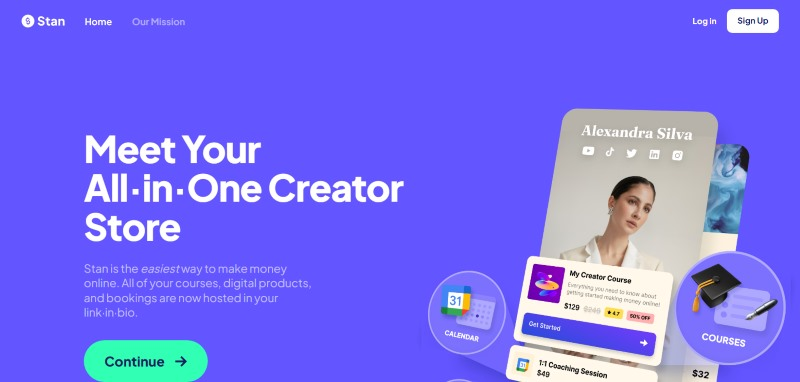 Stan Store is a comprehensive platform designed specifically for bloggers and content creators, providing them with an easy and efficient way to monetize their online presence.
It offers a user-friendly solution where creators can effortlessly host courses, digital products, and bookings, eliminating the need for multiple apps.
The platform allows for customization, allowing creators to personalize their store to align with their unique brand aesthetics.
Stan Store seamlessly integrates with popular platforms like YouTube, Twitter, Instagram, TikTok, and LinkedIn, maximizing reach and enabling effective promotion.
With a convenient one-tap checkout process, creators can easily convert their audience into paying customers.
Robust analytics are also provided to track performance, helping creators optimize their strategies. As an added benefit, Stan Store offers a risk-free 14-day trial, allowing creators to explore the platform without any financial commitment.
Read our article on How to use Stan Store
FAQS
Q: How does Linkpop help me make money?
A: Linkpop allows you to sell products directly from your social media bio, design and sell custom merch, dropship products, and make money as an affiliate.
Q: Is Linkpop free to use?
A: Yes! Linkpop is free for anyone to use. You can sign up and start utilizing its features without any cost.
Q: Can I customize my Linkpop page?
A: Absolutely! With Linkpop, you can customize your page by choosing fonts, colors, and images that match your brand's look and feel. This helps create a unique and personalized online presence.
Q: Can I see how my Linkpop page and links are performing?
A: Yes, Linkpop provides free analytics that helps you track the performance of your Linkpop page and individual links. You can see which links get more clicks and have a better understanding of what content resonates with your audience.
Q: Do I need to have a Shopify store to use Linkpop?
A: While Linkpop is powered by Shopify, you don't need to have a Shopify store to use it. However, certain features like shoppable links may require a Shopify subscription.
Conclusion:
Linkpop is a helpful tool that allows creators and businesses to easily organize their important links and make money online.
It lets you sell products directly from your social media bio, customize your page to match your brand's style, and track your performance.
With Linkpop, you can monetize your online presence and connect with a supportive community of creators. It's a great way to turn your passion into profit and build a strong online presence.