Are you tired of struggling with research paper writing? Look no further than JenniAI, which uses advanced artificial intelligence to revolutionize your writing experience.
With its powerful features and user-friendly interface, JenniAI is here to help you tackle your next research paper with ease.
In this article, we will discuss the game-changing platform Jenni ai. We will also discuss its free alternatives.
What is Jenni AI?
Jenni is an AI tool designed to improve your research paper writing experience. With Jenni, you'll never feel stuck or overwhelmed again.
Whether you're a student, an academic, or a professional, Jenni has all the tools you need to excel in your writing.
With Jenni, you can organize your paper using the Outline Builder and choose from custom styles to match your writing needs.
Trustworthy and loved by over a million users, Jenni is here to make your research paper writing faster, easier, and more successful.
It also generates accurate in-text citations in popular styles like APA, MLA, and Harvard. Plus, you can easily rephrase text with the Paraphrase & Rewrite feature.
How to use Jenni AI?
Sign up for free on the Jenni AI website.
Click on "Start Writing" to begin a new project.
Let Jenni AI automatically generate accurate in-text citations in APA, MLA, IEEE, or Harvard style.
Edit, review, and revise your work with the ai writing assistant of Jenni AI.
Export your final document and celebrate your completed research paper with joy!
Pricing:
Jenni AI offers two pricing plans: monthly and annual.
Monthly Plan:
Free Plan: $0/month with 200 AI words per day and essential features.
Unlimited: $20/month for unlimited AI words, priority support, and advanced features.
Annual Plan:
Free Plan: $0/month with 200 AI words per day and essential features.
Unlimited: $12/month (save 40%) for unlimited AI words, priority support, and advanced features.
Jenni AI Writing tools:
With these remarkable ai tools, Jenni AI becomes your writing companion, helping you write blog posts, and academic essays, and edit your way toward a successful research paper.
AI Autocomplete:
When you encounter writer's block, Jenni AI's Autocomplete feature provides suggestions to keep your ideas flowing smoothly.
In-text Citations:
With Jenni AI, citing your sources is a breeze. It consults the latest research and your uploaded PDFs to generate accurate citations in popular citation styles like APA, MLA, IEEE, or Harvard.
Paraphrase & Rewrite:
Jenni AI allows you to customize and rewrite any text in any tone, making it uniquely your own. You can write high-quality content and top-ranking blog posts.
Generate From Your Files:
Bring your research papers to life by utilizing the Generate From Your Files feature, which offers source-based generation to enhance your writing.
Chat to your PDFs:
Jenni AI's AI chat assistant helps you quickly understand and summarize your research papers, making it easier to grasp key insights.
Outline Builder:
Enter your prompt, and let the Outline Builder generate a list of section headings, providing a structured framework for your writing.
Custom Styles & Tones:
Whether you need an academic or persuasive tone, Jenni AI allows you to choose from various custom styles to match your writing needs.
Research Library (Coming Soon):
Soon, you'll be able to save and manage research in your library, making it effortless to cite research in any of your documents.
Pros & Cons of Jenni AI Writing Assistant:
Pros:
Time-saving: Jenni AI writing assistant helps you to save time with AI Autocomplete and Generate From Your Files features.
Simplifies citations: Jenni AI automatically generates accurate citations in popular styles like APA and MLA.
Cons:
Dependency on AI: Relying too much on AI suggestions may hinder critical thinking and writing skills.
Limited research functionality: Jenni AI currently has a limited research library, limiting access to comprehensive reference materials.
Alternatives of Jenni AI:
TheTechBrain AI:
TheTechBrain AI is an excellent alternative to Jenni AI and ai writing assistant, offering a range of helpful tools for your writing needs. One of the main features of TechBrain AI is its Android app, allowing you to access it on your phone or tablet.
The best part about TechBrain AI is that it offers a free version with unrestricted access to all its tools. Whether you need attention-grabbing blog posts, engaging social media posts, search engine optimization for your website, or compelling product descriptions, TechBrain AI has you covered.
The user-friendly design makes it easy to improve your writing. Don't miss out on the benefits of TechBrain AI for your writing process.
Shortly AI:
Shortly AI serves as an AI writing assistant and an excellent alternative to Jenni AI, offering effective solutions to combat writer's block and maintain your unique writing style. It effortlessly transforms your thoughts into skillfully crafted paragraphs.
The interface of Shortly AI is clean and free from distractions, allowing you to focus on your writing. By utilizing powerful commands, you can refine your writing instantly and achieve greater productivity.
Check our Article: How to use Shortly Ai?
WriteSonic
Writesonic use advanced artificial intelligence to help you create various types of content, including blog posts, emails, and ads, in no time at all. It's like having your own ai writing assistant.
One of the key strengths of Writesonic lies in its advanced features, such as the AI Writer and editing capabilities, which are valuable assets for any writer looking to enhance their work.
Check our article: How to use Writesnoic?
Conch AI
Conch AI is a powerful ai writing assistant that offers a wide range of features to elevate your writing skills. With Conch, you can enhance your content, receive valuable suggestions, and ensure a professional touch.
Conch AI is equipped with a host of helpful features, including in-text citations, style improvement suggestions, autocomplete sentences, and assistance in finding the perfect words for your writing.
Accessing Conch AI is made effortless with its free Chrome extension, allowing you to use it wherever you write. Students, in particular, will find Conch AI to be incredibly useful.
Check our article: How to use Conch ai?
Quillbot:
QuillBot an ai writing assistant is equipped with a variety of features to enhance your writing experience. From paraphrasing and grammar checking to plagiarism detection and citation generation, QuillBot has you covered.
With its convenient Chrome extension, you can easily access QuillBot and write professionally from any location. It's a plagiarism checker as well. Upgrading to the premium version offers even more benefits, including accelerated paraphrasing, additional editing options, and different writing modes.
Check our article: How to use Quillbot?
Wordtune:
Wordune is an intelligent AI writing tool designed to improve the clarity and engagement of your content. With its advanced capabilities, Wordune surpasses regular spell-checkers by suggesting alternative sentence rewrites, correcting grammar errors, and enhancing your overall writing style.
One of the standout features of Wordune is the wide array of writing options it offers. This allows you to choose the perfect style that suits your specific needs and preferences.
Check our article: How to use Wordtune ai?
Copy AI
Copy AI an excellent ai writing assistant is designed to generate high-quality content in mere seconds. Whether you're a blogger, social media manager, or email marketer, Copy AI is here to save you valuable time and effort.
This remarkable tool provides an extensive range of AI writing tools and templates, ensuring you can create captivating blog posts effortlessly.
Simply input your details, select from the AI-generated options, make any necessary edits, and you're good to go.
Check our article: How to use Copy AI?
Rytr AI
Rytr AI can create high-quality content, taking just seconds to generate. It comes at a fraction of the cost. Whether you're a copywriter, marketer, or entrepreneur, Rytr's AI capabilities are just what you need to effortlessly produce SEO-optimized and engaging content.
Rytr supports a wide range of use cases, from crafting impactful Facebook ads to writing informative blog posts. This versatility ensures that you have a reliable and adaptable tool at your fingertips.
Check our article: How to use Rytr AI?
HyperWrite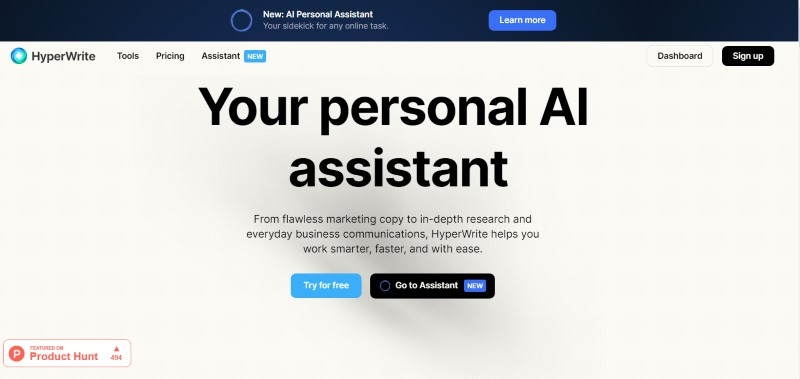 Hyper is an innovative AI-powered writing tool that enhances writing efficiency and quality.
With personalized suggestions based on the user's writing style, it helps overcome writer's block and generate creative ideas. Integration with popular websites allows for real-time assistance.
Developed by OthersideAI, HyperWrite ensures original and distinct content.
The tool offers various features such as AutoWrite, Summarizer, Rewrite Content, Email Responder, Explain Like I'm 5, Magic Editor, and Generate Blog Intro.
Read our article on How to use HyperWrite
FAQS:
Q: Can I try Jenni AI for free?
A: Yes, you can start writing for free with Jenni AI and access essential features to kickstart your writing process.
Q: Does Jenni AI also a plagiarism checker?
A: Jenny AI comes equipped with a built-in plagiarism checker, ensuring the originality and authenticity of your content.
Q: Can Jenni AI generate citations in different citation styles?
A: Absolutely! Jenni AI can automatically generate in-text citations in popular citation styles such as APA, MLA, IEEE, and Harvard.
Q: Is there a limit to the number of words I can generate with Jenni AI?
A: The free plan offers 200 AI words per day, while the unlimited plan allows unlimited AI words to cater to your writing requirements.
Conclusion
Overall, Jenni AI is a helpful and user-friendly tool that simplifies the writing process. With features like AI Autocomplete and automated citations, it saves time and enhances productivity.
The choice of flexible pricing plans, including a free option, caters to various needs and budgets. By incorporating Jenni AI into your writing routine, you can boost efficiency and elevate the quality of your work.
Embrace the power of Jenni AI to enhance your research and writing experience today!