Looking to unlock your creative potential? Meet Hotpot, the user-friendly platform that harnesses the power of Generative AI to bring your ideas to life.
In this article, we will discuss Hotpot AI and its free alternatives to try in 2023. With the rise of Generative AI technology, you can now explore new realms of creativity and innovation.
Whether you're an artist, designer, or simply someone with a passion for creating, these platforms offer exciting opportunities to generate unique and compelling content.
What is Hoptpot AI?
Hotpot.ai is a creative assistant that uses Artificial Intelligence to help you make amazing graphics, pictures, and writing. With AI tools like the AI Art Generator, you can spark creativity and automate tedious tasks.
Whether you need to create headshots, remove backgrounds, enhance photos, or personalize art, Hotpot ai has got you covered.
It even offers AI writing tools like ChatGPT to help you conquer writer's block. With Hotpot ai, you can easily create device mockups, social media posts, marketing images, app icons, and more, all with the power of AI.
How to use Hotpot AI?
Visit the Hotpot ai website and create an account.
Once you're logged in, you'll see a list of AI tools. Choose the tool you want to use, such as the AI Art Generator or the Background Remover.
Select the tool and follow the prompts to upload your input. For example, if you're using the AI Art Generator, the text or description for the art you want to generate.
Click on the generate button and let Hotpot ai work its magic. It will process your input using AI algorithms to create the desired output.
Once the process is complete, you can preview and download the generated result. If you're not satisfied, you can make any necessary edits or adjustments.
If you need to use another tool, go back to the list and select the next one you want to use.
Hotpot AI Features:
AI Art Generator:
This feature allows you to turn simple text instructions and descriptions into beautiful and captivating artwork. Just describe what you want, and watch Hotpot ai bring it to life with AI-generated images.
AI Headshot Generator:
With this feature, you can reimagine yourself by creating headshots and glamour shots in various different styles or scenes. Easily transform your photos with AI and explore different creative possibilities.
AI Picture Restorer:
Restore and enhance old or otherwise damaged photos and pictures with AI. Remove scratches, sharpen colors, and improve the overall quality of your images. Preserve and cherish your cherished memories.
AI Picture Colorizer:
Transform black and white photos into vibrant, colored images using AI. Reimagine the world of past by adding realistic and lifelike colors to historic pictures to create images of ancestors and important figures.
AI Art Personalizer:
Create personalized art from your own photos. Generate captivating and unique images by applying different artistic styles to your images based on your selfies, pet photos, or vacation pictures.
AI Background Remover:
Easily remove the background background from images with AI. Effortlessly isolate important foreground objects by erasing the background, allowing you to create visually appealing compositions.
AI Object Remover:
Quickly remove unwanted objects or elements from your images. Whether it's people, animals, trees, or other distractions, Hotpot ai's AI-powered background removal tool can seamlessly erase them, leaving behind only the objects you want.
AI Photo Upscaler:
Increase the resolution and quality of your photos, artwork, and graphics with AI. Enhance the details and optimize for people, products, and art.
Hotpot AI Templates:
Hotpot features and templates empower you to create high-quality visuals and graphics for various platforms and purposes, all in a user-friendly and intuitive way.
App Store Panorama Screenshots – iPhone 12 Pro Max Templates:
These templates are designed specifically for creating eye-catching panorama screenshots for your app on the App Store. You can easily customize text, colors, and images to showcase your app's features.
Instagram Posts Templates:
With these templates, you can quickly create engaging posts for your Instagram account. Edit text, colors, images, and more to create attractive visuals that grab attention.
LinkedIn Banners & Covers Templates:
These templates are perfect for designing professional banners and covers for your LinkedIn profile or company page. Customize text, colors, and images to create a polished and impactful look.
Facebook Posts Templates:
These templates enable you to create visually appealing posts for your Facebook page or profile. Easy to edit templates with text, colors, and images to craft engaging content that resonates with your audience.
App Store Icons Templates:
These templates are designed to assist you in creating captivating icons for your mobile applications. Customize text, colors professional graphics, and images to design an icon that effectively represents your app.
Launch Screens Templates:
Launch screens are the first thing users see when opening your app. These templates allow you to create attractive and informative launch screens that leave a lasting impression on your users.
Game Assets Templates:
If you're a game developer, these templates are perfect for creating assets such as backgrounds, characters, and weapons. Customize text, colors work graphics, and images to design unique and visually appealing elements for your game.
Twitter Headers Templates:
With these templates, you can easily create impressive headers for your Twitter profile. Customize text, colors, and images to make a statement and showcase your brand or personality.
Logo Designs Templates:
These templates are ideal for designing logos for your business or personal brand. Customize text, colors, and images to create a professional and unique logo that represents your identity effectively.
YouTube Thumbnails Templates:
YouTube thumbnails play a crucial role in attracting viewers to your videos. These templates allow you to design attention-grabbing thumbnails by customizing text, colors, and images.
Pros & Cons of Hotpot AI:
Pros:
User-friendly and Easy use interface.
Affordable pricing options.
Cons:
Occasionally, AI-generated outputs may not meet expectations.
Alternatives to Hotpot ai art generator
TheTechBrain AI serves as an excellent alternative to Hotpot ai, offering a fantastic free trial for AI Image Generator. With TheTechBrain AI, you can transform your imaginative ideas into stunning images with just a simple input.
Its intuitive and user-friendly design, along with a wide range of features, outshine its competitors like Craiyon AI. The best part is that you can try TheTechBrain AI tools for free, bringing joy to the creative process.
Moreover, TheTechBrain also provides a convenient web app, offering AI Assistants, Text-to-Speech capabilities, and more for accessibility on your phone as an APP.
Read our article on How to Create Stunning Art in Seconds with TheTechBrain AI
NightCafe AI:
NightCafe AI is a user-friendly alternative to Hotpot ai, designed to bring out the artist in you. With NightCafe AI, a simple text prompt can be transformed into a unique piece of art.
What makes NightCafe AI even more exciting is the Daily AI Art Challenge, where you can showcase your prompt-creating skills and compete with artists worldwide. Give NightCafe AI a try and unlock your creative potential.
Check this article on How to use NightCafe Ai.
Craiyon AI
Craiyon AI is a user-friendly alternative to Hotpot. It harnesses the power of artificial intelligence to create unique pixel art and pieces. With Craiyon AI, you can simply describe the image you desire and witness the AI bring it to life with stunning visuals.
It's a fun and easy-to-use tool that doesn't require any drawing skills. Additionally, Craiyon AI allows you to personalize your image's style, whether you prefer a painting, drawing, photo-like, or abstract look.
It also provides a vibrant community where users can share their AI-generated art and discover helpful tips to improve their creations. Give Craiyon AI a try and unlock your artistic potential.
Check this article on How to use Craiyon AI.
MyHeritage Ai Time Machine
MyHeritage AI Time Machine is an alternative to Hotpot that offers a fascinating feature. Using advanced artificial intelligence technology, it can transform your photos into creative AI avatars.
With just a few simple clicks, you can see yourself as if you existed in different historical time periods. Whether you're curious to see yourself in an ancient civilization or a futuristic space exploration scenario, MyHeritage AI Time Machine can bring your imagination to life.
All you have to do is upload your photos, wait for the magic to unfold, and soon you'll receive stunning and realistic AI avatars that will surely impress you.
Check this article on What is MyHeritage Ai Time Machine
Starry AI
Starry AI is a remarkable AI art generator and image generator that harnesses the power of Artificial Intelligence to transform simple words into breathtaking artwork.
With its user-friendly platform, customizable options, and the ability to create NFT Art effortlessly, Starry AI opens up a world of limitless creativity and innovation for both beginners and experienced artists alike.
Whether you seek to express your imagination, captivate audiences, or explore the exciting realm of NFTs, Starry AI is the go-to tool that unleashes your artistic potential and enables you to share your unique creations with the world.
If you want to know more read our article on How to use Starry ai?
Neural Love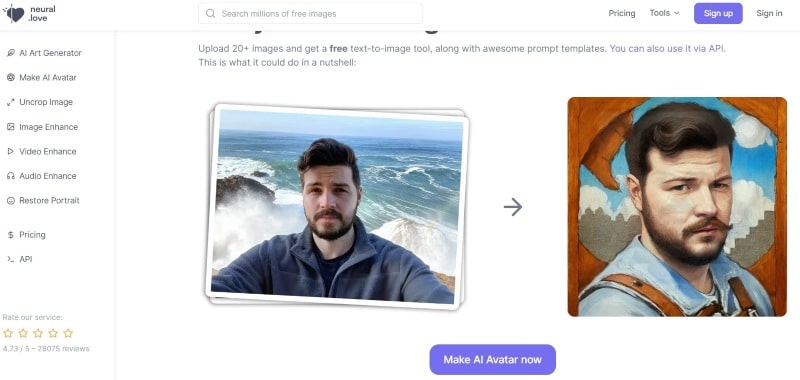 Neural Love is a game-changer for content creators. It makes creating captivating content a breeze.
With its easy-to-use interface, one can effortlessly generate stunning artwork, customize unique avatars, and enhance multimedia files.
Plus, there is access to a vast collection of free images that add a professional touch to your work.
It's no wonder that Neural Love has received such positive feedback from content creators. It's the go-to tool for all content creation needs, helping unleash creativity and bring ideas to life.
From transforming words into mesmerizing artwork to enhancing videos and improving audio quality, Neural Love offers a range of features that truly elevate content.
If you want to know more read our article on How to use Neural Love
FAQS
Q: Is there a free trial available for Hotpot ai?
A: As of now, Hotpot ai does not offer a free trial. However, they do provide ai offers affordable pricing options and free or discounted services for certain eligible groups.
Q: How accurate are the AI-generated outputs?
A: While Hotpot ai utilizes advanced AI algorithms, there might be occasional limitations or inconsistencies in the generated outputs. However, Hotpot ai constantly strives to optimize its algorithms for improved accuracy.
Q: Can I make revisions to my graphics?
A: Yes, Hotpot ai allows free minor edits for the same graphic within 30 days of purchase. This ensures you can make amendments if you find any typos or changes in requirements.
Q: Can I use Hotpot ai for commercial purposes?
A: Yes, Hotpot ai can be used for commercial purposes. You can create graphics, artwork, or other content and incorporate them into your commercial projects.
Conclusion:
To conclude, Hotpot AI creates art by providing a user-friendly platform that offers a range of AI tools and services to enhance and generate artwork and graphics.
With an easy-to-use interface and affordable pricing options, it offers accessibility to users of different skill levels and budgets.
It does not offer a free trial at present but maintains a focus on delivering quality services and supporting various user groups with free or discounted options.
Overall, Hotpot is a valuable resource for those seeking to leverage AI technology for their creative and design needs.