Imagine being able to convert your texts into engaging videos in less than a minute.
Well, now you can with Fliki AI the groundbreaking platform that harnesses the power of generative AI to transform your text into captivating videos in just minutes.!
In this article, we'll provide you with a detailed guide on Fliki and also explore its free alternatives.
What is Fliki Ai?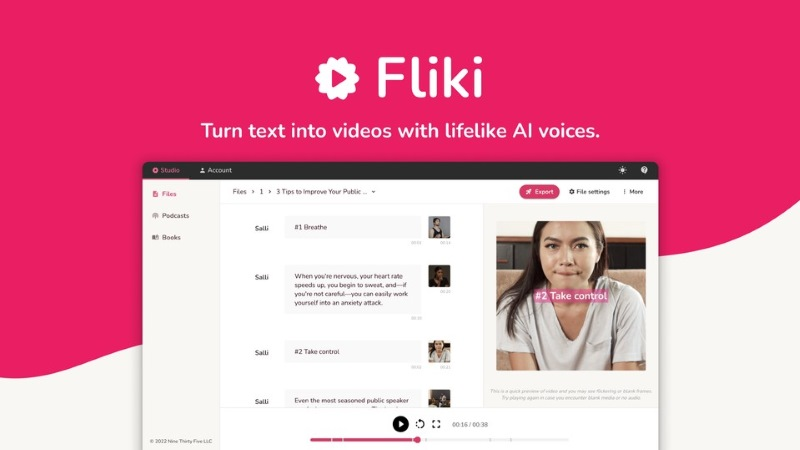 Fliki is a text-to-video tool that uses Artificial Intelligence and text to speech solution help you create stunning videos in just 2 minutes. It allows you to transform blog articles into videos by combining the content, finding visuals, and creating a video with a human-like voiceover.
You can also convert your blog articles or any text-based content into either video clips, podcasts or audiobooks with voiceovers in a few clicks.
Fliki offers lifelike text-to-speech voices in over 1,000 voices and 75 different languages. It also has a rich stock media library with millions of images, video clips, and background music.
Fliki is trusted by over 1,000,000 content creators from various companies and has received positive reviews with an average satisfaction rating of 4.8/5.
How to Use Filiki Ai?
Here's a step-by-step guide on how to use Fliki AI:
Sign up: Create an account on the Fliki AI website.

Choose your project: Choose a name for your file and Select the type of content you want to create, such as a video or audio file.

Enter your text: Input your script or text into the Fliki.

Customize your settings: Select the voice, language, and desired style for your content.

Add visuals: Choose from a wide range of images and video clips available in the stock library or upload your own media.

Customize subtitles: Add branded subtitles, and choose the font, size, and placement that suits your needs.

Preview and edit: Review your content and make any necessary adjustments.

Generate your video: Click the "Create" or "Export" button to generate your video or audio file.

Download and share: Once your content is ready, download it and share it with your audience.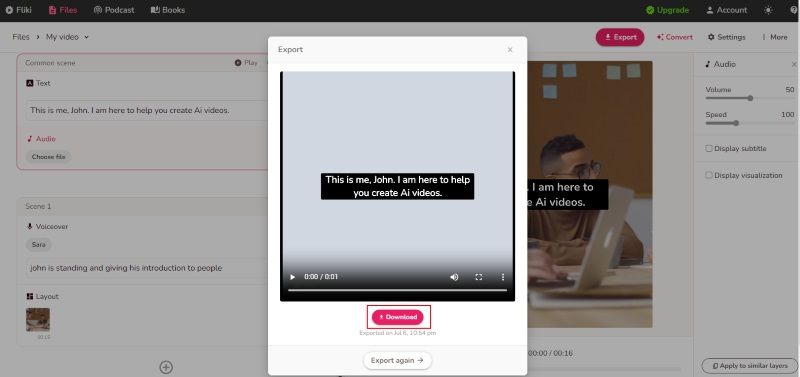 That's it! With these simple steps, you can easily create impressive videos or audio files using Fliki.
Pricing:
Fliki offers cost-effective packages with various features to suit different preferences and requirements. Choose the package that fits your needs and start creating compelling content with Fliki.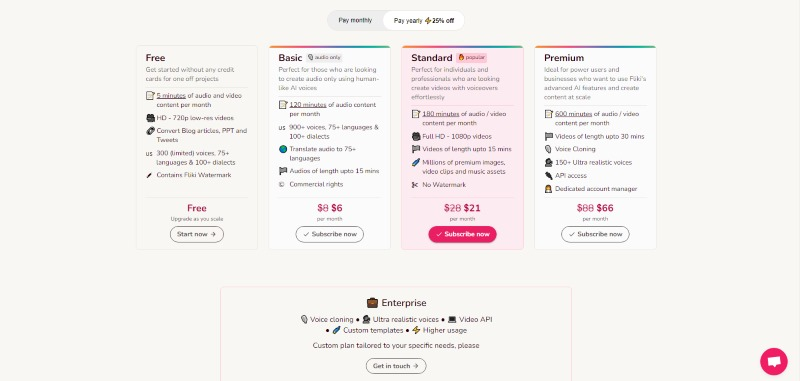 Free Package: Create up to 5 minutes of audio and video content per month. Convert various content into engaging videos. Limited voice selection.

Basic Package: Create 120 minutes of audio per month. Choose from over 1,000 voices in 75+ languages. Includes commercial rights. Subscription: $6/month.

Standard Package: Enjoy 180 minutes of audio or video content per month. Access premium images, video clips, and music. No watermark. Subscription: $21/month.

Premium Package: Create 600 minutes of audio or video content per month. Get advanced features, voice cloning, ultra-realistic voices, and API access.Subscription: $66/month.
Key Features of Filiki Ai- Create Engaging Audio and Video Content
Fliki comes packed with several key features designed to simplify your video creation process.
Text-to-Video Conversion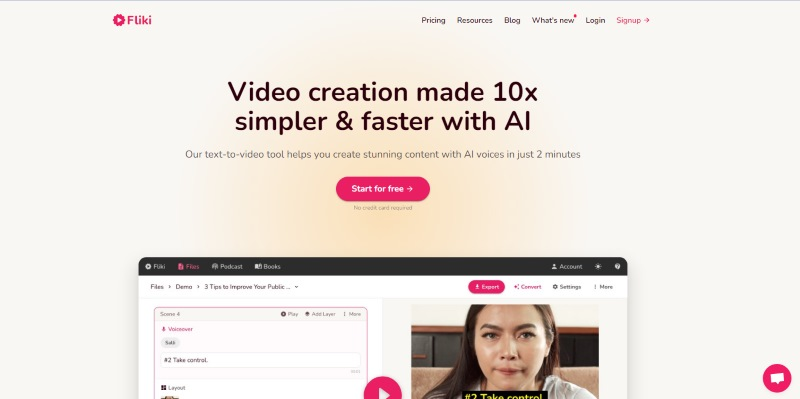 With Fliki, you can easily convert your text or script into engaging videos. It takes your written content and transforms it into visual storytelling. So with fliki, you can create videos without spending a lot of time.
AI Voices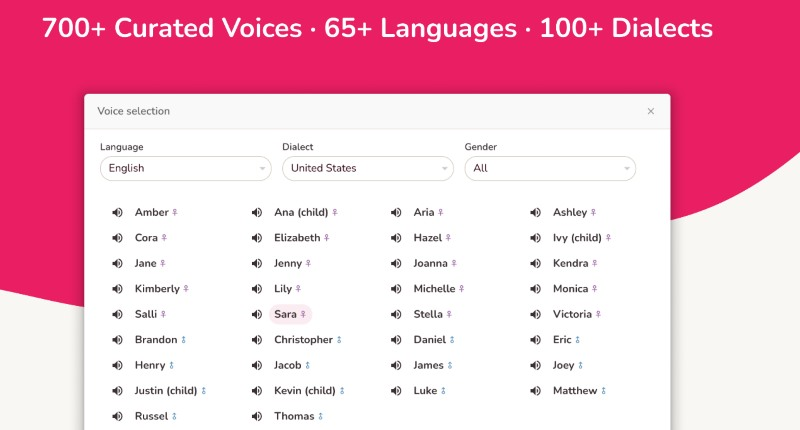 Fliki offers over 1,000 lifelike voices in more than less than a minute in 75 languages. You can choose a voice that suits your video's tone and language requirements.
Customization
Personalize your videos with branded subtitles, selecting fonts, sizes, and placements that match your style. You have complete control over how your subtitles appear.
Stock Media Library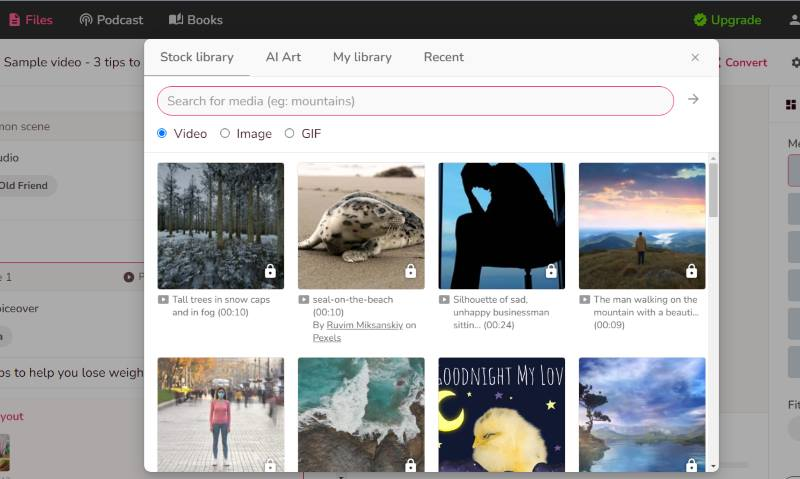 Fliki AI provides access to a rich collection of millions of images, video clips, and background music. You can choose from this vast resource to enhance your video.
AI Art
Fliki AI includes an AI-powered feature that allows you to create audio alone to describe the image you need, and it creates visuals that match your description.
Translation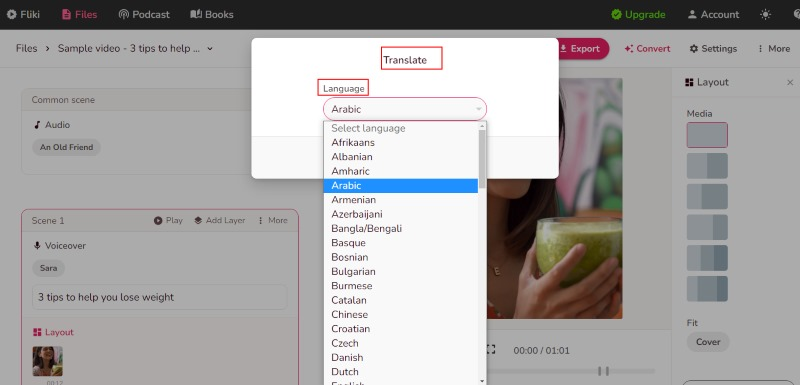 Fliki AI enables you to translate your videos into more than 75 languages, opening up opportunities to reach a wider global audience.
User-Friendly Interface
Fliki offers a simple-to-use interface, making it easy for anyone to navigate and create professional-looking videos without any technical expertise.
Fast and Efficient
Fliki AI generates videos in just a few minutes, saving you time and effort in the video creation process.
Pros & Cons of Fliki Ai
Pros
Easy Video Creation: Effortlessly create videos from your text in just a few steps.

Wide Range of Voice Options: Choose from a diverse selection of lifelike voices in multiple languages.

Rich Stock Media Library: Access millions of high-quality images, video clips, and background music to enhance your videos.
Cons:
Limited Customization: Some advanced editing features and specific design elements may be limited.

Dependency on AI Technology: The quality and accuracy of the AI-generated content may vary.

Subscription-Based Pricing: Accessing all features requires a recurring subscription fee.
Free Alternatives of Fliki in 2023
Let's dive into some alternative options to Fliki, where we explore platforms that offer similar functionalities and can fulfill your text-to-speech and voiceover needs.
Pictory AI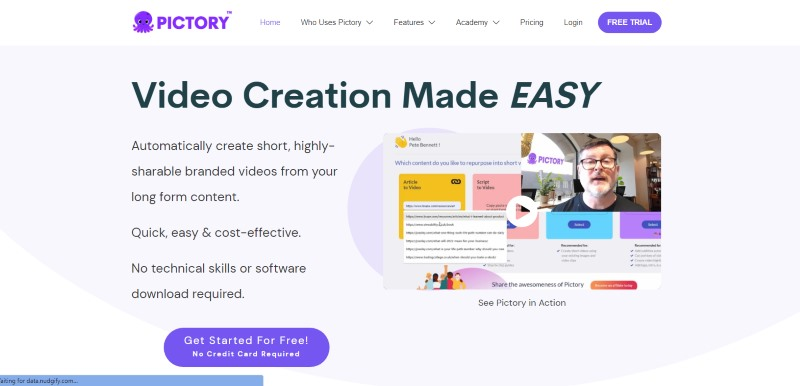 Pictory AI is an AI video editing and content generation software that simplifies video creation.
It automatically converts long-form content into short branded videos, making it quick, easy, and cost-effective.
In the free plan, you can create up to three video projects, each up to 10 minutes in length. Pictory AI offers features like script-to-video conversion, turning blog articles and posts into videos, automatic captions, and more.
It's a great alternative to Fliki AI, providing an intuitive and user-friendly solution for video editing and content creation.
If you want to know more read our article on How to use Pictory
Lumen5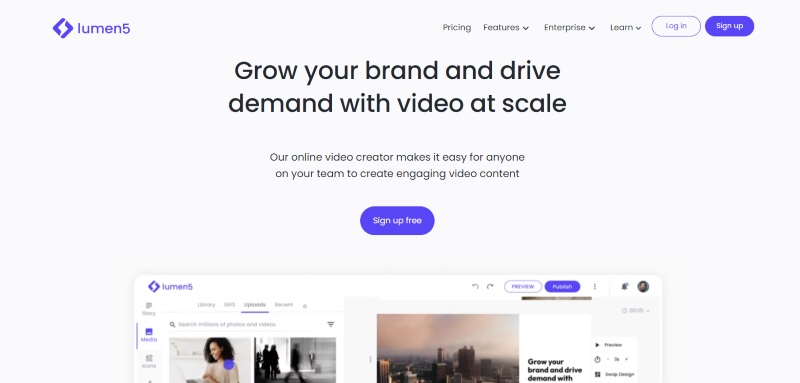 Lumen5 is an online video creator that simplifies the process of creating engaging video content. It offers an intuitive drag-and-drop interface and powerful AI technology, making it easy for anyone on your team to create professional-quality videos.
You can repurpose marketing content, automatically turn blog posts into videos, and customize templates to match your brand.
In the free plan, you can create basic, unbranded videos with a Lumen5 watermark.
Lumen5 offers various pricing plans, including options for individuals, professional video, and enterprise teams.
If you want to know more read our article on How to use Lumen5
InVideo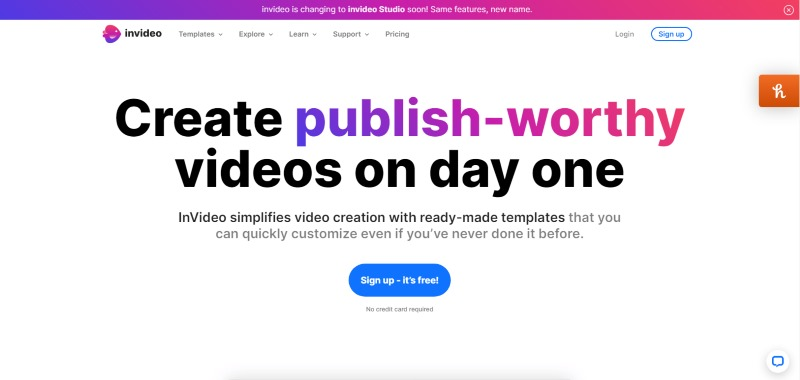 InVideo is an online video editing platform that simplifies the process of creating professional-quality videos. It offers over 5000 ready-made templates that can be easily customized, even for beginners.
With InVideo, you can add and edit text to video media, generate AI-powered scripts, convert text to speech, and collaborate with team members.
In the free plan, you have access to over 3 million standard media assets and the ability to export videos in 15-minute durations.
It's a user-friendly alternative to Fliki AI, providing the tools needed to create impressive videos with ease.
If you want to know more read our article on How to use InVideo
Synthesia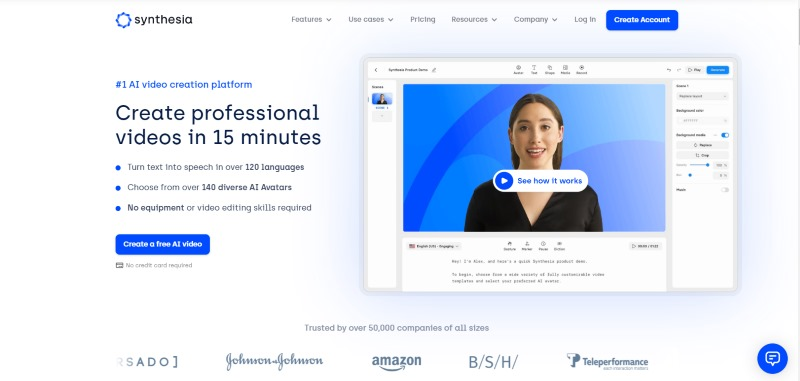 Synthesia is an AI video creation platform that allows you to create professional videos in just 15 minutes and it offers text-to-speech solutions in over 120 languages. You choose from over 140 diverse AI Avatars to make your videos more engaging.
The best part is, you don't need any equipment or video editing skills to use Synthesia.
In the free plan, you can create a free AI video without needing to provide your credit card information. This allows you to try out the platform and see if it meets your needs.
Synthesia is trusted by over 50,000 companies of all sizes and is the go-to solution for those looking to say goodbye to expensive video production processes.
If you want to know more read our article on How to use Synthesia
Steve AI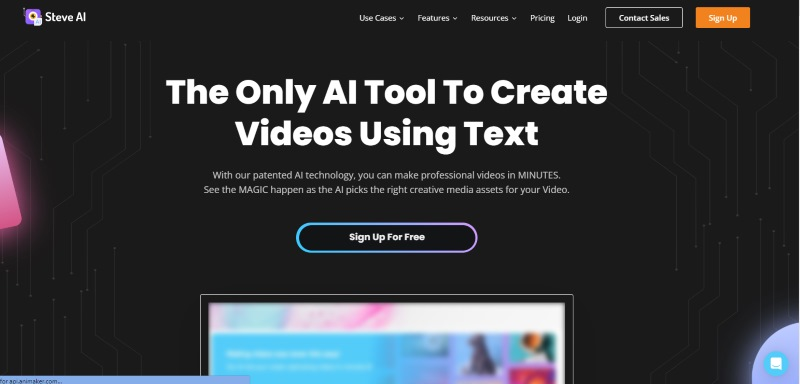 By inputting a script, Steve AI automatically selects the best visuals, videos, and sounds to create professional-looking videos.
Users can customize their videos with various styles and characters to make them unique and personalized.
Steve AI is known for its user-friendly interface and the ability to make video creation accessible to both beginners and experts.
It is a valuable tool for individuals or businesses looking to create engaging and visually appealing videos without the need for extensive technical knowledge or expertise.
If you want to know more read our article on How to use Steve Ai
Synthesys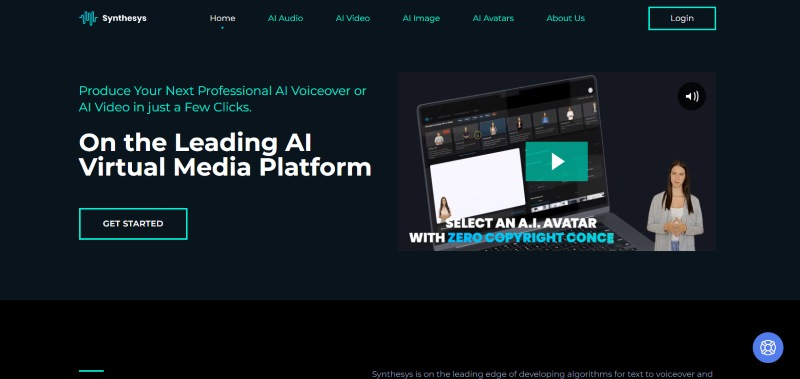 Synthesys is an advanced technology that converts written text into natural-sounding or dynamic videos.
It uses powerful algorithms to create voiceovers and videos that sound and look like real humans.
Synthesys offers features like AI Audio for voice generation and AI Video for creating virtual videos. It also provides AI Images for transforming and visualizing images, as well as AI Avatars for creating virtual characters.
Synthesys has user-friendly interfaces and offers customization options, but the only downfall is that this platform does not offer a free trial.
If you want to know more read our article on How to use Synthesys
Munch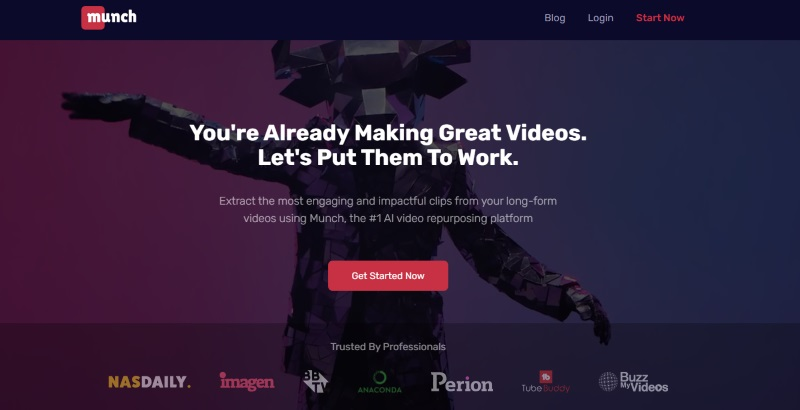 Munch is an AI-powered platform that aims to assist users in extracting captivating and impactful moments from lengthy videos.
By utilizing Munch, users can easily upload their videos and rely on its advanced AI algorithm to meticulously analyze and select the most compelling segments.
This streamlined process enables them to effortlessly create customized social media posts specifically tailored for platforms such as TikTok, Instagram, Twitter, LinkedIn, and YouTube Shorts, thereby saving precious time and effort.
Munch offers a range of video editing tools that encompass leveraging marketing insights and trends to optimize content for maximum impact.
It provides users with the opportunity to maximize the value of their pre-existing content. In summary, Munch stands as a reliable solution that effectively optimizes video repurposing, resulting in elevated levels of audience engagement.
If you want to know more read our article on How to use Munch
Unscreen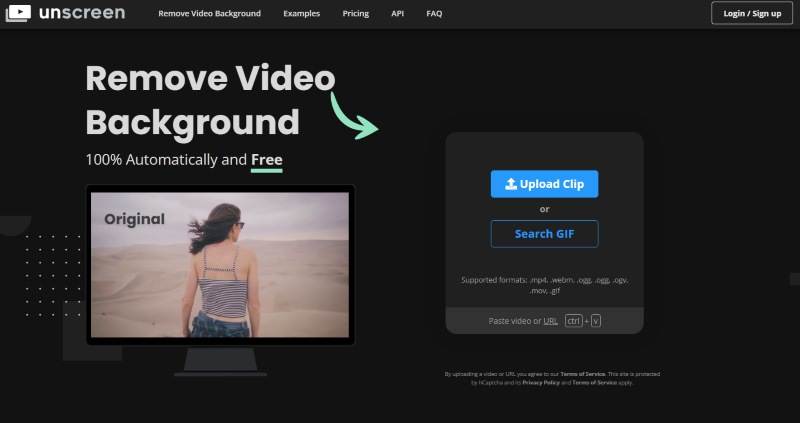 Un is an advanced AI-powered tool that effortlessly removes backgrounds from both videos and images.
With its sophisticated technology, it eliminates the necessity for manual selection or complicated techniques, providing a seamless experience for users.
Un is not just limited to video background removal; it also offers additional features and capabilities.
One such feature is its support for image background removal. Users can upload images to the platform and Unscreen's AI technology will automatically eliminate the background, providing a transparent or custom background option.
Unscreen also offers an API that allows developers to integrate its background removal capabilities into their own applications or workflows.
This API enables developers to harness the power of Unscreen's AI for background removal in their own projects.
If you want to know more read our article on How to use Unscreen
F.A.Q ( Frequently Asked Questions)
Q: How does Fliki calculate the minutes used or how do credits work?
Fliki calculates credits based on the duration of the audio or video content generated. You are billed according to the minutes of audio and video content that you create.
Q: Can I use Fliki to create YouTube videos?
Yes! With their subscription plans, you gain commercial rights to all the content and videos you create. This allows you to publish your videos on platforms like YouTube.
Q: Will I face copyright issues with content created using Fliki?
Fliki provides access to royalty-free media sources and licenses premium quality media for commercial use on social media platforms. This ensures that the content you create is legally sound and doesn't raise copyright concerns.
Q: Does Fliki offer an API?
Yes, Fliki provides an API for integration purposes. You can find more information about our API on our website.
Q: What if I only need Fliki for a short amount of time?
You can cancel your subscription at any time by navigating to your Account settings and selecting "Manage billing.".
Conclusion:
Fliki AI is an easy, powerful, and affordable solution for text-to-speech and text-to-video content creation. With its user-friendly interface and various packages, Fliki AI provides value for money, allowing users to effortlessly produce engaging content.
The platform offers a wide selection of voices in multiple languages, advanced features like voice cloning and ultra-realistic voices, and access to a rich stock media library for enhanced creativity.
Fliki is also very helpful for content creators. You can create youtube videos easily without any copyright issues.
Whether you're an individual, professional, or business, Fliki AI empowers you to bring your ideas to life and captivate your audience with dynamic and captivating content.