Are you looking for an easier and more efficient way to create stunning designs? Look no further! With the advancements in generative Ai, Design ai is here to revolutionize the design process.
In this article, we will discuss all about the Designs AI. We will also share some of its best alternatives to try.
What is Designs AI exactly?
Design.ai is an integrated Agency-as-a-Service platform that utilizes artificial intelligence technology to help you create logos, videos, banners, mockups, and compelling marketing copy in just 2 minutes.
With a wide range of templates, icons, and customization options, Designs.ai simplifies your workflow, saves you time, and cuts down on costs.
With Designs ai, you can save time, cut costs, and simplify your creative workflow. If you need to create a logo, edit a video, or design marketing materials.
Best thing you don't need any design experience to get started.
How to use Designs ai:
Sign up for a free account on Designs website
Choose the tool you want to use, such as Logomaker, Videomaker, Designmaker, Speechmaker, or AI Writer.
Follow the prompts to input your text, select templates or styles, and customize your design.
Add elements like text, images, and mockups to enhance your design.
Export your finished design in various file formats, such as JPEG, PDF, PNG, or SVG. If you are using it for free your design will have a watermark. In order to download without a watermark you need a paid subscription to designs ai.
Features of Designs AI:
AI Writer
With Designs ai's Writer, you can effortlessly create marketing copy in just two steps. The AI generates text variations quickly, allowing you to increase your copywriting efficiency.
It creates natural-sounding storytelling and accurate messaging tailored to your needs. Simply enter your text prompt, let the AI do its magic, and copy and paste the generated copy for your marketing materials.
Logo maker
Logo Maker is an AI logo generator that helps you create bold and modern logos for your brand in just minutes.
This ai design tool uses advanced AI technology to generate thousands of logo variations quickly and cost-effectively.
With Logomaker, you can also create a full brand identity kit, customize your logo in a smart and intuitive editor, and export your logo in various file formats.
Videomaker
Videomaker is an AI-powered video editing and production tool that allows you to easily convert text into captivating videos in just 2 minutes.
With Videomaker, you can create amazing videos without the need for any editing experience. It's the only tool you need to bring your text to life with stunning visuals and effects.
Designmaker
Designmaker is an AI graphic design tool that allows you to create stunning designs for ads, banners, flyers, and more in just 2 minutes.
With Designmaker, you can save time and effort by using AI to generate thousands of design variations instantly.
It offers an intuitive online design editor, millions of design assets, and the ability to customize mockups.
Speechmaker
Speechmaker is an AI-powered text-to-speech tool that allows you to convert scripts into realistic voiceovers in seconds.
With Speechmaker, you can choose from over 50 high-quality voices in multiple languages and accents. The intuitive interface enables you to simply enter your script, select your voice preferences, and generate your voiceover with no external software installation required.
Pros & Cons of Designs AI:
Pros:
Time-saving: Designs ai uses advanced AI technology to automate the design and content creation process, saving you valuable time and effort.
Cost-effective: With Designs, you can access a wide range of creative tools and resources at a fraction of the cost of hiring professional designers or purchasing expensive software.
Cons:
Limitations of AI: While Designs ai's graphic tools are impressive, they still have limitations compared to human creativity and intuition. Some complex design concepts or unique requirements may be better executed by a skilled human designer.
Learning Curve: Like any new technology or platform, using Designs ai may require a learning curve for some users.However, the user-friendly interface and assistive tools make editing process easier and more accessible.
Pricing:
BASIC Plan: For individuals, students, and marketers that need quick and easy projects. $19 per month or $228 billed yearly.
PRO Plan: For entrepreneurs and small teams needing advanced editing and professional templates. $49 per month or $588 billed yearly.
Alternatives to Designs AI:
Ocoya ai
Ocoya AI is a tool that simplifies the creation and management of social media content. It provides ai features similar to ChatGPT, Canva, and Hootsuite.
With Ocoya AI, you can generate engaging marketing text in over 26 languages. It offers templates and automation to speed up content creation.
Automatically schedule and post on multiple platforms like Facebook, Instagram, Twitter, LinkedIn, TikTok, and Pinterest. Ocoya AI provides real-time analytics to measure content performance.
Read our article on how to use Ocoya
Canva
Canva is a user-friendly platform for creating professional designs. It is also an ai design tool. It offers a variety of templates, images, and tools to design anything you need.
With Canva, you can collaborate with others, access premium content, and manage brand assets. It's suitable for individuals, teams, and educational organizations.
Canva is trusted by well-known companies and provides a range of features like real-time collaboration and social media scheduling.
Uizard
Uizard is an AI-powered design and ideation tool that makes it easy for anyone to create stunning designs in minutes.
If you have design experience or not, Uizard allows you to turn text prompts, hand-drawn sketches, or screenshots into beautiful UI designs.
It streamlines the design process, allowing you to generate mockups, collaborate in real-time, and create clickable prototypes effortlessly.
Tagembed
Tagembed is a powerful tool that lets you collect and display social media posts on your website. It helps increase engagement and reach by showcasing customer testimonials, social media stories, and visual galleries.No coding is required, and it works with any website.
Ad Creative AI
Ad AI is an AI-powered platform that quickly generates effective ad creatives and social media posts. It improves ad performance and saves time and money with ai graphic design tools.
Create ads for Google, Facebook, Instagram, and more to boost conversion rates. With text generation, creative insights, and integrations, AdCreative AI simplifies the ad creation process.
Read our article on how to use Ad Creative
Looka AI
Looka AI is an ai design tool that uses AI to help you create your own brand. You can design a stunning logo and generate branded marketing materials, social media templates, and business card designs.
With Looka AI, you don't need design skills to launch a professional brand that connects with your audience.
Read our article on how to use Looka
Predis ai
Predis AI is an AI-powered social media tool that simplifies content creation, analysis, and publishing. It helps users generate videos, carousels, and single-image posts in their brand style effortlessly.
With its easy integration and user-friendly interface, Predis AI boosts the social media presence of entrepreneurs, marketers, and content creators.
Loved by over 300,000 users worldwide, Predis AI offers solutions for Reels, TikToks, video ads, scheduling, and more. It also provides free AI tools like hashtag generation, color palette generation, and stock image search.
Read our article on how to use Predis
Beacons AI
Beacons AI is a comprehensive platform for creators that includes tools for building and expanding their businesses.
With Beacons, creators can create a customized link in the bio, set up an online store, secure brand deals, and manage their audience.
The platform uses AI to offer data-driven insights and recommendations, empowering creators to make informed decisions and improve their performance.
If you want to know more read our article on how to use beacons ai?
Tome AI
Tome is an innovative platform that helps individuals communicate their ideas more effectively and visually. Whether it's a presentation, mood board, or one-pager, Tome uses AI to generate outlines and options based on your prompts.
With dynamic layouts, interactive features, and immersive views, Tome allows you to showcase your ideas and engage your audience on any device.
It offers templates for various purposes and is praised by industry experts for its user-friendly interface and powerful features.
If you want to know more read our article on how to use Tome ai?
Jitter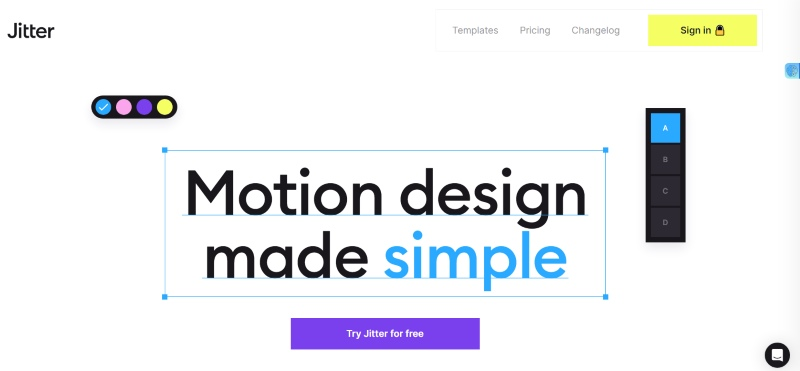 Jitter is a powerful tool that unlocks your creativity and helps you craft amazing animations and designs.
With Jitter, you have the ability to add dynamic movement, special effects, and bring your ideas to life in a visually stunning way.
It boasts a user-friendly interface that makes it a breeze to use, whether you're a seasoned designer or new to animation.
With a wide range of pre-designed animations to choose from or the option to customize your own, you have the freedom to create something truly unique.
Jitter is the ultimate tool for designers, content creators, and anyone who wants to elevate their visual storytelling.
FAQS
Q: Can I try Designs Ai for free?
Yes, Designs ai offers a free trial where you can try out the platform and its features.
Q: What can I create with Designs Ai?
With Designs Ai, you can create logos, videos, written content, and voiceovers for various purposes, such as branding, marketing, and social media.
Q: Is Designs Ai suitable for beginners?
Yes, Designs ai is user-friendly, making it accessible for beginners and those without design or editing experience.
Q: Can I collaborate with others on Designs ai?
Yes, Designs ai offers collaboration features, allowing multiple team members to work on projects and share assets.
Conclusion:
Designs ai is a user-friendly platform that uses AI technology to make creative tasks like designing logos, videos, content, and voiceovers easier and faster.
It saves time, offers affordable pricing, and provides access to premium resources. If you're an individual or a business, Designs ai helps unleash your creativity with its Ai graphic design tools.