Are looking to enhance your video content with cutting-edge AI technology? Look no further than D-ID!
In today's article, we'll dive into the world of D-ID and explore how this innovative AI tool uses artificial intelligence to transform your video creation process.
From personalized presenters to seamless integrations, D-ID offers a range of features and benefits that will take your videos to the next level. We will also explore its free alternatives.
What is D ID?
D-ID is a software development company based in Tel Aviv, Israel, founded in 2017.
The company specializes in generative AI technology and offers products and services and is known for their impressive ability to create talking avatars and videos.
The best part is their Creativez Reality Studio and API for developers, D-ID makes it easy for anyone to create personalized and engaging videos.
They also offer a web app called chat.D-ID, which allows people to have face-to-face conversations with AI.
D-ID's technology is used by various industries and has been praised for its quality and cost-effectiveness.
How to use D ID?
Visit the D-ID website and click on "Sign Up" to create your account.
D id studio will be open. Click on "create video".
Choose your avatar, language and add a script for generating video.
Click the "Generate Video" button to create your videos or avatars.
Preview and make any necessary adjustments before finalizing your content.
Download or share your created videos or avatars as desired.
Features of D ID:
Creative Reality Studio
The Creative Reality Studio is a feature of D-ID that uses AI technology to create unique and engaging videos featuring talking avatars.
With just a few simple steps, you can upload images or choose from a selection, add text or recordings, and generate personalized videos in seconds. It's a fast, easy, and cost-effective way to bring your ideas to life with the power of AI.
API
The talking head API is a feature of D-ID that allows seamless integration of streaming videos into your product. With a simple API request, you can create talking head videos by adding a face image and choosing a voice.
This technology opens up new possibilities for engaging customer experiences, real-time video calls, and character-based online games. It's a powerful tool that enhances user engagement and creates personalized video content effortlessly.
Chat.D-ID
Chat D-ID is a groundbreaking app by D-ID that allows users to have face-to-face conversations with an AI-powered digital person in real-time.
By combining advanced facial animation technology and ChatGPT, the app provides a more human-like and natural conversational AI experience using video and speech.
It offers practical applications across various industries and is available for both individual users and enterprise customers.
Integration
D-ID Integrations is a feature that allows seamless integration of D-ID's technology with popular tools and platforms such as Canva, PowerPoint, TikTok, and more.
By integrating D-ID, users can enhance their designs, presentations, social media content, and training courses with AI-generated avatars and personalized videos.
It offers a convenient way to amplify creativity, engage viewers, and improve user experiences across various platforms.
Speaking Portrait
Speaking Portrait is a feature of D-ID that enables users to create photorealistic videos of human presenters using just text or audio as input.
With the click of a button, users can generate virtual presenters for training, corporate communications, marketing, and more.
This eliminates the need for costly video production and studios, making content creation more affordable and personalized.
It's a simple and efficient way to transform articles, training materials, and other written content into engaging videos.
Pros and Cons of D ID:
Pros:
It offer cost-effective and time-efficient video creation, allowing users to generate personalized videos at the touch of a button without the need for complex technical skills or expensive production resources.
The integration capabilities of D-ID with various tools and platforms enable users to enhance their designs, presentations, and social media content with AI-powered avatars, adding an engaging and unique touch to their visual materials.
Cons:
The reliance on AI-generated avatars may result in a less human and authentic experience for some users, as the interactions are not with real people.
As with any AI-based technology, there can be limitations and potential biases in the generated content, requiring users to exercise caution and ensure ethical considerations in their usage.
Pricing:
Free Plan: This plan is free and allows users to try out the service. You get 5 minutes for video creation.
Lite Plan: For $5 per month or $60 billed annually (15% discount), you get 10 minutes per video creation. This plan includes features like standard presenters, 50 AI presenter prompt generations, AI script generations, and more.
Pro Plan: Priced at $34.3 per month or $412 billed annually (30% discount), the Pro plan offers 20 minutes per video creation.It includes premium and standard presenters, 100 AI presenter prompt generations, AI script generations, a Canva plugin, and advanced support.
Advanced Plan: This plan costs $209 per month or $2,512 billed annually (30% discount). It provides 125 minutes per video creation.It includes premium and standard presenters, 600 AI presenter prompt generations, AI script generations, Canva plugin, PowerPoint plugin, and premium support.
Alternatives to D ID:
Fliki Ai
Fliki is one of the game-changing AI tools that convert your written content into captivating videos in just 2 minutes. With Fliki, you can effortlessly transform your words into visually stunning videos featuring a human-like voiceover.
The flexibility and customization options are endless, thanks to the variety of text-to-speech voices and support for multiple languages.
Take your videos to the next level by leveraging Fliki's vast stock media library, offering a wide selection of images, video clips, and background music choices.
If you want to know more read our article on How to use Fliki Ai
Synthesys
Synthesys is the ultimate AI platform that simplifies the process of adding human-like voiceovers and videos to your content. With its intuitive interface, you can effortlessly transform your website videos and tutorials into captivating experiences that engage your audience.
Synthesys offers a wide range of authentic voices, enabling you to establish trust and emotional connections with your viewers.
What truly sets Synthesys apart is its extensive customization options, allowing you to easily adjust and edit voiceovers and videos to perfectly align with your unique style and preferences.
If you want to know more read our article on How to use Synthesys
InVideo
InVideo is the go-to online video editing platform designed to make video editing accessible for beginners. With a vast library of over 5,000 customizable templates, InVideo ensures that your videos meet your specific needs and goals.
Effortlessly add and modify text, leverage AI technology to generate scripts, convert text to speech
Even with the free plan, you'll have access to more than 3 million standard media assets and the ability to export videos up to 15 minutes in length.
If you want to know more read our article on How to use InVideo
Synthesia
Synthesia AI is the ultimate platform that effortlessly turns your written text into captivating videos. With customizable avatars and voiceovers available in multiple languages, you can easily produce top-notch videos in no time.
Say goodbye to the hassle of juggling different tools. Synthesia provides everything you need in one convenient platform, making video creation a breeze.
If you want to know more read our article on How to use Synthesia Ai
Unscreen
Unscreen is a remarkable AI tool that removes backgrounds from your videos effortlessly. Just upload your video or paste the URL, and let Unscreen's AI take care of the rest.
No need for complex techniques like chroma-keying or greenscreens anymore. If you're a content creator or simply want your videos to have a professional look, Unscreen is the perfect solution.
If you want to know more read our article on How to use Unscreen
Pictory AI
Pictory AI is a platform that seamlessly transforms text into captivating visual experiences. By extracting key points and merging them with images and videos, Pictory AI effortlessly produces professional and engaging videos for any purpose.
Stand out from the crowd with customizable audio options that add a unique touch to your creations. With a range of pricing plans available, Pictory AI caters to creators of all levels, making this powerful tool accessible to everyone.
Check Our Article: How to use Pictory AI?
Lumen5
Create stunning videos with ease using Lumen5, the AI-powered video and content creator designed to simplify video production for all. Whether you're a marketer, publisher, or brand, Lumen5 has you covered with a wide range of templates or the option to start from scratch. Simply upload your text, images, and video clips, and effortlessly customize your videos with just a few clicks.
If you want to know more read our article on How to use Lumen5
Steve AI
Steve AI simplifies the process of video creation. Just provide your script, and Steve takes care of the rest by automatically selecting suitable visuals, videos, and sounds to create professional-looking videos.
If you're a beginner or an expert, Steve offers a hassle-free experience, allowing you to easily customize your videos with different styles and characters to add that unique and personalized touch. With Steve, video creation becomes a breeze, helping you achieve impressive results in no time.
If you want to know more read our article on How to use Steve Ai
Munch
Munch is an AI-powered platform specifically designed to assist users in extracting captivating and impactful moments from lengthy videos.
By simply uploading their videos, users can rely on Munch's sophisticated AI algorithm to meticulously analyze and select the most compelling segments.
Munch offers an array of video editing tools that leverage marketing insights and trends, ensuring that content is optimized for maximum impact.
If you want to know more read our article on How to use Munch
Nova AI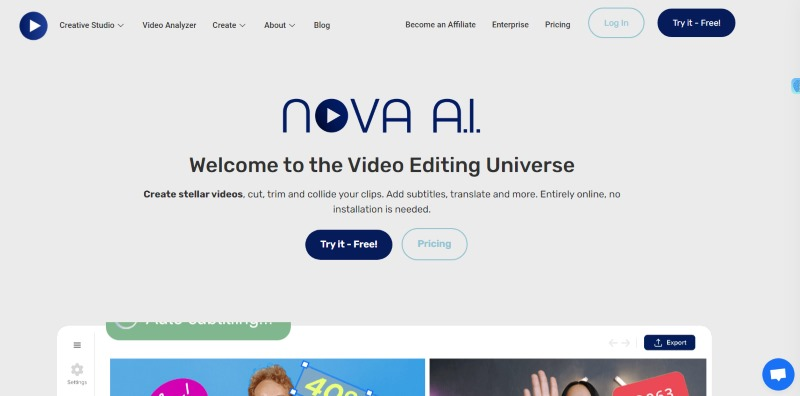 Nova AI is an impressive online video editing tool that offers the convenience of creating and editing videos without the need for software installation.
With features like clip cutting, trimming, subtitle addition, and video translation, Nova AI caters to both beginners and professionals.
Its user-friendly interface makes video editing a breeze.
Whether you're working on promotional content, social media videos, educational material, or creative projects, Nova AI provides a versatile platform to simplify the video editing process.
Read our article on How to use Nova Ai
FAQS
Q: What can I use D-ID for?
D-ID can be used for various purposes, including creating training materials, corporate communications, marketing videos, and more.
Q: Can I customize the presenters in D ID?
Yes! D-ID provides options to customize the virtual presenters and customize their voice, language, size, background color, and shape.
Q: Is D-ID integration-friendly?
Yes, D-ID offers integrations with various tools and platforms like Canva and PowerPoint. This enables you to seamlessly incorporate AI presenters into your existing workflows and enhance your designs.
Conclusion:
D-ID offers a revolutionary solution for creating photorealistic videos of human presenters with just text or audio input.
With D-ID, you can transform training materials, corporate communications, and marketing content into engaging videos, all without costly production or technical expertise.
The ability to personalize videos at scale, in over 100 languages, adds a human touch to your communication and learning videos.
With affordable pricing plans and integrations with popular platforms, D-ID provides a user-friendly and efficient way to bring your content to life.