Ever wished you could turn your imagination into real art? Well, we've got an exciting AI tool for you!
Introducing Craiyon AI it's like a magic art studio that helps you create beautiful art, images, and drawings using just your words and ideas. In this article, we will discuss all about Craiyon and also its free alternatives.
What is Craiyon AI?
Craiyon AI, previously known as Dall E mini, is an artificial intelligence-powered platform that allows users to create unique art.
Is an AI image generator using cutting-edge generative AI technology. Simply describe the image you want, and watch the AI bring it to life with astonishing visuals.
It's a fun, easy-to-use tool, perfect for anyone who wants to generate unique images without knowing how to draw. You can draw images and also customize the style of your image, whether you prefer it to look like a painting, a drawing, a photo, or something more abstract.
Craiyon is also a community where users can share their AI-generated art and learn tips for creating better images.
How to use Craiyon AI?
Go to the Craiyon website and sign up.
In the "AI Art Generator", type in a description of the image you want.
Choose your preferred style (Art, Drawing, Photo, None).
Add any "Negative words" if there's something you don't want in your image.
Click "Draw" and wait for the AI to generate your image.
Download your image once it's ready.
Pricing
Craiyon offers different pricing plans depending on your needs:
Supporter Plan: For $5 per month, you get quicker image generation times, unlimited images, a high priority for your requests, no ads, and no watermarks. Plus, your images stay private!
Professional Plan: For $20 per month, you enjoy all the benefits of the Supporter Plan, but with even faster image generation times, the highest priority for requests. In addition, you also get early access to new features.
What you can create with Craiyon?
With Craiyon, you can create unique and imaginative artwork using artificial intelligence. Here's what you can do, step by step:
AI Art
You can create every type AI art with Cariyon. It all starts with your idea. You simply type it in, like "a sunset on a beach" or "a cat wearing a hat". Craiyon AI does the rest, turning your words into a unique piece of AI art. You will have nine images so you can choose anyone that suits your needs.
Drawing
Want to draw but not quite confident with a pencil? No problem! With CraiYon, you can just describe what you want to draw, and it'll create it for you. Say "A cute puppy playing with a ball", and there you have it your very own drawing.
Simple AI Generated Images
Craiyon AI also provides you with the feature of ai image generation. Sometimes, you don't need artwork, but a simple image. Craiyon can do for you within seconds. Whether it's "a red apple" or "a blue butterfly", it will create images for you.
Features of AI Image Generator Craiyon
Unlimited Images: With a subscription, you can create as many images as you want.
Ads-Free & No Watermark: Subscribers can also enjoy an ad-free experience and get images without a watermark.
Image Privacy: For subscribers, the images they generate remain private.
Professional Plans: Professional users get added benefits like the highest priority for requests and early access to new Craiyon features.
Pros & Cons of Craiyon AI
Pros:
Boosts Creativity: You get to create unique images from simply described ideas.
User-Friendly: It's straightforward and easy to navigate for anyone.
Cons:
Limited Control: Though you can instruct the Craiyon, the final results may not precisely match your vision.
Subscription Needed: For the full range of features and faster work, a paid subscription is necessary.
Alternatives of Craiyon AI
TheTechBrain AI is a fantastic free trial for AI Image Generator, that crafts art from your words. It is like a skilled artist turning your imaginative ideas into beautiful new images..
Just type an image input to generate images, like "A mouse riding on a horse in a mountainside scene, Painting by Rembrandt", hit 'Generate', and watch as TheTechBrain AI paints your vision.
more ai generated images below
If you're familiar with Craiyon AI, you'll find TheTechBrain AI to be a brilliant alternative. It outshines Craiyon AI due to its more useful features, intuitive, user-friendly design, and ability to provide greater creative control.
The best part is that you can test TheTechBrain AI for free! This amazing tool is not only about creating art, but it's also about bringing joy to the process.
TheBrain also offers a web app that allows you to access all these features on your phone. It includes AI Assistants, a Text-to-Speech feature, and more.
Night Cafe AI
NightCafe AI is a user-friendly AI tool that helps you unleash your inner artist. Imagine having a simple text prompt that can turn plain text prompt into a unique piece of art and that's exactly what NightCafe AI does.
As an alternative to Craiyon, NightCafe AI shines with its easy-to-use interface and ability to cater to all, from beginners to more experienced artists.
NightCafe hosts the fun-filled Daily AI Art Challenge. Here, you can show off your prompt-creating abilities and compete with artists from around the globe.
Check here on our article to know How To use NightCafe AI
Starry AI
With a user-friendly platform and intuitive features, Starry AI makes the art generation process a breeze. Artists have the freedom to customize and experiment with various styles, colors, and compositions, allowing for truly unique and personalized creations.
If you're designing for personal expression, professional projects, or the ever-evolving world of NFT art, Starry AI provides a seamless and streamlined experience.
The versatility of Starry AI extends beyond its art generation capabilities. With the rise of NFTs (Non-Fungible Tokens), artists can now easily turn their creations into digital assets and share them with a global audience.
If you want to know more read our article on How to use Starry ai?
Images AI
Images AI is an AI platform that takes your words and transforms them into art. This platform is user-friendly, and it's perfect for both beginners and seasoned artists. If you've used Craiyon, you'll find Images AI a good alternative.
It gives you more context, ai tools, and more freedom to express your creativity. So try Images AI, and enjoy the process of creating unique and personalized art.
Neural Love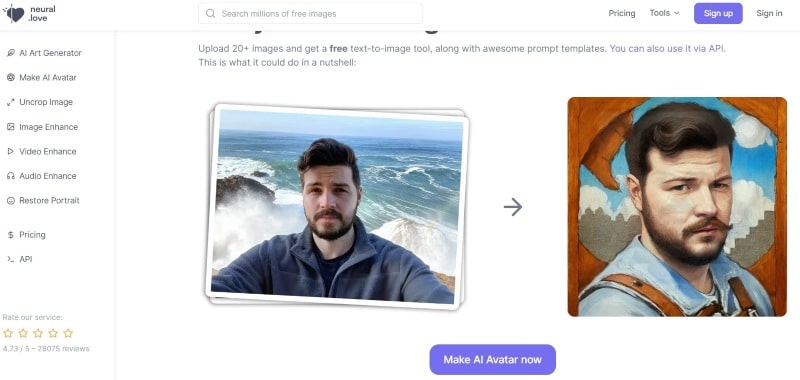 Neural Love revolutionizes the content creation process, empowering creators to effortlessly produce captivating work.
Its user-friendly interface enables the generation of stunning artwork, customization of unique avatars, and enhancement of multimedia files.
Additionally, Neural Love provides access to a vast collection of free, high-quality images that add a professional touch to any project.
With features that turn words into mesmerizing art, elevate videos, and enhance audio quality, Neural Love is the ultimate solution for taking content to the next level.
If you want to know more read our article on How to use Neural Love
FAQS
Q: How can I get better results with Craiyon?
Try to be clear when you give the AI instructions. You can also use the "Negative words" feature to exclude things you don't want in your picture.
Q: Can I use images generated through Craiyon AI for anything I want?
You can use them for most things, but if you're thinking about selling them or using them for business, you should check out Craiyon's terms of service just to make sure.
Q: Why is my image not appearing?
Sometimes, the AI can have a hard time with images generated along with certain prompts. If your image doesn't show up, try adjusting the text description, or style and try again.
Q: Do I need to pay to use Craiyon AI?
Craiyon AI does have a free version you can use. However, if you want extra key features like faster image generation and no watermarks, you'll need a subscription.
Conclusion:
Craiyon AI is an innovative tool that transforms your descriptions into unique artwork. Simple to use and user-friendly, it allows you to bring your ideas to life.
While the free version does a great job, subscription ads benefits like faster generation times and premium features.
It might not always hit the mark exactly, but with some tweaking, you'll have a masterpiece.