Bid farewell to your writing struggles and say hello to Copy AI, the groundbreaking AI-powered writing assistant!
This incredible tool merges the strengths of artificial intelligence and generative AI to effortlessly transform your writing process.
With a simple and intuitive interface and advanced algorithms, Copy AI provides a lot of features to assist you in generating captivating content, refining your writing style, and conquering any writer's block that comes your way.
What is Copy AI?
Copy.ai is designed to make your job easier by generating high-quality content in just seconds. Whether you're a blogger, social media manager, or email marketer, Copy Ai can save you time and effort.
It offers a wide range of ai writing tools and templates to help you create an engaging blog post. Simply provide some details, choose from the options generated by the AI, make any necessary edits, and you're ready to go.
With Copy Ai, you'll never have to struggle with a blank page again because you can create blog posts easily.
How to use Copy AI?
To use Copy ai, follow these simple steps:
Sign up: Visit their website and sign up for a free account. You can sign up with Google or your email address.
Choose your project: Select the type of content you want to create, such as blog posts, social media copy, or emails.
Provide details: Give Copy ai some information about your brand and products. This helps the AI understand your needs.
Explore options: Copy ai will generate different options for your content based on the details provided. You can browse through them and choose the ones you like.
Edit and finalize: If necessary, you can make edits and changes to the generated content. Customize it to suit your style and requirements.
Copy and use: Once you're satisfied with the content, simply copy and use it on your preferred platform or content management system (CMS).
Pricing of AI writing tool Copy AI:
Free Plan: Get 2,000 words per month for free. Includes features like Chat by Copy ai, unlimited projects, and support in 25+ languages.
Pro Plan: Costs $49/month. Unlimited words, Chat by Copy ai, unlimited Brand Voices, priority email support, and access to features in 29+ languages.
Enterprise Plan: Designed for larger teams, with advanced features like API access, prebuilt workflows library, dedicated support, and SOC 2 compliance. For detailed pricing, you can request a demo.
Copy AI Writing Tools:
Copy ai offers several features to help with your content creation process. Here's a step-by-step explanation of it's ai writing tools:
Blog Post:
Use the Blog post feature to write optimized blog posts quickly. Copy ai generates ideas, outlines, and even full articles to save you time and effort.
Sales Copy:
Create compelling sales emails with the Sales Copy feature. Whether it's for emails, landing pages, or ad campaigns, Copy ai provides persuasive content tailored to your target audience and is great for small business owners or freelancers.
Digital Ad Copy:
Generate attention-grabbing ad copy in just a few clicks using the Digital Ad Copy feature. Promote your products or services effectively across various advertising platforms.
Social Media Posts:
Engage your audience with captivating social media posts using the Social Media Content feature. Copy ai helps you write posts that grab attention and encourage interaction and is just great for any social media managers.
E-commerce Copy:
Improve your product descriptions to increase sales with Copy ai's eCommerce Copy feature. Craft compelling and persuasive descriptions that highlight the unique selling points of your products.
Website Copy:
Enhance your website with a more compelling and persuasive copy using the Website Copy feature. Copy ai provides you with engaging content that resonates with your audience.
Pros and Cons of Copy AI:
Pros:
Time-saving: Copy ai helps you create content quickly.
Enhanced creativity: It sparks ideas and overcomes writer's block.
Cons:
Lack of human touch: The generated content may lack personalization.
Potential limitations: It may not cover every specific content need.
Alternatives of Copy AI:
We all have this question which AI writing tool is better? Let's dive in the alternatives
TheTechBrain AI is a brilliant alternative to Copy ai, offering a versatile AI platform and powerful ai writing tool that offers a variety of features, such as blog post generation, social media content, and creative ideas.
With its premade templates, you can effortlessly craft engaging blog posts, compelling social media content, persuasive ad copies, clear emails, and more.
It goes beyond writing assistance by providing features like AI Art Creation, Speech to Text, Text to Speech, and AI Code that cater to various creative needs and the best thing you can use its free version.
TheTechBrain AI excels in generating SEO meta tags, translating text, and creating frequently asked questions and answers.
Best of all, many of these features are available for free, and you can conveniently access TheTechBrain AI through its user-friendly web app, empowering you to boost your writing and creativity anytime, anywhere.
Quillbot:
QuillBot is an ai writing tool that provides essential writing tools. It offers features like paraphrasing, grammar checking, plagiarism detection, and citation generation.
With its Chrome extension, you can easily access it and write professionally from anywhere. The premium version enhances your writing experience with accelerated paraphrasing, more editing options, and additional writing modes.
Whether it's emails, essays, or social media posts, let QuillBot effortlessly assist you in your writing endeavors.
Check our article: How to use Quillbot?
Conch AI:
Conch AI is a great alternative to Copy AI, providing a wide range of features to enhance your writing. It's ai tool helps you improve your writing skills, suggests content ideas, and makes your text sound more professional.
With features like in-text citations, style improvement suggestions, and autocomplete sentences, Conch AI assists you in finding the perfect words for your writing.
You can conveniently access it through its free Chrome extension, enabling you to use Conch AI wherever you write.
It's particularly beneficial for students, offering faster and better writing with unique and plagiarism-free content.
Check our article: How to use Conch ai?
WordTune:
Wordune AI is an intelligent writing tool that takes your writing to the next level by enhancing clarity and engagement.
It goes beyond basic spell-checkers by suggesting alternative sentence rewrites, correcting grammar, and enhancing your writing style.
With Wordune, you have multiple writing options at your disposal, allowing you to find the perfect style that suits your needs.
If you're seeking to elevate your writing and sound your best, Wordune is a fantastic alternative to Conch. Give it a try and watch your writing soar to new heights.
Check our article: How to use Wordtune ai?
Shortly AI:
Shortly is a versatile and user-friendly AI writer that serves as a great alternative to Copy AI. It's specifically designed to help writers overcome creative hurdles and excel in various writing projects, such as novels or blog posts.
One of its notable features is the ability to effortlessly rewrite, shorten, or expand sentences with a single click, making your writing process more efficient and time-saving.
With Shortly as your reliable and supportive writing partner, you can feel confident in producing high-quality content.
Check our article: How to use Shortly ai?
WriteSonic:
Writesonic is an incredible AI writing platform that simplifies the creation of SEO-optimized content. Perfect for bloggers, marketers, writers, and freelancers, Writesonic generates high-quality, engaging content quickly and effortlessly.
In a matter of seconds, you can create articles, blog posts, product descriptions, landing pages, and more. With Writesonic, it feels like having your very own personal writing assistant, enabling you to save time and achieve remarkable results in your content creation endeavors.
Check our article: How to use Writesnoic?
Rytr AI:
Rytr is a fantastic alternative to Copy AI, offering an AI-powered writing assistant that can revolutionize your content creation process.
With Rytr, you can effortlessly create high-quality content in just a few seconds, all at a fraction of the cost.
Whether you're a copywriter, marketer, or entrepreneur, Rytr's AI capabilities can generate SEO-optimized and engaging content to suit your needs.
It supports various use cases, from crafting Facebook ads to writing blog posts, ensuring that you have a versatile tool at your disposal.
HyperWrite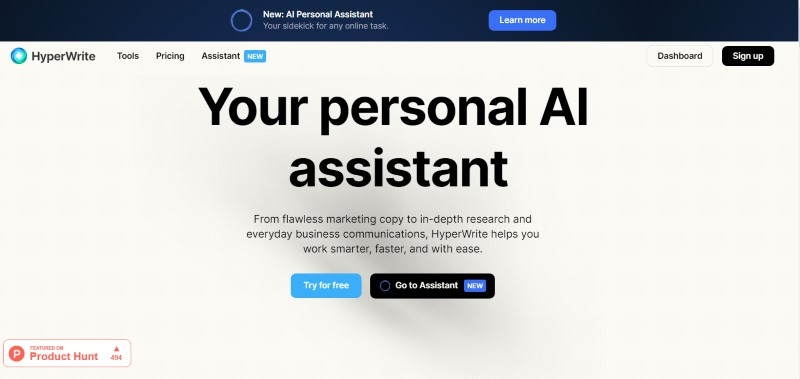 Elevate your writing with HyperWrite, an AI-powered tool that enhances efficiency and writing quality.
Overcome writer's block, generate original ideas, and receive personalized suggestions. Seamless integration with popular websites enables real-time assistance.
Create plagiarism-free content effortlessly by exploring features like AutoWrite, Summarizer, Rewrite Content, Email Responder, Explain Like I'm 5, Magic Editor, and Generate Blog Intro.
With HyperWrite, your writing will reach new heights.
Read our article on How to use HyperWrite
FAQS
Q: Does Copy ai generates plagiarism-free content?
A: Copy ai does its best to provide original and unique content, but it's always a good practice to review and ensure the final content is not plagiarized. You can also use external plagiarism checkers for added assurance.
Q: Can Copy ai replace human writers?
A: Copy ai is designed to assist and enhance the writing process, but it may not fully replace human writers. It provides content ideas and drafts that can be edited and personalized by writers.
Q: Can Copy ai be used for multiple languages?
A: Yes, Copy ai supports over 25 languages, allowing you to generate content in different languages to reach a global audience.
Conclusion:
Copy ai is a powerful AI-powered tool that revolutionizes the way we create content. With its innovative features, it saves time and effort by generating high-quality content in various formats, whether it's blog posts, social media copy, or sales content.
Copy ai sparks creativity, provides helpful suggestions, and helps overcome writer's block. While it may lack the human touch of personalized writing, Copy ai serves as a valuable assistant, assisting writers in crafting engaging and persuasive content.
It offers different pricing plans to cater to individual needs and provides support in multiple languages. Whether you're an individual content creator or part of a larger team, Copy ai can be a game-changer in your content creation process.