Are you tired of the struggles of writing and the dreaded writer's block? Meet Conch AI, the ultimate solution to writer's block.
With the power of artificial intelligence and generative AI, Conch AI provides limitless suggestions to enhance your writing.
In this article, we will explore the incredible capabilities of Conch and how it can revolutionize your writing process. We will also take a look at its free alternatives.
What is Conch AI?
With Conch AI, you can improve your writing skills, generate content suggestions, and even rewrite your text to make it more professional. It offers a range of features, such as in-text citations, style improvement suggestions, autocomplete sentences, and the ability to find the perfect words for your text.
With Conch, you can handle citations, improve your style, and generate the next sentence. It also offers templates for different essay-writing tasks.
You can use Conch AI free with a Chrome extension, making it accessible wherever you write.
Students find this tool helpful for writing faster and better. And the content it generates is unique and passes plagiarism tests.
How to use Conch AI?
Sign up: Create an account on the Conch AI website for free.
Install the Chrome extension: Add the Conch AI extension from the Chrome Web Store.
Start writing: Begin writing in the Conch platform or any text editor with the extension enabled.
Use the features: Take advantage of Conch AI's suggestions for citations, writing style, autocomplete sentences, and text improvement.
Pricing of AI Writing Assistant
Conch AI offers different pricing plans:
Classic: Free plan with limited features.
Pro: $9.99 per month ($4.99/mo billed yearly) with additional features.

Limitless: $19.99 per month ($9.99/mo billed yearly) with unlimited features.
Features of Conch AI Writing Tool
Here are Conch ai's tools to enhance your writing experience.
Automatic In-text Citations
Conch AI can generate accurate and properly formatted in-text citations for your sources, saving you time and ensuring your writing is properly referenced.
Writing Style Improvement – Write AI Detection Free Articles
With Conch AI, you can receive suggestions and recommendations to enhance your writing style. It analyzes your text and provides insights to make your writing more engaging and professional. It will detect ai plagiarism and help you to improve your content creation.
Autocomplete Sentences
If you find yourself struggling to come up with the next sentence, Conch AI has your back. It is a web app that uses artificial intelligence to suggest contextual sentences and next words that can keep your writing flow going.
Text Rewriting Made Easy
Whether you need to make your text shorter, longer, bolder, or more formal, Conch AI simplifies the process. It assists in finding the right words and adjusts your text to meet your specific requirements.
Chrome Extension
With the Conch AI Chrome Extension, you can gain access to its features seamlessly in your favorite text editor or while browsing the web. It provides convenience and accessibility wherever you write.
Templates for Various Writing Tasks
Conch AI offers a range of templates that serve as starting points for different writing tasks. Whether you're replying to emails or summarizing text from web pages, these templates give you a head start.
Instant AI-powered Answers
Instead of interrupting your writing flow to search for information, Conch can instantly provide answers and context to your questions, thanks to its AI capabilities.
Summarization of Complex Texts
Conch can highlight and summarize complex texts in seconds. It's a valuable tool for researchers, students, and writers who need to grasp the main points of lengthy or challenging articles.
Pros & Cons of Conch AI
Pros:
Saves time by automating tasks like generating citations and providing writing suggestions.
Offers immediate writing assistance to improve the quality and effectiveness of your work.
Cons:
Relies on algorithms, which may not fully capture the nuances of your writing style.
Some limitations may arise when working with highly specialized or technical content.
Alternatives of Conch AI:
Here are some alternatives for conch ai:
TheTechBrain AI:
TechBrain AI is a brilliant alternative to Conch AI that offers many useful tools to help you with your writing. What makes TechBrain AI even better is that it has an Android app, so you can use it on your phone or tablet.
The great thing about TechBrain AI is that you can use it for free and try out all of its tools without any restrictions.
You can do so much with it, like creating eye-catching blog titles, writing engaging social media posts, optimizing your website for search engines, and crafting compelling product descriptions for your online store.
TechBrain AI is designed to be user-friendly, making it easy for you to improve your writing. It gives you helpful suggestions in a clear and understandable way, so you can connect better with your readers.
Shortly AI
Shortly AI is your ai assistant and a great alternative to Conch. It helps you overcome writer's block, continue writing in your own voice, and turn your thoughts into well-written paragraphs.
With a clean and distraction-free interface, you can access powerful commands to refine your writing instantly. Try Shortly AI for free and experience the magic of writing more, and faster.
Click on this article on How to use Shortly Ai
Quillbot:
QuillBot is a great alternative to Conch AI. It offers a range of helpful writing tools like a paraphraser, grammar checker, plagiarism checker, co-writer, summarizer, citation generator, and translator.
It's available as a Chrome extension, allowing you to write like a pro wherever you go. QuillBot's premium version offers accelerated paraphrasing, increased changes, and additional writing modes to enhance your writing experience.
Whether you're composing emails, essays, or social media posts, QuillBot has got you covered.
Click on this article on How to use Quillbot AI.
WriteSonic
Writesonic is an intelligent alternative to Conch that offers a variety of features to assist in content creation, including blog posts, emails, and advertisements.
This AI tool stands out due to its advanced tools such as the AI Writer and editing features, making it a valuable asset for writers.
Additionally, Writesonic is capable of generating search-engine-optimized content and attention-grabbing product descriptions, making it an indispensable tool for marketers and entrepreneurs.
Click on this article on How to use Writesonic
Wordtune
Wordune AI is an intelligent writing tool that improves clarity and enjoyment in your writing. It suggests alternative ways to rewrite sentences, correct grammar, and enhance engagement.
Unlike basic spell-checkers, Wordtune offers multiple writing options to suit your style. Think of it as a reliable writing coach that helps you express yourself better in any type of writing.
If you want to sound your best, Wordtune is an excellent alternative to Conch.
Click on this article on How to use Wordtune.
HyperWrite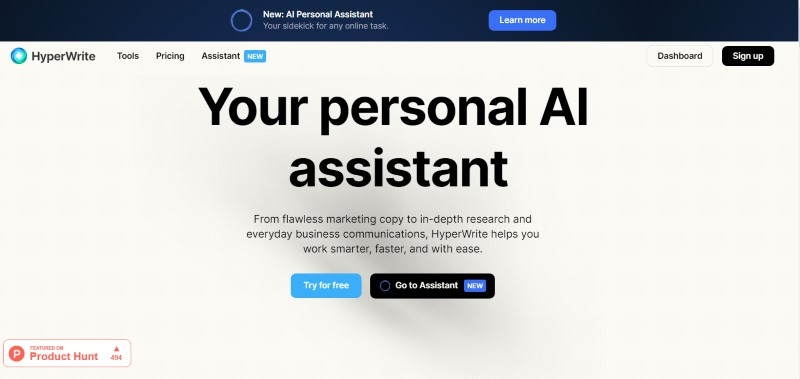 Upgrade your writing with HyperWrite, an AI-powered tool that enhances efficiency while maintaining the integrity of your content. Overcome writer's block and generate original ideas with personalized suggestions.
Experience real-time assistance through seamless integration with popular websites. With HyperWrite, rest assured that your work will be plagiarism-free.
Explore features such as AutoWrite, Summarizer, Rewrite Content, Email Responder, Explain Like I'm 5, Magic Editor, and Generate Blog Intro to elevate your writing with authenticity and confidence.
F.A.Q.
Q: Is Conch AI good for professional writing?
Yes, Conch is designed to benefit both academic and professional writing. It helps improve your work by offering style suggestions, generating citations, and enhancing your content.
Q: Can Conch AI create content for me?
No, Conch AI does not generate complete articles or replace your creativity. It provides suggestions and improvements to ai generated content based on the text you provide.
Q: How can I cancel my Conch AI subscription?
You can cancel your subscription at any time. Simply go to the settings tab of the Chrome extension or the My Account page to cancel.
Conclusion:
Conch AI is a helpful tool that can assist you in various writing tasks. It offers features like generating citations, improving your writing style, and providing suggestions to enhance the quality of your work.
It is an ai assistance designed to benefit both academic and professional writing, helping you save time and improve the effectiveness of your writing.
While Conch AI has some limitations, such as not perfectly capturing your writing style and potential challenges with technical content, it can still be a valuable writing assistant.
Your data is kept safe and secure, and you can cancel your subscription at any time if needed. Overall, Conch AI is a user-friendly tool that aims to support previous writing and enhance your writing process.