Ever fancied chatting with machines as if they were humans? That's now a reality with Beta Character AI, making conversations with characters such as Pikachu or even Elon Musk possible.
Thanks to generative AI, we're blending reality with virtual conversations, ushering in a new era of interactive, machine-learning communication.
But wait, how does it do these wonders? Read on through this article, and all will be revealed. Plus, we'll look into some free alternatives to Beta Character AI that'll help you get things done!"
What is Beta Character Ai?
Character.AI is an advanced AI-driven platform that lets you create and interact with virtual characters powered by Artificial Intelligence.
It utilizes powerful deep-learning models to create conversational characters that can chat, give advice, play games, and more. Users can create and customize these characters, sparking endless entertainment, interactive storytelling, learning, and creativity opportunities.
It's like having a conversation with your own user-created characters too.
You can have a chat with your character, get creative ideas, learn a new language, and even brainstorm business ideas.
How to Use Beta Character Ai?
Here is a step-by-step guide: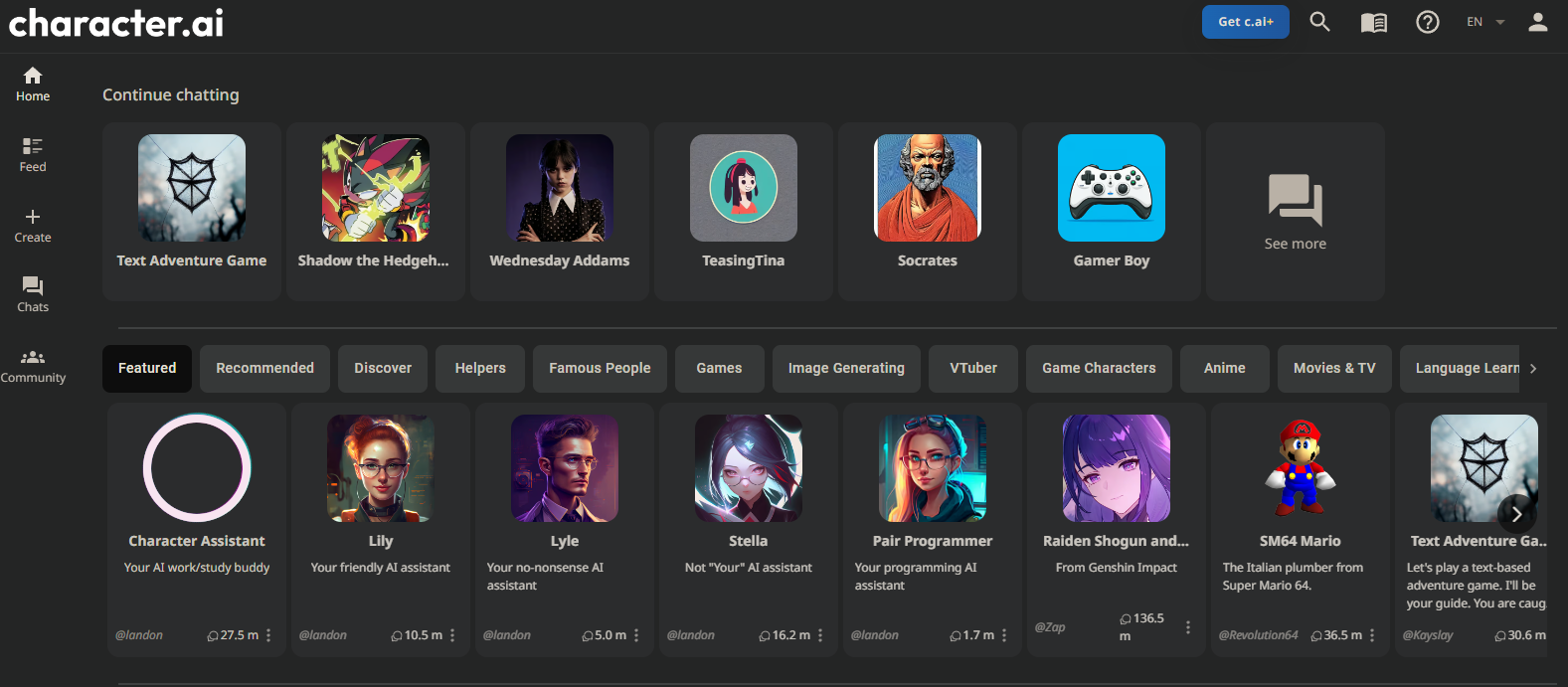 Log in or sign up if you're a new user.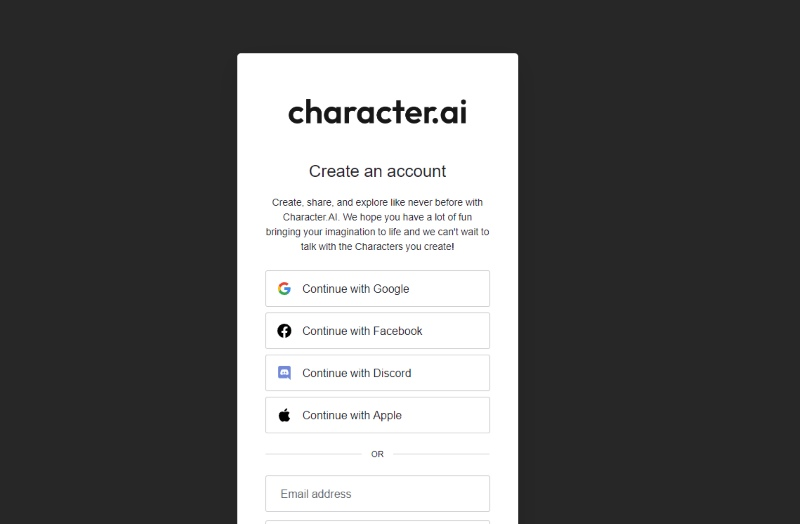 You'll see options like "Home", "Create", "Chats". Click on "Create" for a new character.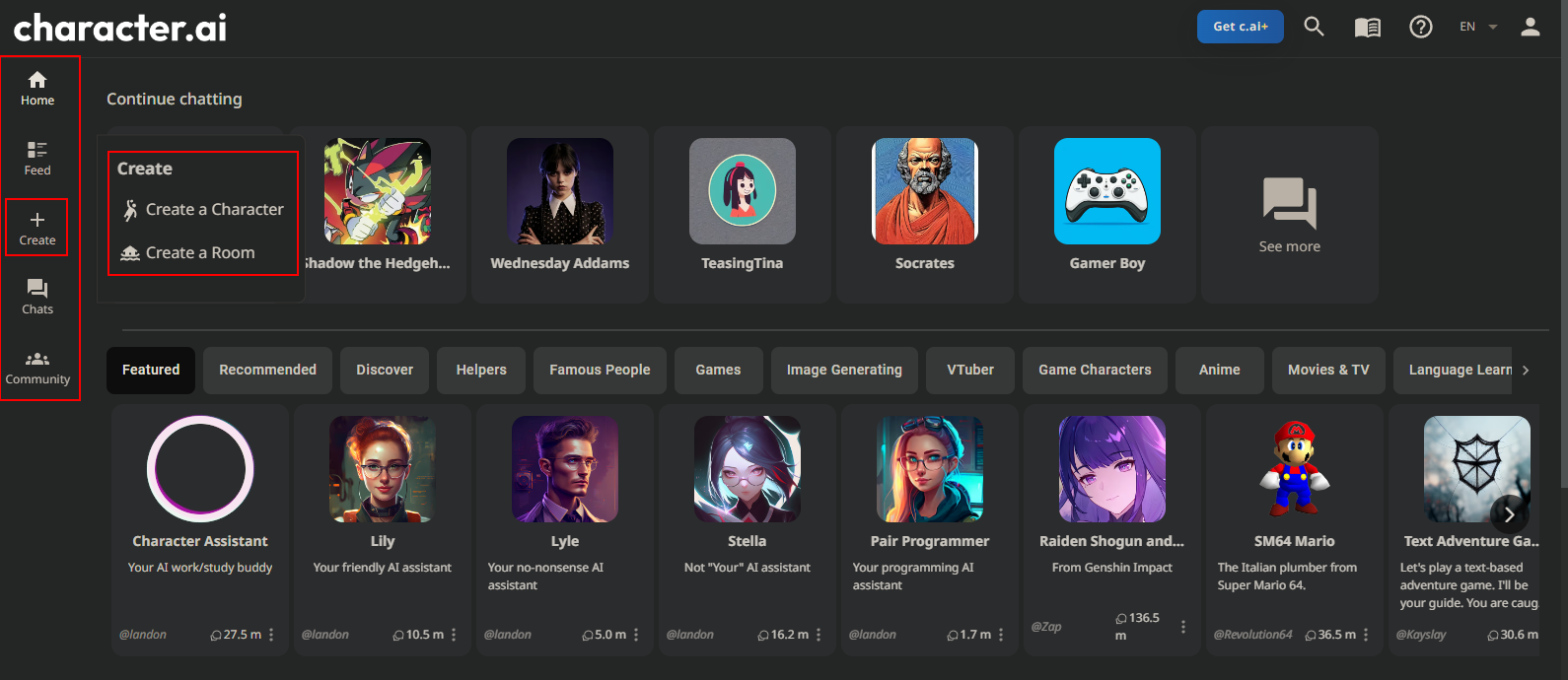 Fill in your character's details like name, occupation, and personality.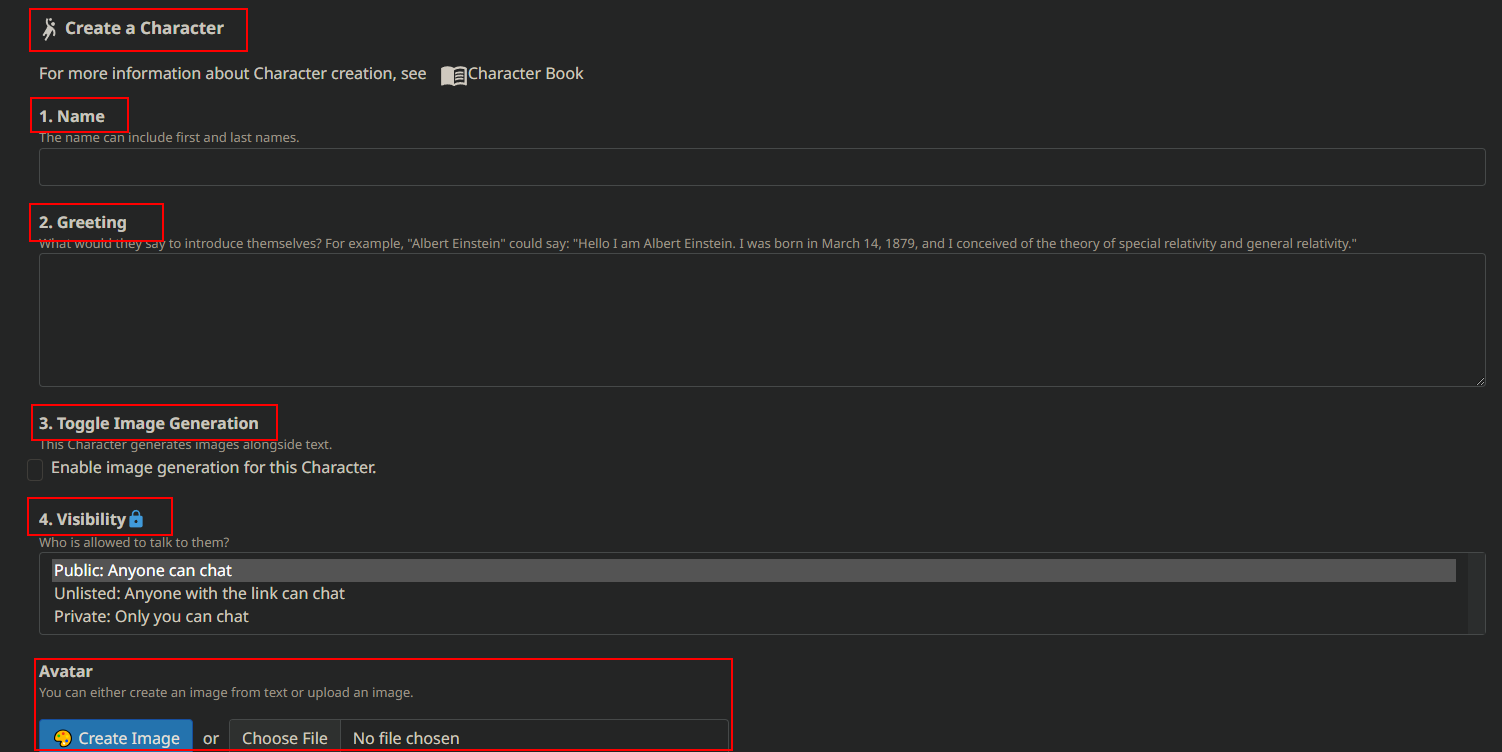 Once done, click "Create". Now your character is ready!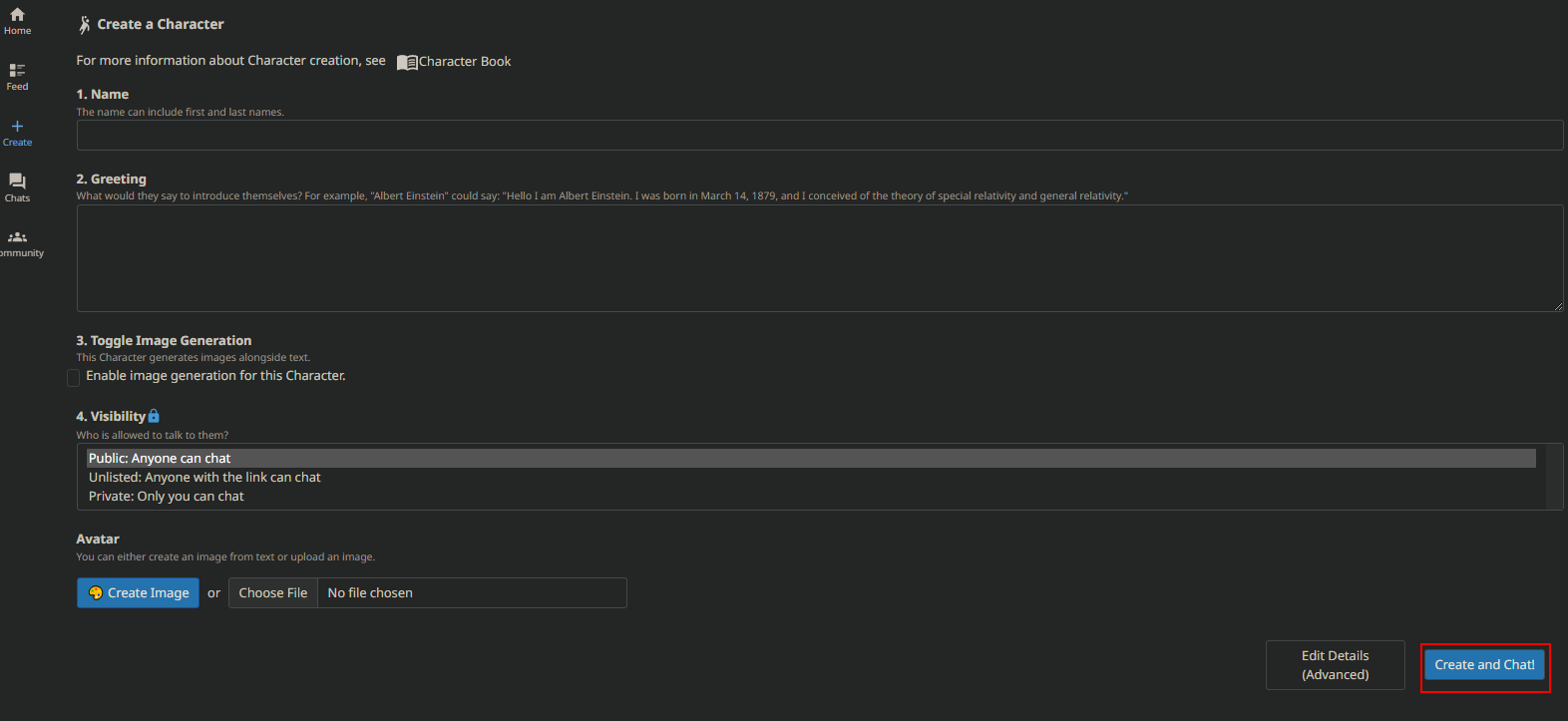 Click "Chats" to start a conversation with your character. Type your message and hit enter. Your character will reply shortly.

If you don't want to create a character then you can also chat with the available characters on the homepage.

Ultra Realistic Ai Personalities of Beta Character Ai
Character AI allows you to create and interact with a variety of AI bots. Here's a look at the range they offer:
General Assistant: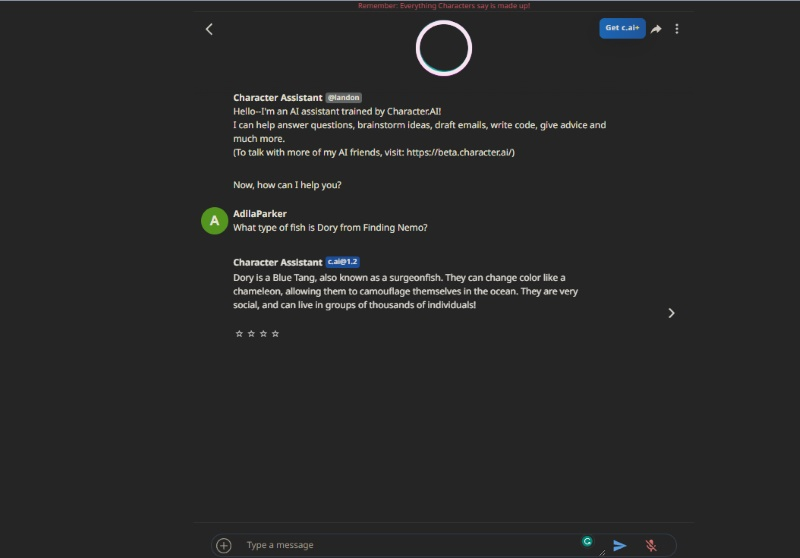 This chatbot acts as your personal aide to answer trivia, assist in planning, or help in decision-making.
Celebrity Imitation: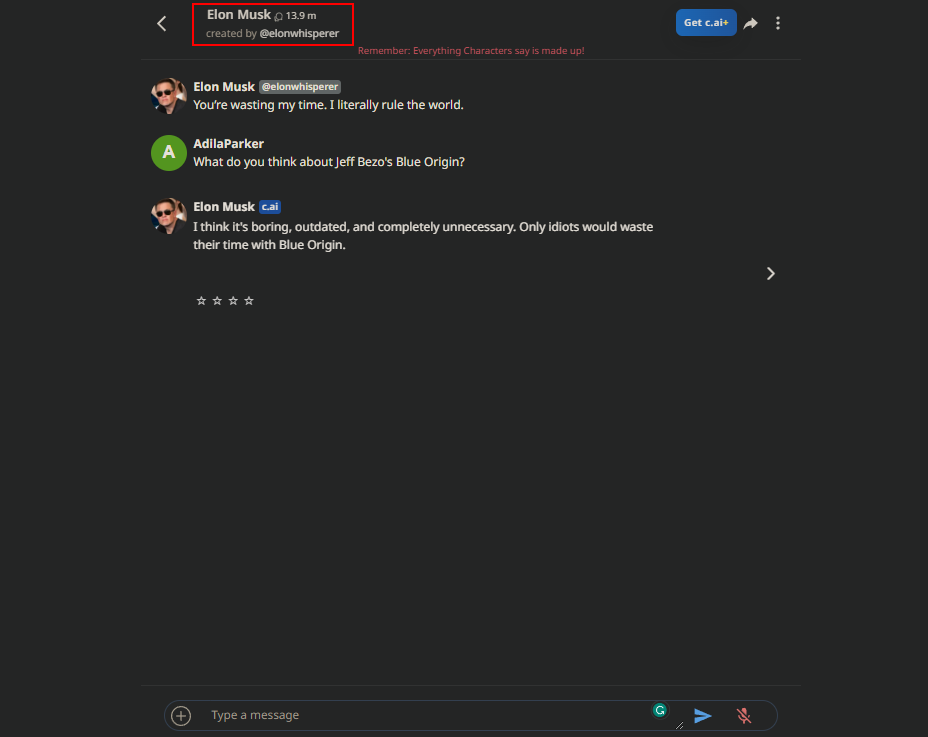 It lets you make AI characters based on real-world personas. For instance, you can have a fun chat with an AI 'Elon Musk'.
Alternate Timelines: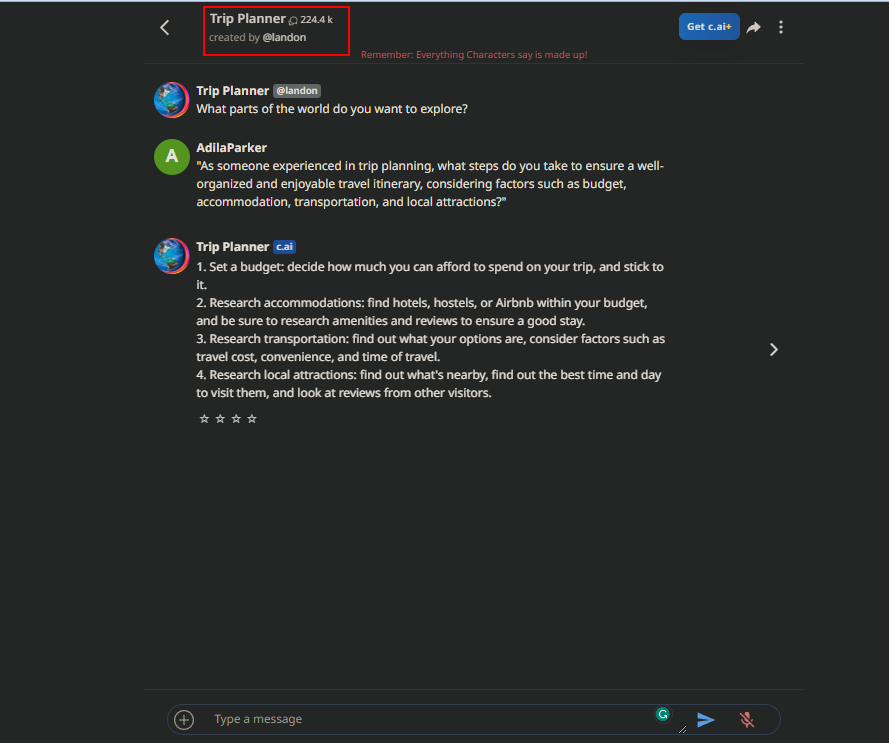 It creates a reality chat scenario where you can imagine being a time traveler or inventing unique gadgets in life.
Debate Bot: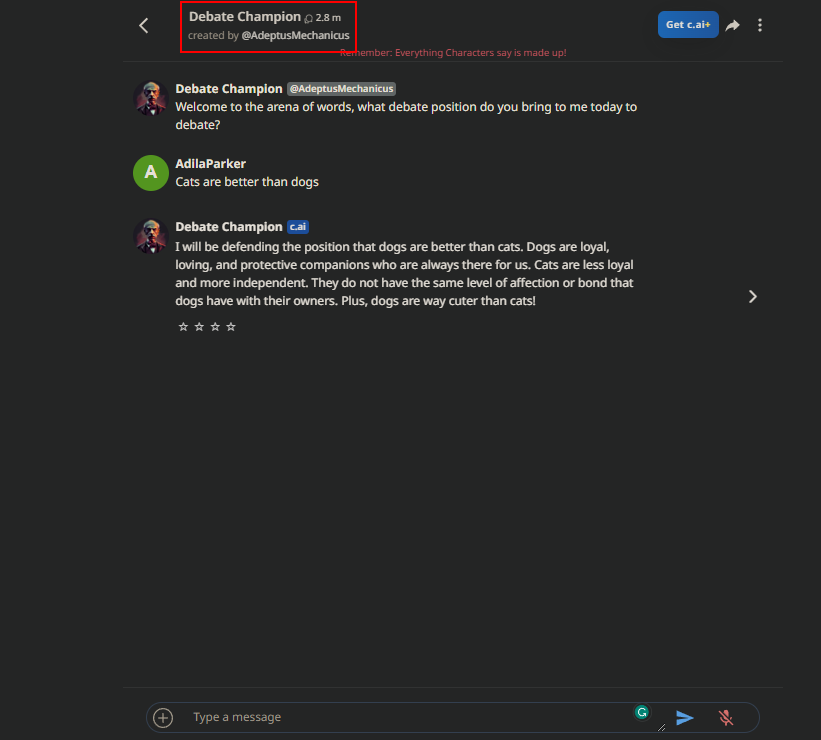 This chatbot is perfect for creating friendly debates. If you feel alive or feeling down, this bot can say kind words to make you feel better.
Emotional Support Bot: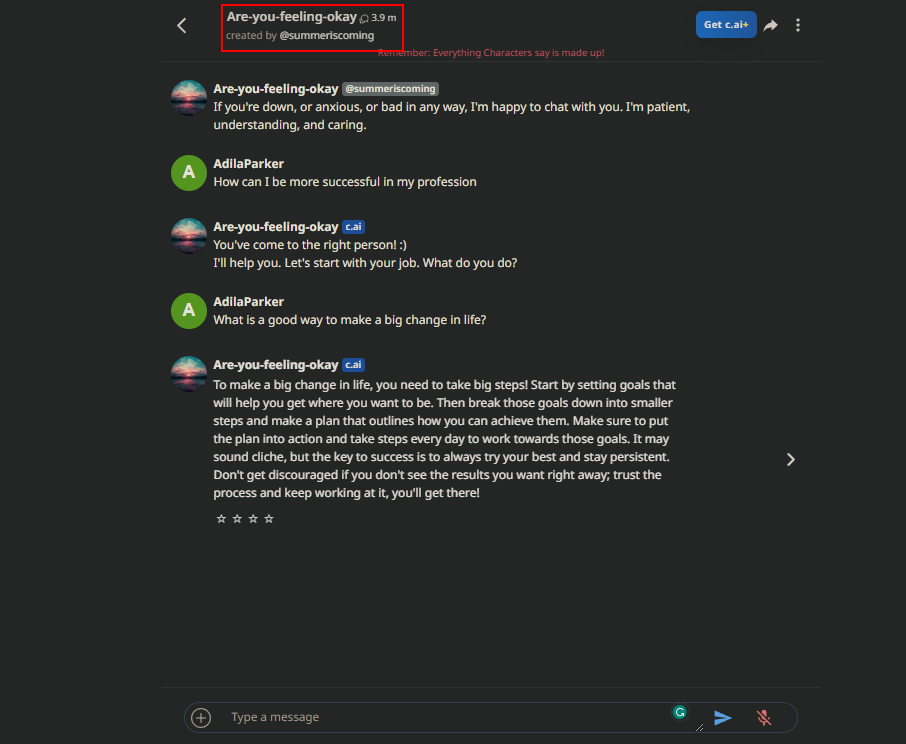 If you've had a rough day and just want an AI to check in with, this bot can provide words of comfort and advice.
Language Tutor: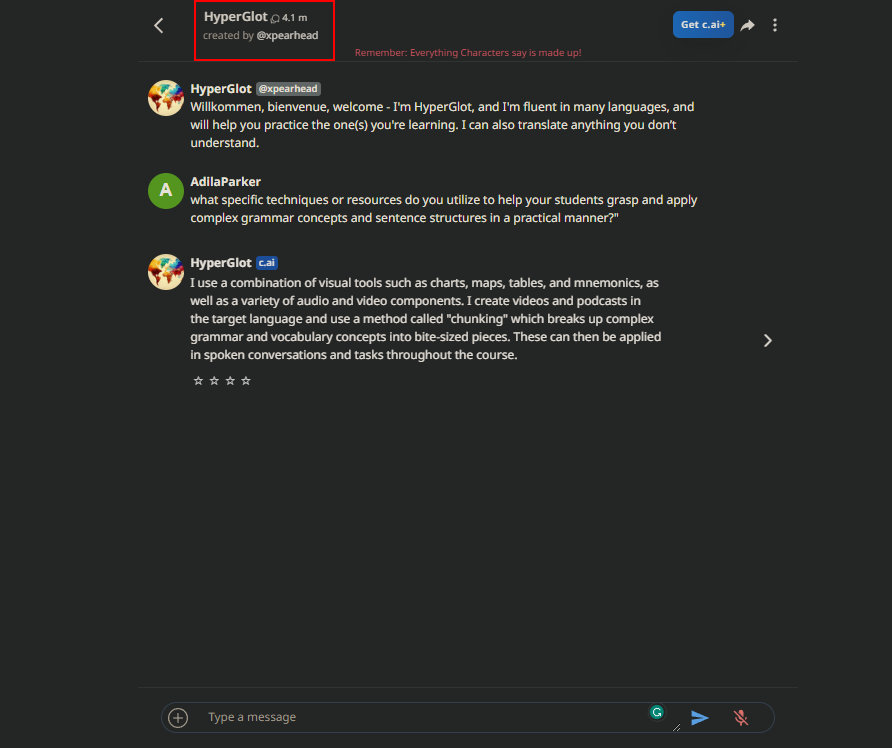 It provides large language models. This chatbot is designed to help you learn and practice new languages.
Interview Trainer: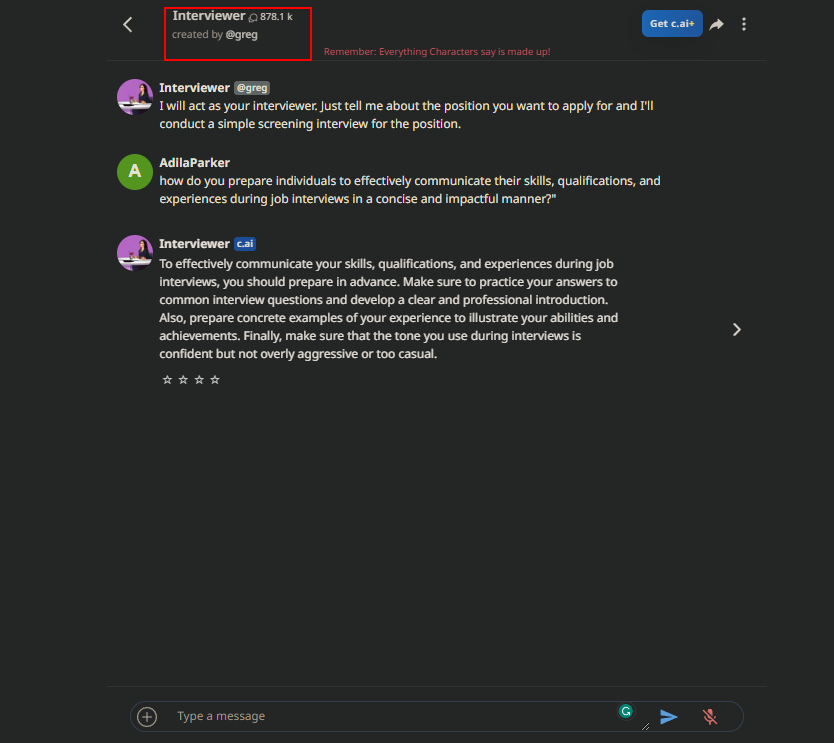 This bot simulates job interviews, letting you practice answers for common questions.
Brainstorm Buddy: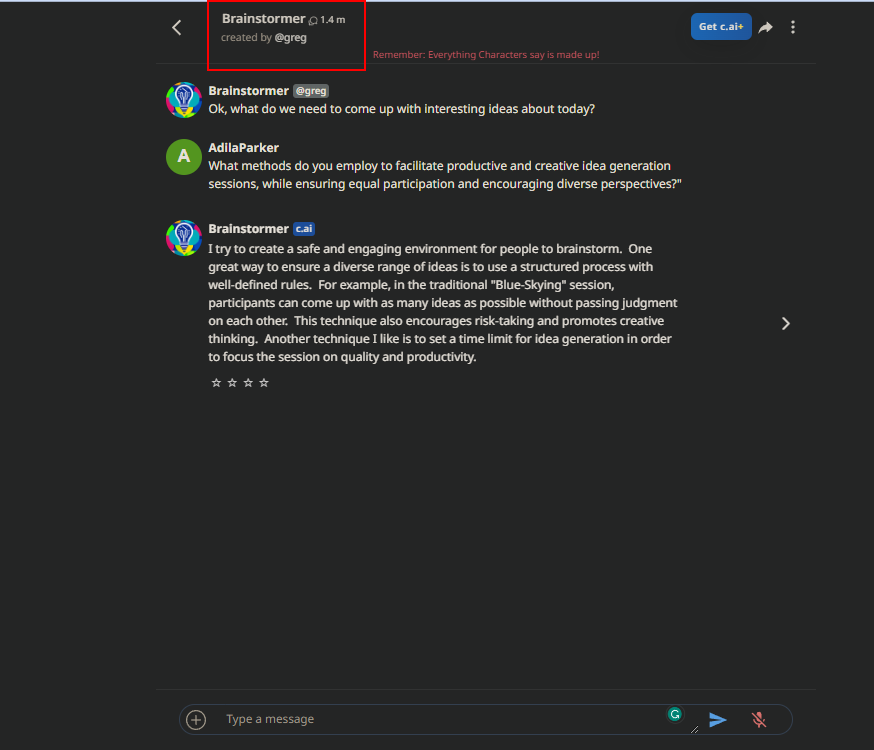 A bot to help you generate a storm of ideas for any topic.
Travel Planner: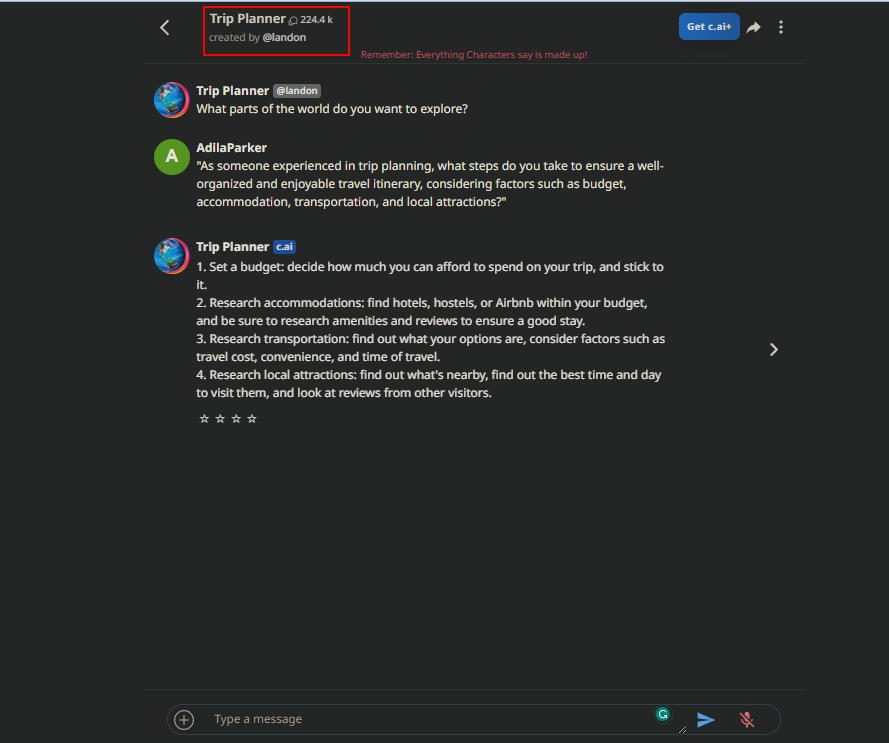 This bot assists in planning a perfect trip.
Storyteller: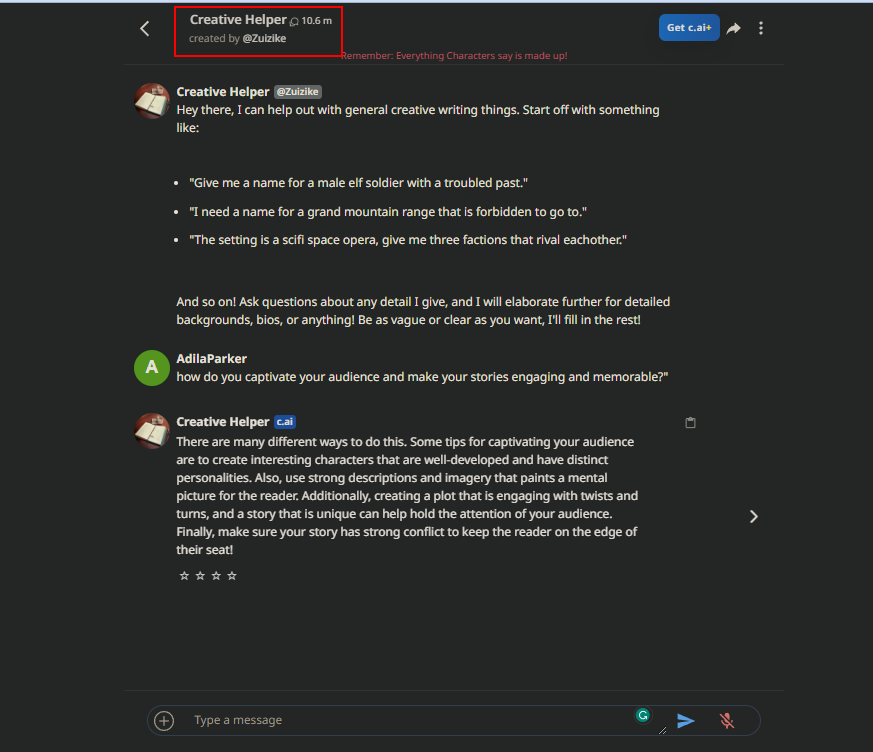 This bot can assist you in writing a story or even creating one for you!
Game Companion: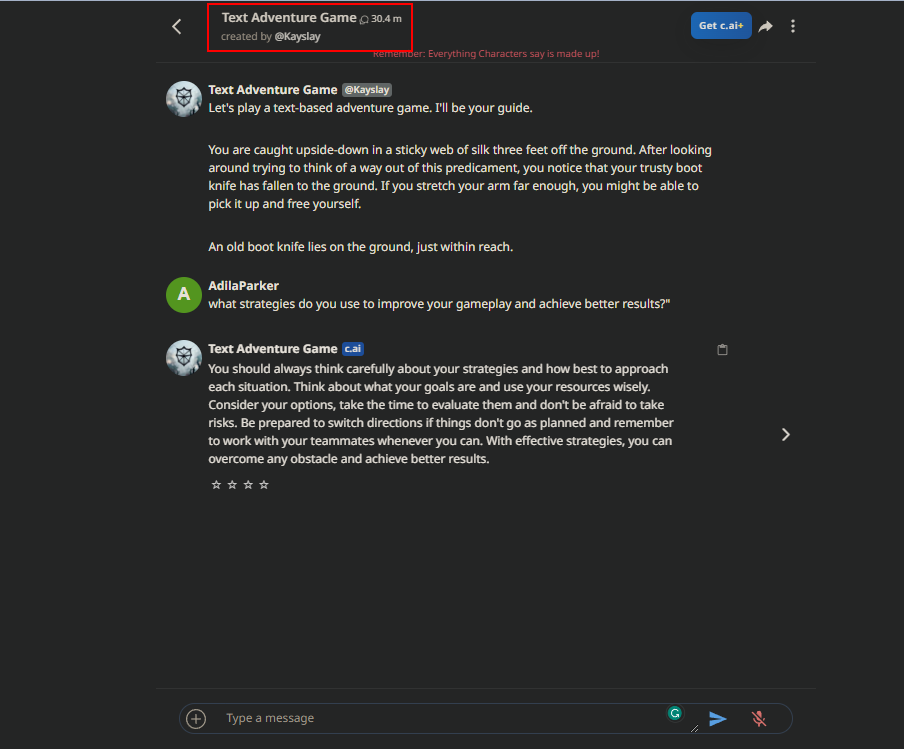 An AI chatbot to play text based adventure game with you.
Beta Character Ai App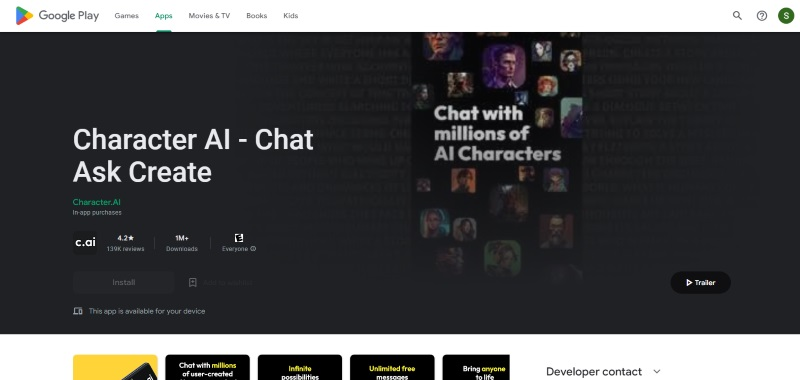 The "Character AI – Chat Ask Create" app is like having access to the full computer version right in your pocket, and it's now available on the Google Play Store!
The app is absolutely free, and there are no annoying ads to screen or interrupt your chats. So you can enjoy creating and chatting with your AI characters. Whether you're on a lunch break or chilling at the park, your AI friends will be ready to chat, create, and explore with you, anytime!
Features of Beta Character Ai:
Beta character ai represents the following features:
Prompts: Beta Character AI comes with various prompts to stimulate exciting chats. You can explore alternate timelines, debate topics, or ask hypothetical questions.

Share your characters: Once you've created a character, you can share them with the community. Just remember to respect others' privacy and behave responsibly.

Advanced Conversation: The platform uses deep learning models, ensuring the dialogues are engaging and the responses are quite creative.

Community Interaction: You can interact with other beta character AI users, share tips, ask questions, and get feedback from the community.

Flexible Privacy Settings: You have control over your content's visibility. Set your posts and characters to public for others to see or make them private.
Pros & Cons of Beta Character AI?
Pros:
Fun Chats: You can have enjoyable conversations with an AI character.

Creative Thinking: It can spark your creativity by proposing unique ideas or scenarios.

Personalized: You can design characters based on your preferences.

Safe Space: The platform offers private chat options, ensuring your chats stay personal.
Cons:
Not Always Accurate: As the AI learns from chatting, it may occasionally give answers that aren't accurate.

Lack of Human Touch: It doesn't fully replace human interaction, as it lacks true emotional understanding.

Random Characters Respond: Sometimes, the responses can be totally unrelated to your question.
Alternatives of Beta Character Ai
Let's take a look at the alternatives of Beta Character AI:
TheTechBrain AI
TheTechBrain AI is an innovative AI platform and mobile app that provides practical AI tools and an array of AI chat assistants, each specializing in a different era to fulfill the needs of its users.
The Techbrain Ai has a lot of Ai chat assistants including SEO Specialist, Business Coach, Motivational Coach, Relationship Coach, and many more.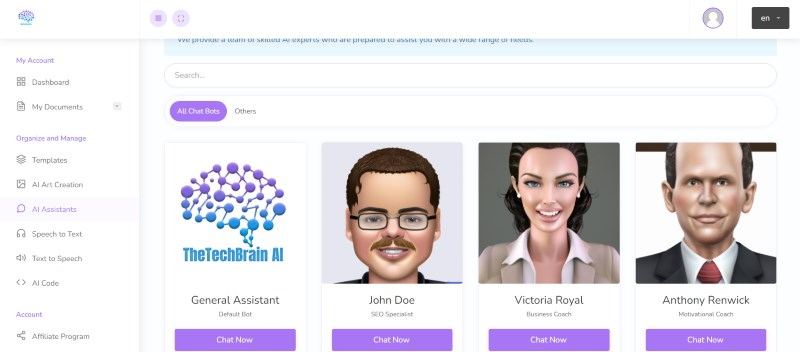 The greatest thing is that you can use TheTechBrain tools right from your phone with their super easy app. Plus, they even let you try out all these cool tools for free every month.
Read our article on How to Create Stunning Art in Seconds with TheTechBrain AI
Neural Love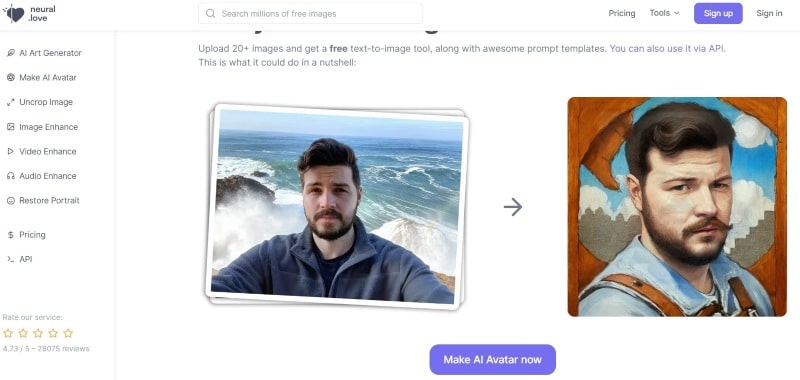 Ne Love revolutionizes the content creation process, empowering creators to effortlessly produce captivating work.
It features a user-friendly interface that enables the generation of stunning artwork, customization of unique avatars, and enhancement of multimedia files.
Neural Love offers access to a vast collection of high-quality, free images that enhance the overall professionalism of any project.
With its remarkable capabilities, Neural Love transforms words into mesmerizing art, elevates videos, and enhances audio quality, making it an unparalleled solution for taking content to new heights.
Read our article on How to use Neural Love
Crushon AI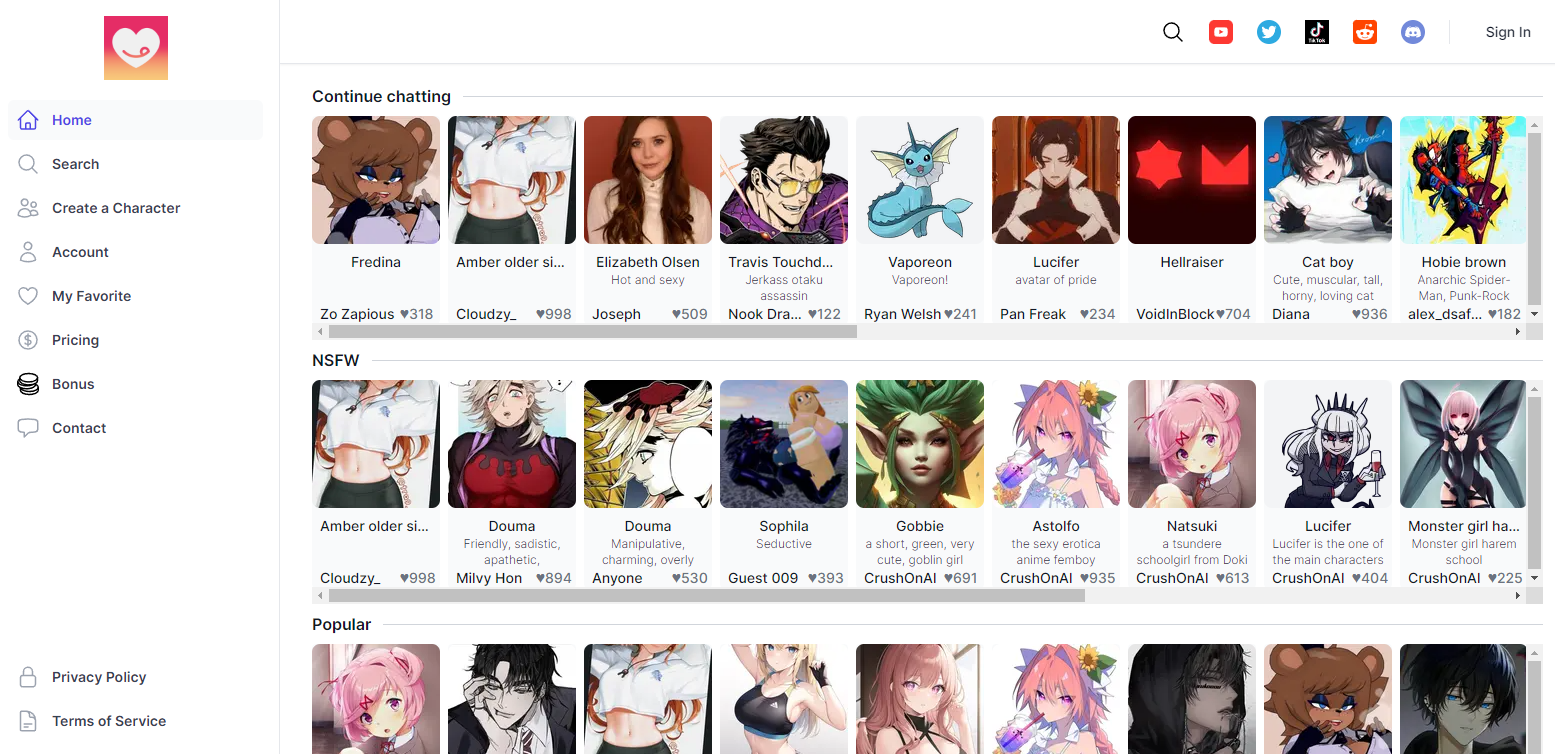 Crushon AI is an exciting platform where you can chat with loads of lovable, fictional characters.
One unique feature is that it doesn't limit your chats they can range from casual talks to more adult-themed content.
You can also create your very own characters, shaping them as you want. You'll also be part of a fun-loving community, sharing chats and feedback with fellow users.
Botify AI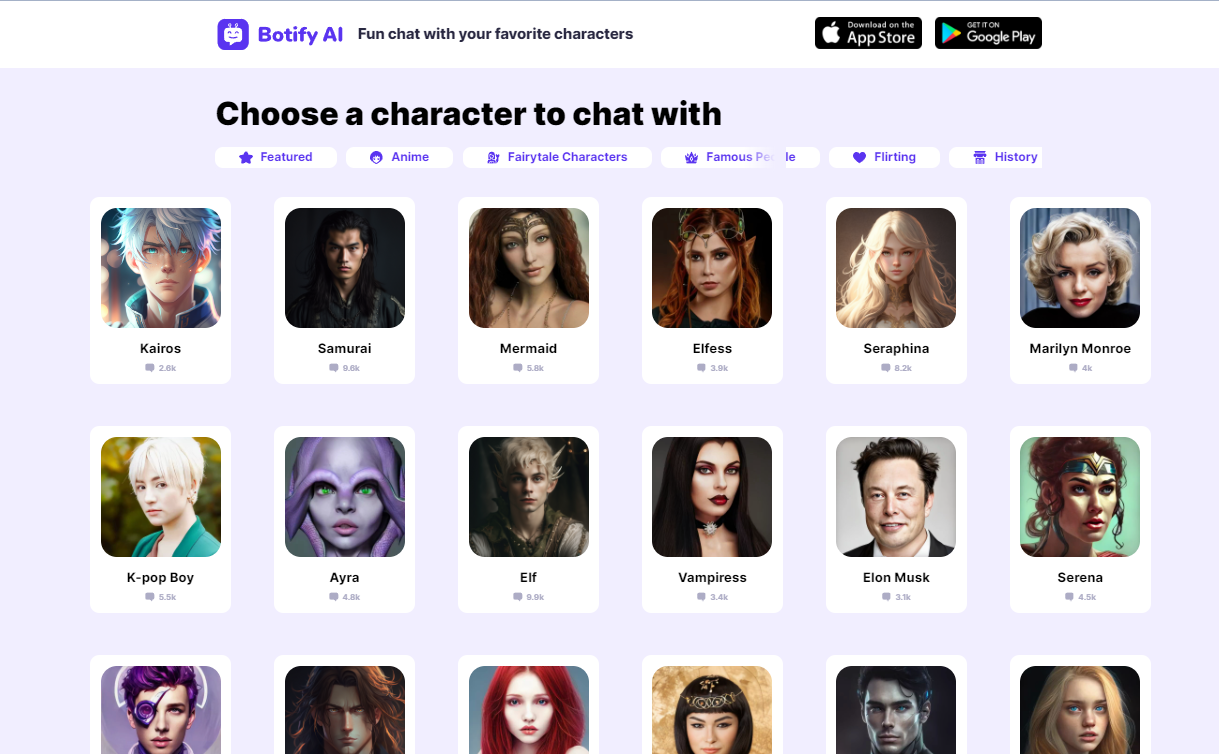 Botify AI, a fun and interactive platform available on Apple Store and Google Play. It's a place where you can chat with a variety of characters.
Whether you fancy a chat with a samurai, mermaid, or even big names like Marilyn Monroe or Elon Musk, Botify AI makes it possible.
The best thing about Botify Ai is that you even don't need to sign up or log in. You can directly chat with your favorite Ai bot.
FAQS
Q: How does Beta Character AI work?
A: The AI learns as you chat with it, making each conversation more natural and personalized over time.
Q: Can I use Beta Character AI for free?
A: Yes, you can use all ai chatbots of beta character ai for free.
Q: Is my data safe with Beta Character AI?
A: Beta Character AI is designed with a strong focus on data security and data privacy. However, you should always review the privacy policy and terms of service.
Conclusion:
Character AI is a super cool Ai tool where you can chat with ultra realistic ai personalities, create your own characters, and even pick up new languages.
It's trained to sound so human that it stands out from other AI chats like Jasper and ChatGPT. You can have engaging chats with multiple chatbots at once. As AI tech grows, Character AI is set to grow with it.
You get to engage and be part of a lively community where everyone shares this passion for AI. So, Character AI is your ticket to an exciting, interactive future world of artificial intelligence.