Are you looking to revolutionize your advertising strategies with the power of Artificial Intelligence? Look no further than Ad Creative.
In this article, we will explore the incredible capabilities of Ad Creative's AI tools and how they can enhance the effectiveness and impact of your advertising campaigns. We will also take a look at some of its alternatives.
What is Ad Creative exactly?
AdCreative ai is an AI-powered platform that helps you generate ad creatives and social media post creatives in just a few seconds.
It uses advanced algorithms to create conversion-focused ads that deliver better results while saving you time. With AdCreative ai, you can easily create ads for platforms like Facebook, Instagram, LinkedIn, and more.
If you're a startup, e-commerce store, or marketing agency, AdCreative ai can help you create high-converting ad campaigns.
How to use Ad Creative ai?
Sign up for an account on AdCreative.
Choose your target audience and the ad platform you want to create ads like Google ads, video ads, etc.
Let the AI generate ad creatives based on your audience and platform selection.
Customize the generated creatives to align with your brand and messaging.
Download the finalized creatives to use in your ad campaigns.
Features of ad creative:
Generate Ad Creatives
Generate Ad Creatives is a feature that allows you to create conversion-focused ad creatives quickly and easily.
It generates professionally designed ads customized to your brand and platform, saving you time and helping you achieve better conversion and click-through rates.
Generate Texts & Headlines
Generate Texts & Headlines is a feature of AdCreative ai that allows you to create conversion-focused ad copy in just minutes.
It acts as your personal copywriter, crafting compelling texts and headlines for your ads.
With their battle-tested frameworks and practices, you can create ads that capture attention, drive engagement, and increase conversions.
Creative Insights
Creative Insights is a feature that provides valuable and actionable information about the performance of your ad creatives.
By linking your ad accounts to AdCreative ai, you can access AI-generated insights on each creative, including data points such as impressions, clicks, and click-through rates.
This helps you understand which ad creatives are performing the best, allowing you to optimize your advertising campaigns for better results. You can check the campaign performance of your video ad.
Generate Social Posts
Generate Social Posts with this feature you can create engaging and visually appealing social media post creatives quickly and effortlessly.
This AI-powered tool produces perfectly sized creatives for popular platforms like Facebook, Instagram, LinkedIn, Pinterest, and Twitter.
You can create social posts that look professionally designed and attract attention without any design skills.
Pros & Cons:
Pros:
Increased Engagement: Ad creative helps attract attention and engage your target audience, increasing the effectiveness of your advertising campaigns.
Time-saving: With AI-generated ad creative, you can quickly create visually appealing ads without the need for extensive design skills or time-consuming manual processes.
Cons:
Dependency on AI: Relying on AI-generated ad creatives may limit the human touch and creativity that can come from a human copywriter or designer.
Lack of Customization: It may not always meet the specific branding or messaging requirements of every business, as customization options may be limited.
Pricing:
Starter Package: $29 per month, 10 monthly credits, 1 brand, unlimited generations.
Premium Package: $59 per month, 25 monthly credits, 2 brands, unlimited generations.
Ultimate Package: $99 per month, 50 monthly credits, 2 brands, unlimited generations.
Scale-Up Package: $149 per month, 100 monthly credits, 2 brands, unlimited generations.
Alternatives of Ad Creatives:
With the rise of generative AI, numerous AI tools have emerged in the market, revolutionizing productivity and streamlining workflows.
Designs ai
Designs ai is a comprehensive creative platform powered by artificial intelligence (A.I.) and machine learning technology. It enables you to effortlessly create stunning designs, videos, banners, mockups, and more within minutes.
With Designs ai, you can save time, reduce costs, and streamline your creative process.
If you need to craft a logo, edit a video, or design marketing materials, Designs ai provides the necessary tools, even if you have no prior design experience.
It's a user-friendly solution that empowers you to bring your creative content ideas to life quickly and easily.
If you want to know more read our article on how to use Designs ai?
Tagembed
Tagembed is an impressive tool that enables you to gather and exhibit social media posts directly on your website.
By showcasing customer testimonials, social media stories, and visual galleries, it amplifies engagement and expands your reach.
The best part? It doesn't require any coding knowledge and seamlessly integrates with any website. Trusted by more than 300,000 users across 80+ countries, Tagembed is a user-friendly solution that enhances your online presence effortlessly.
Read our article on how to use Tagembed
Ocoya ai
Ocoya AI is a convenient tool that streamlines social media content creation and management.
Armed with powerful AI capabilities like ChatGPT(read this article about ChatGPT-4), and features reminiscent of Canva and Hootsuite, Ocoya AI makes marketing text generation in over 26 languages a breeze.
It comes equipped with templates and automation to accelerate content creation, while also offering the ability to schedule and post seamlessly across multiple platforms such as Facebook, Instagram, Twitter, LinkedIn, TikTok, and Pinterest.
With real-time analytics, Ocoya AI empowers you to gauge and measure the performance of your content effectively.
If you want to know more read our article on how to use Ocoya ai?
Uizard
Uizard is an innovative AI-powered tool that enables anyone to create remarkable designs quickly and easily.
Regardless of your design expertise, Uizard lets you transform text prompts, hand-drawn sketches, or screenshots into stunning UI designs effortlessly.
With its user-friendly interface, Uizard streamlines the design process and allows you to generate mockups, collaborate in real time, and create clickable prototypes effortlessly.
Read our article on how to use Uizard
Predis ai
Predis AI is a user-friendly social media tool powered by AI. It simplifies content creation, analysis, and publishing.
With Predis AI, users effortlessly generate videos, carousels, and single-image posts in their brand style. Trusted by over 300,000 users worldwide, Predis AI offers solutions for Reels, TikToks, video ads, scheduling, and more.
It also provides free AI tools like hashtag generation, color palette generation, and stock image search.
Read our article on how to use Predis
Tome AI
Tome is a cutting-edge platform that empowers individuals to communicate their ideas visually and effectively. Using AI, Tome generates outlines and options based on your prompts for presentations, mood boards, or one-pagers.
With dynamic layouts, interactive features, and immersive views, Tome enables you to showcase your ideas and captivate your audience on any device.
With a user-friendly interface and powerful features, it offers templates for various purposes and comes highly recommended by industry experts.
If you want to know more about Tome ai read our article on how to use Tome ai?
Canva
Canva is a user-friendly and AI-powered platform that helps you create professional designs effortlessly. With a wide range of templates, images, and tools, Canva is suitable for any design need.
Collaborate with others, access premium content, and manage your company and brand assets seamlessly. Trusted by renowned companies, Canva offers features like real-time collaboration and social media scheduling.
Beacons AI
Beacons AI is a comprehensive platform designed for creators to build and grow their businesses.
With Beacons, creators can easily create a personalized link in their bio, set up an online store, secure brand partnerships, and manage their audience effectively.
Harnessing the power of AI, Beacons provides data-driven insights and recommendations, empowering creators to make informed decisions and enhance their performance.
Trusted by millions of creators worldwide, Beacons is the ultimate platform for top influencers, artists, musicians, and more.
If you want to know more about our article on how to use beacons ai?
Looka AI
Looka AI is an AI-powered design tool that assists you in creating your unique brand. Design a captivating logo and generate branded marketing materials, social media templates, and business card designs effortlessly.
With Looka AI, you can launch a professional brand that resonates with your audience without needing any design skills.
Read our article on how to use Looka
Predis ai?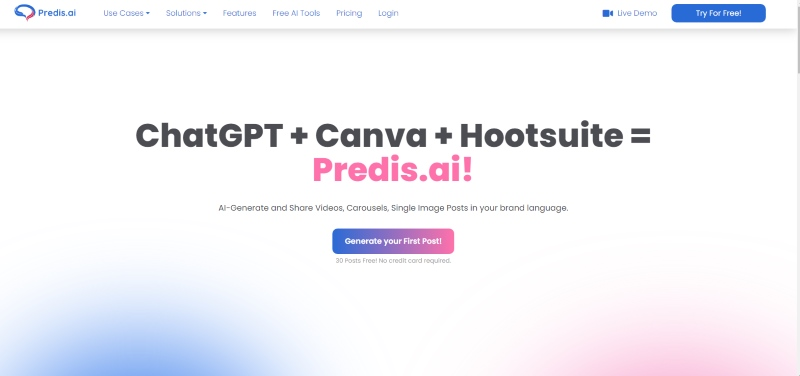 Predis is a game-changing social media tool powered by Artificial Intelligence that aims to enhance the social media presence of entrepreneurs, marketers, and content creators.
It offers a range of solutions such as content recommendations, content analysis, and hashtag recommendations.
Predis enables users to generate and share engaging videos, carousels, and single-image posts in their brand's unique style and language.
Predis also leverages AI technology to facilitate video creation. Users can easily generate high-quality videos tailored for popular platforms like Instagram Reels and TikTok with just a few clicks. With hundreds and thousands of templates available, creating trending videos becomes a seamless process.
If you want to know more read our article on how to use predis
Jitter

Jitter is a unique tool that enables users to create stunning, original animations and designs.
With Jitter, you can easily add movement and special effects to your pictures and videos, allowing you to bring your ideas to life in a creative and engaging way.
Its user-friendly interface makes it incredibly easy to use, and you have the freedom to choose from pre-designed animations or customize them to suit your own style and vision.
FAQS
Q: How can I measure the effectiveness of Ad Creative?
Evaluating metrics like click-through rates, engagement rates, conversion rates, and return on ad spend (ROAS) can help marketers determine the effectiveness of ad creative.
Q: Can Ad Creative be optimized?
Absolutely! Ad creative optimization involves adjusting visuals, copy, calls to action messages, and other elements of ad sets based on data analysis to improve performance.
Q: How can I track the performance of different ad creative variations?
By using tracking tools or platform analytics, you can monitor the performance of different ad creative variations and make data-driven decisions.
Conclusion:
With its automated generation capabilities, Ad Creative can really save you a lot of time and effort while still producing visually appealing ads. You can create video ads, google ads, Facebook ads, etc.
However, it's important to note that customization options may be limited. By utilizing AdCreative ai and optimizing ad creative variations, businesses can effectively engage their target audience, drive conversions, and achieve advertising success.
Harnessing the potential of AdCreative ai can be a valuable tool for businesses aiming to move audiences, create impactful ad campaigns, and save a lot of money.