Allow me to introduce you to FakeYou Text to Speech, the ultimate solution that Uses advanced artificial intelligence technology to simply modify your written text into incredibly natural and lifelike speech in a matter of seconds.
Do you have an interest in the fascinating world of getting a Text-to-Speech AI that produces high-quality voiceovers similar to human speech?
In this article, we will also explore some other alternatives to FakeYou that you can test for free before selecting the right one for you.
What is the FakeYou Text-to-Speech AI voice generator?
FakeYou is a text-to-speech AI voice generator and an online tool that uses artificial intelligence to convert written text into spoken words and it's perfect for creating professional audio content such as radio commercials, podcasts, and more.
As a content creator or marketer, this tool provides you with the ability to produce professional-sounding voices and add a personalized touch to your projects.
How does the FakeYou AI generator work?
The FakeYou voice generator can quickly turn written sentences into words. It takes text, such as a script or article, and uses advanced algorithms to the text into realistic-sounding audio. The FakeYou AI engine also allows the generation of multiple voices from a single piece of text, making it useful for creating voiceover audio.
Getting Started with FakeYou
Creating an account and setting up your profile
FakeYou requires you to sign up for an account before using the text-to-speech AI generator and after creating your account, you have the ability to personalize your profile by adding a picture, selecting a username, and providing additional information.
Create custom voices using the FakeYou app
The FakeYou Voice Generator allows you to create a unique voice for your content. You can create custom voices using text, audio recordings, and images.
The FakeYou Text-to-Speech AI Generator provides a choice of key features.
Text to speech feature
Uploading text material: You can upload any type of written material to the FakeYou platform. The platform automatically changes the text into audio using its AI engine.
Selecting a voice: After you upload your text, you can then select the type of voice that you want to use for your audio clip. FakeYou offers a variety of voices, ranging from female to male, in multiple languages.
Exporting your audio: Once you are satisfied with the voice, you can then export the audio file in a variety of formats, including WAV, MP3, and OGG.
please note: free account is limited to 12 seconds of audio
With platforms like the FakeYou website, we now have the remarkable ability to choose from a wide range of celebrity or voice type, giving our written words a remarkable human touch.
Voice Conversion
With the Voice Conversion tool, you can convert any voice into another, for example, turning a male voice into a female one or recording your voice and turning it into a celebrity's human speech.
To use this feature, upload your audio files and select the target voice that you would like to convert.
Video LIp
The Video Lip feature allows you to add realistic lip-synching to any video.
To use the Video Lip tool, upload your video and select the target voice from the list of available voices. The application will automatically generate AI-generated lips that match the selected voice.
It is easy to use and offers a variety of characteristics for creating professional audio content. With its Voice Conversion, Video Lip, and Batch Voice Generation tools, you can create natural-sounding voices from any type of text material.
Exploring the selection of natural-sounding voices in the FakeYou
Consider the type of project you're working on, for a commercial or podcast, you may want to opt for a more professional-sounding voice. Or if you're creating an audiobook, consider opting for a voice actor who has experience reading scripts.
With the Text to Speech tool, you have access to a vast library of 3132 celebrity voices and lifelike voices in multiple languages to choose from.
With FakeYou's video lip features, you have the power to create your own templates and let your imagination run wild. What's even better? You'll be rewarded for your contributions!
Fake you Pricing
FakeYou's text-to-Speech AI generator is free to use with limited features. To unlock all of the features, you can upgrade to a paid plan.
You have the option to start with the free plan to try out the software. If you're ready to access additional features, the paid plans start at just $7 per month for Plusa and for those who seek advanced functionalities, the Elite plan is available at $25 per month.
Exploring other Text-to-Speech software options
You may find it useful to explore other text-to-speech software options that provide a variety of features and better align with your specific needs.
The best alternative to FakeYou text to speech
1# Murf.AI
Murf.ai is an online speech tool that provides a diverse selection of high-quality, human-sounding voices. These voices have undergone careful quality checks to ensure superiority in various aspects. With Murf.ai, you can access a wide range of natural-sounding text-to-speech voices available in 20 different languages.
If you want to know more read our article on How to use Murf Ai
2# Descript
Descript offers users features like transcription, automatic speaker recognition, and text-based editing tools to make audio and video editing easier. Users can edit directly from text scripts.
3# Elevan Labs:
Eleven Labs provides businesses with artificial intelligence and machine learning solutions for training models and future predictions.
The platform offers cost-effective and effective ways to improve a business's digital abilities.
If you want to know more read our article on How to Eleven Labs
4# Synthesia:
Synthesia uses AI to create video content with human-like behaviors like facial expressions and natural-sounding speech to make video creation more effective and easy to use
If you want to know more read our article on How to Synthesia Ai
5# Speechify:
Speechify is a text-to-speech software that reads text from a variety of sources. So, whether it's web pages, books, PDF files, or other documents, Speechify can handle it all.
The software offers a variety of voice options and allows users to adjust pronunciation, speed, and volume.
6# ReadSpeaker:
ReadSpeaker is a text-to-speech that offers lifelike voices in multiple languages.
The software finds applications across various domains, including online learning, e-books, and mobile apps. It offers a variety of customizable features to tailor to your specific requirements.
7# Lovo.ai
Lovo.ai is a game-changer in voice generation, providing remarkably human-like voices. With advanced AI technology, it offers a diverse range of natural-sounding options. Create personalized, professional voiceovers easily and bring your projects to life with the genuine charm
If you want to know more read our article on How to use Lovo Ai
8# Resemble AI
Resemble AI is a platform that brings lifelike voices to your content creation endeavors. With Resemble AI, you can effortlessly generate realistic, human-like voices tailored to your specific needs. Whether it's voiceovers for videos, games, virtual assistants, or any other project, Resemble AI empowers you to unlock a new level of authenticity and engagement.
What sets Resemble AI apart is its user-friendly interface and intuitive customization options.
Users have the ability to adjust parameters such as pitch, tone, speed, and emotion, giving them absolute control over the generated voices. 
Resemble AI supports multiple languages, allowing for global accessibility and versatility.

If you want to know more read our article on How to use Resemble Ai
9# Synthesys
Synthesys is an advanced AI technology that takes your written words and transforms them into captivating speech or dynamic videos.
Utilizing powerful algorithms, Synthesys creates voiceovers and videos that sound and look as if a real human is speaking or acting.
With Synthesys, you can effortlessly enhance your website explainer videos, product tutorials, and more with just a few clicks. T
he AI voice generator provides clear and natural voices that establish trust and authority, establishing a relatable and emotional connection with your audience.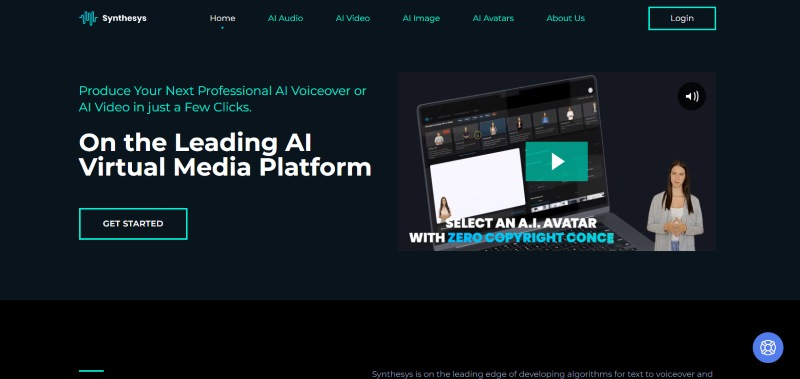 If you want to know more read our article on How to use Synthesys
Play Ht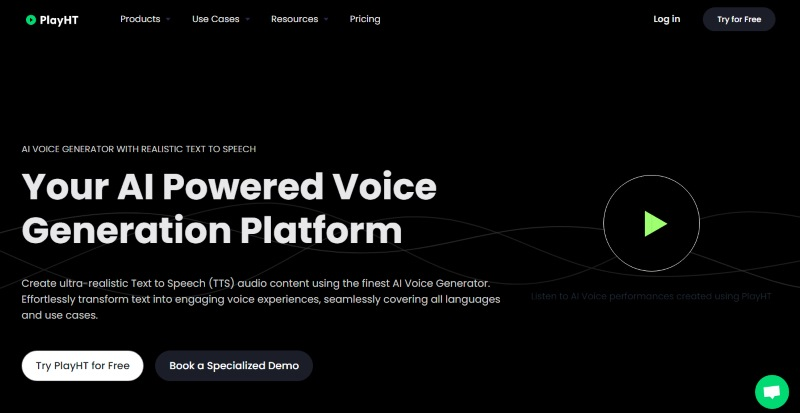 Ideal for videos, podcasts, and interactive voice systems, Play HT breathes life into your creations with its lifelike voice generation capabilities.
Its user-friendly online studio makes it a breeze to use – simply input or paste your text, select from a diverse range of AI voices, customize as desired, preview the audio, and generate top-quality speech.
With Play HT, you can access cutting-edge features like ultra-realistic AI voices, premium natural-sounding options in multiple languages, voice cloning for accurate replication, and a robust text-to-voice editor for full control over the audio output
If you want to know more read our article on How to use Play HT
Deep Fake Text and Its Implications
While this technology is undeniably fascinating and it's important to comprehend its potential downsides and understanding the limitations and risks associated with it is important.
One major worry is the spread of misinformation. Deep fake text can create incredibly convincing content that appears genuine, making it difficult to distinguish fact from fiction.
This poses a serious threat to trust in trusty sources and can lead to confusion and misunderstanding, and according to BuzzFeed, voice-over deep fakes of everyone from Joe Rogan to Joe Biden are taking over social media.
It is crucial to acknowledge the risks associated with fake news. Deep fake text has the potential to generate deceptive narratives, spreading false stories that can inflict harm on individuals, organizations, and society at large.
It's important to stay alert and verify information from trusted sources.
Who can benefit from using text-to-speech software?
Text-to-speech technology presents exciting opportunities for profit generation. Here are some ways you can capitalize on its potential:
Create Audiobooks: Convert written content into audio format and sell them as audiobooks on popular platforms like Audible or through your own website.
Develop Language Learning Courses: Utilize text-to-speech technology to create engaging language learning courses, offering pronunciation guides, audio lessons, and exercises. Monetize your courses through online platforms or subscription models
Start a Podcast: Narrate articles, blog posts, or news stories using text-to-speech and transform them into engaging podcast episodes. Monetize your podcast through sponsorships, advertisements, or premium content subscriptions.
Provide Voiceover Services: Offer professional voiceover services for commercials, videos, and documentaries using text-to-speech software. Showcase your skills and

create your brand to attract clients

and

profit from your talent.
Offer Custom Voice Generation: Collaborate with businesses or individuals looking for unique voices for their products, advertisements, or virtual assistants. Utilize text-to-speech technology to create personalized voices and profit from your skills.
Partner with Assistive Technology Companies: Collaborate with assistive technology companies to integrate text-to-speech features into their products or services, improving accessibility for individuals with visual disabilities or reading difficulties.
Frequently Asked Questions (FAQ):
Is FakeYou secure?
FakeYou Text-to-Speech AI Generator uses advanced security measures to protect user data and ensure responsible usage.
Is FakeYou compatible with other applications?
Indeed, the FakeYou Text-to-Speech AI Generator can be easily integrated into various applications.
Is FakeYou able to be used commercially?
Certainly, the FakeYou Text-to-Speech AI Generator can be used for commercial purposes.
Is FakeYou a user-friendly interface?
Yes, the FakeYou Text-to-Speech AI Generator is easy to use and natural. It has an easy-to-use interface that allows users to generate audio quickly and easily.
Is FakeYou able to be used for educational purposes?
Yes, the FakeYou Text-to-Speech AI Generator can be used for educational purposes. It provides an easy and cost-effective way to generate high-quality audio with realistic voices in multiple languages.
Wrapping up
As the use of text-to-speech technology continues to grow, businesses and individuals can benefit from its features.
FakeYou Text-to-Speech AI Generator is a powerful tool that offers users a wide range of features and advantages. It can help businesses save time and money and also provide an engaging digital experience for their customers.
However, it's important to maintain awareness of the potential related disadvantages of deep fake text because it ensures responsible usage and helps avoid potential risks.
Thank you for your interest in learning more about the FakeYou Text-to-Speech AI Generator! We hope this guide has helped you gain a better understanding of its capabilities and advantages.